I've Got A Mind To Ramble
Jivin' with B.B.
It has been three-and-a-half years since B.B. King last thrilled the crowd at the Palace. He has received extensive recognition since then, from celebrating his 80th birthday on September 16, to publication of two recent biographies plus the groundbreaking for a museum in his honor in Indianola, Mississippi. B.B. has reached the stature in the blues that Louis Armstrong achieved in jazz.
The comparison between this concert on October 1 and the previous one was disappointing. The crowd three years ago was more racially mixed, while this time it was predominantly white. Was it the price of the ticket or has B.B. completely crossed over to another audience? B.B.'s concert had lots of spit and polish but it also had too much jiving. As the elder statesman of the blues, B.B. has every right to sit down when he performs, but what was lacking was his guitar, Lucille. After a couple of warm up instrumentals by his tight band of veteran musicians, B.B. came out and briefly introduced his daughter, Shirley King. There were his familiar standards like "Why I Play The Blues," "I Need You So Bad" and "Bad Case of Love," but most of his guitar work was limited to some sparse opening and closing chords.
B.B. built a nice rapport with the audience with stories and comments but it was overdone with references about getting old, eating supper instead of dinner and the guys singing "Ain't That Just Like A Woman." He uses a lot of gestures like cupping his hands behind his ears to get a response from the audience, twirling his index finger over his head to get his band's attention and pounding his fist into his palm to make a point.
Typically, midway in his show, the horn players exit the stage leaving just three guitars, drums and keyboards. This is my favorite part: back to the basics. King's first instrumental in that section had some soulful string bending. During the rare moments he did play, it was the ecstasy of familiarity: his deep, rich tone filling the theater, the measured spaces between the notes and his trademark finger-shaking trill. Then, B.B. started jiving again. For me it was frustrating, for I came to hear Lucille. The one-and-a-half hour show reached a climatic ending with "The Thrill Is Gone" and B.B. throwing picks and trinkets to the VIP's in the front rows.
The pleasant surprise was the opening act, Slick Ballinger, who energized and evangelized the audience with his hardcore Mississippi Blues. Slick is a fast-rising star on the blues scene, having placed second in the 2004 International Blues Challenge in Memphis and getting the Albert King Award as the best guitarist during the competition. Slick's powerful falsetto voice made the plaster figures quake and the stars twinkle in the Palace. The great Delta Harp player, Blind Mississippi Morris, was a member of Ballinger's band, the Soul Blues Boys, which also included a drummer and bassist. Morris' traditional straight-ahead blues harp kept Slick from getting too flamboyant. Nevertheless, this young showman was all over the stage and briefly out in the audience, playing "Rosa Lee" and "Jumping The Juke House Down" until he broke a string on his guitar and switched to his other axe. Ballinger followed with an original "Brotherhood Blues" and a Willie Dixon song made famous by Magic Sam "You Don't Love Me." He closed out his fifty-minute set with his gospel-based song, "Answer To The Blues." The Reverend Slick converted the theater full of "who dat" skeptics to spellbound believers.
Meet Rick & Joe DeBow
I frequently get fresh vegetables, fruits and flowers at the Farmer's Market in the parking lot of my church, Bardstown Road Presbyterian Church, on Saturday mornings. Recently, two musicians were busking for tips among the produce. Along with guitarist and singer Chip Andrus was a dapper, wiry, bearded man playing saxophone: Rick DeBow. We exchanged greetings and he wrote his telephone number on a reed case so we could get together to do an interview with him and his brother, Joe. Our first attempt to talk was on October 4 during their gig at The Pub on 4th Street Live. There were too many distractions and time was limited between sets, but I did get a chance to hear just the two of them play together. Both Joe and Rick are multi-instrumentalists, with Rick alternating between his alto sax and flute and Joe playing keyboards, guitar and harmonica, plus singing and manipulating his percussion machine.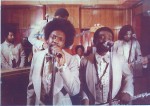 Photo By Joe DeBow
These talented brothers laid down their personal interpretations of many R&B classics, interpretations that only come from a long experience of playing music. I wanted to know more, so we met again at Rick's house on October 17.
Rick and Joe grew up with music. Their father, Joe Sr., played trombone in Tommy Walker's band. Their mother, Ruby, played piano and sang gospel with the DeBow Sisters and later the Winston Sisters (her maiden name) in the Greater Southern Baptist Church. Joe, the oldest at 54, started playing an old player piano in the back room of their home. When Joe was twelve, his mother bought him a guitar, but his real love was singing. At Central High School he sang in the hallways with an informal group called the Mellow Fellows. Their voices would reverberate in the halls until the teachers broke it up. Later, Joe was the lead singer with the VeeJays, named after the record label and then he sang with the Aristocrats.
Joe didn't get back to playing guitar again until his late forties. At the time, he was playing keyboards and conga drums with a reggae band called Identity, based in Columbus, Ohio. He kept watching their lead guitarist and thought, "I can do that." Joe confirmed: "church and home got us started. It was meant for us to be chosen for music." When he visited his Aunt Elizabeth as a youth, he would draw a mustache to look older, sneak out the back window and go to the Diamond Horseshoe to hear Wes Montgomery and Kenny Burrell. Clinton Coleman, the manager, would let him in to sit by the back door but never to play.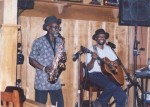 Photo By Keith Clements
Rick DeBow, at 52 the younger brother, was influenced as a young boy by a saxophonist who played at church. Rick s picked up an old sax that Joe had brought from his job at a music store and began to play it incorrectly, that is, right hand on top and left hand on the bell. William Donaldson, the brother of the great jazz sax man Lou Donaldson, was the music teacher at Parkland Jr. High and taught Rick to play outside of sheet music by improvising. When Rick was first chair in the Male High School band, he couldn't read music but learned all the marches by ear. It caught up with him during a recital. He had to turn in his band horn in front of the whole class but kept his prized mouthpiece, which he still has. Lyman T. Johnson was his social studies teacher and an inspiration. Lyman would say to Rick, "you can cut my classes but it won't do you any good." Rick always liked the sound of the flute and when his cousin gave one to him he never gave it back.
The first regular gig for Joe and Rick was in the early seventies at Mr. D's Inferno on Grand Avenue. They were part of the group Family that included the Gant Brothers, James Gant on keyboards and Kenneth on baritone sax and upright bass. This group later became DeBow, formed around the nucleus of Rick, Joe, Donny Bridges on bass and Bran Manley on drums. The Unicorn Project got DeBow started through the Office of Community Anti-Crime Programs aimed at youth. Lyricist Clinton Coleman wrote "Crime" and "Improve Yourself," pianist Raymond Howard arranged and rehearsed the group and Ray Johnson produced the 45. DeBow donated their talents to the cause and got a lot of good publicity. Many other musicians have played with DeBow, including Gerald Ashby and Darryl Cotton during its life from the early Eighties to the Nineties. There were gigs at Stars Showcase, the spacious venue in the basement of the old Penny's store, and opening for acts like the Ohio Players, B.B. King, Isaac Hayes, The Chi-Lites, The Dramatics and Donald Byrd at the Louisville Gardens. There was an opportunity to record in Muscle Shoals, Alabama, in 1986. While Rick was in the studio listening to Percy Sledge, he jokingly mimicked his voice. He turned around to find Percy standing right behind him. Percy complimented Rick's playing and asked him to be a side musician on his Percy! album (Monument FW 38532). Both Rick and Joe recorded with Tony Joe White while they were in the studios. Rick also played with Curtis Marlatt and the Kiks.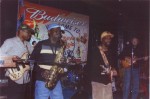 Photo By Keith Clements
There was a brief sojourn to Minnesota for Joe, Rick and Donny. They met Chris Moon, the British manager who had just signed Prince, but they were not prepared with tapes and promotional material. After some gigs with other musicians and no opportunities to do original music, they returned to Louisville in the late Eighties. One highlight of DeBow's legacy was winning the Budweiser Showdown contest in 1986. They performed Joe's original song "Genuine" at the Executive Lounge (now Billy's Place). They won enough money to get a sound board and a thousand copies of "Genuine." There were other recordings at the Allen-Martin Studios under the name The Mind Liberators. A rambling instrumental "Comin' Through (Parts I and II)" and "Charley Spoons" were issued on the Trump label. (Charley Spoons was named after Colonel Porkchop, a street musician who played spoons in the Phoenix Hill neighborhood.) Joe and Rick accompanied Preacher John Stephens on "Glasgow Kentucky Blues" and "Ol' Time Blues," which were recorded at Bishop Cliff Butler's Lu-Sounds production studio. It was released with Rick and Joe's accompaniments reversed on the Bluegrass Records label.
When DeBow stopped performing, Rick and Joe went two different directions. Rick played with The Mystics, Toulouse (Too Loose) and with pianist Marlena Montgomery. Rick went on the road briefly with bluesman James Peterson, touring from New York to Key West. He even went alligator hunting with the preaching guitarist.
Joe prefers to perform as a soloist ("So I can hear what I'm singing"), playing his acoustic guitar, keyboards and harmonica. He had a program on Insight Cable Channel 98 and his recent CDs, The Mellow Moods of Joe DeBow and Jammin' With Joe, show his accomplishments as a soulful singer. Joe said "the songs I've written keep me going. If I didn't have these, I'd quit." He has many original songs that haven't been recorded and would like to play with a band to express them.
Rick's recent CDs include Thank You, Lord, which has him accompanying the Rev. James Elliot Sr. narrating a poem by Rick's sister Barbara. Saxophone Man, released in 2003, has Rick doing all originals except for Grover Washington's "Mr. Magic." Chip Andrus and the Rick DeBow Connection have recently started touring the country, playing R& B at clubs and gospel at churches. The connection includes Brad Wigger on mandolin and percussion, plus Jonathan Yarboro playing upright bass and singing.
Joe closed out our interview saying "There is no substitute for experience." Their experience shows.