Cowboy Corner
Country Stars Aid Katrina Victims
Since the devastating Hurricane Katrina hit the Gulf Coast last month, several country artists have jumped in to help raise money for victims. Tim McGraw, Faith Hill and the Dixie Chicks are just a few of the many artists who have performed on live, televised benefit concerts. Artists like Alan Jackson and Sara Evans have donated proceeds from their concerts to the great cause. American Idol winner Carrie Underwood donated the proceeds from her Idol concert on September 10 to the Humane Society to aid animals affected by the hurricane. On September 18, the 20th annual Farm Aid concert grossed $1.3 million in ticket sales, part of which will be used to benefit rural victims of the hurricane. Farm Aid President Willie Nelson was joined by co-founders Neil Young and John Mellencamp, as well as board member Dave Matthews and Emmylou Harris, Kenny Chesney, Buddy Guy and Wilco in raising money for America's family farmers.
On October 1, Country Music Television will present the live "One Country" concert from Houston's Reliant Stadium, with all proceeds benefiting hurricane victims. The bill includes Kenny Chesney, Alan Jackson, Martina McBride, Willie Nelson and George Strait. Not only are all these artists donating their time to this great cause, but also every aspect of the concert is being donated, including staging, sound, lighting and security.
Hats off to all the country stars, as well as each and every one of you, who have gone the extra mile to help rebuild the lives of these victims.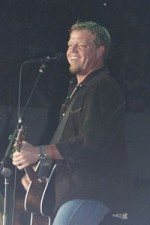 Photo By Michael W. Stout
Paisley & Womack Sweep CMA Nominations
When the nominees for the 39th Annual Country Music Association Awards were read by Lee Ann Womack and Keith Urban at New York City's Time Warner Center last month, Womack heard her name read six times, as well as Brad Paisley's name. Womack will compete for Female Vocalist, Album of the Year for There's More Where That Came From, Video and Single of the Year for "I May Hate Myself in the Morning," and Musical Event of the Year for "Good News, Bad News" with George Strait and "I'll Never Be Free" with Willie Nelson. Paisley landed in the following categories: Entertainer of the Year, Male Vocalist, Single, Song and Video of the Year for "Alcohol," and Musical Event of the Year for "New Again" along with Sara Evans.
Following close behind Womack and Paisley were Toby Keith and Keith Urban with four nods each. Keith will vie for Entertainer of the Year and Single, Song and Video of the Year for "As Good As I Once Was," while Urban is up for Entertainer, Male Vocalist, Album of the Year for Be Here and Video of the Year for "Days Go By." Rascal Flatts, George Strait, Sugarland and Gretchen Wilson each received three nominations.
And the nominees are: Entertainer of the Year: Kenny Chesney, Alan Jackson, Toby Keith, Brad Paisley and Keith Urban; Female Vocalist of the Year: Sara Evans, Alison Krauss, Martina McBride, Gretchen Wilson and Lee Ann Womack; Male Vocalist of the Year: Kenny Chesney, Alan Jackson, Brad Paisley, George Strait and Keith Urban; Vocal Duo of the Year: Big & Rich, Brooks & Dunn, Montgomery Gentry, Van Zant and The Warren Brothers; and Vocal Group of the Year: Alison Krauss & Union Station featuring Jerry Douglas, Diamond Rio, Lonestar, Rascal Flatts and Sugarland.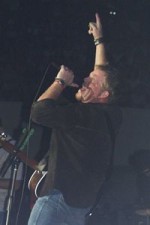 Photo By Michael W. Stout
Horizon Award: Dierks Bentley, Big & Rich, Miranda Lambert, Julie Roberts and Sugarland; Album of the Year: Tim McGraw's Live Like You Were Dying, Rascal Flatt's Feels Like Today, George Strait's Somewhere Down in Texas, Keith Urban's Be Here and Lee Ann Womack's There's More Where That Came From; Single of the Year: Toby Keith's "As Good As I Once Was," Brad Paisley's "Alcohol," Rascal Flatt's "Bless the Broken Road," Sugarland's "Baby Girl," and Lee Ann Womack's "I May Hate Myself in the Morning"; and Song of the Year: Toby Keith's "As Good As I Once Was," Brad Paisley's "Alcohol," Brad Paisley & Alison Krauss' "Whiskey Lullaby," Rascal Flatt's "Bless the Broken Road," Gretchen Wilson's "Redneck Woman," and Lee Ann Womack's "I May Hate Myself in the Morning."
Music Video of the Year: Toby Keith's "As Good As I Once Was," Brad Paisley's "Alcohol," Keith Urban's "Days Go By," Gretchen Wilson's "When I Think About Cheatin'," and Lee Ann Womack's "I May Hate Myself in the Morning"; Musical Event of the Year: Jimmy Buffett & Martina McBride's "Trip Around the Sun," Willie Nelson & Lee Ann Womack's "I'll Never Be Free," Brad Paisley & Sara Evans' "New Again," George Strait & Lee Ann Womack's "Good News, Bad News," and Shania Twain & Billy Currington's "Party for Two"; and Musician of the Year: Jerry Douglas - Dobro; Paul Frankin - steel guitar; Dann Huff - electric guitar; Brent Mason - guitar and electric guitar and Randy Scruggs - guitar and mandolin.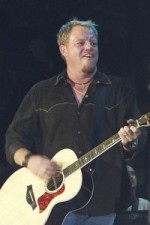 Photo By Michael W. Stout
Brooks & Dunn will host this year's ceremony on November 15 at NY's Madison Square Garden. This will be the first time in CMA's history that the awards show was held outside of Music City, Nashville, Tennessee. During the ceremony, 1980's supergroup Alabama, the late Grand Ole Opry star DeFord Bailey and the "Rhinestone Cowboy" Glen Campbell will be inducted into the Country Music Hall of Fame. Kenny Chesney, Faith Hill, Alan Jackson and George Strait are already confirmed to perform on the awards program, which will air live on CBS-Television.
Country Music Plans to Invade the Big Apple
The country music community plans to invade New York City the week leading up to the CMA Awards. "Country Takes NYC" will kick off November 9 and will promote country music to the Big Apple. Several country stars will be featured in the Veteran's Day parade on November 11, followed by Trace Adkins honoring veterans at the Intrepid Museum and Charlie Daniels, Mark Wills and Darryl Worley performing at the American Freedom Festival later that day. Also on that day, Montgomery Gentry and Tracy Lawrence will perform at B.B. King's. On November 13 & 14, Keith Urban will perform two concerts at the Irving Plaza concert hall.
A special performance of the Grand Ole Opry will take place in the big city on November 14, including performances by Trace Adkins, Vince Gill, Alan Jackson, Alison Krauss & Union Station, Brad Paisley, Charley Pride and Ricky Skaggs. Cross Canadian Ragweed, Dierks, Bentley and Pat Green will all perform at the Nokia Theater on the same day.
Renee Calls It Quits with Kenny
Hold onto your cowboy hats, but the honeymoon is over after a mere four months. I know it will come as a complete surprise, but Oscar-winning actress Renee Zellweger, who said, "I do," to country crooner Kenny Chesney on May 9 after meeting him at a charity concert on January 15, is now saying, "I don't." Zellweger filed for an annulment citing "fraud" in Los Angeles on September 14. Boy, has this five-letter word, "fraud," caused quite a stir. She made the following statement to try to explain the meaning of this term: "Contradictory to my intentions to maintain the integrity of our privacy by not commenting on the specifics of our decision, it seems necessary to clarify that the term `fraud' as listed in the documentation is simply legal language and not a reflection of Kenny's character. I would personally be very grateful for your support in refraining from drawing derogatory, hurtful, sensationalized or untrue conclusions and greatly appreciate your understanding that we hope to experience this transition as privately as possible." Despite her claims, legal analysts beg to differ, stating, "She's saying the guy is a fraud. Doesn't that go to character?"
Needless to say, Chesney admits, "This is an incredibly sad time." Upon the announcement of their marriage, he stated that he was the "luckiest man alive," admitting his infatuation with the actress since seeing her in the movie Jerry Maguire, having written "You Had Me from Hello" about Zellweger.
Keep reading in the coming months for more details as they unfold.
Chesney & Green Close Fair (and Tour) with a Bang
And while we're on the subject of Kenny Chesney, just a few weeks prior to the big announcement of the demise of his short-lived marriage, the superstar ended his "Somewhere in the Sun" tour right here in the Derby city on the closing night of the Kentucky State Fair. The Luttrel, Tennessee native flew into Freedom Hall suspended above the audience while performing "Keg in the Closet" and kept the energy going for nearly two hours with hits like "Young," "The Good Stuff," "Big Star," and "She Thinks My Tractor's Sexy." The crowd was ecstatic as Chesney was joined onstage by his good pal and duet partner Uncle Kracker on their mega-hit "When the Sun Goes Down." The two romped through several numbers before UK retired from the stage, allowing Chesney to bring the tour to a close before being joined once again by the Detroit native, as well as opener Pat Green. The entire evening was full of great music, frolicking fun and a whole lotta love as Chesney attempted to hug and personally thank each and every band and crew member responsible for helping make this country music's top-selling concert of the year.
Texan Pat Green was more than just an opening act, as he had the sold-out crowd eating out of the palm of his hand with hits "Wave on Wave," "Don't Break My Heart Again," and his current single, "Baby Doll." Green proved that not only does he have the chops of an A-list country star, but he has the guitar-pickin' ability as well. A true entertainer in every sense of the word.
Gretchen Wilson Ruffles Attorney General's Tail Feathers
The "Redneck Woman" herself, Gretchen Wilson, has been making headlines recently with her stellar concert tour and her newly released All Jacked Up CD. A few days following her concert at the Kentucky State Fair back in August, Tennessee Attorney General Paul G. Summers requested that during her concerts, she no longer pull a can of smokeless tobacco out of her back pocket after performing "Skoal Ring," a tune from her new album. Summers stated that a "1998 settlement agreement with tobacco corporations called for the companies to stop targeting young people in its marketing campaigns."
Soon thereafter, Wilson's manager released a statement claiming that Wilson did not intend to promote Skoal or the use of any other smokeless tobacco and she voluntarily agreed to quit pulling the tobacco can from her pocket, reassuring the Attorney General that she does not have an endorsement deal with any tobacco company.
Trace Adkins Undergoes Surgery
"I Left Something Turned On At Home" singer Trace Adkins was sidelined last month with health issues. He had been suffering with stomach pain for two days before deciding to take a trip to the emergency room before heading to the next stop on his tour. Doctors determined the 43-year-old deep-voiced crooner was suffering with an abdominal infection and underwent emergency surgery in Morton, Minn. The surgery was a complete success and Adkins is expected to make a full recovery. This health setback caused the singer to cancel concerts in Iowa, Kansas, Ohio and Michigan.
Our wishes go out to Trace for a speedy recovery!
Well, that's it for yet another month, the month marking the 11th anniversary of "Cowboy Corner." I'd like to take this opportunity to thank each of you for reading all these years and I hope you continue to read and enjoy "Cowboy Corner" for many years to come. Always remember: "Keep your boots shined up and your hat on straight, `cause country music is comin' your way."