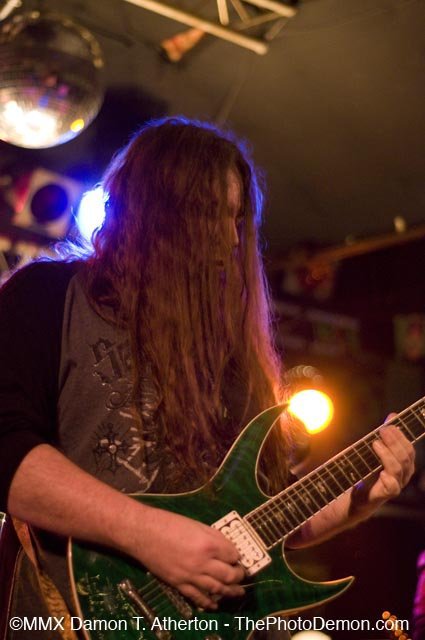 News From the Pit
Wow, what a vacation! I'm a lucky mofo, that's all I can say. In more ways than one!
On top of seeing incredible scenery such as Lake Tahoe and Yosemite, I had a rather close encounter with a Northern California black bear and her young cub and even got a picture to prove it. (see item below).
While I was away, a natural disaster occurred in New Orleans and I actually had New Orleans down as one of my three possible choices for vacation. I would have been stuck down there. Glad I went to California instead.
I'm back, the heat of summer is gone and I admit after my much-needed vacation, I am back with a renewed vigor on life and kicking some butt promoting the scene and yes, maybe even jamming again. I've been attending quite a few shows since I got back from California. Some killer shows.
Scenewise: All manner of cool stuff is going on in September and October. Yeah the local scene has been a little slow these days, as many local music people have pointed out to me. But there has been a good deal of stuff cooking in recent and upcoming weeks. Such as: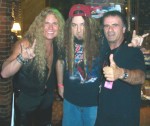 Ill Nino (see below), a killer Motley Crue concert (a MUST See review in THIS issue!), LRSFest, Krokus, Dillinger Escape Plan and Hatebreed shows at the new venue The Gate, Halloween shows, Attitude Network Fest, a Fire Dept. (Toy Tiger's house band) Reunion show, a new Band Battle at the Hill, The Rock For Kosair children's hospital benefit, Bobaflex at the Hill, the Wasted Days CD release show and a bunch of disaster relief benefits. All to help out those poor folks who challenged a hurricane and lost...bigtime. Could you imagine having yourself and all your possessions submerged in extremely unsanitary water? It would suck. It's too hideous to conceive. So if you can afford a few dollars or more, try to help out. No amount is too small. Help out some fellow Americans in need.
Here's an address that you could send money to:
American Red Cross
c/o Hurricane Katrina Fund
P.O box 37243
Washington DC 20013
The Metal Grapevine
LRSfest 2005 - "Long lines, long distance port-o-lets and young people in droves."
The day at LRSfest started out a bummer because of my treatment by LRS people who had denied me access to do the good, thorough job I had planned to do. Therefore I wasn't even allowed a camera, only a single general admission ticket.
However, as a casual concertgoer such as yourselves, I WAS entitled to a extremely long wait in a line of about an hour-and-a-half as droves of people were forced to wait while a single security guard at the gate searched people one at a time, people who were already tired, angry and complaining bigtime.
In line with other griping people, I saw the nearly two-hour wait in line coming and decided to leave. Grumbling as I was walking back to my car, I ran into a concertgoer I knew. When I told him of my lame treatment by LRS, he proceeded to reach into his pocket and pull out two V.I.P. passes for me. I bid my thoughtful friend a heartfelt `thank you' and with a reinvigorated attitude and an evil look on my face, I darted towards the door.
LRS 2005 was a young rockers paradise. I had a pretty good time even after all the b.s.
I dealt. The Louisville bands were excellent. I enjoyed every set, especially Incursion's and Evil Engine # 9. Incursion ripped it up pretty good at LRSfest for the kids who were just coming over from seeing Duran Duran, (Ooops, I mean VHS or Beta) on the other stage. The heaviness is something LRS needs to see is a popular thing with the people.
Every year the heavier bands have been rewarded with a better response that the non -heavy bands. This year, Incursion got a better response than touring Louisville pop rockers VHS OR BETA! Of course whoever put these two bands back to back must have been high. Because it was the equivalent of seeing Duran Duran and Slayer playing back to back! It just won't happen.
True, I admire the audacity to schedule two quite different bands back to back. It shows originality and a cool boldness.
Evil Engine, Intheclear and Fivebolt were also tearing things up nicely. The PA's sounded really good this day, so many props go to the soundmen of both stages.
The main stage and national acts were ok, but I was more interested in hearing the locals step up to such an occasion. And step up they did: they did themselves and their town proud.
There were a few other annoyances; the bathrooms were too far from the stage areas. Folks had to walk a quarter-mile, then wait in line to use the portable johns. And if you were drinking beer? Getouttatown. You missed half the show journeying to the john.
Theory of a Deadman and Cold were pretty good, but a little light compared to what I'm used to. My Doc Martins were killing my feet, so I had to leave after Five.bolt.main's performance. I'm more bummed about missing Intheclear than missing radio rockers Papa Roach.
All in all, aside from the aforementioned complaints, it was a good show and worthy of recognition
Motley Crue Review: Don't miss the review of the Motley Crue concert in this issue. It's a doozy.
Five.bolt.main and Bobaflex Debut CD's out now! Yup that's right, you can now buy Five.bolt.main and Bobaflex's debut CDs pretty much anywhere. Pick up a copy or two.
Attitude Network Fest 2005: On Saturday October 8, FM 93.1 The Fox's metal veteran of many years, Black Frank, and Louie the local guy are putting on a big show on Floyd St, next to Oscar's bar and grill, between Market and Jefferson St, that features 30 bands on 3 stages!
Floyd Street Festival: MSD, Intheclear, 9volt revolt, 7Daysun, Wasted Days, Institution, Arcane Saint, Eulogy Of A Traitor and many more to come.
Skateboarding Competition, sign up now! Motorcycle stunt team.
Get tickets at New Age Gifts and Oscar's Bar and Grill. (formerly Oscar Brown's)
The show is All Ages. Be sure to support our local heavy music!
Krokus Reviewed: It was weird. This must be Eighties month or something.
I just saw early Eighties Swedish rock giants Krokus at the Gate and I tell you these guys absolutely rock. Singer Marc Storace, the guy with the poodle haircut in the "screaming" video, was standing right by me and I didn't even know it. We talked a bit and even got a wicked dart game going, which ended up being a tie. Really nice, down-to-earth guys.
They played hits like "Screaming in the Night" which was perfect, "Eat the Rich," "Midnight Maniac" and a bunch of songs whose titles I can't remember. Awesome guitar playing and vocally, Storace was in superior form even though the guy is at least fifty now.
He belted out the vocals as if it were nothing at all and with the intensity of a teenager. A hell of a frontman. I was very impressed.
The band was very friendly and went out of their way to talk and greet their fans, signing autographs and such. There were about a hundred or so people there, but they were all cool people who love metal music. A few die-hard fans were unhappy the band didn't play "Long Stick Goes Boom" though. Several peeps commented on this.
Opening the show was high-energy Eighties style rockers Two Pump Chump, Louisville metalheads Phearus and Eighties metal cover band XS, whom I finally got to see.
XS is good fun. They do metal classics from the Eighties. The Iron Maiden, Bulletboys and Quiet Riot covers were sweet. Great Vocals, too. My only complaint was that there needed to be some vocal effects on dudes singing. (I hate dry vocals on good singers.)
Other than that, I enjoyed the show bigtime and saw a lot of you peeps I know out there as well, which is always cool. All in all, Krokus kicked butt!
Haunted Hotel + Local Musicians = Halloween Fun: If you get the chance, visit the Louisville metal scene in action. Another kind of action: scaring you to death.
The Haunted Hotel on 4th Street is again open and ready to terrify you. More than half it's workers are in metal bands about town, so if you see Jason from "Friday the 13th," only with dreads, a tattoo or his nose pierced, then don't think twice about it. Chances are it's somebody from the scene that you've seen play out before.
Jillian's Cheezing On Us? There for a while there Jillian's was having all kinds of phat shows. Now they are doing practically nothing. Word is that they've got some political b.s. going on and aren't doing rock/metal shows anymore. I hope this isn't true. It's a decent venue that is going to waste. So to all you metal fans that read this column: give them a call, or write them a letter and tell `em we want our metal shows back! You can't have killer metal shows one after another and then just stop. We enjoy Jillian's and have fun at the metal shows there. And attendance was good. too! From what I hear, it's been dead there since no metal.
So please fix the problem/issue and give us back our metal. We'd preshadit!
Free Guitar Giveaways @ Kosair Children's Hospital Benefit: On Friday, October 14 at Phoenix Hill Tavern, it's the Rock for Kosair Children's benefit with proceeds going to purchase toys for sick and needy kids at Kosair Children's Hospital. Christmas is coming, so I'd like to take a nice haul of toys down there when all is said and done, so please, even if you don't like the bands, come to the show and make some really sick kids happy.
Two electric guitars, provided by Uncle Samms Jamms and Willis Music in Jefferson Mall, (one is a Dimebag Darrel Washburn guitar, the other is a Strat copy. See photos) given away that you, as a music fan, have a chance of winning, so don't miss out on your chance. Canyon Studios and LMN will also be providing support for this show as well.
BTW, this is a giveaway to people who pay to get in. Two lucky people will get the guitars if they receive the right ticket. Been wanting a guitar without forking over mucho dinero? Here's your chance.
Hatebreed At The Gate! Yup. That's right, fargers. At the brand new venue that supports metal music, The Gate, on Story Avenue in the old Butchertown Pub building. On Wednesday, November 2, Hatebreed will pound you hardcore style with guests Most Precious Blood, Full Blown Chaos, If Hope Dies, Gizmachi and Mantis. 7 P.M. This should be off the hook!
Dillinger Escape Plan/God Forbid Coming: At The Gate . Thursday, October 13 is when these nationally touring metal acts come to town, so lock up your daughters. On the bill will be special guest Mnemic with Louisville bands Buried But Breathing and Euology Of A Traitor. Tickets $13. All Ages. Doors 7:30 P.M.
Wasted Days CD Release Review: I had to go check out my buds in Wasted Days when they had their CD release show on September 10 and I'm glad I did. It was a lot of fun and full of friendly people. Slokill opened the show to a good crowd, considering it was an early start. The crowd loved Slokill's rap/metal repertoire and seemed to eat it up. Next up was Saint Louis' Rusted Shine, which was a real good band that I'd like to see play Louisville again. Then Wasted Days put on a helluva show for their fans in attendance. Wasted Days is one of the easiest bands to work with that I've met. Very professional, indeed. And no attitudes! Yay.
Ill Nino, Eflat, Intheclear and Antikythera: There was a big show on Wednesday Sept 28 (too late for me to review) at Headliners featuring National Acts Ill Nino and some great Louisville bands.
I will probably attend, seeing that I like all these bands playing. Especially Ill Nino!
Look for the review in November issue of LMN. Die Cast and Gizmachi have also been added to the bill. This should be one killer show. Ill Nino rocks and I can't wait to see them again.
Fire Dept Reunion Show Coming: On the plane coming back from California, I recognized someone on the plane: the guy who let me start promoting tons of original bands at the Toy Tiger way back in 1995. None other than Fire Dept. drummer/former Toy Tiger Manager Perry Scroggins.
Anyways he told me to tell all you peeps to come up to O'Malley's Corner for the Fire Dept/Toy Tiger Reunion show on Sunday October 9. It will be one nasty rock `n' roll party, with a lot of the former Toy Tiger faces in attendance. I went to the last one and it was a blast, indeed. It will surely be packed.
They are also playing the Hill on October 15. If I were you I'd go.
E-Flat Back With A Vengeance: Well, the foul-mouthed hooligans are back after a four-year absence. And they play like they hadn't left at all.
I was thinking it maybe wouldn't be quite the same with two original members missing in action, but I was wrong. At the PHT the ringleader/frontman Rod Mack had the crowd and me almost in tears as they played their very memorable and funny song "Cops," using his infamous redneck police officer voice. The truth is, it made me happy to see old friends coming back and kickin' some butt in a very original style.
E-Flat is a very professional band, easy to work with and in my opinion, a major addition to the original rock/metal scene. Their following isn't what it was at their peak, but as a little time passes, I think it will grow quickly and become strong once again.
Extreme Metal Show Coming: Winter Solstice is coming to The Bulldog Cafe on Saturday. October 15, along with several Louisville metal acts. Only the lovers of the brutal stuff should inquire. See info below in upcoming Shows.
Fear Factory's New CD: Damn, I didn't even know this came out. Transgression is the name of their brand new CD. These guys aren't fooling around anymore, it seems. They just put out the CD Archtype barely a year ago! Not that I'm complaining.
I love Fear Factory. I admit that I like the last CD Archetype a bit better than this one, but it's still some really good stuff to rock out to.
The Gate Builds Momentum: Former Pilotfish drummer Troy Ford has bought the bar formerly known as Butchertown Pub and renamed it The Gate. Located at 1335 Story Ave. I just saw it for the first time and the place is quite nice. If you haven't seen it, you need to. Troy's got it going on. And The Gate is a supporter of metal shows and Louisville musicians.
Things have been moving slower than originally expected, but things are starting to seriously look up for the better. Word is getting out and shows are starting to happen, including the Krokus show reviewed above. Coming soon are Dillinger Escape Plan and God Forbid with others, plus Hatebreed in November.
This is a really good thing. Maybe Troy and Company can get more shows like these kickin', and hook up some good original bands in the process. Killin' two birds with one stone is a good thing.
New Band Alert, Arcane Saint: Scott Dugdale, former singer of Silent Q is back with a new project. Comprised from former members of Silent Q, Caustic (Shawn and Dave) and the Revenants (Jacob), plus two more people to round out the six-member project. The band describes the sound as `old school' metal with hard rock melodies and a lot of harmonies. Scott and his brother are both singing lead for this project and seem to be very excited to be adding something a little different to the Louisville music scene.
You can see their debut at Floyd Street Festival on Oct 8. Congrats on being back in business Scott! Rock on, bro.
Evil Engine #9 Cover Story Coming: I told all of you that I think the Evil guys are due a cover story in LMN, so I asked my boss permission and he said yes.
Be on the lookout for the Story. Possibly December.
Get Better Britt! Everyone knows rock `n' roll cutie Brittany. Well...she's got some semi-serious health problems with her kidneys going down and I'd like to tell her that we all wish her a speedy recovery and to keep that pretty chin up. Women like you make rock ;n' roll and metal what it is. Fun. So get better and take it easy until then! Love, Eddy.
Eddy VS The Bear: Everyone's been asking about my trip so I'll tell you. Lights out, please.
The trip started off in San Francisco at the legendary hippie hangout corner of Haight-Ashbury, where I (and everyone else) was hounded by street dealers to buy marijuana at least five times in less than twenty minutes. Got to go aboard a WW2 submarine that actually had kills, which was neat. Went to Chinatown in San Francisco, which is very different indeed.
Then I went to a place I never been to before, Lake Tahoe, which is a crystal-clear lake six thousand feet up (the lake is higher than the tallest mountain in Gatlinburg), forty miles long, surrounded by huge mountains. Incredible! Then went to Reno for a little gambling fun, but I was too tired and leery of vulture-looking street scum who looked ready to kill for ten dollars, so I didn't see Reno as I had hoped. Then went to Virginia City NV, home of an authentic, 1870's Old West city plus the infamous Mustang Ranch Brothel. (and no, I did not attend,) Then I hit Yosemite and while driving, I saw people standing near the woods taking pictures of something in the woods. I jumped out with my camera ready for action. It was a wild bear and cub! I fumbled with my camera foolishly as the bear started off into deep wood. Drat. I missed my chance! So I ran quickly into the woods parallel to where the bears were heading and eventually got my chance to get a pic.
I came to within thirty or forty feet from the bears. The bear heard me crunching through the woods like a geeky white man and gave me a look as if to say "I would turn back if I was you!" I did. The fargin bear punked me out! But I got my picture.
After Yosemite, I went back to San Francisco and visited Telegraph Avenue in Berkeley, the true home of the 4:20 generation, where anything can be bought right on the street.
I love California. The freeness of its people. The geography. The big a** trees. If you ever get a chance to see northern California, go. Just don't mess with the bears!
Upcoming Shows
The Bulldog Cafe
Saturday, October 15 - Winter Solstice, Bloodlined Calligraphy, Buried But Breathing, Sacred Sorrow, Intent To Kill, Akeldama, Matador and Until It Dies. 6 P.M. $7 All Ages.
The Gate
.1335 Story Ave. (Formerly the old Butchertown Pub)
Thursday, October 13 - Dillinger Escape Plan, God Forbid, Mnemic, Buried But Breathing and Euology Of a Traitor.
Wednesday, November 2 - Hatebreed w/ Most Precious Blood, Full Blown Chaos, If Hope Dies, Gizmachi and Mantis.
Headliners
Saturday, October 22 - Every Time I Die, Haste The Day, It Dies Today, and A Life Once Lost.
Monday, October 31 - Norma Jean, Still Remains, The Handshake Murders and Haste The Day.
Wednesday, November 2 - The Blood Brothers w/ MeWithOutYou.
O'Malley's Corner
Sunday, October 9 - Fire Dept. Toy Tiger Reunion. 8 P.M.
Pappy's
Saturday, October 8th Croatan (Ohio), Blacklight Barbarian, Arch and Odesa.
Phoenix Hill Tavern
The Original Rock Showcase series, on the first Friday of every month in the Roof Garden.
Friday, October 7 - Shotgun Enema, Descention, Churchbomb, Ariszen Enemy and Jefferson Co Drunktank.
Rock For Kosair Benefit: Friday, October 14 -. Wasted Days, Jefferson TARC Bus, Seven, Ugly, High Road Crown, Ariszen Enemy, Intheclear, E-flat, Echos Aim, Empyrean Asunder, Descention, Cricket, Slokill, Jefferson County Drunktank. 2 Guitar Giveaways! 8 P.M.
Saturday, October 15 - Fire Dept.
Friday, November 4 - The Original Rock Showcase series. E-flat, 7DaySun, Evil Engine # 9, Echos Aim. 10 P.M.
Saint Andrews Pub
Saturday, October 29 - Odesa, The Glasspack, Stonecutters, The Brothers Of Conquest and Antikythera. Free Odesa CDs at the show!
Uncle Pleasant's
Sunday, October 9 - Dead City Rejects, Kill City (Cincinnati) and The Nicotones (Bloomington).
Saturday, October 29 - 2nd Annual Hot Zombies Ball Halloween Show: Ariszen Enemy, Caldera, Zampeg Moltar and Lots more T.B.A. Costume contest.
Outtatownerz and Otherz
The Viper Room (Cincinnati) on Wednesday, Oct 12 -: Phearus.
Props Of The Month
This month's props go out to Troy Ford, former drummer for Pilot Fish and now owner of the new venue The Gate, which is off to a productive start. With local shows, nationals lining up to play and other assorted events happening there, we might have a good new venue that will be around for a while. Hopefully.
So do yourself and the scene a favor, get down to the Gate for some good times and support what Troy is doing!
Extra props go out to 93.1 The Fox for the killer Motley Crue concert we almost missed if it weren't for them! Louisville wasn't originally on the tour until the FOX inquired about a date. Thanks.
And another set of props goes out to the soundmen of LRSfest.
Good job guys. The sound on that day was phat. On both stages!