Cowboy Corner
Muzik Mafia Kicks Off State Fair
As I sit here writing this month's column, we are a few days into the 101st Kentucky State Fair and two incredible country concerts have already come and gone. I must say, this year's fair opener, The American Revolution Tour sponsored by Chevy on Thursday, August 18, was probably the most bizarre and one of the most entertaining shows I've ever attended, all compliments of the MuzikMafia, which has taken country music by storm over the past year. The first of the two headlining members of the MuzikMafia kept a smile on my face and a laugh in my heart for 70 minutes. Big Kenny and John Rich, who make up the newcomer superstar duo Big & Rich, kept me guessing and rolling in the aisle throughout their entire set comprised of wacky songs like "Love Train," "Wild West Show," "Big Time," "Rollin' (The Ballad of Big & Rich)," and their debut single, "Save a Horse (Ride a Cowboy)." Borrowing from their lyrics, the ONLY way to describe their show is "freak parade." Where else would you encounter a couple of country-rappin' rockers promoting love of everybody through their own funky style of music, featuring Cowboy Troy, the nation's only 6 ft., 5 in. African-American rappin' cowboy and the vertically challenged video superstar Two-Foot Fred from our neighboring Seymour, Indiana? Although the volume was cranked several notches too high, making it virtually impossible for even the most adoring B&R fan to distinguish their lyrics, the guys showed their true vocal abilities during brief a capella extensions tagged onto the end of several of their numbers. This freak parade turned me into a fan and made me want to slip on my cowboy boots, don an oversized top hat, complete with feathers, turn on the disco ball and fire up the pyrotechnics.
I must say, never having seen the highly awarded female newcomer Gretchen Wilson before, this gal from Pocahontas, Illinois, really knocked me off my boots. Known for her rowdy, redneck hits "Here for the Party," her brand new "All Jacked Up," and her debut anthem, "Redneck Woman," this chick has more depth and talent than you can shake a stick at. She poured her heart and soul into rousing renditions of "When I Think About Cheatin'," "The Bed," and her next single, "I Don't Feel Like Loving You Today," evoking warranted thoughts of the legendary Tammy Wynette and Patsy Cline. Wilson proved she is far from a one-hit wonder with her spine-chilling rendition of Billie Holiday's "Good Morning Heartache" alone. Fans were treated to several cuts from her upcoming All Jacked Up CD, highlights including "Skoal Ring," "California Girls," "This is a Full-Time Job," and "Politically Incorrect," a highly-anticipated duet with her hero, Merle Haggard. Gretchen Wilson has made an impressive mark on country music and based on her State Fair performance, she's gonna hang around for quite a while and will likely continue to rake in the awards and accolades.
Fellow Muzik Mafia member, singer/songwriter James Otto offered an impressive opening set of original edgy country material. And just how did Otto get the opening act gig? As he put it, the MuzikMafia is a family and he was there because his pals Big & Rich and Gretchen Wilson wanted him there. Well, if he's good enough for them, he's definitely good enough for me.
Alan Jackson Keeps Fair Momentum Going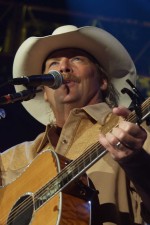 Photo By Photo by Michael Stout
There are a mere handful of country artists you can totally bank on to offer a consistently near-perfect concert and long-legged Newnan, Georgia, native Alan Jackson is one of those rare gems. Jackson didn't disappoint as he kept the momentum going at the state fair on Saturday, August 20, playing an 80-minute set chock full of a mere sampling of his greatest hits. Unlike so many in the business today, Jackson doesn't have to rely on gimmicks to entertain his fans, merely a killer voice, a guitar and a 9-piece band called The Strayhorns. An entertainer's entertainer, Jackson offered up fun, frolicking numbers "Summertime Blues," "Drive," "It's Five O'Clock Somewhere," "Mercury Blues," and the ever-so-popular anthem "Chattahoochee." Power-ballad highlights included the number of all numbers, "The Blues Man," and the heart-wrenching "Where Were You (When the World Stopped Turning)." Jackson was in a frolicking, feisty mood all evening which only added to the enthusiasm resonating off the walls of Freedom Hall. Forever a humble gentleman, the only downside to the entire evening was the fact there wasn't enough time for Jackson to perform all of his hits, abandoning early hits like "Wanted," "Here in the Real World," "Dallas," "Midnight in Montgomery," and "Chasin' That Neon Rainbow."
Jackson made his Fair stop in Louisville a family affair as he brought along his nephew Adam Wright and his wife Shannon, who make up the brand new traditional country duo The Wrights. The pair offered a stellar opening set featuring self-penned music from their debut CD, Down This Road. It's refreshing to see that authentic country music and true love are still alive in this day and time.
Mindy McCready Attempts Suicide
Things just seem to keep getting worse each and every day for "Guys Do It All the Time" singer Mindy McCready. As I've reported in the past, she is facing trouble with the law in both the states of Tennessee and Arizona for everything from a DUI to stealing a pickup truck to trying to obtain the highly addictive OxyContin with a fraudulent prescription. Well, to top it off, McCready was found unconscious in a Tampa, Florida area Holiday Inn hotel lobby on July 22, following a reported suicide attempt by overdosing on drugs and alcohol. She was said to have left a four-page suicide note. Details of the note have not been released.
Following a four-day hospital stay, McCready was released and her legal troubles continued to pile up. Her arraignment court date in Kingman, Arizona, was postponed until August 30, while a warrant for her arrest has been issued in Tennessee. She is on supervised probation for three years and she failed to report to her parole officer during the month of July and she had not gotten permission to travel out-of-state when she went to Florida. Keep reading in the coming months for continued coverage of McCready's legal troubles.
20th Anniversary Farm Aid Headed to Illinois
As I reported last month, the 20th anniversary Farm Aid concert presented by Silk Soymilk will be held at the Tweeter Center in Tinley Park outside of Chicago on September 18. Since last month, several artists have been added to the lineup, which includes co-founders Willie Nelson, Neil Young and John Mellencamp and board member Dave Matthews. Farm Aid Executive Director Carolyn Mugar says, "Concertgoers who come to Tinley Park will be overwhelmed by the talent of this year's Farm Aid concert." The lineup includes country greats Emmylou Harris and Kenny Chesney, rockers Widespread Panic, folk legend Arlo Guthrie, acoustic rocker John Mayer and Buddy Guy.
If you're up to a road-trip to Chicago to see a once-in-a-lifetime musical event, tickets for Farm Aid 2005 can be purchased by calling (312) 559-1212, or by logging on to www.ticketmaster.com. Tickets range from $30-$85. For more Farm Aid concert info or to make a donation to help America's farmers, log on to www.farmaid.org.
Hats off to Willie and the gang for their continued support of the farmers of America! Without the farmers, what would you be eating for dinner tonight?
Country Family Album
Former American Idol contestant and hot country newcomer Josh Gracin is not only singing chart-climbing hits these days, but he's also singing lullabies. Gracin and his wife Ann Marie welcomed their second child into the world last month. Son Landon Joshua Gracin was born in a Nashville hospital on August 4. Landon joins 3-year-old big sister Briana. Congratulations to the entire Gracin clan!
Congratulations are also in order for folksy country-rocker singer/songwriters Steve Earle and Allison Moorer's on their exchange of vows last month. The couple, who have been touring together since last year, tied the knot during a ceremony at the Hermitage Hotel in the outskirts of Nashville on August 11. This was Earle's seventh trip down the aisle and Moorer's second.
Country Codas
The country music community was hit extremely hard in the last two months as it lost an excessive number of its own community. Cajun recording pioneer Eddie Shuler, who founded famed Goldband Records in Lake Charles, Louisiana, passed away July 23 in Atlanta at the age of 92. Shuler has worked with artists of all genres of music, including country artists Freddy Fender and Jo-el Sonnier. Of all the artists he worked with, his most famous client made her recording debut on his label at the ripe old age of 13. That's right, a teenage Dolly Parton recorded her first single, the self-penned "Puppy Love," on Goldband Records back in 1959, nearly a decade before her major break as Porter Wagoner's girl singer.
Famed recording engineer Charles Donald Bradley passed away in Nashville on July 30 at the age of 77. The younger brother of Hall of Fame record producer Owen Bradley and session guitarist Harold Bradley, Charles worked alongside his brothers during the heyday of Bradley Studios and Columbia Studios, which produced hit music by the likes of Patsy Cline and Loretta Lynn.
On August 9, steel guitarist extraordinaire Hal Rugg succumbed to cancer at the age of 69. Rugg toured with some of the biggest names in country music in the 1960's and 1970's, including the legendary George Jones, before settling in Nashville as a studio musician. He has worked with the likes of Loretta Lynn, Barbara Mandrell, Ronnie Milsap, Ray Pillow, Eddie Rabbitt, Leon Russell, Ray Stevens and Floyd Tillman. Rugg was inducted into the Steel Guitar Hall of Fame in 1989.
Our condolences go out to "Where've You Been" singer Kathy Mattea upon the recent passing of her mother. Ms. Ruth Mattea, of Cross Lanes, W.Va., passed away on August 10 following a lengthy illness. Ms. Mattea lived to be 84-years-old.
Seventy-one-year-old Cajun fiddler Rufus Thibodeaux passed away August 12 in a Nashville nursing home following a long illness. He picked up the fiddle at the age of 12 and went on to become a major-league player performing with Grand Ole Opry member Jimmy C. Newman. In addition to Newman, Thibodeaux played with a diverse group of artists including Carol Channing, Lefty Frizzell, George Jones, Jim Reeves, Hank Williams, Jr. and Neil Young.
Country/Bluegrass fiddler Vassar Clements lost his battle with lung cancer in Nashville on August 16 at the age of 77. Clements began fiddling at 7 and went on to play with Bluegrass legends Jim & Jessie, Bill Monroe and Earl Scruggs, as well as country greats The Nitty Gritty Dirt Band on the Will the Circle Be Unbroken albums. Throughout his career, Clements released 27 of his own albums ranging from country to swing, jazz and waltzes.
Well, that's it for this month and for the summer, for that matter. Always remember: "Keep your boots shined up and your hat on straight, `cause country music is comin' your way."