Vassar Clements Dies at 77
Bluegrass fiddler Vassar Clements died at home on August 16 at home of complications from lung cancer. He had been undergone chemotherapy and other treatments earlier this year. His daughter, Midge Cranor, said that the cancer had spread to his liver and brain as well.
During his career, Clements played on more than 2,000 albums, by artists as varied as Paul McCartney, Hank Williams Jr., the Byrds, Johnny Cash, Bonnie Raitt, the Grateful Dead, Bruce Hornsby, Woody Herman and the Nitty Gritty Dirt Band. He also recorded more than two dozen albums under his own name. His last performance was in Jamestown, New York, on February 4.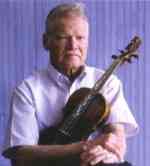 Clements only Grammy award came in 2005, when he earned a share of the Best Country Instrumental Performance for Earl's Breakdown, recorded by the Nitty Gritty Dirt Band featuring Clements, Earl Scruggs, Randy Scruggs and Jerry Douglas.
Like many bluegrass musicians, Clements held a variety of non-musical jobs during his life, including a period at the Kennedy Space Center in Florida in the mid-1960s, when he worked on plumbing. He also worked in a Georgia paper mill, sold insurance, was a switchman for Atlantic Coast Railroad and had a potato chip franchise.
Clements taught himself to play at age 7 and had no formal training. "It was God's gift, something born in me," he was quoted as saying about his talent. "I was too dumb to learn it any other way. I listened to the (Grand Ole) Opry some. I'd pick it up one note at a time. I was young, with plenty of time and I didn't give up. You'd come home from school, do your lessons and that's it. No other distractions."
"I don't read music. I play what I hear."