I've Got A Mind To Ramble
Remembering Clinton Coleman
Songwriters don't get the publicity granted to vocalists and musicians, so when Cllnton Coleman died on January 4 of this year, there was a very brief obituary that gave no credit to his contribution to Louisville's musical heritage. To give Clinton his due recognition, I talked to Ray Johnson to get some background. The veteran jazz pianist is currently holding the second-longest continuous gig in Louisville: He has been playing at Jack Fry's for nineteen years. You will find him there every Tuesday, Wednesday and Thursday evenings. On Tuesday and Wednesday he gets a little help from Ben Ingram on stand-up bass and David Wilson on tenor sax. You're wondering who can claim the longest Louisville gig? Ray said it was Kurt Siegert and his "Strings in Stereo," who played at Executive Inn East for twenty-three years. Ray occasionally sat in with Kurt and has just four years to go to claim the title of the longest gig.
I first became aware of Clinton upon hearing the record "Unemployment Blues," sung by John `Preacher' Stephens. Clinton had written the lyrics, which I confirmed with him shortly before he died, even though the Fran label credits the song to Preacher and Cliff Butler. Ray said there was another blues Clinton wrote for Preacher called "Lipstick, Powder and Paint," wherein he sings, "Put it on them ugly gals and make them look like they ain't." Unfortunately, it never was recorded. There is another side of Clinton's character that became apparent while I was talking with Ray Johnson and Clinton's sister, Anna Denning.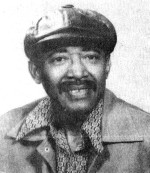 Photo By Photo by Ray Johnson
Coleman was born on January 23, 1930 and started singing gospel in church as a young boy. His reputation grew when he formed the Golden Quartet and the Golden Echoes. He eventually became the choir director at the Friendship Baptist Church. He joined the army in 1949 after graduating from Central High School and served at Fort Knox, where he lead the Army Choir and traveled around the country. After his discharge, he started working at the Diamond Horseshoe nightclub on Walnut St. He worked his way up, so that when the owner, Sheik Paris, wanted to get out of the business, he turned it over to Clinton to manage and book entertainers. He brought singers like Al Hibbler, Clyde McPhatter and Gladys Knight to town during the Fifties. Anna said Ray and Clinton were like musical brothers and when Ray was performing in New York, Clinton followed him, promoting his songs from 1968 to 1974.
Ray knew the comedian Rodney Daingerfield, who knew the agent for Tony Bennett, and they almost were able to get a song for Tony to croon. Harvey Fuqua was also interested in one of Clinton's songs for Motown but when he married into the Gordy family, he lost interest. Ray felt that Clinton's songs were "going against the grain of current taste." When I looked over a stack of sheet music and lyrics by Clinton, the messages of the songs were inspirational and upbeat. Clinton's most prolific period for writing lyrics and jingles was during the Eighties. He helped promote the musical group Debow that featured Rick and Joe Debow plus Darryl Cotton, writing songs like "Guy Who's Looking For A Girl" and "Tomorrow Is Another Day."
Clinton's high morals got him involved with the Unicorn Project, a neighborhood anti-crime program. As a message to the youth in our community, he wrote "Crime" and "Improve Yourself" for Debow to perform in 1980. During 1985, he was commissioned by Ken Clay, then Director of Special Constituencies for the Kentucky Center for the Arts, to compose a jingle commercial for the Midnight Ramble series called "Old Walnut Street"(The Way It Was). Clinton even did a jingle for Jay's that went like this:
" I talk about delicious things to eat
Then Daddy talks about the price of meat
`Cause he needs a way to save,
When we satisfy our crave
But when we can't think of a way
I think of Jay's
Many of his jingles were broadcast on WLOU radio.
When Ray played a recording of Clinton singing "Something To Smile About," which he sang at this brother's funeral, I could hear a lot of Nat King Cole in the slow ballad. Ray said, "He loved both Nat and Billy Eckstein." Anna said, "My brother loved people but was a very private person. He was always focused on composing. His life was music." Anna used to get sad reminiscing but Clinton would say, "There's nothing wrong with thinking about the past, because the past shapes the future." Amen.
Axes are Us
There has been a lot of press in the LEO and Courier Journal about the Guitar Emporium reaching its thirty-year milestone with pictures of the owner, Jimmy Brown, holding a vintage guitar. Their anniversary was celebrated with a storewide sale on Saturday, August 13 and a free in-store concert on Sunday, August 14. The two hour-plus jam was payback time from Jimmy to his customers and the musicians back to Jimmy. When the doors opened at 7 p.m. there was a large group anxiously waiting to get in to see the main attractions, Duke Robillard and Greg Martin. Entering the store is like stepping into a vintage guitar museum, with wall to wall axes of all makes, sizes and colors. Between these axes are photographs and albums jackets signed by musicians. The Emporium maintains its antiquated character with the original pressed-tin ceiling, strip oak wood flooring and rustic knotty wood paneling.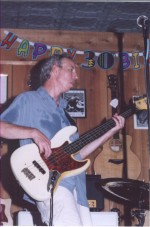 Photo By Photo by Keith Clements
The early birds quickly got the fifty chairs in front of the stage. Duke was already tuning his Fender. Greg arrived after having just gotten off the bus touring with the Headhunters. As the standing room only crowed filled up toward the front of the store, the temperature began to rise.
The house band for the jam started off with Duke and Greg on guitar, Jimmy on bass and Jeff McAllister drumming. That rhythm section worked the entire evening and their shirts were soaking wet at the end. Jimmy paid tribute to Bill Hawkins, his original business partner and Jeff DeMarco, fellow guitar player and technician. They opened with "West Side Shuffle," an instrumental that Duke recently recorded with Ronnie Earl. Duke and Greg stood toe-to-toe and pick-to-pick exchanging licks. After they finished, my wife said, "Not bad for no rehearsal."
They slowed the tempo a little with Freddy King's "You Got To Use What You Got" (It Doesn't Matter About Your Size). Duke mentioned when he lived briefly in Louisville, "I probably bought over fifty guitars from the Emporium and had to move away so I wouldn't go broke." "Good Time Charlie" followed with a curious "Turkey in the Straw" finish initiated by Greg. When it came time to raffle the two guitars, nobody on the bandstand had good enough eyesight to read the winning numbers on the tickets so one of the staff had to assist. Duke changed to his big hollow body Gibson Epiphone to play and sing one of his jump blues standards, "Gee I Wish"(I Had A Little Girl Like You). The first set closed out with an extended version of Chuck Berry's "30 Days" with Jeff getting that rumba rhythm by beating the cymbals with a maraca.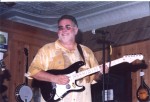 Photo By Photo by Keith Clements
There was not much relief from the heat at break time, as outside the heavens dumped some much-needed rain. Ricky Feathers, lead guitarist with Bodeco, took Greg's place to open the second set, playing his usual kick butt R&R like the Tailgaters "Rock and Roll Till The Cows Come Home." When Ricky gets into an intense groove, he freezes on stage (cocked to rock) in his Ersel Hickey stance (like the Guitar Emporium logo). [Incidentally, Ricky painted that logo from an old photo of Hickey.]
A change of guard came when guitarists Tim Krekel and Jimmy Gardner got up, along with Joel Pinkerton on harp. Jimmy and Joel teamed up a year ago to form the blues duo Lazy Eleven and both Jimmys, Joel and Jeff are the nucleus of the band Hellfish. There is a lot of blues interbreeding going on. Jimmy Gardner proclaimed, "Jimmy Brown gets credit for taking the steam-driven guitar to the modern amplified guitar." They performed "I'm Just Your Fool" and a haunting slow song, "Got To Hold On."
Photo By Photo by Keith Clements
Lamont Joey Gillispie arrived after the rains came, limiting him to performing only one set at the Willow Park Concert. Tim and Greg accompanied Lamont's harp and vocals on "Checkin' On My Baby" and then Tim handed his Gibson to Ricky Mason to reunite again with Lamont for "Little By Little."
Ricky is free, free at last and seems to be rid of his demons. Lamont dedicated that song to two great drummers, Ricky Durlauf and Paul Tkac, who had played with him. As Duke got back on stage he said, "Listening to all these great players here tonight makes me miss Louisville." Duke dedicated his last song, "Dying' Flu," by Albert Collins, to the late Milton Campbell. Greg stroked his fretboard, using his big purple plastic slide, and Duke did a long, mournful solo, stepping out in front of the stage, his stripped-down delicate notes contrasting with and slowly building up to a crescendo that unleashed his fire.
Following the celebration concert, Jimmy Brown said, "It was a surreal experience, for it was hard to get a feeling for I was right in the middle of it." Duke had e-mailed him the next day saying how much he enjoyed hearing Ricky Mason playing again. Jimmy's parting comment was how grateful he was for the support from the community.