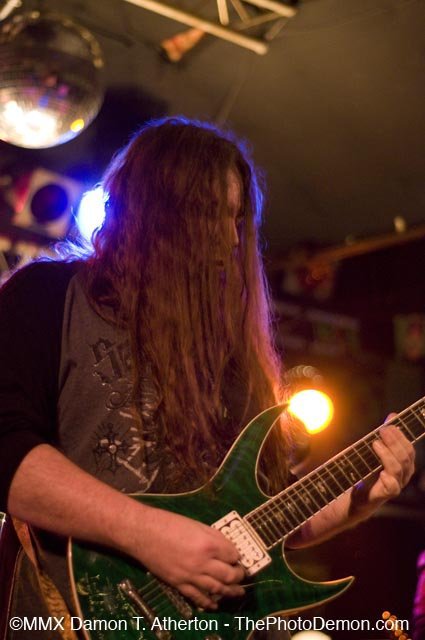 News From the Pit
Tons of shows! That's what has been happening around here. This has been one hot and unpleasant summer for me and I admit that I haven't been to as many shows as I'd like to have. I've been a mass of gelatin, sitting in my AC after work and vegging out!
I foolishly missed Strapping Young Lad, Ozzfest, Team Sleep, GWAR and a few others. Unfortunately, I have bills to pay and I've got to get up at the buttcrack of dawn (daybreak, not some lady named Dawn). I guess one does not always get what one desires in this life.
The scene is going through changes once again. I've noticed there are not too many big-draw local bands around as much as there usually are. With a lot of bands breaking up, moving on to better things, or touring...It's slim pickin's, actually. The little black band book is looking kind of flimsy, but, fortunately, there are a slew of new bands, ready to be heard, ready to be noticed, ready to show you their music THEIR WAY.
There's quite a bit of new blood in the scene and this month we shall focus a bit on these projects.
New Blood Edition
Shatterstone is a brand new metal band I see doing real well. Their big redneck, country boy, metal look is refreshing and a welcome break from the face-piercing, dreadlocks having, baggy shorts-wearing trendy bandwagon-jumping yahoos of the Five-o-spew scene. Power ballads, rocking anthems, excellent vocals and all-out blues rock riffing from hell. Shatterstone has the "I don't give a f**k" attitude. It's not about trends or trying to be a part of the scene. It's all about the music. And it shows. www.shatterstone.com
The band Wasted Dayz has come a long way since picking up vocalist Chris Davis, a terrific singer and a very humble and down- to-earth guy. In my eyes, they have seriously moved up the ranks and are approaching the elite upper echelon in Louisville music. They've got a killer new CD out that you should read about. (see review below)
Antikythera is a semi-new-ish band comprised of many experienced local metal musicians, including one that plays in the national touring band Hot Action Cop from Tennessee, which had the hit single "Fever For the Flava." Hard, brutal metal is what Antikythera is about. No compromise, no prisoners, no mercy. The band has been hard at work playing out as much as they can and getting the word out.
Slokill is a new six-man band from J-town that is creating a decent-sized buzz. I've been hearing nothing but good stuff from people about this band and they certainly are nice guys and a pleasure to work with.
I have been hearing the band name Cricket quite a bit here of late, so they must be doing something right. I'm going to have to get in touch with these guys to see what's up with that.
Descention is a bone-crushing, five-piece thrash band from Louisville that I like. Very young, but very good musicians, indeed. I liked almost every song. The vocals were pretty brutal, yet entrancing and not overboard. http://www.myspace.com/descention
Seven, Breckinridge guitarist Rahul's side project, is doing really well these days with their high energy, alternative punk offerings in the vein of Jane's Addiction. I like to call it Rahul's Addiction! My question is. When is the CD coming out?
Dead City Rejects is a band I know absolutely nothing about, but I'm going to find out. These guys are busy mofos and seem to have it together. Punk rock is the band's main style and they have been getting their name around pretty darn good here of late. Punk has never been my thing, but I admire what these guys are doing. Keep it up, we need more bands like you guys! www.deadcityrejects.com
Arizen Enemy is a new, non-trendy band, which has been bugging a man to death for a chance to be heard and noticed. I'm glad they did, because now I've another good band to hook you and the fans up with. Arizen Enemy is all about originality. It's part speed metal, part redneck "Luther" style, part melodic. Hell ... it's part everything. Good musicians and the songwriting sounded pretty darn good, too.
Echo's Aim is a brand-new alternative/punk band comprised of a few of the Redline guys who wanted to do the original thing as well as covers. The band has a good following already and the band's fans have a strong connection to Redline. Speaker-diving, high energy rock at its finest! Besides, if they play in a cover band, you are already assured they got plenty of talent. And where Echo's Aim plays, the Redline fans will follow.
So while it seems the scene may be a little deader nowadays, it's just going through a transition. New bands are trying to take the initiative, so be sure to get out and see some of these new bands at some of the newer clubs that feature Louisville talent, like The Rustic Frog and The Bulldog Cafe. Yeah it's a bit of a drive, but it's worth it.
I haven't regretted going to either of those places when I went. It was fun, and fellas, there are some mighty fine women hanging out at the Frog. You might want to look into that.
Until next month, take it sleazy and keep the fire burning by checking out some of our NEW local talent! As for me, I leave for California in one day! No way!
Sweeeeeeeet.
The Metal Grapevine
LRSFest `05, the Lowdown: Awright, here `tiz. You all know how much I raved about the LRSFest and how cool it was, as a local original musician, to be able to play Waterfront Park to thousands of hometown people, family and friends. LRS has really hooked up the local scene with these events, and I appreciate it bigtime!
I mean, really, where can Louisville rockers, even the heavier bands, get to play to thousands at such a cool location? Nowhere else. So thanks, LRS!
LRSFest `05 happens on Friday, September 16
Here's how it's looking as of now. MAIN STAGE: Papa Roach, Cold, Smile Empty Soul, Theory Of A Deadman, VHS or Beta and 10 Years.
SECOND STAGE: Five.Bolt.Main, Evil Engine # 9, MSD, Incursion, Halfway Hollow and From Within. Sounds like a great time on the river, drinkin' a few cold ones. The ticket is $15 in advance and $20 day of show. No cans, bottles, coolers, pets, or chairs will be permitted on the Great Lawn at Waterfront Park day of show.
See www.WLRS.com for all details Brought to you by Bud Light, New Rock 105.1 WLRS and The Rustic Frog.
See ya there!
The Fox Moves: 100.5 the Fox has moved to 93.1. I was flippin' on the radio (a rare occasion) when I noticed extremely lame music coming forth from 100.5.
Freaked me out!
I thought our rock and roll/local/metal fix was yanked, but then I found out it moved to 93.1 FM, which isn't a big deal (Or so I thought at the time.)
There's one bad thing, though. The range and reception has been cut dramatically and I don't think that will do their sales of airtime any good. I know I buy radio ads every month, but now since we've been cut off bigtime, its time to renegotiate, or move to another station, because I'll be honest with you, peeps, I'm not into this radio war stuff. I don't give a farg either way. I'm with and have been with the Fox for the excellent range and reception of the station. Now it's been reduced horribly. It's time to raise some stink. Yeah, we live in the city, but what about the rockers in Frankfort, Salem, Carrolton and other outlying towns and counties? They have been totally cut off from rock.
Wasted Dayz New CD: This is a great release from a good energetic rock band. As I sit here listening to the brand new CD I am very impressed with the talent and sound quality of this effort. These guys have come a long way and that becomes clear on hearing the new CD. A good amount of cash was spent recording this CD, I think twelve to fifteen grand. There is many a good musical moment in this outing. Subtle, heavy, laid back, pretty and all out rockin'. The vocals are everywhere. In a good way that are definitely going to be well received by the fans.
Be sure to go to their CD release party at Phoenix Hill Tavern on September 10 with guests, Rusted Shine and Slokill.
Five.Bolt.Main on Headbangers Ball: Super cool! The guys informed me that they were going to be on the legendary metal TV show and that was something I definitely wanted to see. Because that, my friends, is icing on the cake! When your band appears on Headbangers Ball you know you are getting close to making it!
The video was shot in a NY apartment-like brick building. There wasn't a lot of money spent on this video, but there didn't need to be. I watched the show from the beginning and I honestly liked F.B.M's song "Pathetic" better than all the previous bands. Nowadays, a lot of the newer bands on Headbangers Ball simply don't impress me, but the F.B.M video did. And even if I didn't know them, I would have thought that.
InTheClear Hittin' The Road: The band InTheClear, (one of my faves) is going on the road on September 10 for ten days of shows with the band Greenwheel. This is one great band and I'm glad they are doing well and getting some sweet out-of-town gigs. Have fun, fargers!
Antikythera CD On The Way: Evil minds are a'workin', chaos is being planned, it's about time to open a can of Kentucky thrash whupass! The eight-song self-titled CD is being recorded at Headfirst Media and will be ready in a few months. "We are going to take our time and do things perfectly" - Antikythera.
Evil Engine # 9: Ladies and gentlemen, step right up and see the next big rock story in our fair city! That's right. I'm putting in the bid to my boss to do a cover story on the evil boys just as soon as a month comes available.
Hear that Evil Engine # 9? You are next!
Local SuperBand Coming! Their name? Into Another. The members? Joe and Chris from Flatlyne, Van from Incursion, Jay, formerly with Flaw and new member with Incursion and Chris Ballinger formerly with Flaw. Sounds like an interesting lineup that a lot of peeps would like to see, including me. www.IntoAnother.com
Big Outdoor Party/Concert: CORNSTOCK. There will be a killer party out in the sticks on Saturday, September 3, with plenty of beer, bands, broads and I'm sure a bunch of other stuff, too! Outdoor bonfire keg parties with live bands are always my favorite! See Info Below.
Rock For Kosair, Friday October 14: The date is set and it's a go.
On Friday October 14 at the Phoenix Hill Tavern, it will be an original rock extravaganza, with over twelve bands. One night only. Many types of Louisville rock and metal at its finest! All the proceeds go to buying toys for the sick kids at Kosair Children's Hospital. Read some of the bands confirmed below.
There will be killer giveaways, maybe even a guitar or two! Not confirmed yet.
Scott Clarks House: I'd like to send out sympathy regards to Scott Clark and his lovely wife, whose brand-new house was recently destroyed by fire. Scott has done many great things for Louisville musicians and we the musicians, fans, the press here at LMN and his friends, therefore we wish the Clark family the best of wishes and a speedy recovery from this tragedy. Hang in there bro...and thank God no one was hurt!
Motley "Fargin" Crue: Ok, who's going? I'm going to see this show for sure. And the way MC notoriously get along, I should go ahead and see them while I can. Yeah, they aren't the dump truck full of cocaine-snorting, partying horndogs they used to be, but it should be cool and definitely bring out the freaks in droves.
Will Vince Neil be a lazy vocalist? Will Tommy Lee hang upside down while he plays the drums? Will Nikki Sixx overdose onstage during "Gargoyles Gargoyles Gargoyles"? Will Mick Mars evaporate into thin air during the set? Those questions will be answered September 20 at Freedom Hall. Be there.
Shotgun Enema! Hey mofo! How'd you like a Shotgun Enema?! Sounds brutal and I'm sure the music is every bit intense as the band's name indicates. This newer, yet experienced, band has its stuff together and is playing out now. The band is former members of Gasket and the former guitarist of Kallus, who rocks. I haven't heard it yet, but I'm betting it's way brutal.
If you get some free time, check them out!
All Ages Writer Wanted: I'm looking for a writer to do some stuff on the all-ages shows. A young kid into the metal scene bigtime. I'm a picky bastage and need someone smart, reliable, trustworthy and witty to contribute to News From The Pit who wants to be part of a team. Contact me and we'll discuss it. Eddymetal1@aol.com
A Drummer's Big Move: Drummer Available - J.D. Hall, former drummer of eastern Kentucky. metal act Voices Of Aggression is looking to join or form a new hard rock/metal band in the Louisville area. Serious inquiries only, please. J.D. is an experienced, larger than life, heavy hitter in search of a talented band that wants to take their music to the top. For more info, visit him online at: http://www.jdhalldrums.com
Upcoming Shows
The Bulldog Cafe
Friday, September 2 - Soilent Green, Into The Moat, A Perfect Murder, Watch Them Die, Beneath The Sky and Churchbomb.
Saturday September 3 - Sofa King Killer, Odesa, El Masivo and Shotgun Enema.
Sunday September 11 - Bane, Tears to Glory, Antikythera and For Petes Sake.
Saturday September 24 - Pretty Girls Graves, Ten To Midnight, Canopic and Ayin.
Saturday October 15 - Winter Solstice, Bloodlined Calligraphy, Buried But Breathing, Akeldama, Intent To Kill, Sacred Sorrow, Matador and Untill It Dies. 7 P.M. $7
Headliners
Thursday September 1 - The Black Dahlia Murder, It Dies Today, A Dozen Furies and Trivium.
Maiers The Saint Matthews Tavern
Friday September 9 - Echo's Aim.
Phoenix Hill Tavern
The Original Rock Showcase series, on the first Friday of every month, in the Roof Garden.
Friday September 2 - Ugly, Month Of Sundaze, Caldera, Shatterstone, E-Flat.
Friday October 7 - Antikythera, Ariszen Enemy, Churchbomb and Shotgun Enema.
Friday October 14 - Rock For Kosair Benefit- with all proceeds going to purchase toys for sick kids at the Kosair Children's Hospital. Bands Confirmed to play: High Road Crown, In The Clear, Ugly, Surviving Thalia, Wasted Days, Descention and many more. Full Lineup to be listed in October issue.
Outtatownerz and Other
LRSfest at Waterfront Park. Friday September 16 - National Acts Papa Roach, Smile Empty Soul, Theory of a Deadman, VHS or Beta.
On the Second stage will be our hometown boys: FiveBoltMain, Evil Engine # 9, MSD, Incursion, Halfway Hollow and From Within.
Cornstock, September 3 - 132 Darnall Ave. (1 mile past the Otter Creek Park Entrance), Brandenburg, KY 40108, US - $15 All ages. Noon to Midnight. Ugly, Antikythera, After The Panic, High Road Crown, Evil Engine 9 , Corn Whiskey, Cricket , One Fine Line.
Club Revolutions, Lexington, Kentucky, Saturday September 10 -: Antikythera with Crimson Cloud and other bands TBA.
Props Of The Month
The life and times of Edison Metal.
This months props is a bit different. Why? Because I'm listing my dad as the props recipient. Dad just recently pulled an Ozzy Osbourne-style accident on his ATV and sustained some semi-serious damage to his hip. My dad is one of the coolest mofos ever. He took me and my sister to see the original masked Kiss when I was ten. He always let me go to all the killer concerts growing up: Kiss, Judas Priest, Motley Crue, Van Halen, Krokus, etc etc...
The guy even hooked me up with guitar equipment when I started getting obsessed with wanting to jam. My dad even went to go see Metallica and Ozzy at Cardinal Stadium! And he didn't even take me! I had to go with friends. I don't think too many fathers attended Metallica concerts back in the Master of Puppets days.
Besides that, he raised me and my sister single-handedly while working full time, when my mom decided she wanted to party and didn't want to be a mom or wife anymore.
My dad is a country boy through and through, the type that goes bear hunting with a butter knife and then eats it! And I guess my love for Eighties rock/metal and its image freaked him out a bit in the beginning, but he let me be me and even supported me in my Heavy Metal musical ambitions, however weird it seemed to him.
My point is: Without my cool dad, I doubt I would have done all the things I've done in this scene. I probably wouldn't have helped out all you bands that I have. I probably would have turned out different.
I like who I am and what I do and I owe it to my dad for letting me be the rocker that I am. Thanks dad, I love you and get better!