Louisville Rock Closeup
Tim Owens
Name/Nicknames: Tim Owens- AKA "The Explosion," "Dragon Wizard," "Tim of Nazareth."
Age: 24.
Instrument: Drums.
Band/Former Bands: Currently- Surviving Thalia (Album Coming Soon) Formerly- The Slackers, Chosen Guilt, Nemesis, Assisted Infant Suicide, Fill-Dirt and Mr. McFeely's Off Day.
How Long On Instrument: 14 years.
Equipment: Pearl drums with a piccolo snare and roto toms. Many different cymbals and any stands I have that are not stripped.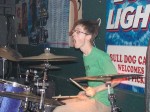 Influences: Look What I Did, The Mars Volta, Dave Mathews Band, Primus, Harry Connick Jr, Ben Folds and Tub Ring.
First Gig: The Carl Casper Auto Show Battle of the Bands 1997 I think?
Hobbies: Painting and other Arts, Video Games, Louisville Basketball and of course Music.
Favorite Movies: Cool Runnings, American Psycho, Lord of the Rings, Star Wars, Napoleon Dynamite and WrestleMainia 6 (Hulk Hogan VS. The Ultimate Warrior).
Favorite Food: Qdoba and Holland 1620.
Favorite Place: The Hall of Freedom
My Bad Habits: I bite my nails, speed up songs at shows and hit the dog too much.
What I'm Listening to Nowadays: The Mars Volta, Jamie Cullum, Sondre Lerche and Look What I Did
Coolest Thing I've Done: Playing at last years LRS Fest in front of about 10,000 people.
Most Embarrassing Moment: Every time I screw up a song on stage.