Louisville Rock Close-Up
Name: Big Al Harley, BoozeR, Poppa, Fatboy
Age: 38 years distilled
Instrument: Geetar and Fifth Bottles
Band: BoozeR..... the only band I will ever be in, because I can't kick myself out of it. But roadied for the likes of Hardware, Ransom, Cutthroat, Crazy Train, Karmadogs, Godhead, Drunk Monkey, Apple, Dodge City, Snair and Cornbread Mafia.
How long on Instrument: Started playing air geetar when I was about 7 or 8. Just right after seeing KISS on Don Kirshner's Rock Concert. Fell in love with the geetar. Been having x-rated sex with it ever since.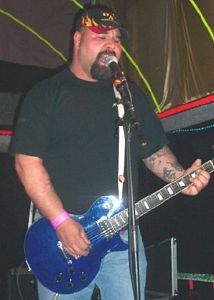 Photo By Eddy Burke
Equipment: Marshall JCM 2000, two cheap guitars (one I got from Eddy Metal),a cord, a fifth of Very Old Barton, a doobie and a set of untrained ears.
Influences: Randy Rhoads, Ace Frehley, Angus Young, Brian Setzer, Tom Steveley
First Gig: The first time I recall as my first time would be at Uncle P's. Bobby O (thankz a million) and Billy Masterson (thankz a million) and I. We played two geetars and a gnare. We played three songs. That is when I got "hooked."
Hobbies: Harleywood Screenprinting, Drinkin, Golf, Billiards, Drinkin, Strummin, Hangin with the family, Drinkin....
Favorite Movie: Top five are "Blazing Saddles," "The Blues Brothers," "Up in Smoke," "Caddyshack" and "Airplane."
Favorite Food: A category I know so well. Would have to say I love all foods....home cooked, drive-thrus, finger, carried out, I love it all.
Favorite Place: Waking up next to "Momma," Hangin with BSH. Drinkin and anywhere away from the 600-700 Block of Jefferson Street.
My Bad Habits: Overbearin', Controllin', Obsessive Alcohol abuse
What I'm Listening to: Just like always...something that has a geetar solo to it. Odesa is in my CD player as I write.
Coolest Thing: Witnessing the birth of my son Brandon Stone Harley. It was totally amazing. When they pulled him out. "Holy chit! He looks just like me"
Most Embarassing Moment: You said be truthful, so here goes...We were down in Houma, LA. Workin for Crazy Train. Hours before the show. I ordered a glass of water. I drank it. Not even ten minutes later. A chit pain hit me. At the time I was in the van smokin with Pat Bareis. I jumped up. Got out of the car. Ran over to some bushes. Just enough time to pull my pants down. Thank God, I got nothing on me. I had to use my shirt. Learned a valuable lesson that night. Bottled water when you're on the road.