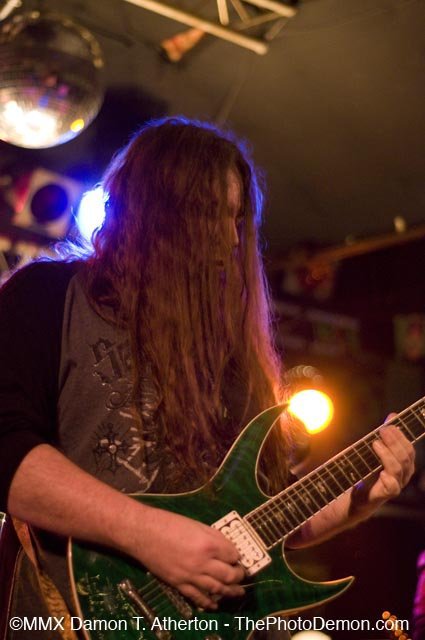 News From the Pit
Disturbed was cool, but the room was miserably hot and crowded, Nine Inch Nails rocked far beyond what I was expecting (I was thinking it would be kinda gay) and Sevendust was the bomb (until I fell). And the 502 Showcase was pretty darn good, too, I must say. Word is that Saint Andrews Pub has been kickin' lately and Oscar Brown's have kicked things up a notch or two. Mudd's `Louisvillerocks at the Hill' is doing great. And Nick Priddy's segment, Blast From The Past, is starting to pick up steam as well. Cool beans.
The weather's been nasty but it seems there's no shortage of shows to attend and no shortage of people running their mouth.
Remember that fiasco last spring/summer about a certain band trying to boycott me, just because I told them to stick their extremely arrogant and rude threats up their arses? Never in my thirty-six years of life have I met a more arrogant and whiny person than the person who started all of that nonsense. Here it is almost a year later and this person is STILL going on with the mouth running and slandering. What is the purpose? What will it achieve?
It is an old and tired subject that should have been put to rest long ago when I gave proof of the allegations in this newspaper for all to see. I have turned the other cheek, ignoring the lies and insults, even posting their show dates and giving the band credit for the musical work they have done, but this person keeps going on and on, like the Energizer Bunny on steroids. Dawg is like a baldheaded, self-powered Chatty Cathy doll that keeps pulling the string in the back. Yakkity yak, yakkity yak.
All that know me know that I am a peace-loving, laid-back dude, but enough is enough. I've thought long and hard why would someone go so far out of their way, almost to an obsession, to do negative things like that? Well - I've finally come to the conclusion that this person is like a spoiled rotten little kid who always gets his way and when he doesn't, a big-time tantrum follows. Waaaaaa and stuff. Grow up, for god's sake! No one cares about your petty hatred of me. Just face the facts: the boycott failed miserably and the Hill shows and my "News From the Pit" column are as popular as ever. It's been a year dude. Let it go. Sheesh.
Apart from that nonsense, it's been a helluva month for me. I and everyone else it seems, have been sick. I've been sick with the flu and bronchitis for two weeks. I'm about at my wits end. I'm bummed; I really wanted to go see the death metal show at Headliners on Saint Paddy's day, featuring Assisting Sorrow, Antikythera, Caldera and Abominant. And I was wanting to go to Bizkits Saint Paddy's day `Hangover Show' at the Hill, but I wasn't quite well enough to attend. I stayed home and sucked down massive amounts of funky cough syrup in the process, only to about break my back at the Sevendust show.
Finally, I got better on the day of Sevendust (see review below) and decided to go, but boy was this to be a memorable night, in more ways than one.
The Metal Grapevine
Disturbed Review: Holy cow was Jillian's packed for this show. I've never seen it so packed there. Bowling Green's Sixth Floor started the night out with some ballsy rock that didn't quite get the reaction from the fans that they hoped. I thought they sounded great, but the crowd was much too impatient for Disturbed to show the proper appreciation. Maybe a heavier band might have worked out better for that spot. Still, many props to Sixth Floor for the tight set. I like Sixth Floor a lot. Super nice people and great musicians. Then came Bloodsimple, a band I don't know much about. They were heavy and the fans seemed to like them as much as I did. Then came Disturbed. The house was packed to capacity and it was hotter and sweatier than a tropical rainforest in August. Disturbed is another band I'm not too familiar with at all, so I'll just have to do my best, I reckon.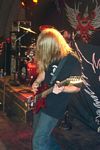 Photo By Eddy Burke
I thought they sounded great and the vocals of David Draiman were in fine form, but a friend who knows the band well told me the singer was not happy with a few things and did not give his 100%. The band played all their radio hits, it seemed, but I didn't know the song titles. Their fans were having a ball. Guitarist Dan Donegan has a very nice guitar tone. I tried to get up close to the stage, but I was repelled by fat, stinky dudes. Sheesh, no pictures are worth that. I'd say I lasted about four minutes in the inner crowd area, so I retreated back to where there was air and such. There were many hot babes in attendance and I had a great time at this show indeed.
My only complaint was having to wait an hour in the freezing cold in an extremely long line, just to get in the building. But it was not Jillian's fault, I learned, but the Yager people/management. Luckily, I brought my coat, unlike many other unfortunate souls who also had to wait. Thanks to Bobby Burk from Jillian's for taking care of us here at LMN and for booking such a sweet show. Fans were in ecstasy at hearing such a popular band in such intimate quarters.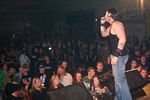 Photo By Eddy Burke
Sevendust Review: What a great show! Much better than Disturbed. I got there early to see the openers and was totally surprised to see a woman singing metal in the second band, Wicked Wisdom. Then some dude leaned over and said that it was Jada Pinkest Smith on vocals. The famous actress who appeared in several hit movies like "Menace To Society," "The Inkwell" and many more. I always thought she was way hot, too, so I was like, wow. It kinda tripped me out.
Then I heard her hubby was in attendance backstage. None other than the man in black himself, megastar actor Will Smith, along with a huge bodyguard. Famous or not, I was digging their music, Jada could sing pretty darn well, I must admit. And never would I have dreamed her style was all-out metal. If you get a chance, check out Wicked Wisdom. Then came Social Burn, a band I did not like at all. Too happy and cheesy for my tastes. Sorry.
Nonpoint came on next and ripped it up, big time. I liked this Miami-based, half-Puerto Rican band. Thrashy, hardcore, but with ample amounts of groove and overall heaviness. Decent vocals as well by the Rob Zombie-haired vocalist Elias Soriano. I'm going to have to look into this band more, I think. I hear kind of a Ill Nino sound going on there.
Great set! Then came headliners Sevendust. I've never been a huge fan of their music, but, boy, did they sound good that night. It was rockin'.
Lajon Witherspoon is not only a super-cool guy, but a really good vocalist as well, mixing a soulful melodic style with a heavier, growl-y sound that works very well with the music. The band sounded super tight, even without former guitarist Clint Lowery.
They played stuff off of the new CD Next as well as from older favorites, Waffle and Denial. The band also played some stuff off of their first CD Black, which drove the crowd nuts.
It was crowed as hell for a Sunday night and everyone had a killer time singing along with the music. Sevendust made a fan out of me that night!
I was having a great time, indeed, until I slipped on the beer- and sweat-soaked floor of Jillian's and my feet flew out from under me. I landed very hard on my lower back on that cement floor. I instantly knew I was hurt: pain engulfed me. I've never in my whole life fallen that hard, even when I was skiing. I got up and sat down a second, then decided that there was no way I could stay any longer. So I hobbled my way to my Jeep, trying to not make a scene. What a horrible ending to such a great night. I had to go to the hospital, but the doc said it was only a muscle contusion in my lower back, instead of a spinal injury! The doc gave me two shots to my back and a prescription and I was on my way.
Thanks to Jillian's/Bobby Burk for being great people about this incident, even footing the bill, which they didn't have to do. And special thanks to Into Another vocalist Chris Shewmaker for insight on the band's history and helping with the review.
502 Showcase at Expo 5: What a cool local show Julie McGrath and Tom Kent put on at Expo 5. I was sick as a dog, but I managed to attend both nights for a little while and, despite being very sick, I had the best time there so far. Many bands played and the show was a success. (See props of the month below)
Evil Engine Video Shoot: The Evil guys just got back from Los Angeles, where they shot a video for "Thorn," with Dale "Rage" Resteghini (Mudvayne, Hatebreed and the Taste of Chaos DVD) and his partner Frankie Nasso. The band is also looking for a bass player. Interested candidates should contact Cory at ee9takeover@yahoo.com. This is a great gig for any bassist. Don't be a foolio, give them a call.
Eclectic's New Name: The band Eclectic has officially changed their name to Chamberflow. The band is excited to announce the release of two new songs, "No One Knows You Better" and "In the Moment," which they co-wrote with their producer, Jeff Blue. They will be releasing both of these tracks to the local radio market very soon.
Lance Arny's New Band: It's official this time. Nail Gun Strategy is the new project from Louisville metal veteran guitarist Lance Arny, who has entertained metal folk with such acts as Shapeless Matrix and Flaw. He's back and serious about kickin' some butt. I'm looking forward to seeing them ASAP. Backing Lance is Andy and Mark formerly of 16 Penny Nail, Sean Rued from Jefferson County Drunktank and Randy Mcamish, formerly of Krosmember. They are playing out now, so go see them when you get the chance.
They are currently working on a 9 song CD in the musical vein of Lamb Of God, Slayer and Killswitch. "It's gonna be brutal" says guitarist Lance Arny. "We can't wait." And if you don't, you suck ;)
New Label In Town: Eli Jeffery and Steve Curtsinger are starting a new Louisville label, Pink Bullet Recordings. They are set to offer all bands on the roster free recording in their studio (which should be up and running by the end of April) and also plan to set up tours for all of their band. They will have distribution through Lumberjack and they are working on some other prospects. They plan on signing three bands this year and really focus on getting those bands up and working.
They will be accepting submissions from bands starting immediately - If you want them to check out your music, send them a link through e-mail stevecurtsinger@alltel.net or insyderzzzz@aol.com. If they think it is something they want to work with, they will get back in touch and request an actual press pack. Their website should be up and running within a couple weeks at pinkbulletrecordings.com
Prey For Maria Review: A few people told me this band sucked, so I was a bit worried about having them play my Hill show in March. Apparently the two people who said this wouldn't know good music if it was blasted in their ear at full volume. Prey For Maria is a very good new band I was proud to have played my showcase.
The audience loved them. They kind of remind me of Lacuna Coil or Evanescense, with a little bit of a punk-rock style added in for good measure. Diminutive and cute vocalist Pamela Brooks has a great voice that I'm sure will blossom even more with a few more shows under her belt. And Mike Levely is a bad mofo on the bass guitar. The bass sound he has is what every bassist needs: total punch with ultra low thickness via Ampeg Amps. My favorite.
I look for good things from this group, they are nice people who are a pleasure to work with. Listen up. bands, give them a chance and invite them on some of your shows. You won't regret it.
Mayhem In May: On May 27 at Bulldogs Cafe, there will be a big metal show called Mayhem In May, featuring many death metal bands. Bands include Incinerate, Lust of Decay, Domination Through Impurity, Eternal Ruin, Abominant, Pathogen, Retribution, Angerstrike, Red Eye Eclipse, Aeons of Eclipse, Feast on Purity, Aseraphymn, Created To Kill, Skew and Assisting Sorrow. 6 p.m.
Kick Ass Guitar Clinic At Willis Music: Guitar virtuoso and technical demon Michael Angelo, formerly of the band Nitro, will be putting on a Dean Guitar clinic at Willis Music in the Jefferson Mall on May 11. Michael Angelo is well known for his speed technique and double-necked playing style. Dawg is supposed to be the chit.
The time is not yet set, but the store's number is 966-2424. Call my buddy Scott at the store and he will let you know what's up. Those fans of unreal guitar playing will not want to miss this exhibition of guitar talent.
Thunder Over Oscars: Those of you going to Thunder Over Louisville might want to go see some really good bands after the fireworks, since the venue, Oscar Brown's, is only two blocks away from the festivities. That way you can see some rock while all the other folks are fighting traffic, trying to get out of the area. Bands playing are: Arcaine Saint, Inner Blue, Institution, In The Clear, MSD and 7daySunday Great lineup. Be there!
Brothers Of Conquest Change Name: The band Brothers of Conquest have officially changed their name to Blade Of The Ripper. Go to myspace.com/bladeoftheripper for new pics, songs, etc.
Subrosa's CD Release Bash: The band Subrosa will be having a CD release party/concert on Saturday, April 1 at The Bulldog Café, with guests Midvember, Halfway Hollow and Wake The Day. $7
Former F.B.M Players Seek Vox: Former Five.Bolt.Main members Aaron Welenken, Jason Chandler and Ben Patrick along with former Silent Q drummer Corey Ogle are currently looking for a vocalist. This is an extremely aggressive project, so the ability to scream is a must! No actual singing talent necessary. Contact at 502-432-4604 or x_fbmsq@yahoo.com.
Empyrean Asunder CD Coming: The band's second full-length CD is nearly finished, with only the finishing touches on the vocals and guitars left to do. A new website will be launched, coinciding with the release. A "Razed in Black" remix of "No God To Me" will also be featured on this CD. www.empyreanasunder.com
7DaySun Ringtones Available: The band now has ringtones available, so you can hear them any time of day. www.myindietones.com
The Origin Of My Name: Why are you called Eddy Metal? I keep hearing this question over and over so I'll enlighten you with the cheesy origin of this name and it's meaning. I was eighteen and a guitar-playing, longhaired horndog. A former friend of mine, Scott P, used to bring tons of girls over to my house and we'd jam out, very badly, on my guitars. One day, Scott and I were cruising in my `77 Camaro Rally Sport when the song "Heavy Metal," from the movie of the same name, came on. In one part of the song, it goes "Just take a riiiiide on heaveeeee meeeetaaalll, the only way that you can traveeeeel down that roooooaaaad." Well, Scott being the cornball that he was, changed the words around to "Take a riiiide with Eddeeeeee Meeeetaaal."
Later, to my friends, music that I wrote and jammed on - corny songs like "Damien," "Take My Hand and Burn" and "Satan's Sluts" - became known as Eddy Metal, not heavy metal. And so the name stuck. By the way, my real name is Duane Eddy Burke.
Upcoming Shows
The Bulldog Cafe
Saturday, April 1 - Subrosa CD release with Halfway Hollow, Wake The Day, and Midvember.
Sunday, April 2 - Tony Danza's Tapdance Dance Extravaganza, Year of Desolation and Antikythera.
Sunday, April 9 - Misery Signals, Black My Heart, Too Pure to Die, Cassius, Burn In Silence, Intent to Kill, Buried But Breathing and Ghengis Kahn. 6 p.m. $10
Saturday, April 15 - Assisting Sorrow, Estuary, Shoryuken and Abominant.
Saturday, April 22 - A Life Once Lost, Cepahlic Carnage, Through The Eyes of the Dead, Scarlet, Cosmonaut (Reunion) and Intent to Kill.
Sunday, April 23 - Girls, girls, girls -.A night of all female-fronted bands! Scaramouch, The Alpha Bettys, Coinslot and The Two Bit Terribles.
Headliners Music Hall
Sunday, April 2 - Midvember, Chrysanthenum, Escaping Memory, Ashes Eve, Lotticks Corner and RedBoxNow. 6 p.m.
Monday, May 1 - Necrophagist w/ Arsis, Neuraxis, Alarum, Thine Eyes Bleed and Anagnorisis. $12.
Saturday, May 27 - Five.Bolt.Main, The Accident Experiment, Element Eighty and T.B.A.
Keswick Democratic Club
Saturday, April 8 - The Revenants, Ants In An Argument and The Coathangers. All ages. $5. 7 p.m.
Oscar Brown's
Friday, April 7 - Never The Man, Month Of Sundaze and Too Far Gone.
Friday, April 21 - Sixth Floor.
Saturday, April 22 - Arcaine Saint, Inner Blue, Institution, InTheClear, MSD and 7daySun,
Petrus
Saturday, April 8 - Scaramouch, Hash and another band T.B.A. 9 p.m.
Phoenix Hill Tavern
The Original Rock Showcase Series, on the first Friday, of every month in the Roof Garden.
Friday, April 7 - Full Nelson, Evil Engine # 9, NovaRed, Ashes Eve, Institution
Wednesday, April 26 - Louisvillerocks @ the Hill. Evil Engine # 9. 9 p.m.
Friday, May 5 - 7Daysun, Slokill, Echos Aim, Portrait Of A Suicide.
Saint Andrews Pub
Friday, April 21 - False and Assisting Sorrow.
Outtatownerz and Otherz
Saturday, April 8 at Gerdon's Youth Center in Corydon IN. Amora Savant, Harlots, Buried But Breathing, Intent To Kill, Rose Funeral and Sharron Tate. 6 p.m. All ages. $8.
The National Guard Armory, 20 State Police Rd. London, KY 40741, Saturday, April 15, 6 p.m. - The JAWS, Freefall, The Dead Ends, Antikythera, The Simpletons and FACE. $5
Props of the Month
I'd like to say good job to Julie McGrath and Tom Kent of DC Productions for the awesome job they did with the 502 Showcase at Expo 5 on March 10 and 11. I have not been a big fan of that venue but Julie and Tom have finally got the place kickin'. The potential is huge. I'm hoping they put on one every other month or so.
It was the first time I actually had fun there. I got to see cool new bands like Medusa Diesel, Chained Reaction, Hardline, Sulfate, Scaramouch and Hash, as well as older bands like the much improved Boozer, E-flat, MSD (they rocked), 7Daysun, who sounded excellent, Halfway Hollow and Others.
Why not go ahead and make it a concert series? I'd sure do my best to get the word out in LMN. You can doooooo it, Julie and Tom!