I've Got A Mind To Ramble
Dirty Dozens Blues Cruise
It's getting time to cruise again and I don't mean with the top down. One of the Kentuckiana Blues Society's most popular annual events is the Blues Cruise, which has occurred every spring for the last twelve years. During our 1995 maiden voyage, the cruisers heard the Red Snapper Blues Band, the Cincinnati Blues Allstars and the 26th Street Blues Band. Unfortunately, these bands are long gone.
There have been many memorable cruises, with ports of call like the 26th St. Tavern, Billy's Place (both at Wilson Ave. and Broadway), Goodloe's Sports Bar, Backstage Blues Café, Velvet Rose, Big Heavy's Blues & Dance Club, Gilbert's Blues Garden, Churchill's Blues Bar & Grill, the Black Cat, Ballatore's and Joe's Palm Room. Joe's and Billy's are the only survivors out of this colorful mix of venues.
This year's cruise on Saturday, May 20, will be different and better, as we will be docking at some interesting new places. There will be the usual boarding of two school buses (and there will be buses this year) at 5:30 p.m. in the parking lot of the Bardstown Road Presbyterian Church at 1722 Bardstown Road. We will go to Jeffersontown to catch dinner and the last two acts of the Jeffersontown-Crusade Blues Festival, held in Veteran's Memorial Park. King Sonic and Lamont Gillispie and 100 Proof are scheduled at 6 p.m. and 7 p.m. For those who want to attend the festival earlier to see Funk All Stars, Butch Williams and Revenue, Millerz & Lenz, Da Mudcats, The River City Blues Band (with Mark Stein) and Sheryl Rouse, you can board a bus at the festival for the rest of the cruise.
This free festival started last year as a fundraiser for the Crusade for Children. Over 2000 people attended and they raised $5200. The festival has grown to three days this year, with an "Appreciation Gathering" on Thursday, a rib cook-off and a balloon glow on Friday from 5:30 to 9 p.m. plus eight hours of blues on Saturday. Dale Cashon is the prime mover for the events, doubling as organizer and PR man. Metro TV is going to record the performances for a future broadcast; WHAS and WDRB television and WQMF radio have promised airtime. Additional events and exhibits include a display and program at the Jeffersontown Library on May 15 about the history of the blues. There will be a contest to design a poster and five hundred CD's will be produced of the festival for sale in the future. Cashon, who is a `sometimes' musician, has plans for expanding future festivals with more bands, including national acts. This could be the start of something big, perhaps filling the void left by the loss of the Garvin Gate and the Louisville Blues Festivals that were held during the late Eighties and Nineties.
When Lamont's wailing harp brings the festival to a climatic finale at 8 p.m., we will board the buses and go back in town to Uncle Pleasants at 2126 S. Preston St. Guitarist Cole Prior Stevens will be waiting for us with a trio that includes Steve Boros on harp and Andy Brown on drums. Twenty-five years ago, when Mark Smalley owned "Uncle Ps," it was a bona fide blues club where some great national blues acts performed.
Our final destination will be Longshot's Tavern at 2232 Frankfort Ave. The house band for the weekly Tuesday night jams at Longshot's will entertain us. John Burgard, Mike Lynch and Andy Brown will be known as the Tuesday Night Blues Crew that night. The buses will leave at 1 A.M. (or later) to return the cruisers to their respective arrival points. If you have the stamina to attend both the Festival and the cruise, it will be possible to experience thirteen hours of blues. That's the blues challenge, which costs only $25 for KBS members and $30 for nonmembers. Send your checks to KBS, P.O. Box 755, Louisville, KY 40201 for your blues booking.
Converstion with Fred Stith
Not many musicians are still around to tell stories about the big band era, but Fred Stith, who drummed for many jazz and dance bands, is on that list. Born in 1918 in South Bend, Indiana, he spent his youth sitting up at night, listening to live radio shows of bands led by Earl Hines, Benny Goodman, Lucky Millinder and Duke Ellington, broadcast from ballrooms in Chicago and, on a clear night, from elsewhere across the country.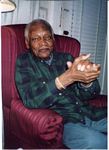 Photo By Keith Clements
The first drum set that Fred bought was one that he saw in the window of a Salvation Army store. The batter head had skins but he had to improvise with paper on the snare head, which worked until he did a rim shot. While in high school, Fred played with jazz bands led by Percy Williams and Eugene Slappy. Because he played into the wee hours of the night at the clubs, he had permission from school to come in late the following day. After graduation, Stith joined the Ruben & Cherry Amusement Show, which traveled by train throughout Michigan and to Toronto. He lived in Grand Rapids in the mid-Thirties, playing with Jimmy `Lucky" Luckett and the Hank Phillips Band. They performed at a farm resort called Little Eden, where the music and cider flowed.
Fred met Nat `King' Cole at the Warwick Tavern, which had a dance hall on the second floor. This was before the King Cole Trio days, when Nat was playing with a big band. Fred said Nat was very shy and reluctant to sing until encouraged by the other musicians.
One of Fred's early musical highlights was hearing Louis Armstrong in Grand Rapids. At that time, Louis had teamed up with Louie Russell. They played the civic center on a hot summer night. Louis wore an open collar sport shirt with a big towel around his shoulders and a stack of handkerchiefs on the piano. Fred had only heard him on the radio and to see Armstrong with his New Orleans band that included Red Allen, Sidney Debaris, Pops Foster and Paul Barberin "just lifted him up to the sky."
Fred's parents separated when he was young and his father came to Louisville to work as a traveling waiter. He was part of the crew of waiters that opened the Brown Hotel. Fred moved to Louisville in 1938, joined the American Federation of Musicians [AFM] Local 637 union and played dance music with King Perdue at the Crystal Terrace in the old Henry Clay Hotel.
During the late Thirties, the riverboat Idlewild (now the Belle of Louisville) would take excursions to Madison, Evansville and St. Louis. Stith worked a season on the boat, entertaining the passengers. There were plenty of one-nighters in Toledo, Bardstown and Fort Knox. Fred said those one-night stands were tough. One summer, they performed at the Springfield. Kentucky Horse Fair for two weeks, commuting each day.
Fred told the story of how the black musicians union was formed in Louisville. Originally they had an organization called the Clef Club, which served as their headquarters. At that time, The AFM Union Local 11 did not have any black members and didn't want any. Joe Weber, the president of the American Federation of Labor, came to Louisville for a convention. A delegation of black musicians met with Mr. Weber and the Federation. They passed a resolution that stated if the Local 11 Union did not want to have blacks as members they could not keep them from forming their own union. These musicians applied for their charter and that was the beginning of Local 637. The bylaws stated there could be more than one local union in a jurisdiction but there could only be one pay scale. The two union locals later merged into AFM Local 11-637 in the Seventies, under the supervision of James C. Petrillo.
Stith recalled the time he jammed with Louisville native Dicky Wells, who gained fame during his long tenure with the Count Basie Band. The trombonist Oliver Rhodes, who used to teach band at Central High School, had played with Dicky when they were younger, so Wells would always look up Rhodes when he was in town. Fred and Oliver were playing a gig one night and Dicky came and jammed with them. Fred said, "We had a great time; he was quite a trombonist."
One of Fred's favorite bands was Louis Jordan and his Tympany Five. Once they played at the Madison Skating Rink, where the contract called for six musicians. Jordan had just lost his trumpet player, so he hired George Brown, who was a so-so musician, according to Fred. Jordan told Brown, "I don't want you to play nothin', just sit here with your horn." Jordan fulfilled his contract. Fred thought Louis was such a hard-working musician that he didn't need another horn player, as he alternated between tenor and alto sax.
Stith played with Benny Carter, the Sunset Royal Entertainers and other territory bands when they came through Kentucky and needed a drummer. Fred quoted Count Basie, who said, "when you're looking for musicians, everybody knows somebody."
After World War II, Fred saw that the big bands were struggling. Touring bands would come to play in Louisville and could not get out for another gig. Musicians would go to Western Union or general delivery for instructions for the next job and there wouldn't be any. Tony Pastor's band played the Rialto Theater and got stuck in Louisville. Fred remembers their drummer used to sit in with him. That was when the big ballroom dance bands were beginning to break up and be replaced by small combos, because there were fewer places to play. Fred had a chance to go out on the road with a big band, but when he married in 1945 and started raising a family, he decided to remain a local musician. He became active in the union, serving a term as director.
Fred went to see Duke Ellington at the National Theater around 1950. It was still a segregated theater, with the white audience sitting on the main level and the blacks restricted to the balcony. Fred had never been there and didn't know the unwritten rules. When he walked in the front door, instead of taking the outside stair to the balcony, a worker ran after Fred and said "you got to go out and go back in over there." Fred gave him his money and said "you go get my ticket, I'm not going anywhere."
Fred has good memories of Walnut Street. He said, "there were more people on Walnut Street at 2 A.M. in the morning than there were downtown at 2 P.M. in the afternoon." Bill Davidson had a twenty-four hour barbershop at Eighth and Walnut. There were three theaters: the Lyric, the Grand and the Palace. Fred frequently played the Top Hat with local groups, including with organist Frank Marr, saxophonist Leon Goodsen and once with Paul Williams, the originator of The Hucklebuck.
I asked Fred how he got into the dry cleaning business, which still keeps him busy today. He replied, "Dry cleaning has been in my family forever."
His father used to have a shop in front of his house. It was very unusual for a person to just have one job in those days. "Everybody had to have a job and a racket," Fred said. His dad would run the business during the day, close up the shop and wait tables at night. Later, their dry cleaning shop was at the Palace Theater, near the Top Hat. Now it's at 2348 W. Chestnut Street.
Fred tried to retire from music several times but it became final when he sold his drum set twenty years ago. He still believes in providing children with a good musical education. All four of his children took piano lessons. Fred recalled that Bessie Allen, who managed an orphanage and taught music, should be remembered for her musical training. Several famous musicians got started in Mrs. Allen's Marching Band, including Dicky Wells. Fred ended our conversation saying, "Music is a good medium to teach children to work together and use all your life. You may not be able to do what other musicians are doing but you have an appreciation."