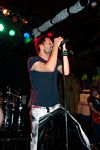 Photo By By Eddy Metal
Gin Blossoms "Live at the Hill"
By Eddy Metal
Some friends called and said they were going to see The Gin Blossoms at the hill and that I should meet them up there for a drink, so I was like, uh...ok, I guess I could come up for a few. The truth was that I couldn't have told you a song they sang if my life depended on it! I just knew they had a few decent hits at one time, which imprinted their band name permanently onto my brain with the constant radio bombardment of such hits. But I couldn't remember them and didn't know what to expect.
I ended up having a good time and enjoying the lighter side of rock that this Tempe, Arizona band plays. Good-time strumming party music is what this fun band is about. The crowd was a bit older, but not much and there were some fine women in attendance too, dancing and having a ball.
The band came on and went through a set of music, that wasn't boring to me, a metalhead. The vocals of Robin Wilson are darn good and catchy as hell. The dude is charismatic and had cool pants (two toned leather bloomers).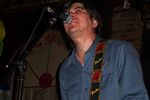 Photo By By Eddy Metal
The songwriting is also very good, so good that it exploded in `93 with the hit "Hey Jealousy," which I instantly recognized once they started playing it. Heck...you couldn't escape it! It was all over MTV and rock radio.
And hearing them play just like the CD was pretty cool, even if it wasn't ultra-heavy death metal. Guitarist Jesse Valenzuela is the nucleus behind the GB sound, writing much of their music and lyrics himself.
With some help from the crowd, (I ask when I don't know anything about a band) I found out they played "Till I Hear It From You" which was featured on the film Empire Records. They played a brand new song, "Learning The Hard Way," that was really good, as good as "Hey Jealousy" and the other hits of theirs. Their new album comes out on August 8 and is called Major Lodge Victory.
I'm glad I widened my musical horizon and went to review this band.