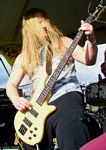 Name/Nicknames: Marcus Goldsmith
Age: 31
Instrument: Bass
Band/Former Bands: Unrule, 13th Level, Prominence, Caldera
How Long On Instrument: seventeen years on guitar, nine years on bass
Equipment: two Warwick Corvette Pro Line Series. One is Babinga, the other is Flame Maple. Ampeg B4R head. Ampeg 6 x 10 classic cab.
Influences: Mudvayne; Pantera; Lamb of God; Slayer; Deicide; Morbid Angel; Alice in Chains; Bruce Lee and my Brother (Joey from Inner Blue)
First Gig: Must have been PJ's Pub back in `96 or `97 with Unrule. Think we played with Luther that night.
Hobbies: Rock Climbing, Hiking, Martial Arts, going to shows and partying
Favorite Movies: Blues Brothers, The Omen, Texas Chainsaw Massacre, Friday the 13ths, Evil Dead
Favorite Food: I love vegetables. Portabellas, Zucchini, Squash.
Favorite Place: In the Mountains or at a Gorge.
My Bad Habits: Spending too much money on music gear and breaking bones.
What I'm Listening to Nowadays: Soilwork; Lamb of God; Alice in Chains; Mudvayne; Morbid Angel; Pantera; Shadows Fall; Kentucky Waterfall.
Coolest Thing I've Done: Hung out with Dimebag and got drunk. Got the CFH logo and Dime's autograph tatted on my right shoulder.
Most Embarrassing Moment: Broke a string at the Toy Tiger right in the middle of a song. Sounded horrible. I picked up my back up guitar and the input jack was screwed and just got a real bad popping/crackling sound. Needless to say the show was over. Didn't have the time to switch strings out.