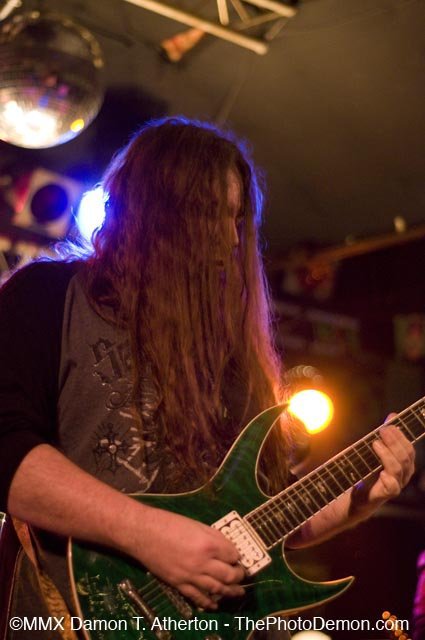 News From the Pit
Man, I'm one lucky dude: V.I.P for Ozzfest. It was sweet.
System Of A Down, Hatebreed, Disturbed and Lacuna Coil. Heck yeah! (see review in this issue)
This time every year I usually embark on some crazy vacation idea of mine, like hiking Tahoe with a chick who falls off large boulders (no, I didn't push her), checkin' out the reefs (almost drowning) down in the Keys, or hiking, practically hanging off, the rim/sheer cliffs (4:20) of the Grand Canyon or Yosemite, California.
But this year I'm too darn broke for that stuff, so I guess I'll sit it out and hope for Amsterdam, or Mexico for next year! Amsterdam. Sweeeeeet.
I have been getting out and having some fun times though, Stuck Mojo, Ozzfest, Of Sound Mind, Ted Nugent, Pete Yorn and Gin Blossoms (some mixture huh?)
Actually the Gin Blossoms impressed me. And so did the number of females that attended that and the Pete Yorn show. And I finally got to see local singer David E Frazier's new band Of Sound Mind. (see review below)
So far the summer heat has been unusually tolerable this year, but it got blazing hot all of a sudden, now it's roasting beyond belief. And I've been going toe-to-toe with the people who sell radio spots because they have made so many mistakes it's beyond ridiculous! It's like having Helen Keller as your accountant! The miracle worker!
Photo By By Eddy Metal
Talk about frustrating. Sheesh. Almost as frustrating as dating is these days. Ha.
I started dating a red-haired woman who was into witchcraft and card readings so much it freaked me out, so I bolted! This woman actually called non-magical people Muggles! It got on my nerves.
Last thing I need is a Cajun type Southern wench putting a spell on me to shrink my johnson to the size of a cocktail weenie. There's some booty you can keep!
I ditched the witch and headed out to the Big Rock Bikefest, was sportin' cool shades and pulled my hair back in a leather motorcycle hair holder, or whatever the things are called and was looking like a biker myself (yeah, I got a bike - a Huffy!).
Mofos didn't even recognize me! Ha. I was incognito. Good times hanging with cool people. That's what a good time is to me. That and a killer band, too.
I didn't get to make it out to the Summer 502 fest at Expo 5. I heard Friday wasn't very good, but there was a bad storm that night and THAT always kills a show.
Never Fails. I'm sure Saturday did a lot better. Regardless of the turnout, props to Tom Kent and Julie McGrath for the time and effort they put into giving so many bands (40 or so) the opportunity to play and be heard.
Let's face it folks, without peeps like Tom Kent, Julie McGrath, Black Frank, Louie the local guy, Mudd, Bizkit, Terry Harper, Deron Hayden, Bobby Howell and me (well, some credit, yeah?) there wouldn't much of a rock/metal scene here in Louisville.
But we are here ... so BE HAPPY fargers!
The Metal Grapevine
LMN TV Show Coming, Maybe: That's right, not only will you have to hear me yak every month in my column, now you might have to look at my ugly mug, too. The Eddy haters are no doubt thinking "Oh nooooooo not that! Arrrggghhhh, the irony!" Ha ha!
Love me or hate me, I'll bet you end up watching "Live from the Pit," or whatever we decide to call the show.
My boss here at LMN has been wanting to put together a local music TV show for you rockers out there for years. I had some ideas myself and was thinking maybe have bands play live, interviews, goofin' off, guitar/bass exhibitions, acoustic jams, hot babes on the show, instrument lessons and maybe even some kind of band battle or something (Scott Frazier's idea). There are endless possibilities! Just as long as we can get pretty raw, I'm down! Yeah!
We are supposed to be having a meeting with a producer soon, to see what's up with it, so I'll let you know when I do. I'm only going to do it if we get the right stuff we need to make it special, (not cheesy) so keep your fingers crossed. We'll see what happens.
Oscar Brown's Floyd Street Festival: Ladies and gentlemen, come one come all to the Second Annual Floyd Street FoxFest metal/rock festival. On Saturday, August 12 at Oscar Brown's, from 4 p.m. to 2 a.m. there will be much partying and rockin' out to the area's best bands. Twenty bands will be playing so, get yer booty on down to Oscar Brown's for some killer metal. Props to 93.1 the Fox for supporting Louisville original music for many years now and not being a johnny-come-lately merely looking for quick ratings.
Tantric at The Hill: On Saturday, August 5 at the Phoenix Hill Tavern, bigtime rockers Tantric will play the Saloon at the Hill, with openers Of Sound Mind. Sounds like a good show. I'm not and never have been much of a Tantric fan, but I bet there'll be lots of hot babes there! A babefest indeed! This is likely to sell out, so inquire about tickets A.S.A.P. if interested.
Nova Red News Nova Red is in pre-production for an upcoming five-song-EP, which will be recorded in Missouri with bigtime producer Malcolm Springer. I think this will be a killer CD and can't wait to check it out.
Of Sound Mind: Well I finally got to see "E" Frazier's new band, Of Sound Mind and I tell you they are better than I thought they'd be. Seriously, "E," is probably the best overall singer in Louisville. I'm hard pressed to think of one better in the whole area and you peeps know how many bands I know!
And he conveys lots of emotion through his voice, displaying several vocal techniques that to him look all too easy. The guitar work by Duncan Kallas is darn good, with not much room for complaint, if any. And we all know Terry Harper is killer on the drums.
The music is both heavy and has clean ballad-type pretty parts as well. Very professional and tight sounding. Lovers of the heavy brutal stuff probably won't like it much, but those of you with soul and the love for good vocal melodies and great songwriting, should check these guys out. I'm sittin' here listening to their new demo, a sampler of their twelve-song full-length upcoming CD, which will be out early 2007 and I tell you it's quite unreal. Whoa. The first song "I Am" is an indication that great things are to come for the listener. The third song is "Running In Circles," which involves effects-driven choruses with a pretty darn heavy riff/beat pushing it. The sound quality on this demo is great, leaving me thinking, if this is a demo, what will the finished CD sound like? Scary. In a good way.
You can see them on Saturday, August 5, opening for Tantric at the Hill, or September 1 at the Hill.
Ted Nugent LIVE: When I was about 8 or 9, there was a guy who lived in the house behind my house who had played guitar with the Ted Nugent band at one time. Dude was bad to the bone on guitar. Wailing.
These dudes were like Cheech and Chong, smokingwise and awesome guitar riffs echoed all through the neighborhood. It was my first real taste of heavy rock guitar, face-to-face, Nugent style! I was enthralled. Little Eddy would sit in my backyard for hours listening to them rock out. Yeah I became a metalhead, but my first taste of rock guitar was Nugent type stuff.
So what was the Big Rock Bikefest like?
Leather, beer, motorcycles, beer, hot biker chicks, beer and hideously scary biker chicks! One looked like Lizardwoman. Ha.
There was a military salute, bikini contest, custom bike contest, Army helicopters for the average folk to check out and all kinds of vendors selling stuff. But the main event was Ted Nugent on Saturday night in front of 6,000 people.
As usual, The Big Rock Show did very well opening the show. Big Dave looked like he was having a ball. Dave is quite the frontman, joking around, even singing "I'm gonna be your one-legged man" instead of the usual Led Zeppelin lyrics. Ha.
Dave never has let his handicap effect his desire to play out, as it probably would have to others. I love that! And these guys play out all the fargin time.
The crowd was pretty rowdy, with bikers, rockers and rednecks abound. I was surprised it was so peaceful. Everyone got along great.
There was a unity at that show, perhaps by the military presence at the show, congratulating our Marines returning home from duty! They got a great welcome home from the people.
Ted-wise, the show started out with Nugent playing the "Star Spangled Banner" on his ole geetar, which happened to have the American flag painted on it. All the leather and denim clad rednecks at the Big Rock Bikefest were pumped up for some Ted live in action. And Ted didn't disappoint. After ripping through "Wango Tango," he worked his way through a set of classic Nugent, with his hit "Stranglehold" as the finale. Ted was quite the gracious individual as he called out "this crowd is my type of people" to the drunken, cheering fans. Ted is not the best songwriter, or vocalist, but he does play that guitar with a kickass, energetic fervor than one usually cannot forget.
I know I never have, since seeing him play that axe for the first time so long ago.
Slokill In The House: My bros in southern Indiana Slokill have just put out an eleven-song CD a month or so ago and it seems to be doing quite well. I'll be reviewing it next month, so all you Slokillas be on the lookout.
Stuck Mojo Returns: Wow what a night! Atlanta rap/thrashers Stuck Mojo absolutely blew up the Saloon at the Hill. Unfortunately, not many of you attended.
Cheeseballs! You missed it peeps.
Bowling Greens Sixth Floor, a solid band, opened the show to a nearly empty house, which sucked for them. Sorry, guys. Then came Forever Never, an English band that's on tour with Stuck Mojo. Melodic, but heavy, as if Intheclear, 7daysun and Arcaine Saint had a musical songwriting orgy, then Forever Never would be the bastard child. Ha. Only Forever Never is from England!
The British dudes were cool, very friendly and ended up partying with us locals quite a bit. We got drunk as hell.
I tell you this: Those European cats weren't used to good ole Kentucky whiskey! They were staggering, saying " blimey mate, thas loike gassooolene." Ha.
Then came Stuck Mojo, finally returning to Louisville after many long years away and put on an amazing show. Blues, metal, rap, thrash, southern metal, soul metal...heck, I don't know what the hell you call it. But it's good.
They sounded tighter than ever and are definitely still in the game bigtime, even coming out with a new CD very soon entitled "Southern Born Killers." An appropriate name by my reason, because they were killers onstage.
The guitars were screaming like a wailing demon, the drums kicking, the bass, uh, thumping? Well...you get the fargin picture! People who hadn't seen them before were tripping. Charismatic rap-vocalist extreme Bonz was still a hell of a frontman and I don't even like rap at all, if any. But Bonz has a certain heavy metal rap to him that sets things aright in my eyes. Very punchy and catchy as hell.
Fans of rap metal definitely need to check out this band if you haven't heard `em. Bonz is a forefather in the foundation of rap metal. The favorite song by the crowd was "Not Promised Tomorrow" , as the crowd of 150 enjoyed every minute of the down-tuned, heavy-as-sin riffs with Southern metal gangsta rap added in fo' flava. Welcome back, Stuck Mojo, is what I say. Southern metal rules!
Kinsey Releases CD: This great new band wanted to let you know that they just released a debut five-song EP, At The Hands Of Waves, Enormous. The cost is five dollars and it's available online at www.myspace.com/kinsey and at ear X-tacy.
I don't know much about this band. I saw them once at Headliners and they were pretty good though. I need to check out these guys again real soon.
I Will Defy: There's a new marshal in town, an he's a-lookin' for you, pardner!
The Band? I Will Defy. Their story? A good `un. Guitarist Jeff Toy, formerly of Own Victim; Bassist Mike Hebert, formerly of Engrind and False; vocalist Pat Michaels, formerly of Drop and drummer Jason Lakes make up this new band of seasoned rockers. This experienced lineup sounds like some pretty good stuff is going on. It's kind of a gritty, sometimes heavy, but very vocal outing, with lots of melody and hooks. Not too heavy, but enough to keep you interested and awake.
There's also some clean stuff they do. It would be interesting to see metal guitarist Jeff Toy playing pretty music. Ha, just playin' Jeff. Actually, the music does get fargin' heavy. Seriously though, peeps, these guys have a lot of talent and very little ego (a rarity in this town), so go see them soon. "Home," the first song on their demo, is a slower, clean song that ends up rocking pretty hard. It's heavier than the guys let on. Pat Michael's got pretty good soulful vocals that make me think Mark Slaughter somehow, but a bit lower in tone and with more bite and aggression. He can actually sing. It's a big change for the guys used to playing the heavier stuff, but I think a welcome one. And it shows in the music and songwriting. I'm looking forward to seeing this band live.
Intheclear News: The band is hard at work on their new CD and the guys say it's the best they've ever done. It should be out by fall. "Expect of hell of a kickass CD and the recording sounds amazing" says guitarist Clay Cook. The band expects to head out on the road in support of the new CD come October. You can see Intheclear at Headliners on August 25 with Greenwheel, One Less Reason and one band TBA.
Introducing, 16 Bones: 16 Bones is the solo project of David 'Sailor' Bryant, who is also the singer/songwriter for Louisville's Surviving Thalia and former vocalist of 'My Own Victim.' While each project has been decisively different for Bryant, 16 Bones seems to have been born from the most remote of all wooded locations. Wherever you may find cracks and crevices of a wooden front porch, you'll find 16 Bones. With an impressive array of acoustic and string instruments, the 16 Bones sound is layered with deep, dark, tranquil lyrics and harmonies that seem perfect for watching a stormy night in the dark. Bryant sings songs of pain, suffering, struggle, confusion and spirituality, without any reservation. 16 Bones is currently in the studio and is being engineered by David "CT" Carpenter."
Their web address is: http://users.bandzoogle.com/16bones/index.cfm and there's currently one song available for streaming called "Too Late For Me." They've got three songs recorded with more to come.
Dogwater Comes: From the depths of countless cover bands and a few original bands comes Dogwater, staffed with experienced musicians who are ready to rock original style.
Dogwater features bassist Tony Bright (a true band-whore who has played in so many cover bands he can't count them); ex-VoodooMachine guitarist Jeff Grimm; former Rathbone vocalist Brian "Buzz" Pyles and former Rathbone drummer Jeff Beaven. Buzz has an amazing voice that is reminiscent Dio or something. And Jeff Grimm is a great guitarist. I'm sure this is going to be a entertaining band, as all the guys are excited about the music they are making and looking forward to you people hearing it. You can see them debut on September 1 at the Hill with Of Sound Mind.
Created To Kill CD Coming: The band will be releasing a second demo, titled Sample Of Destruction, soon, in anticipation of their upcoming full-length CD. It'll have five songs on it, four of which are free for download on Myspace. This is one busy band. I may have to see these guys play out soon.
No Rock at Jeff Mall: Remember when I said Scott from Willis and I were trying to get a showcase going at Willis Music in Jefferson Mall to showcase original rock? Well, sorry, but it looks like the Mall is just too scared to take that risk.
I thought it was a great idea, but I haven't heard back from them, so I guess they didn't. Oh well....at least we tried, which is important. Advice: You don't get anywhere by taking no chances.
Female Vocalist Needed: The new project I would like to get going needs a female vocalist with an excellent voice, who is dedicated and reliable. Music will be in the vein of Lacuna Coil, Evanescence, Slipknot, Alice in Chains, yet maybe a bit heavier and darker. I'm also seeking a second guitarist, bassist and drummer. Eddymetal1@aol.com or 367-2080.
Upcoming Shows
The Bulldog Cafe
Tuesday, August 1 - Beneath The Sky, Thought So Murderous and Halfway Hollow.
Oscar Brown's
Saturday, August 12 - Second Annual Foxfest on Floyd Street. 4 p.m. to 2 a.m. Twenty bands.
Phoenix Hill Tavern
Friday, August 4 - Arcaine Saint, Slokill, Subrosa, Undone and Full Nelson. 9 p.m.
Saturday, August 5 - Tantric, with guests Of Sound Mind. 8 P.M $10
Friday, September 1 - Of Sound Mind, I Will Defy, Dogwater and Born Broken. 9 p.m.
Uncle Pleasants
Saturday, August 12 - Boozer and friends. 9 p.m.
Outtatownerz and Otherz
Saturday, August 26 at Club Revelations in Seymour Indiana - Surviving Thalia and Escaping Memory.
Props of the Month
Big Rock Show founder, guitarist/vocalist Dave Ernspiker, a dude I went to first grade with, gets props of the month for pulling off a killer concert event in the Big Rock Bikefest at Bowman field on the 7th and 8th of July.
Dave took over running the event after a falling out with the former promoter and Bowman Field. And as a promoter myself, such an endeavor would truly be a royal pain in the butt to put on, but Dave did it with class and excellent coordination skills.
The vendor slots were sold out, the beer lines were packed, leather goods were everywhere and rock was on the menu, Ted Nugent Style.
Dave Says it took four months of non-stop calls, meetings, networking and sales to make the two-day motorcycle event happen! He also says that next year will be even better and he is looking for a bigger/better venue.
Congrats to Dave on a good job of getting things done!