I've Got A Mind To Ramble
Down By The Riverside
The Louisville Blues-n-Jazz Barbecue Festival got plenty of good publicity this year with several television ads and interviews, plus a cover story in the Extra of the Courier Journal by Jeffrey Lee Puckett on the opening day, Friday, July 7. Mild afternoons and cool moonlit nights provided ideal weather for this beautiful venue on the banks of the Ohio River at the Water Tower. The promoter, Bisig Impact Group, was very generous with free passes. The combination of these factors, plus the talent, packed the festival both Friday and Saturday evenings. Saturday featured two must hear and see performances.
Noodling with Hellfish
Hellfish could call themselves the Louisville Blues All Stars and legitimately get away with it. Jimmy Gardner fronts the band with his gritty vocals and guitar. Jimmy has been on the local music scene a long time, playing with the Mighty Water Kings and Blonde Johnson. He also frequently teams up with Joel Pinkerton as an acoustic duo called Lazy Eleven. Joel was the former harp man with MR-2 Blue and briefly with Big Fish. Joel first met Jeff McAllister in the house band during the production of the play "Floyd Collins" at Actors Theatre in 2001. Jeff has drummed on the road with Duke Robillard, Hank Williams, Jr., Billy Boy Arnold and Lynyrd Skynyrd. Jeff is the brainchild for this three-year-old band, selecting and arranging most of the songs. Jim Schweickart knows guitars inside and out working at Guitar Emporium and has played many different styles, from the Juggernaut Jug Band to Tanita Gaines. He had to leave early to play in the orchestra of "Anything Goes" at Iroquois Amphitheater. Eric Whorton from El Roostars stepped in to finish the set. Jimmy Brown is a walking history of guitars and rockin' blues, having played with the Stray Cat Band, Middle Earth, The Impressions and currently with Bodeco, plus he owns the Guitar Emporium. (I sure miss Jimmy's "This Old Guitar" articles in LMN.)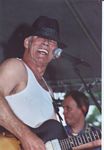 Photo By By Keith Clements
When Hellfish came on at 6:15 p.m., they quickly warmed up the stage after the Jerry Tolson Quintet set of cool jazz standards. After the first song, Jimmy Gardner stripped to his sleeveless undershirt and sang in his usual spontaneous manner. He was full of energy and wit, singing "Backdoor Man." Hellfish did all covers but on their own terms, with improvised lyrics and extended guitar solos. Later that night they gigged again at Stevie Ray's for an encore show.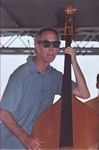 Photo By By Keith Clements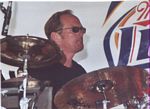 Photo By By Keith Clements
Nora Jean's Blues
The first time I saw Nora Jean Wallace (now Bruso) was at Uncle Pleasant's on May 27, 1989, when she was performing with Chicago's West Side guitar legend, Jimmy Dawkins. In my review of the show for LMN, I said, "Jimmy Dawkins is always on the lookout for new talent and he brought a young singer, Nora Jean Wallace, to perform in the last two sets. She got the crowd going with her enthusiasm, especially when she tried to woo a dancer away from his partner." That was during her first career.
Born deep in the Delta in Greenwood, Mississippi, Bruso seemed destined to sing the blues, growing up in a musical family that included her father and uncle, both professional blues musicians. She would listen to them play at her grandmother's juke joint on Saturday nights. She got her gospel influence from her mother and seeing Mahalia Jackson in the movie "Imitation of Life." As a young girl, she moved with her family to the Equen Plantation where she worked along side them picking cotton when not in school.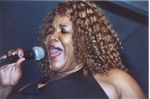 Photo By By Keith Clements
Nora won a talent contest in high school; as a result of singing in other schools, her reputation spread around the Delta. In 1976 at nineteen, Nora came to Chicago to live with her aunt, who promoted several blues clubs on the west side. It was at the Majestic that Nora sat in with Purvis Scott (Scottie) and the Oasis Band and became the lead singer until Scottie died. In 1984 Jimmy Dawkins invited Nora to join his band; she toured and recorded with him for seven years. Nora took time out of the fast lane to raise two boys but still sang gospel in her church. After eleven years and several tentative attempts to start her second career, Chicago guitarist, Billy Flynn, asked Nora to sing several songs on this CD Blues and Love in 2001. This recording experience rekindled her passion for the blues.
The following year Nora married Mark Bruso, who also became her business manager. They moved to La Porte, Indiana, where Pinetop Perkins also lived. Pinetop and Nora occasionally perform together at Buck's Workingman's Pub in La Porte when they are not touring. Her career was rejuvenated in 2002 with an appearance at the Chicago Blues Festival and the recording her first CD, Nora Jean Bruso Sings the Blues.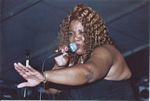 Photo By By Keith Clements
I saw her for the second time at the 2003 Chicago Blues Festival with her all-star band of Jimmy Dawkins, Eddie Shaw, James Wheeler, Billy Flynn and the late Willie Kent. In the July 2003 issue of LMN, I recapped the festival and said, "Bruso showed a lot of poise as she mixed it up with heartbreak and rage." Under the watchful eye of her husband/manager, she is currently touring the US and Europe. Nora and Mark hope to have her long-awaited second CD, Going Back To Mississippi, released soon, which is all originals and features Carl Weathersby on guitar.
Having Nora headline the festival was an excellent choice, as males dominated all the other acts. To set the record straight, it was the lady classic blues singers who first popularized the blues in the Twenties, so it was fitting to have a contemporary diva as the closer. She sent tidal waves into the Ohio River and sonic waves over the audience as many crowded around the stage to meet this contender to inherit the title of "Queen of the Blues."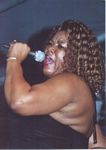 Photo By By Keith Clements
When Nora was standing in the wing of the historic Louisville Arts Association building waiting to go on, tiny sequins covered her arms and black dress. She quickly worked up a sweat that turned the glitter to beads of sweat on her opening song, "Going Back To Mississippi." A woman in front of the stage handed Nora her folding fan. Nora's band was an interesting group of Chicago musicians. The veteran drummer was Dave Jefferson, who backed up Albert King for sixteen years. Guitarist Jake Dawson and bassist Melvin Smith are a part of the late Willie Kent's Gents band. Lead guitarist Matt Valldeneu, a native of Venezuela, did several tasteful solos that complemented Nora's strong deep voice. She has the ability to reinterpret songs by others who have inspired her career. KoKo Taylor, the current reigning "Queen of the Blues," is a close friend of Nora's and their vocal styles are frequently compared. Nora honored her mentor with a rousing "I'm A Woman" and "Wang Dang Doodle," getting the crowd to do the "all night long" chorus. Her revitalized versions of "Members Only, " Big Boss Man" and "All Your Love" are as the wording says on her business card "Pure Blues For A New Millennium."
"Howlin' for My Darlin'" was a tribute to her father, who used to sing Chester Burnett's song at the juke joint. Midway in her ninety-minute set, Nora gave a mini-sermon about giving herself over to Christ and concluded her praise with an inspired gospel version of John Lee Hooker's "Doin' The Shout." Nora put down her worthless man running out on her when she sang, "When You Leave Don't Take Nothing" signifying "When you came into my life, you had nothing and you're going out the same way, too." Luther Allison would have been proud of Nora's version of his "Cherry Red." Her wrenching vocals on the fatal effects of drink came to a crescendo when she sang several phrases without a microphone relying on her powerful voice. She concluded with the lyric "Even the grass growing on your grave will be cherry red." Nora has come a long way from a young lady who sang with Jimmy Dawkins at Uncle P's seventeen years ago, to a mighty voice to carry on the torch of blues divas.