Name: DJ RhinoMortis
Age: 26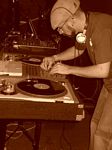 Instruments: turntables, vox, keys, sequencers, drum machines, mind
Band/Former Bands: 245 Tri-oxn, E-Flat, Nemesis, Multiple Personalities, Institution.
How Long On Instrument: Decks 13 yrs., Vox 15 yrs.
Equipment: 3 Technics 1200's, vestax mixer, 2 ibooks, Reason, MOTU digital performer, Arkaos (for V.J.ing), Kaos pad 2, midi key board, Tons of Vinyl
Influences: Sage Francis, Portishead, Hed P.E., Pink Floyd, Dj Shaddow, Dj Spooky, Buddy Wakefeild, Mars Volta, Static X, M.S.I.
First Gig: Metal Fest 98 With Eflat . It was a packed house knees was shaking right before we went on. But it all went away after that, I have not got nervous before a show sense.
Hobbies: PhotoShoping, Video Editing, Reading Shakespeare, writing poetry, movies. I'm also working on a 502 remix CD. I'm attempting to gather master tracks from bands here in town that want to be a part of it. If you do contact me at Rhinomortis@gmail.com
Favorite Movies: Portishead Live in NYC, Blow, Brave Heart, 4 rooms, Kill Bill, Ninja Scroll, Tombstone, Southend Jinx.
Favorite Food: General Tso's Chicken, Moo goo gi pan, steak, buffalo burgers
Favorite Place: Calvary Cemetery .plot #3479 & 3480
My Bad Habits: Teraps syndrome (I blurt out rhymes all the time), cutting, pushing my pain threshold, smoking, not letting go.
What I'm Listening To Nowadays: Well I'm really into trip-hop a lot lately, so I would go with Portishead, Massive Attack, Sneaker Pimps. Of course, I'm digging some Lamb of God, Sage Francis, Mushroomhead, NIN, DJ Rectangle, Wutang, RZA, GZA, Danzig, Cradle of Filth, Brotha Lynch Hung, Sratchpickles. My Ipod has strong Kung-Fu
Coolest Thing I've Done: The thing that really sticks in my mind is taking care of my father He was very sick from the time I was born. Mom and him split up, so there was no one else to take care of him but me. So I did everyday 'til I was 19 ... then he passed away. Nothing can compare to that, nothing.
Also my band Institution (www.institutionlive.com ) played The WLRS Fest this year. No other group of our kind has ever been selected to play a show like that.
Most Embarrassing Moment: One time when I was with Nemesis at a Halloween show, I cut a fetus out of my bass player's stomach with a chain saw. Good times....I also let him nail me in the dome with a guitar . Shattered over my head, knocked me out on stage. Come to think of it, though, I did set my turntables on fire once and had flames engulf my hands.