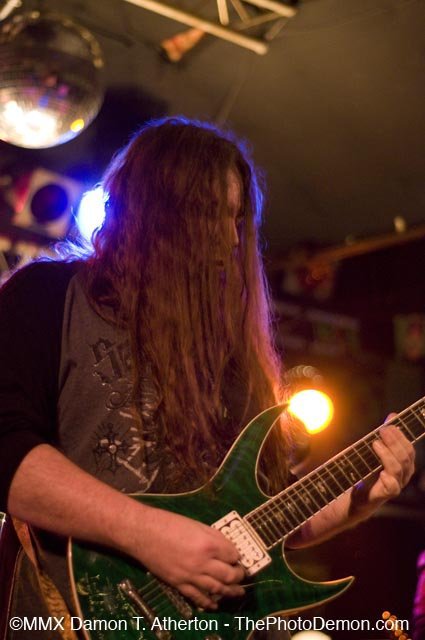 News From the Pit
Last month, I was making fun of one of my dates who got sick in the toilet, now I was the one with hair floating in the toilet. Then I ate a funky cheeseburger and got food poisoning. Karma is a bee-yotch. Ha.
However, the night before that pukefest was my big Kosair Show at the Phoenix Hill. What a night that was! Everyone and their mammy was there. It was madness
The bands that played kicked major butt, the crowd was great and very happy with the lineup. Four guitars were given away, four tattoos were given away and we raised $3557 for the Kosair kids, plus Toys R Us is hooking us up with killer deals and gave us 5% in donations. I filled my Wrangler with a thousand dollars worth of toys. Next week, when a delivery truck brings a fresh load of toys, I'm going back to buy the rest. Then it's time to take them to the Kosair Charities Building, just in time for their big Christmas party for the kids.
I'd like to thank all those who helped me with this excellent show. (See props of the month, below).
Eddy's New Rules
I've been getting grief from various bands that sign up to play my shows, and then cancel at the last minute. No more of that.
Rule # 1. Any band that wants to play the Original Rock Showcase or the Kosair show at the Phoenix Hill will have to be available for that whole evening, no ifs ands or buts. No stragglers. No work schedule problems. Definitely no other gigs at another bar that same night.
That chit is over. I have been nice about it, but telling me one day before the show that you can't show up till 10 or 11 p.m. is complete horsechit.
Rule # 2. You'll play where I schedule you. I've been putting on shows since 1995, so I like to think I know my chit.
The bands that draw the most audiences usually get the best spots. That's that's the way the music business works.
Advertising and radio exposure was wasted on a no-show and now because of that, these are the new "take-it-or-leave-it" rules. There are always bands that want to play these shows.
As far as concerts go, I'm a concert-going fool. I went to Godsmack (see review), got Crispy-Cremed by Gwar (which was not right, see review below) and went to see the My Own Victim reunion, only to find a dead club telling everyone that the show was cancelled because of some bullchit excuse. I was mad, as was most everybody else.
Now Gobblestock is here and Staind is coming up on December 8 and, yaaaaay, Brett Michaels. Can you believe - with my old school Eighties-looking hair-do - that I've never seen Poison? Should be very interesting.
Alert the media! I met a potentially special girl about a month ago, a raven-haired vixen named poison girl and we've been hanging out quite a bit. I've told all of you about my hideous dating experiences this last year-and-a-half and it seems that I might have finally found a worthy candidate for a GF, but I'm rather a picky and intolerant farger, so I'm not counting my chickens. She's quite a bit younger than me, but she acts mature for her age. She's a cutie too. She's also a handful.
The Metal Grapevine
LMN Gathering 2 : On Friday January 5 at the Phoenix Hill Tavern, I'd like all my readers to come to my Hill show and party with me and the other "News From The Pit" readers. We are going to have another LMN Gathering. My boss and I will be there and we'll be having a good old time. I have some great entertainment planned for you: Never The Man, The Revenants, Vinal (that killer new band from Southern Kentucky I was telling you about), Thorn and Prey For Maria will be tearing it up.
Love me or hate my longhaired a** but c'mon out and hang with Louisville Music News!
And all of you have a Merry Christmas (it's my birthday) and Happy New Year, from your humble columnist.
Staind, Hinder and Shinedown December 8:Live at Louisville Gardens. Bigtime radio rockers Staind will be returning to town for their second performance this year, along with special guests Hinder and Shinedown. This should be THE show to see this winter. Get your tickets in advance.
I think all the freaks in the whole town will be there, plus this will be a babe-fest like no other! I reviewed their last show in May and it was off the hook, chickwise!
Godsmack Rocked:What was Godsmack like? It was fargin loud! I took some up-close pictures in front of the stage and was about deafened by the sonic assault upon these old ears. My chit was ringing. I may never father children. Ha, ha.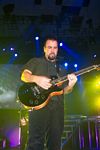 Photo By Eddy Burke
It was another great concert at Louisville Gardens, a Goldilocks venue for a good concert: not too big, not too small. I had a blast hanging out with many old and new friends.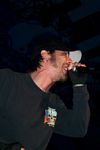 Photo By Eddy Burke
Hourcast from Boston, Massachusetts opened with some groovy, evil music that I really liked. I'm usually a picky grump, but. I might have to buy their CD.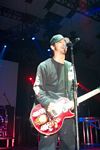 Photo By Eddy Burke
Then Breaking Benjamin ripped it up. Vocalist Benjamin Burnley is a bad mofo, playing guitar and singing at the same time without losing a hair of concentration on either. I had not seen them before, but their radio hit "So Cold" had me looking forward to this show. I'd see them again in a minute. In fact, I think they sound better live. I didn't know their music well and couldn't get a setlist, so my information was limited. Sorry.
I went to this show as a lukewarm Godsmack fan. A lot of their songs sound the same and the riffs are a bit too simple, but they do one thing very well: Play live. Give vocalist Sully Erna a mic and he's in heaven or another world, maybe Munchkinland? Sully also likes to show off, switching around instruments, playing drums, guitar and singing. There's no denying he has a great voice, and he does the best thing a singer can do: he tries 110% to hit every darn note. I love that. That's what won me over and made me forgive some of the cheesier guitar rhythms mentioned earlier.
The set started with "Alive," the hypnotic "Vampires" and then waded into classics such as "Keep Away" (I hate it), "Voodoo" and "Stand Alone" Then the band played a cover of AC/DC's " Back in Black" and Black Sabbath's "The Wizard" before ending the night with "Shinedown." A highlight was the double drum solo that was like tribal drum warfare! Very cool, but maybe a bit long.
I have to give them credit; they put on a killer show every time I've seen them. They won me over. If you've never seen Godsmack, do yourself a favor and do so.
Thanks to Scott Clark for helping us here at LMN with the tickets and stuff.
Intheclear' s New CD : Ninetyseven11lyriclane will be released at the big Intheclear CD release show on January 13 at Headliners Music Hall, with guests Subrosa, Heaven Hill (former members of Breckenridge), Kinsey (with a new singer) and MeatBasket (former members of Five.Bolt.Main). They are filming this show for a possible live DVD. Buy your ticket in advance and you get a free copy of Ninetyseven11lyriclane at the door. If you live in Louisville, pick your tickets up at ear-X-Tacy Records.
A Subrosa Xmas: These guys absolutely tore it up at the Kosair benefit and some of them still aren't even 21! I love this band, they're super-cool dudes and they are killer. I wish them the best. I just hope they don't get big heads/egos like some other great Louisville original bands have, but I doubt that will happen with these guys though. Be sure to go to Subrosa's Christmas Party on December 23 at Headliners.
Crispy-Cremed By Gwar:I was standing in the back, off to the side. I had never seen Gwar before, known as the most offensive band in the history of mankind and was looking forward to the show. But knowing Gwar's reputation for getting fans soaked with blood, meat, filth, I was hiding from the many goo cannons that saturate the fans at any given Gwar show.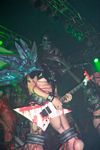 Photo By Eddy Burke
But, my luck being that it is, that's exactly what happened! During the first or second song, a character dressed up as Jesus, shot a stream of liquid from his giant fake schlong that proceeded to fly all the way across the room to nail me in the mouth and face. Crispy-cremed by Gwar. Uncool.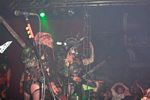 Photo By Eddy Burke
Aside from that, the show was much better than I expected, both musically and entertainment wise.
The band can play! And the giant costumed characters were insanely funny. They included Jesus; Hitler, who was beating the Gwar slaves, who were constantly running around onstage like demented goblins; President George Bush, who got the top part of his head chopped off and was spurting brains on the blood-soaked audience; Pope-Been-A-D**k, who shot an inch-thick stream of blood twenty-five feet into the crowd from both his nipples and another religious figure called Jew-Si-Fer. Other props included a four-foot round ball of fake crack cocaine, axes, a six-foot-tall blood caked syringe and cannons shooting all manner of gooey crap, mostly fake blood and a green, liquid-shooting evil monster caterpillar that looked like Mothra minus the wings.
The sheer volume of liquids shot out during this show was staggering! It seems Headliners would not have allowed this to happen, but they were cool about it, surprisingly. The audience was completely soaked by the cannon fire of goo.
It was much better than I expected from the costume-wearing freaks in Gwar, with songs like "Meat Sandwich" (one of my Gwar faves), "Surf or Die" (a song I hadn't heard, that rocked) and a little tune called "Sick of You Humans" was quite a surprise to me. How can you play an instrument with all that stuff on? Somehow, they manage, and they also manage to put on a heck of a stage show that is not for the easily offended or the faint of heart or for those who want to stay clean.
Luckily I only got sprayed that one time, but it was a direct hit to the pie hole!
Score one for Gwar.
Hot Action Cop The Tennessee-based national touring act Hot Action Cop, featuring Louisville guitarist Tim Flaherty, also of the band Antikythera, is in the studio finishing up their second CD for Atlantic Records. The band will start rehearsals this month and will start touring February 2007. They are looking at a spring 2007 CD release, March or April. Good luck, Tim.
What a Chump : Some chump from the newspaper Smell-ah-city really ticked me off when I happened to read some of his reviews of several good original bands from around here. This guy was rude and plainly anti-metal. This guy needs to quit pretending to be a rock critic and accept the fact that he should be reviewing ballet. That is what makes LMN so much more credible, with writers who know what they are talking about. Not some wuss picked mainly for his lovely education and writing background from graduate school.
And, BTW, I think the bands he was insulting are quite good, (they drew well and got a great response from the crowd) and I would have them play shows of mine any time they like.
Bizkits Jingle Balls : My friend and fellow promoter, Bizkit is having a true rocker Christmas party at the Hill on December 15 Inappropriately but amusingly titled "Jingle Balls." On the flyer, there are two silver jingle balls hanging side by side. Imagine that.
I might copy him and name my next show Eddy's Navel Lint Fest.
Bands playing this killer show are Wasted Days; Evil Engine # 9; Asleep; Halfway Hollow; Plan Of Man and Shindig. Be there, or Bizkit will punch you in your innards for Christmas.
Scott Clark Canned : Imagine that you had slowly worked your way into a business and you do everything in your power to make that company better and, through hard work and a little personality, you achieve that goal. Everything is going great, money is coming in and you are respected in your field for the job you did in a very short time.
Then whammo, everything you worked for is gone! Corporate downsizing has eliminated your job. This just happened to my friend Scott Clark at 93.1 the Fox.
Clear Channel Communications, the company that owns the Fox, was recently acquired for $18.7 billion by a private equity group led by Thomas H. Lee Partners and Bain Capital Partners. The group plans to sell off some of its radio and television assets. In order to make those assets look more profitable, they have ordered'downsizing' of radio and television personnel.
I for one hope Scott scores a new, better gig. He and his wife just recently had a house built and this was a major slap in the face to him and his family.
Corporate capitalists praise this kind of thing as "creative destruction."
Thorn' s CD Review : Thorn is a new band formed five months ago from the ashes of several great original bands.
Singer Keith Warren, a Sarasota, Florida transplant has quite the melodic and powerful voice, almost in the style of Staind or something very similar. His gruffy vocal style and ability to tap the feeling of each song is the stand-out feature of this CD.
Guitarist Critter, formerly of Breckinridge, has a great guitar sound on this CD, especially the opening riffage. Guitarist Steve Harris was formerly with Month Of Sundaze, Pilot Fish and Nomadic Soul. Drummer Troy Ford, formerly of Pilot Fish, is a proficient drummer who gets the job done. Bassist Nick Priddy, formerly of Month Of Sundaze, is a solid, stable bassist with lots of stage presence.
The music is pretty, with touches of brilliance and a few morsels of heavier moments, combined with guitar hook after guitar hook. Their sound is not like any other band in town.
The band has come together in a very short time and produced memorable radio rock anthems that will drive the ladies wild, I'm predicting. Their music has that certain emotional type feeling that makes women cream in their pants and the record labels open their checkbooks. Now it's all a matter of getting this demo into the right hands. The standout song is "Promises," the last song on the demo. It's really good and is Keith's shining moment on the disc.
Thorn is on their way to great things. If the band is this good this fast, it's scary to think what the new songs will sound like in a year.
Keep your eyes and ears open for Thorn.
Assisting Sorrow' s New CD Coming:Assisting Sorrow's new eponymous (that means self-titled) CD will finally be released on January 21, 2007. Recorded and mixed by John Kininmonth and mastered by Chris Cassetta, the long-overdue release will also feature a cover of Morbid Angels' "Day Of Suffering." So do yourself a favor and check out one of Kentucky's best death metal bands Friday December 1 at The Fox's Den at O'Malley's Corner.
Rifle To Record:Grungy blues metal rockers Rifle are heading into the studio in January to record a few tunes. These guys impressed me quite a bit last time I saw them play. Good band. Catchy riffs. Check them out at www.myspace.com/rifleonline. I'll keep you posted on their release date!
Echos Aim Seeks Bassist : Echos Aim is currently seeking a bass player, 20-30 years old, with a flexible schedule and very dependable transportation. The former bassist is leaving the band due to a major change in his work schedule. Contact Dave at Echosaim.hotmail.com
Vinal Returns, Finally:Several years ago, I met this young vocalist/guitarist, from down in central Kentucky named Nick Glass, who was dying to come play shows here with his band Vinal. So I booked them and they were really good. Nick is a very talented young man. Super vocals, fat guitar leads, memorable riffs, dude was rocking. They played a few shows for me and then the drummer, Tim Speakman, had to go to Iraq for three years. Nick then formed Inmate 42 and played out quite a bit in town, but then that fell apart, too.
Nick contacted me not long ago and said they were ready to play out again, since some of the band members had gotten back from serving in Iraq. I had a cancellation on my Kosair show, so I gave my old friend a shot. They jumped at the chance and delivered, bigtime! Nick is still as talented as ever and he proved it at the Kosair show, playing two sets with Vinal. People dug it. I'd like for some of you Louisville bands to listen to Vinal and consider them for booking. They are good, reliable people who can truly rock out with the best Louisville has to offer!
You can contact Nick and Vinal at www.myspace.com/vinalmusic. And bands/promoters looking for good, reliable bands, contact Nick Glass at 270-401-9537.
New Band Alert: Mindset : Scott Holston, former guitarist with The Constant and Psycho Soul, has a new project out called Mindset, featuring former members of Psycho Soul, Porno Fishtank, Soul Parade, Voodoomachine and Supernauts. They are just getting going, so look for them to be gigging out soon. The riffs are supposed to be heavy groove and the vocals, I hear, are excellent. The band is recording at the moment and will be releasing a demo soon. I'll keep you informed!
Hamstring The Horses, Burn The Chariots:Tonight We Fight has officially been renamed to Hamstring The Horses, Burn The Chariots. Kinda cool, actually. Check them out at www.myspace.com/hamstringthehorsesburnthechariots or go see them on December 9 or 10th at Bulldogs Cafe.
Vampire Squid : VS is a new experimental band from Louisville that is ready to start playing out and gigging as much as possible. They have a myspace account: http://www.myspace.com/vampiresquid. Check them out if you are looking for something fresh.
Dogwater Adds Second Guitarist: Hard rock band Dogwater has added a new guitarist, Damien Thornhill, formerly of Voodoomachine (dude is wicked on the gee-tar and with that name you can see why). You can see them at the Phoenix Hill on December 13. If you haven't heard Dogwater yet, you need to; they wail. Their singer, Buzz, is excellent, too.
New Band Alert: Factory Damage:Owensboro's Damage Factory send me a CD of their old school metal (with guitar solos, even). Reminds me a little of Louisville rockers Phearus, except I may like Damage Factory a little bit better. Good hooks, adequate vocalist, decent grooves and solid songwriting. The drummer can throw down. The sound is hard to slot but it does fine on it's own and it hasn't gotten on my nerves yet (a major accomplishment).
I hear some blues metal influence in there at times, which is cool, and even a hint of punk madness. "Black Angel" is eerie, which is just how I like it. "Nothing <ore" sounds quite like the band Down or some old Sabbath and rocks.
The last song, "Subpoenas," about music pirates on the internet, starts out with a riff I didn't like much at first, but then it turned into a rocker of a riff featuring some slicks pull offs. There's a little girl narrating throughout the song, which reminds me of some old Celtic Frost. Anyway, Factory Damage is a good metal band if you are into old school metal hard rock. We might have to bring them up here for a few gigs. Check them out at www.myspace.com/factorydamageband and give them a holler from the murder capitol of Kentucky!
UpcomingShows
The Bulldog Cafe: Sunday, December 9 - Hamstring The Horses Burn The Chariots, Stick To Your Guns, The Burning Season and Too Pure To Die.
Tuesday, December 12 - Blood Runs Black, Nights Like These and Hamstring The Horses-Burn The Chariots.
Expo 5 : Sunday, December 10 - Arcaine Saint, Asleep and Lotus Blake. 7 p.m.
Fox's Den At O'Malley'sCorner:
Friday, December 1 - Assisting Sorrow, False and Blade Of The Ripper.
Headliners:Friday, December 8 - False CD release with Incursion, Straight Line Stitch and Antikythera.
Friday, December 15 - Edens Rising and bands TBA.
Saturday, December 16 - The Red Jumpsuit Apparatus with The Audition, Madina Lake, Lorene Drive and Halfway Hollow.
Sunday, December 17 - Scully and The Crossbones plus Driven By Suffering, We Speak Texan, Descention, Tonight We Fight, Maude Flanders and Beautiful Day To Die.
Monday, December 18 - 88 Sins with Jax Lament, Counter Terrorist Unit, Somatica, Buried Beneath Me, Deliver Us From Evil, Underworld Assassins and The UC.
Tuesday, December 19 - The (Kat)-A-Lyst with Brother Hill, Heavy Limbs and Large Extremities, Be A Bear, In A Heartbeat and Silver In December.
Saturday, December 23 - Santageddon with Subrosa, 7DaySun, Wake The Day, Halfway Hollow and Serene.
Friday, December 29 - My Finest Hour with Not Quite Superheroes, Amherst, Heartbreak Kid and The Waterground.
Tuesday, January 2 - The Sword with Kylesa, Lords and TBA.
Friday, January 12 0 God Forbid with Goatwhore, Mnemic, Arsis and Human Abstract.
Phoenix Hill Tavern:Friday, December 1 - The Original Rock Showcase Series. I Will Defy, E-Flat, Subrosa, Thorn and Institution. 8 p.m.
Friday, January 5 - The "Louisville Music News Gathering 2." Never The Man, Prey For Maria, The Revenants, Vinal, Thorn and Antikythera. 8 p.m.
Wednesday, December 13 - Dogwater.
Friday, December 15 - Bizkit's Jingle Balls with Wasted Days, Evil Engine # 9, Asleep, Halfway Hollow, Plan Of Man and Shindig. 8 p.m.
Uncle Pleasants:Saturday, December 16 - Necrophagist with Skinless, Ion Dissonance, The Faceless, Antikythera, Driven By Suffering and Created To Kill
Outtatownerz and Otherz:Saturday, December 2 at the North Bullitt Christian Church. A Beautiful Day, To Die, Wake The Day, Hamstring The Horses-Burn The Chariots, The Bessemer Process and Not Quite Superheroes.
Saturday, December 2 at The Boondocks in Sheperdsville. I Will Defy and Inner Blue.
Props Of The Month
What a great show! The Second Annual Rock For Kosair Benefit at the Phoenix Hill raised $3557 to buy toys for the kids at Kosair. I'd like to thank all those who helped to make this show a success. You've got some big hearts!
You wouldn't believe the number of people who thanked me for putting this Benefit on, because Kosair Children's Hospital had helped them in the past with their own kids. The Families of those Kosair kids really appreciate what you've done!
Thanks to bands: Ugly (Geo drove from Detroit to play for the kids); Antikythera (unreal set, guys); Wasted Days; Subrosa, 7DaySun; Prey For Maria; Evil Engine # 9; 16 Bones; Acoustipimps; Thorn; Sixth Floor and especially Vinal (on one day's notice) and Shatterstone for helping me out by doing two sets when two bands cancelled at the last minute. Thanks for donating such a great performance to do some good for the kids.
I want to also thank Bizkit for donating his time to help run the show; Kim at the Hill; Steven at the Hill; Ben Rogers and Frankie for giving us 100% of the door; Mudd; Louie; Scott Clark; Nick Priddy and Charlie Steele from 93.1 the Fox.
Thank you to our sponsors: Jeff and Pam at Uncle Samm's Jamms for donating a fat $600 guitar (Brian from Incursion won it); Scott at Willis Music in Jefferson Mall for donating three very cool guitars (thanks bro), Adam at Kentucky Tattooing and Body Piercing for donating two free tats and Billy Noel at Hornet's Nest Tattoo Shop for donating two free tats as well and my boss Paul Moffett here at LMN for providing a free ad for the show.
And last but not least, the donations girls, Jennifer Maxwell, Shauna Greenwell, Lisa Lincoln, Jennifer Irwin, Erika Henderson and Stephanie Kayrouz, who collected money from drunk dudes at the show.
Louie the local guy, Nick Priddy and I had a killer time giving the prizes away.
Coming next fall, look out for Rock For Kosair 3!