I've Got A Mind To Ramble
Deep Blue
Long ago I collected both jazz and blues records, but it didn't take long to realize I couldn't afford buying both. I made the hard decision to stick with the blues and unload the jazz, but there was one style of jazz I couldn't let go, which was the organ grinders. The deep throbbing sounds of the B-3 Hammond organ are as close as jazz gets to the blues. Jimmy Smith, Brother Jack McDuff, Jimmy McGriff, Richard Groove Holmes, Bill Doggett and Louisville's Johnny Hammond were the maestros who could cook the keyboards.
Most of these organ trios are gone or rarely play today, so when the Jazz Factory booked Deep Blue, I was the first to arrive on November 11 to get a good seat by the organ. Ken Shapero, the owner, has been showcasing other "old school" organists like Tony Monaco and Joey DeFranchesco. He refers to his club as the Preservation Hall for the organ. The Deep Blue Organ Trio includes guitarist Bobby Broom, who is internationally known, having played with Sonny Rollins and Charles Earland. Drummer Greg Rockingham also backed Earland and brought his vintage red Gretsch drum set to the gig. Chris Foreman, blind since birth, preferred his own organ to the house organ, because it produced a better tone on the lower register. This tight Chicago-based trio has been together for fifteen years; Rockingham and Foreman have played together since the mid eighties.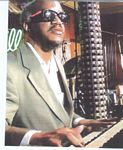 Deep Blue started gigging at the Cotton Club and has been the regular Tuesday house band at the Green Mill since 2003, where they have matured to where they are today. A live show has been documented there on the CD and DVD "Goin' To Town." Their first CD, Deep Blue Bruise, was recorded in 2004 on the respected jazz and blues label Delmark, which introduced to the jazz world that this organ combo is the real thing.
Foreman was ushered to his organ and waited patiently for the set to begin. He usually begins each piece with a brief melodic prelude leading to a count-off for the others to begin. Broom and Foreman seamlessly traded solos, followed by appreciative applause. Broom's left hand intricately manipulated the fret board of his beautiful sunburst Hofner guitar, getting the right inflection for each chord. Rockingham's versatile drumming was the glue that held these extended solos together. Their facial expressions revealed how much they love to play together. There was a magic chemistry in the Jazz Factory that night and the racially mixed audience responded with expressions of encouragement, especially during Forman's emotional solos.
Deep Blue opened with "Sierra" and "Goin' To Town." "Lou" was dedicated to Rockingham's wife, Cindy Lou, who was in the audience. He concluded with a lightning-fast attack on the snare drum. To honor a couple who were celebrating their fifty-fourth anniversary, they played "I've Grown Accustomed To Your Face." They closed their set with "Deep Blue Bruise," composed by Broom.
I talked to Foreman during the break about his musical influences. His main man is Jimmy McGriff, as he feels he is the bluesiest of all the organists. He grew up listening to the old school jazz organists on the radio and records. Many of his exchanges with Broom recall the classic duets between Jimmy Smith and Kenny Burrell on Blue Note records. Foreman backed Albert Collins on his Don't Lose Your Cool album, where he inspired Albert with his Texas shuffles on the title track and "Quicksand."
The second set climaxed the evening for most of the crowd that stayed with "Will You Still Love Me Tomorrow" and "It Was A Very Good Year." During an inspired extended version of "These Foolish Things," Foreman showed his emotion by waving his collapsible cane in the air. Rockingham exclaimed afterwards "Two years ago, we still would be playing!"
Deep Blue really got deep and blue with a gospel-tinged blues called "James and West." "Little Reverend" Foreman, who plays piano at St. James AME Church on Sundays, lived up to his. The Chicago Reader credits Foreman as "Chicago's most exciting and under-recorded organist." It was a joy watching him up close, with his right foot pumping the volume pedal and his left foot dancing on the bass pedals. This dynamic trio skillfully fuses the heart of blues with the head of jazz and lives up to its motto, "Blues is the preacher. Jazz is the teacher."
Two Sides of Joe Bonamassa
Joe Bonamassa is touring about two hundred days, doing one hundred-seventy shows this year, building up a loyal fan base. That is an ambitious schedule for the twenty-nine-year-old rock-blues guitarist. He also makes time to speak to high school students about his inspiration, the blues and life on the road. The Blues Foundation sponsors his three-year involvement in the Blues In The Schools program, where he also serves on the Board of Directors. He feels these informal presentations help to perpetuate the significance of blues music to the younger generation.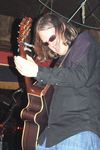 Photo By Keith Clements
The Kentucky Blues Society, contacted about this opportunity, helped Brown School band director Nick Waltrip arrange for Bonamassa to appear on November 14. The session was in the band room, which quickly filled up with nearly one-hundred-and-fifty students. Fox 41's Barry Bernson was there, doing some taping television program. Bonamassa sat front and center, holding his acoustic guitar on his lap. He gave a little background on how he first started playing classical guitar at four and discovered the blues at eight, listening to his father's records of British blues (Peter Green, Eric Clapton, Bluesbreakers). At eleven, Bonamassa was playing professional gigs; his goal was to make enough money to buy good sound equipment. Acquiring guitars were no problem, because his father was a guitar dealer and musician and they were always around his house. Joe warned everyone that even though he is a quiet, shy guy, he sings loud. That prepared them for his deep-throated vocals. He played a Delta Blues-influenced song written by Rod Stewart when he was with the Jeff Beck Group.
Bonamassa talked about how Muddy Waters developed the amplified Chicago blues and the significance of B.B. King. He said King has the enduring ability to make a big sound come out of his guitar and voice without wearing down after years of performing. This led into his B.B. King story and big break. When Bonamassa was twelve, his mother was his manager and she booked him to open for a local B.B. King concert. He bought some loud clothes and cowboy boots to impress an audience of five thousand people. During his performance, he noticed King was watching backstage, motioning for Bonamassa to pay attention to the audience, not him. He met King after the concert and was invited to open for him during a twenty-four-show tour that summer. What a way to spend a summer!
That fall, his English teacher had the students write a paper about what they did that summer. Bonamassa's paper was returned with "SEE ME" written on it. Because the teacher was convinced that it was made up, Bonamassa had to show him his backstage pass, tour itinerary and a photo of King and him playing together. He got a B- because his grammar was so-so.
Another big break came when the NBC show "Dateline" wanted to do a story about Bonamassa. They came to his hometown of Utica, New York and followed him for a week around school and at home. He finally got a little attention from his teachers. This exposure led to a record deal with EMI, recording as the group Bloodlive. He still in his teens.
Bonamassa still plays with King. In 2005, he King personally asked him to open for King's 80th Birthday Celebration summer tour. He played King's "You Upset Me Baby" for the students, a song he did with King many times.
Bonamassa's advice to the students was simple. He said, "Be ready for your big break in life, for it could come when you least expect it." To any aspiring musicians he said, "You have to be professional and understand the business, plus play your music with conviction."
The following day, I saw the professional musician side of Bonamassa at Jim Porter's Good Time Emporium, which was filled when I arrived at show time. There would be no dancing this night: the dance floor was covered with chairs and tables. There was a buzz of anticipation from a predominately male audience while the recorded songs of B.B. King boomed over the sound system
Rufus Huff, a bluesy jam band fronted by Kentucky Headhunter Greg Martin, opened the show with "Good Morning Little School Girl" and "That's All Right, Mama." All of their songs were blues roots-based, including originals like "The Bottle," "A Bar in Bowling Green" and "13 Days." Martin's masterful guitar work is so powerful and dominant that the lyrics become incidental to the songs. This newly formed group of veteran musicians has given Martin a chance to return to his first love, blues and gospel.
Between acts, members of Bonamassa's large road crew were scurrying around setting up amps and mikes, taping down play lists and tuning guitars from his arsenal of a dozen axes. The Fox 41 cameraman was back again to shoot some more footage at the beginning of Bonamassa's set. A huge tour bus with a large trailer was parked out back. Bonamassa said they lease it when they are traveling on the road from their home base in California. They are a professional-class act and proved it when the music started. Bonamassa warmed up at the side of the stage, which led into "I'll Take Care of You." After each song, there was a quick guitar change. Originals like "Got You In My Shadow" were mixed with standards like "So Many Roads."
Bonamassa's interpretations strayed into a world of guitar pyrotechnics where few have gone or could go. He is a master of his vast array of pedals, amps and instruments. Midway in his set, bassist Mark Epstein, and drummer Bogie Bowles left the stage for Bonamassa to solo with just his miked-up acoustic guitar, doing "I Don't Want You, But I Need You." This was Bonamassa at his stripped-down best and he received a standing ovation. Bowles' extended drum solo near the end of the set stopped the band in their tracks. Another standing ovation earned an encore of Bonamassa singing "If I Get To Heaven." Later I wondered what those students would have thought if they also could have been at the show and experienced both sides of Joe.
2006 KBS Blues Contest Winner
The Stella Vees from Lexington won the 2006 KBS Blues Contest, held at Stevie Ray's on November 5.