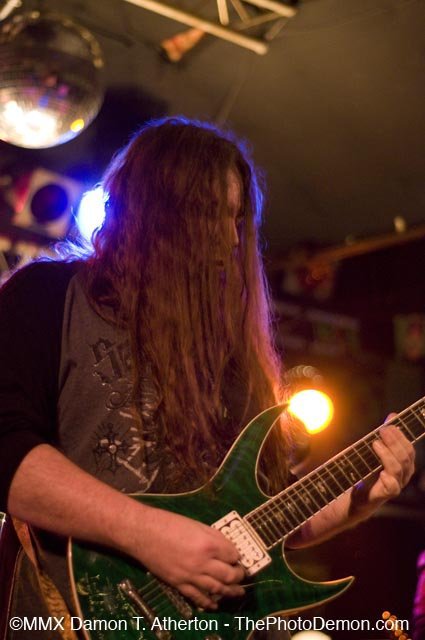 News From the Pit
I want to thank all of you who came out to my LMN Gathering on January 6 at the phoenix hill tavern. I had a great time hanging out with all of you fargers in the scene.
The show was a damn good metal show and everyone had a great time. I'd like to thank Uncle Samms Jamms for providing a guitar to giveaway, Scott, Mudd, Frank, Chris and Louie from 93.1 the Fox for helping with the radio advertising and Bizkit for running the show for me whilst I mingled and Tom Kent for recording everyone and being a part of the showcase.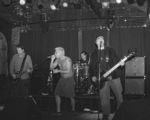 Photo By Denise Porter
I'll probably make this event an annual one, as will be the Kosair benefit show I put on in October. The DVD thing is still up in the air at the moment, but the bands and I will review the performances and sound quality soon and decide whether it will be released or not.
It's been unusually warm for a January, therefore throwing a monkey wrench into my next big project/idea. But I haven't given up yet! My new idea isn't music related, but I know it will be lots of fun regardless. I am trying to put together a big skiing trip for rockers in the scene.
Kind of a big "let's go get crazy" adventure! Several years ago, a female friend of mine pretty much made me go skiing, after bugging me to death. But I had a killer time and did quite well at it.
Now, years later, I'm a total ski freak. I have noticed at the ski slopes, that the clientele on the midnight-to-6 a.m. ski session is somewhat wild and hardcore. So I thought it would be cool to get a bunch of people in the scene to meet up there (Paoli) and make a night out of it. You can ski, snowboard, dive over the icy hills of Paoli like a madman/woman. I'm trying to talk the Fox into getting involved, maybe "Louisville Rocks" or "the Attitude Network." Those interested give me an email and I'll keep you informed on the progress of the ski trip. Eddymetal1@aol.com
There's a ton of good shows coming up and I'm looking forward to getting out and hanging out with all you partiers at these shows. I've been having so much fun in the past several months it shouldn't be legally allowed!
The original music scene seems to be doing well lately, plenty of new bands, plenty of venues and plenty of shows. Usually this time of year, it's kind of dead, scene wise, but not this year; it's been kickin'.
Nine Inch Nails Invades Lexington: I've never really been much of a NIN fan.
Their style of electro-pulse/sex beats was never my cup o' tea, but I'll probably go to the concert on Saturday, February 24 at Lexington's Rupp Arena just to check out the sexy Goth babes. There will be some freaky, freaky people there, I'm guessing.
My question is. Why Lexington? We have a much larger rock/metal scene here in Louisville. It promises to be a freakfest for sure! I'll probably see you there.
Disturbed At Jillian's: On Friday, February 23, Disturbed will be tearing the roof off of Jillian's, with guests Bloodsimple and Bowling Green Kentucky's own Sixth Floor.
You might want to get your tickets ASAP, as I predict this show will more than likely sell out. This is another show that should be a wild one. Count me in.
Opeth, Dark Tranquility and Devin Townsend: This is a TRUE metal show not to miss. Monday, February 20 at Headliners. This will be a death metal bonanza. Wussies and posers should stay home. Darkness and brutality is what this show is about. And Devin Townsend, of Strapping Young Lad, is a heavy metal musical genius.
I'm interested in hearing his new music. And I've never seen Swedish metal monsters Opeth and Dark Tranquility, so I'll probably review this show.
European death metal and beer. Killer.
Of Sound Mind Signs Deal: Of Sound Mind has just officially inked another deal with huge support both financially and creatively with Villa Entertainment Group (Los Angeles based). Their A&R is Mark Mazzetti (former head at MCA). Mark has worked with Dishwalla, Cheryl Crow, Sting, Aaron Neville. The band features David Frazier (vocals), Duncan Kallas (guitar, vocals), Terry Harper (drums) and Lee Miles (bass, vocals). The band will be heading into the studio immediately to begin pre-production and finalize the writing for their as-of-unnamed "new" album. Congrats, guys.
Slokill Wins Band Battle: I'll be honest. I never thought Slokill had a chance of winning the band battle at the Rustic Frog. I was wrong. They came in as underdogs and worked hard, rallied their fans to the occasion and ended up shocking the scene and leaving with a victory and five thousand dollars of cold, hard cash. A friend of mine told me a story about J from Slokill. He had worked with J a few years ago, before J was in a band.
He said that J was constantly talking about getting a band together and kicking some butt. That he had the whole idea in his mind. He just needed a band.
My friend liked J a lot as a friend, but thought J was full of it and silently doubted his musical ability.
Well...J's got it going on now, his band/idea has accomplished much in the little time they've been together and seems to be on their way. So congrats to Slokill.
I've eaten my words and a bit of the old crow, too.
A & R rep in Louisville: Scott Frazier, former manager of Flaw, Outspoken and manager for newer artists Boba Flex and Florida's Indorphine, has apparently been made an official A & R rep for Virgin Records.
To you dumb mofos, that means if he likes your band and thinks they got what it takes to be signed, you might have a chance of getting your music in the hands of a record label. I don't think we've ever had an actual, big time record label rep in town as far as I know.
So congrats to Scott. Now more Kentucky bands have a chance to be heard.
Three Louisville Bands Play For Bigwigs: The bands Phearus, Echos Aim and Prey For Maria recently showcased for Atlantic, Virgin and Koch Records in Columbus Ohio on January 14. Hopefully something will come out of this show, in the form of a record deal or two. Good luck to all three of you bands.
Five.Bolt.Main Coming Back To Town: You can see them on Friday February 17 at Bulldogs Cafe, with Inner Blue, Pathogen, Subrosa and False Witness.
If you like FBM, you better see them now, because you never know when they'll be back in town again.
E-Flat In Studio: Foul-mouthed hoodlums E-Flat are currently in the studio at Demoking Productions, recording eight new tracks, including "N Game," "Enigma," "Flock" and a cover song of Grand Master Flash's song "The Message." Also , the band has added a new singer, Shane Simonton, to handle more of the melodic vocals. But fret not, Rod Mack is still the E-Flat frontman. He will do the rappier vocals and be working the turntable. Look for the finished result in a month or two.
Echos Aim Seeking 2nd Axe: The band Echos Aim is looking for a guitarist who has a good attitude, talent, doesn't have a job with screwed up hours, good equipment, no psycho girlfriend and is between 20-29 years of age. Contact Echosaim@hotmail.com
Dead City Seeking 2nd Axe: Punk rockers Dead City Rejects are looking for another guitarist. Must have your chit together and can act and play the part. Email king@deadcityrejects.com 21 and older only.
Descention Seeks Bassist:  The brutal thrash power metal band Descention is seeking a bassist who likes to play it loud, aggressive and hard. This is one killer metal band, so you metal bassists out there might want to give it a go. Contact Daniel at Deadboy502@aol.com
New Band Alert: Sulfate: Influenced by Black label Society, Pantera and Static X, these Louisville natives are prepared to destroy and kill. You can check out more information about the band at www.sulfatemusicnews.net or visit the members page and click on Sulfate at www.lmiacentral.com.
New Band Alert, Drop Sonic: Drop Sonic, an "impact rock" band from Hodgenville, Kentucky, came together in May of 2005. This four-piece band consists of Jarad Pearman on bass, Johnathon Lee on lead guitar and vocals, Jay Edlin on rhythm guitar, and David Hellman on drums. Major influences on the band come from Chevelle, Alice in Chains, Jimmie Hendrix, 311, Silverchair, as well as Nirvana. The music, which is described as "impact rock," has a hard-hitting front filled with crunchy distortion and sweet melodies. drop_sonic@hotmail.com
Musicians Needed: Guitarist Wendell Williams from Jefferson TARC Bus is looking to join or form an original rock band. Wants to put together something edgy and catchy but with no limitations. Wendell is a great guitarist and a cool dude, so give him a holler. 473-8051 or email him at wyndelwilliams@ccol.net
13th Level To Reform? It looks as though my last band, 13th Level, may be getting back together again. We tried once before but there were too much stuff going on at that time to get it going (the birth of Billy's daughter), so Billy Burton (also of Speed of Sound) and I have been talking about getting the band going again. We even wrote a killer new tune called "X."
If it happens, Kevin "Shredder" Davidson will be on drums once again, but we will need a bassist and second guitarist, with good equip, transportation and no issues. To hear a music sample: garageband.com/artist/13thlevel or MP3.com/13thlevel
Contact me at Eddymetal1@aol.com
February 10 and 11. XS
Saturday, February 4 - Surviving Thalia and Caldera.
Friday, February 10 - A Life Once Lost and TBA.
Friday, February 17 - FiveBoltMain, Subrosa, False Witness, Inner Blue and Pathogen.
Saturday, February 25 - Gathered Here Today,, Intent To Kill, Beneath The Sky and The Heartless.
Saturday, March 11 - Ides of march hardcore festival. 10 bands. Surviving Thalia, Beneath The Sky (CD Release show), Gathered Here Today,, Red Hand Release and Disco. 12 P.M. till whenever.
Saturday, March 25 - Antikythera.
Friday, February 10 - Surviving Thalia. Free. 8:30 P.M.
Saturday, February 18 - Throwdown, The Red Chord, Still Remains and A Dozen Furries.
Wednesday, March 1 - Bleeding Through w/ Every Time I Die, Between The Buried and Me and Haste The Day,.
Saturday, February 18 - Hinder, Revelation Theory and Faktion.
Wednesday, February 8 - Silvertide, Ugly and Sixth Floor.
Saturday, February 11 - Institution, Camp Pain, Nacirema, The Sluggaz, Enuindo and Bob Anonomous. 18 and over. 8 P.M.
The Original Rock Showcase series, on the first Friday of every month in the Roof Garden.
Friday, February 3- Sixth Floor, Arcane Saint, Never and Echos Aim.
Saturday, February 18 - Wasted Dayz and Asleep.
Friday, March 3 - The Acoustipimps, E-Flat, Slokill and Prey For Maria.
Saturday, March 18 - Slokill, Institution and E-Flat.
Friday, February 3 - XS
Thursday, February 23 - The Acoustipimps
Saturday, February 11 - The Acoustipimps
February 24 and 25 - XS
Friday, March 24 - Bang Sugar Bang (girl-fronted punk band from CA), Girlush Figure (all-girl rock from MD), Dead City Rejects. 8 P.M.
February 18 at Beechwood Park in Scottsburg, IN - Surviving Thalia, The Exhaustion Method, Nixon, Disco, and Escaping Memory. All Ages. $5. 6 P.M.
Friday, March 3 @ High Life Lounge in Lexington - Dead City Rejects, The Yellowbelts, Resurrected Bloater Floaters and Nine Pound Hammer.
Scott Frazier is this month's recipient. Why? Because he has done a lot for this music scene and elevated some of our local boys to an all-new level in the national scene.
He has just been offered a record label rep position at Virgin Records and he is based here, so that means we, the scene, got the hookup on getting our music in the hands "of a man who can get you signed."
I was looking at a local website and someone said "Here comes the next Seattle," referring to Scott's new position. There were also some chumpstains on there trying to dog Scott. The fact is, the man has done some cool things and is now an actual A&R rep and we all know that some jealous anonymous wussies are always going to attack someone who does something extraordinary.
Scott currently manages Boba Flex, Of Sound Mind, Evergreen Terrace and a sick new band from Florida called Indorphine.
Contact Scott via email. Managemusiq@aol.com