I've Got A Mind To Ramble
The WFPK `Live Lunch' on Fridays is the best entertainment deal in town: an hour of free, live music that is also broadcast. The studio is smoke-free, except when the musicians get too hot. If you are a donor to Public Radio Partnership at the Enthusiast level ($52) or better you get a free box lunch. On "lucky" Friday, January 13, the Holmes Brothers took the standing-room-only crowd to a church revival and a rockin' juke joint with their soulful harmonies and shouts of jubilation.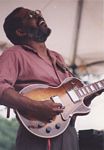 Photo By Keith Clements
Sherman and Wendell are actual brothers who grew up in Christ Church, Virginia playing in the local churches. Their cousin had a juke joint, so they honed their musical skills in both gospel and the blues. Their parents were teachers, so they were surrounded with books.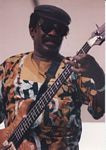 Photo By Keith Clements
Willie `Popsy' Dixon got his musical baptism singing and playing drums in the Pentecostal church, which gives an up-tempo shouting edge to the group. Popsy joined the Holmes "brotherhood" when they were scuffling for jobs in New York City during the 60s. It was a gig at Dan Lynch's New York bar, beginning in 1967 and lasting for ten years, which launched the careers of the Holmes Brothers. It wasn't until 1990 they released the first of four albums for Rounder. They currently record for Alligator, with two contrasting CDs. Speaking In Tongues is full of redemption and gospel while Simple Truths is a diverse secular recording that mixes country, blues and soul covers with several originals. Bruce Iglauer, president of Alligator, said, "It struck me, the contrast between what they do musically, which is so diversely raw and rootsy and the way their minds work, which is so well read and intellectual."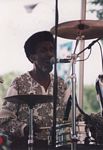 Photo By Keith Clements
Laura Shine has replaced Scott Mullins as host for the Live Lunches. After her brief introduction and thunderous applause, Wendell did a rollicking piano opening for Popsy's vocal on "Precious Lord." Popsy's beautiful falsetto tenor can suddenly hit a high note, which will give you shivers. Wendell switched to his guitar for "Lay My Burden Down" doing some vocal harmonizing with Popsy. "He'll Have To Go" took the Brothers from church to country. When Wendell introduced the ballad, "We Meet, We Part, We Remember" he said, "I got the title from an inscription in my mother's 1931 college year book." The first set closed with Wendell's mean blues licks and vocals on "Big Boss Man." When Laura returned to an on air interview she said, "I didn't know whether to reach for the corn whiskey or the bible." Wendell replied, "corn whiskey."
There was a plug for the "Shout, Sister, Shout!" concert the following day at the Brown Theater. Odetta and Marie Knight joined the Holmes Brothers for a tribute to Sister Rosetta Tharpe. Wendell said, "Marie was Rosetta's right hand woman." Because Odetta's maiden name is Holmes, Wendell and Sherman claim to be her distant cousins.
Laura asked, "How do you keep together all these years?" Wendell replied, "We have separate rooms traveling on the road." Laura's final question was if they had any conflict between singing gospel and secular. Wendell slyly answered, "No, when Jesus held the big feast he turned water into wine, so he was in with a good party." Do I have an 'amen'?
The remainder of the show continued with a rousing version of "Amazing Grace," followed by a hoedown instrumental in honor of their birthplace, Virginia. It was back to the blues with "I'm So Lonely" where Sherman sang the poetic "My smile is full of sunshine, but my tears are full of rain." Popsy's uplifting voice highlighted the mellow "Everything Is Free." The fastest hour in show business ended with "Jesus Is On The Main Line" with Wendell interjecting "Had a good time today" and the crowd affirming back in chorus and a standing ovation.
The following evening (January 14), an evenly racially mixed audience filled about half of the Brown Theater for the tribute to Sister Rosetta Tharpe. Rosetta was a popular gospel singer who crossed over into jazz and blues. Rosetta was the first to include the urban blues of the 30s with gospel music. She could pick her blues guitar like Memphis Minnie and rivaled Mahalia Jackson with her powerful mezzo-soprano voice. Her career lasted from the mid-Thirties to the early Seventies, performing solo, with the Lucky Millinder Orchestra and with the Sammy Price Trio.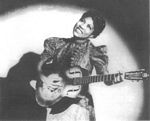 This concert captured her spirit by mixing the secular with the sacred. The Holmes Brothers were the first act. They spread out on the large stage each under their own spotlight. Wendell opened on the piano, sounding a lot like Ray Charles when he sang "Jesus Will Roll My Burden Away." Then Popsy stepped forward to sing "Precious Lord," wearing his trademark black and white drummer's gloves. If there were an award given for the best singing drummer, Popsy would win hands down. They sang several of the songs they had performed the day before at the Live Lunch but with more fire and stretched-out versions. To get the audience ready for Marie Knight, the Holmes Brothers did an amazing version of "Amazing Grace."
When Marie appeared on stage we got to see the living legacy of the Rosetta Tharpe era. Marie is a spry eighty-seven years old but you would never know it, as her strong deep contralto voice was filled with fervor. Before `Madame' Marie joined Rosetta, she had toured with an Evangelical gospel group and recorded on the Haven label in 1946. They teamed up in 1947, recording several duets on Decca Records with the Sammy Price Trio. Marie's deeper direct vocal style was a nice foil to Rosetta's lighter flamboyant approach. Their recording of the traditional spiritual "Didn't It Rain" led to appearances in Los Angeles. When they were in California, they recorded for the Down Beat/Swing Tune labels while under exclusive contract with Decca. Rosetta used the pseudonym of Sister Kay Marie. Down Beat magazine leaked the news of the recording sessions and the court ordered that the records and masters, which included their duet of "When I Come To The End of My Journey," be destroyed. Their later recorded duets became looser, filled with witty spontaneity. The up-tempo "Up Above My Head I Hear Music In The Air" reached sixth place on the `race records' charts in late 1948 for Rosetta and Marie. "Precious Memories" soon followed on the `race' bestseller chart. Rosetta was then recognized as the queen of gospel and appeared with Marie at respected venues like the Howard Theater and the Blue Angel. The duo also fronted several gospel quartets, traveling across the country for church appearances.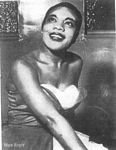 In 1953 Rosetta and Marie recorded several blues songs together, which was criticized by the Sanctified church. This led to the split-up of the duo. Marie Knight embarked on a new career as a blues shouter. Fifty-six years later, Marie was singing the same songs she and Rosetta had made so popular. "Didn't It Rain," "Up Above My Head," and "Ain't No Grave Hold My Body Down" were resurrected with Marie's inspiring voice, backed by the Holmes Brothers.
Following the intermission, Odetta appeared in a simple but elegant black gown with a multicolored cap and stole. Her presence was both powerful and gentle as she sat in the center of the stage. She set the tone with a reading of the Marianne Williamson poem, "Our Deepest Fear." Backed by only her pianist, Ed Holstrum, who also accompanies the Yankees at Yankee Stadium, she sang "This Little Light of Mine," encouraging the audience to participate. Odetta prefaced each of her songs with some storytelling. She used her dialogue and lyrics during the concert as a subtle reminder of the continuing struggle for peace, justice and freedom.
"Careless Love" a country blues that became citified, tells of the pitfalls of a woman who wore her apron low and now her apron strings won't tie. Odetta paid more of a tribute to Leadbelly than Rosetta, singing "You Don't Know My Mind," "Midnight Special," "Bourgeois Blues," "Rock Island Line," and "T.B. Blues" (later covered by Victoria Spivey). Odetta referred to "Midnight Special as one of Leadbelly's `prison songs' that he learned while in Sugarland prison. The reference to "Jumpin' Judy," whips to control the prisoners, and the Southern Pacific train that crossed the Brazos River bottomland by the prison around midnight, took on more meaning. She aimed her sights at the "Texas Bush boys who don't give no pardons." Her passionate set came full circle by returning to "This Little Light of Mine" and inviting Marie and the Holmes Brothers back on stage for a climatic revival of "Down By The Riverside." Everyone did a chorus and I was so sorry there was not an encore for all that talent on stage.
Like Rosetta, Odetta was a pioneer, as she took her formal training and expanded it to create a new style of singing traditional African American songs to the concert stage. Her vocal range is still flexible and her phrasing is exceptional. At seventy-five, Odetta is enjoying a rebirth, continuing to tour, perform and record for M.C. records while bringing audiences closer to the American southern experience.