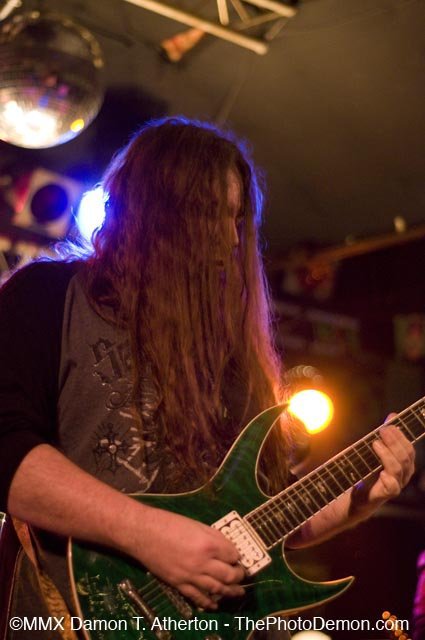 News From the Pit
What up, everyone. I hope you all had a Merry Christmas and killer New Year.
Gobblestock, Scum Of The Earth and the Surviving Thalia CD release show was a blast. I had a great time at all three shows. Rob Zombie's former guitarist Rigg's new band, Scum Of The Earth, crept silently into town without much warning and created quite a ruckus with their Zombie-esque type enigma. It was like seeing White Zombie play the Hill. Rob Zombie? Who needs `em?
I wish the Hill would have more national metal bands like SOTE. It was wicked, indeed.
As you a lot of you probably know, my big Louisville Music News Gathering is coming up on January 6 at the Phoenix Hill Tavern. This is a gathering to ALL who read my "News From The Pit" column and also to celebrate the seven-year anniversary of the Original Rock Showcase Series at the Phoenix Hill Tavern. Jeff and Pam from Uncle Samm's Jamms have provided a Schecter electric guitar to give away to one lucky concertgoer. And not only is there going to be a guitar giveaway, but we will also be making a "live" compilation DVD called "The Gathering" of the six bands playing that night, courtesy of Tom Kent at DC Productions. So if you are friends or fans of some of the bands playing, be sure to come out and scream your heads off to support them in their live recording.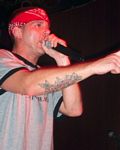 Photo By Eddy Metal
And a bit of a hint to those wanting to win an axe: Be there before 10 p.m. to get a chance to win the guitar. We only give out so many chances to win. The giveaway will be between midnight and 12:30 a.m., so be sure to be upstairs when it goes down.
Lately the scene has been regenerating itself once again, in the form of new bands that are kicking butt bigtime. They may be new bandwise, but musicianwise, they are not new. They are experienced metal veterans forming new projects. Something new and fun.
Arcaine Saint, Disruption, Stonecutters, Antikythera, Into Another, Surviving Thalia, Caldera, Odesa, Eulogy Of A Traitor and Dying Kind are just a few for example. So if you don't recognize the name, don't be hesitant to go see their show. Chances are you will be impressed with what you hear.
The Metal Grapevine
Disturbed Coming in February: I've never been much of a Disturbed fan at all, but on Thursday, February 23, at Jillian's Disturbed will be playing, with Bowling Green's own Sixth Floor and Bloodsimple as special guests. This show is All-Ages and should be a lot of fun, with plenty of hot women in attendance! I'll probably be there just to check out the babes.
Opeth and Nevermore Coming? According to Black Frank of 93.1 the Fox, European metal monsters Opeth and technical metal thrashers from Seattle Nevermore may possibly be coming through Louisville around late February. I seriously hope so, because Nevermore is one of my favorite bands and they have never played Louisville.
Anyone remember late Eighties thrashers Sanctuary? Well, the singer for Sanctuary is the singer for Nevermore and their guitarist Jeff Loomis is unreal. He's been featured in Guitar Magazine. Fans of metal guitar will not want to miss this show. As soon as I know the details, I'll let you know.
Gobblestock 05: I had a killer time that night down at Coyote's. Whiskey and rock n roll! Yeah. I got there early enough to see Ugly rock out. They were as entertaining as ever, as they wooed the crowd with their different onstage behavior. Frontman Geo Von Tuebel must have part chimpanzee in his blood, because every time I see them, he's all over the room climbing amps, bars, tables or anything he can that won't fall over. This time, he climbed onto the PA and had the whole venue watching his acrobatics/hyperness. Of course the best song was "Sex, Drugs and Rock `n' Roll." `Great job' to Ugly for a good fun set.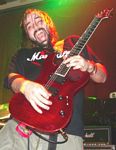 Photo By Eddy Metal
Then came Louisville natives Five.Bolt.Main. These guys decided to stop by Louisville for a quick hometown show before they head back out on tour. The FBM guys sounded great and the new members were interesting and definitely rockin'. One of the guys even used to be in Primer 55. The best song of their set was "Only The Strong Survive," which sounded real good live. Vol's voice sounded as good as ever.
Dark New Day was pretty darn good too. I don't know much about this band except one of the dudes was in Still Rain (a Toy Tiger classic) and Sevendust. And the cat lives here in Louisville. They kinda sounded like Sevendust a bit, partially heavy, but melodic.
The guitar player, Clint Lowery, was obviously the backbone of the band and main songwriter. Maybe I can get an interview with the guy or something.
Scum Of The Earth: Yeah, they were kinda scummy all right. But they did rock the Phoenix Hill. These guys replicate Rob Zombie-type music, which I like.
Level C, a (hot) all-girl metal band from Cleveland, opened the show with some really cool death-groove sounding music. These young women could play.
Then came Scum Of The Earth, who features Riggs, the former guitarist of Rob Zombie. They looked and sounded pretty much just like White Zombie. There was crazy artwork everywhere: demons, skulls, and crazy-looking guitars, including one with `blood' flowing inside it. These guys were trying to shock, but didn't see anything new.
But I loved White Zombie, so it was right up my alley. A lot of my friends were there, so it was fun as hell. We all had a good time. What wasn't fun was slipping on the ice in the parking lot afterward and doing a 360 onto the concrete. It hoit. And yes, I was a bit intoxicated. Damn Wild Turkey!
Eclectic Signed! I'd like to send out a big congrats to Eclectic and their manager Doc for getting signed to a multiple record deal with one of LA's top record producers, Jeff Blue, who has worked with Korn, Limp Bizkit, Lincoln Park and Macy Gray. Blue first saw Eclectic perform in June of 2004 to crowd of 12,000 at 4th Street Live! Rock-N-Ride Concert.
"I immediately felt a chemistry with Blue and Eclectic from the first visit. When looking for a producer my first pick has always been Blue. He has the magic as a producer that Eclectic has as artists and that creates a dynamic team," said Doc Smith, CEO of WiseSmith Management, which represents Eclectic.
In the coming months, Eclectic plans to launch a new Web site at their current domain, www.eclecticville.com. They will ring in the New Year with fans at 4th Street Live!'s Hard Rock Café Louisville. Rock on, brothers!
Surviving Thalia Review: I was surprised at the CD release turnout for a Sunday night. There were easily 200 or 300 people there. I had a lot of fun at this show, too, despite the fact it was kind of a sausagefest.
Thalia put on a very energetic show, with some very cool film clips that went along with the music. Bush yakking, warclips and some other crazy stuff. Very entertaining and it meshed perfectly with the band's music.
The first band, Disco, whom I had never heard, impressed me with their different style, which includes a cello. The punkish emo-screaming style really wasn't my favorite but they were definitely good musicians with a good stage presence. Many in the audience liked them more than I did, though.
Caldera and Fallen Oddity both did a good job with their sets. The singer for Fallen Oddity, who used to sing for One With Misery, has gotten much better. Leaps and bounds.
Then Descention really got things going with some brutal chit. They were stealing the show and had the metal fans getting' crazy. Then Thalia absolutely tore it up, as professionally as I have seen. The pit was moving pretty well at this point as they tore into the newer material off their new CD. I really liked the light/clips part of the set. This was a darn good show and CD release party. Top notch.
As for the new CD, Welcome To Our America, it impresses and sounds very professional and quite awesome. Better than I anticipated. Triple picking, Fear Factory-type blasts of heavy guitar, killer technical bass riffs, lightning fast double drum kicks and vocals from ex-My Own Victim singer David "Sailor" Bryant that are powerful, brutal and catchy. And let me tell you, I have heard a bunch.
The sound quality of the recording is pretty sweet, as are the tones of the guitar and bass rigs. It must have cost a pretty penny to record, mix and master. A couple of times the vocals seemed too loud but it wasn't too bad. In the end, these thirteen songs of power, intelligence and fury make this one original metal CD to contend with. And a pleasure to listen to.
The Debut of Into Another: Chris and Joe from Flatlyne, Van from Incursion and Ballinger of Flaw are debuting their new band on January 6 at the Gathering. There's quite a buzz about this band already and they haven't even played a show yet. You can see their first show January 6 @ the Hill.
Arcaine Saint Rocks: I finally got to see the new band (with two singers) Arcaine Saint and I must say I'm quite impressed. Fat, chunky guitar rhythms with two layered, melodic voices switching off many times in each song. The two vocalists really work well together melodically and mix perfectly with the heavy riffage. Plus, both vocalists know how to sing with range and power straight from the innards.
The result? Something different. Something cool. Think of em as a melodic version of the Incursion-type vocal switch-offs. And the lead guitarist smokes!
I see this band doing well. So if you get the chance, go see them.
Sixth Floor Review: Aight, these guys have been trying to get on my shows for years, but to be honest, out of town bands are not my # 1 choice these days.
But, I hate to see bands being punished exposure-wise for being brought up in the country. So I decided to give them a try. Now here I sit a few weeks later and I still have the taste of crow in my mouth. Never underestimate or count out rockers from the country! These country guys from Bowling Green, Kentucky, got it going on.
They have a heavy azz COC-ish, Downish sound that is hard rock/blues/metal all rolled into one. Down South metal, if you will. Smokin' guitars and soulful vocals have made this city boy a fan.
People from Louisville liked them quite a bit, so some of you down-to-earth cool Louisville bands out there, give these guys some gigs. I'm sure you will be pleased with the outcome. It's Luther and COC meets Down. Those of you who know your metal will understand that. They are opening up for Disturbed on February 23 at Jillian's, so be there early. You can contact them at Janetmjohnson@comcast.net
Boba Flex Coming to Town: On Monday., January 2, at The Bulldog Cafe, Boba Flex will be making a stop for one show with guests Indorphine, Accident Experiment and locals Incursion. Boba Flex is currently on tour with Mudvayne, so see them while you can. And check out Scott Frazier's new boys Indorphine from Florida. They are pretty heavy. I heard some of it the other day and I enjoyed it very much.
New Band Alert - Ashes Eve: My friend Rahul Borkar told me about this band of talented young guys (the oldest is 21) and he was right. These guys rock. It's heavy, yet melodic and kinda punk rock at times. Hard rock with definite metal influences. If you get a chance to see these young rockers, go see them, you won't be sorry.
Sow The Seed Returns: The former short-lived project of Jeff Hillerich, Sow The Seed, is back together and ready to bombard you with some melody and heaviness combined. On guitars are the very talented Chase Dabney and Steve McNear. Look for them to be playing out sometime after the new year. It's about time, Jeff. Get up, dawg.
Attention Guitar Players: Guitar extraordinaire Chris Alia, formerly of Crazy Train and Paglina, has a new project called Madness & Mayhem. I got to see them recently and was very impressed by what I saw. Alia, a technical guitar wiz who has been around rocking this town for many years, is probably the baddest guitarist in Louisville. The band plays originals as well as the occasional cover. They played a Ratt song, "Way Cool Junior." He even did "Eruption" by Van Halen. Fans of killer guitar playing should definitely check Chris Alia's new project out.
New Band Alert - Shinerunners: The new project of Scott Mertz is bluesy, redneck country southern rock at it's finest. I was impressed with his new stuff. It seemed a lot of other people also liked the new band. Great musicianship. Kind of a cool hippy look, too.
New Local Original Music Website: A new Louisville music website for musicians by musicians. Networking, venues, promoters, forums, events calendar and a photo gallery to post pics of your favorite Louisville bands. Hell, they are even working on a local Top 20 song chart. Justin Hall, the sites creator, says the site will begin in January 2006. He wants all of you to check it out at www.louisvillemusiccentral.com
Sounds good to me. Maybe we'll get lucky and no trouble-making chumps will visit the site, as they are too evident these days in other local music sites. Welcome Justin and thanks for the effort. Everybody. Check out dawg's Website.
Upcoming Shows
The Bulldog Cafe
Saturday, December 31 - Surviving Thalia.
Monday, January 2 - Boba Flex, Indorphine, Incursion and Accident Experiment.
Saturday, January 14 - Habitat for Humanity benefit. Surviving Thalia, Antikythera, Within A Tragedy, Escaping Memory and Six Foot Sorrow.
Sunday, January 22 - Surviving Thalia, Lao(TN) and Nixon.
Jillian's
Thursday, February 23 - National act Disturbed with special guests Sixth Floor and Bloodsimple. 7 P.M. All Ages.
Oscar Brown's
Saturday, January 28 - 7Day Sun and Surviving Thalia.
Phoenix Hill Tavern
The Original Rock showcase series. On the first Friday of every month.
Friday, January 6 - The first ever LMN "News from the Pit" Gathering and DVD compilation shoot. 8 P.M. Featuring Evil Engine #9, Surviving Thalia, Antikythera, Into Another, Descention and Slokill. This show starts early this month and if you are interested in winning a Schecter electric guitar, you might want to be up there before 10 P.M.
Friday, February 3 Arcane Saint, Sixth Floor, Echos Aim and Sow The Seed.
Saint Andrews Church Pub
Saturday, January 7 - Phearus, Odesa and Rifle.
Uncle Pleasants
Sunday, January 8 - Odesa, Crimson Dust and Zelazawa.
Thursday, January 26 - Sow The Seed.
Outtatownerz and Otherz
Friday, January 6 at the Clay Cafe in Bardstown - Echos Aim.
Saturday, January 14 at Whiskey Dicks in Columbus Ohio - Echos Aim, Phearus and Prey For Maria.
Sunday, February 19 at The Muse in Nashville Tennessee.- Lao (TN), Surviving Thalia and Mourningstar (GA).
Props Of The Month
This month's props go out to Mudd from 93.1 the Fox's Original Music radio show "Louisvillerocks," NOT because he invited me to be a part of his radio show team, but because he is all about teamwork and working as a team, instead of having issues as others have had. Mudd has invited Louie, Bizkit and me to add our own little bits to the show to prosper as a whole and I know that we as co-hosts are very grateful for the opportunity to help the show be more informative. I know this: a whole bunch of people in this scene are very glad we got Mudd at the helm of "Louisvillerocks."
So thanks, LRS. Pokerwise, you have traded an Ace for a 6 of Clubs. We here in the Louisville music scene thank you for it!
Check out the Muddster and all of us co-hosts on "Louisvillerocks" on Sundays at 7 P.M on 93.1 the Fox.