I've Got A Mind To Ramble
Sayonara Scott
After the recent Tinsley Ellis "Live Lunch" Concert at the Public Radio Partnership studios, the host, Scott Mullins, confided to me that he was moving on. This is a major move for someone who has grown up in Louisville and has established himself as one of Louisville's most popular DJs. Scott started the "Saturday Night Blues Party" on WFPK in 1986, a show that subsequently increased from one hour to three.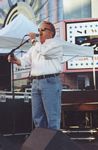 Photo By Keith Clements
When the Kentuckiana Blues Society was in its infancy in the late Eighties and early Nineties, Scott was there as founding member and later vice president. He started the KBS newsletter and conceived the Sylvester Weaver Award, which he received in 2001. He emceed and booked the acts for the early Garvin Gate Festivals and started Rollin' and Tumblin' Records with the Louisville Blues Compilation album. There were benefits for harp man Jim Rosen, four recordings of Santa Is A Blues Man, plus Heavy Harp, all produced by Scott for good causes.
His on-air time expanded to weekday afternoons on WFPK and he co-hosted the "Dirty Soul Party" at the Red Lounge every Thursday night. Although he seemed to be at the top of his form, early next year he is heading north to Milwaukee where he will join adult alternative radio station WYMS, which is changing format.
So what will happen to the "Blues Party"? Scott assured me it would continue with a new host, as will the "Live Lunch" events. A send-off party is planned for Scott at the Rudyard Kipling on Tuesday, January 3 at 8 p.m.
The last "Saturday Night Blues Party" will be aired on January 7, 2006 - twenty years after the first one.
Jimmy, David and Mary Ann
One of my resolutions for 2005 was to start writing a biography about Mary Ann Fisher. Time is quickly getting away from me. I have been accumulating pictures, articles and interviews for this challenging task but there were two people that I needed to talk to so I could fill in the gaps, Jimmy Scott and David `Fathead' Newman.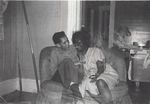 I had heard Mary Ann refer to Jimmy but never made the connection that it was the legendary jazz ballad singer Jimmy Scott until I read the book "Faith In Time" by David Ritz. There are several references to Mary Ann in this compelling tale of heartbreak and joy. Mary Ann and Jimmy's paths crossed when they were sharing a gig at the Royal Peacock in Atlanta in the early 60s, when Mary Ann was pursuing her new career as a solo singer, billing herself as `The Featured Vocalist with Ray Charles." Scott was trying to revive his career out on the road. After the first week in Atlanta together, they loved each other's company. They shared similar backgrounds involving traumatic childhoods: her father was fatally shot in a gambling dispute and a passing car killed his mother.
Mary Ann had some doubts about her talents and appearance but Jimmy provided the confidence she needed as a solo blues and ballad singer. After that gig, Mary Ann left New York and joined Jimmy in Newark where they looked after each other and scratched for gigs.
In 1961, Mary Ann got an offer to go to Los Angeles to work at the Memory Lane nightclub. She quickly persuaded Jimmy to join her, as the club wanted to book Scott, too. He was tired of harsh winters and his deal with Savoy records had soured, so after a brief visit with his family in Cleveland, he moved in with Mary Ann in a rented house in L.A.
Times were good, with club dates and Jimmy's chance to record on Ray Charles' new Tangerine label. Mary Ann had kept in touch with Ray since she left his band in 1958 and let Ray know that Jimmy was available to record. Jimmy signed with Ray in 1962 and recorded ten beautifully inspired songs with Ray backing on piano. The album, Falling In Love Is Wonderful, was to be distributed by ABC Paramount.
While Jimmy was recording these sessions, his father, Arthur (Scotty) Scott, arrived in L.A. Jimmy felt obligated to look after his father and he moved in with Jimmy and Mary Ann. The loving relationship changed, as Scotty was demanding and tried to break them up. Mary Ann's life changed, too, when an old friend from Louisville met Mary Ann in New York to say she had a baby and was unable to care for him. When she told Mary Ann the child had been put in an orphanage, Mary Ann, recalling her early experiences in the Bessie Allen-run Kentucky Home Society for Colored Children, would have none of it. She had to get that baby, so she and Jimmy drove to White Plains to pick up Tracy and sign as his guardian.
Back in L.A. Jimmy came to adore Tracy and liked being a father figure. Mary Ann got an extended and well-paying gig in Atlanta, so Jimmy looked after Tracy for several months. During that time Jimmy's father wanted to return to Cleveland, so Jimmy, Scotty and Tracy drove back to his hometown, hoping to return soon to L.A., after his record was released. Jimmy lived in a second floor flat, caring for Tracy, while his dad lived on Cleveland's east side.
Scott recalled going into a local record shop to check on his album. It was in the racks and people were playing what was poised to be a milestone crossover jazz record. Less than a month after the record was in the stores, however, Herman Lubinsky, the owner of Savoy Records, lowered the boom, threatening to sue because, he claimed, he still had Jimmy under contract with Savoy. Ray Charles didn't want a legal battle, so Falling In Love Is Wonderful was pulled off the market and quickly disappeared in 1963. [If you have a copy of this rare LP, it is worth at least $800.] It was not until 2002 that it was re-released through Rhino Records.
When Mary Ann finished her gig in Atlanta, she retrieved her possessions in L.A. and joined Tracy, Jimmy and his father. Living in Cleveland with Jimmy and his family intrusions wasn't the best situation for Mary Ann and Tracy, so they returned to Louisville. Their departure broke Jimmy's heart, but he knew the importance of the mother-child bond from his own experience of having lost his mother at thirteen. Even though Mary Ann and Jimmy had lost touch after they split, she always had high regard for him and his style of singing. In 1985, Mary Ann got Ken Clay to book Jimmy for a Midnight Ramble show at the Kentucky Center for the Arts. When Jimmy was in town, he visited Mary Ann and Tracy. Tracy had grown into a fine young man, earning degrees at the University of Louisville and Spalding University. He now travels around the country giving radiographic tests to corporation staff. Quoting Mary Ann about Jimmy's Louisville performance, "His voice was even more beautiful and his presentation was more dramatic. He was throwing his arms around in all different directions. It was exciting to watch him."
Jimmy Scott is now eighty years old, still living in Cleveland with his new wife, Jeanie, who takes good care of him. A dream of mine will come true next month when Jimmy will again be performing in Louisville at the Jazz Factory on Friday, February 17. I contacted the owner, Ken Shapero, and we made the arrangements with the Scotts to have Jimmy here with his backup group, Jazz Expressions. Jimmy's once-floundering career is back on track, with several recent recordings on Milestone and concerts in Japan. If you want to get a crash course on Jimmy Scott, watch his DVD "If You Only Knew." He will melt your heart with his story and mesmerizing voice.
When Mary Ann was with Ray Charles, David `Fathead' Newman was also in the band, playing baritone and later tenor sax. When Newman performed at the Jazz Factory on December 10, I had the chance to do an interview before his show to fill in some more gaps and get more details about Mary Ann when she was on the road with Ray.
Newman was in Ray's band from 1954 to 1964 and came back later in 1970 and 1971. David remembered the night when Ray first met Mary Ann at Fort Knox [Described in the December 2004 issue of LMN]. He recalled that Mary Ann was the first vocalist in Ray's band. Before the Raelets, David and Don Wilkerson would sing behind Mary Ann as a vocal trio. The band took to Mary Ann right away and she became part of the group. They all referred to her as "Fish." Near the end of her tenure with Ray, she became discouraged with all of Ray's affairs with the ladies, because she wanted to be number one. They drifted further apart. David thought it was not Ray's but Mary Ann's decision to leave the band.
David also verified a story that Tracy had heard from his mother. While traveling on the road in the Weenie, the nickname for Ray's touring bus, there was a lot of gambling and drinking going on. Mary Ann got extremely lucky in a game of Blackjack, which prompted David to get into an argument with Mary Ann and start pushing her around. Mary Ann wasn't going to have any part of that, so she whipped out her straightening comb and cut him on his forehead, putting a stop to that. Newman had to go to the hospital and get stitches. She left a mark that is still there today. David said, "Every time I look in the mirror, I see Mary Ann." They remained friends after she left the band.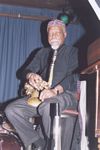 Photo By Keith Clements
When Newman was in Louisville during the 70s, Mary Ann invited David to dinner and to meet Tracy. In the late Eighties, when David was playing at Sweet Basil in New York, Mary Ann dropped by and he invited her up on the bandstand to sing a song.
Newman has been busier than ever since the passing of Ray Charles, particularly with the release of his recent CD, I Remember Brother Ra, on HighNote Records. He will be 73 in February.
I asked David about how he was portrayed in the movie, Ray. He said, "the `Fathead' character was cast inaccurately. It wasn't like me. Although the actor (Woodbine) was a good, he was doing only what he was instructed to do. The director chose to sensationalize their lives with a Hollywood twist." David thought Jamie Fox did an incredible job and at times he felt like he was watching Ray. Mary Ann wasn't portrayed truthfully for he said, "she was a sweet, loving, warm person."
David has also played on several of Scott's recent recordings, including his comeback CD, All The Way, They have also done some dates together in San Francisco and Montreal.
In closing, I had to ask the question and David smiled answering it, at least for the thousandth time. He got the nickname "Fathead" when he was playing in the Lincoln High School Band in Dallas. When he missed a passage, the music instructor flipped him on the head, saying, "you fathead, you are supposed to read the music, not memorize it." "Fathead." stuck and he was never able to get rid of it. During our interview, David chose his words as carefully as he selects his notes on the flute, tenor and alto saxophones. It was an evening of inspired jazz, with lots of tributes to Ray Charles, but I'll let Marty Kasdan review the show. Ken Shapero mentioned before the show that he has heard a lot of saxophonists, but during the sound check David was a whole different level.