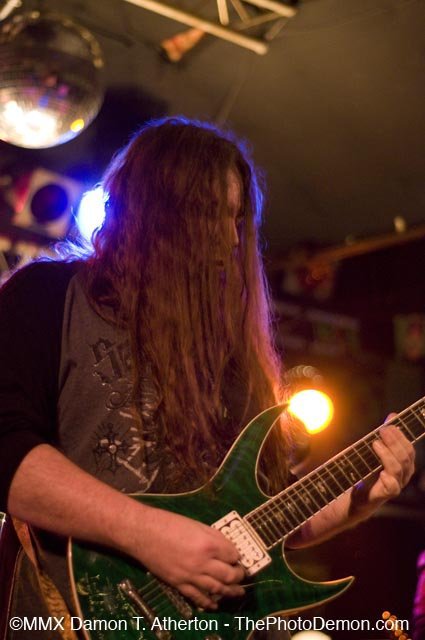 News From the Pit
Hey, hey, peeps, what's happening up in this mofo? I'm bummed, Slayer is in Cinci is tonight and I'm not going. I got tickets (thanks to Black Frank of 93.1 the Fox), but I'm a broke beeyotch, so I reckon I had better stay here. I gotta have fun money on such adventures. Plus gas these days is killin' a mofo! And I have two SUVs! Arrrrgggghhhh!
Oh, well, I heard the security there were bungholes, anyway! Kicking out metalheads for no good reason. Who needs that nonsense? If I had driven two hours to see Slayer and got kicked out for nearly nothing, I would have lost it!
I went to see Dope last night at Headliners, but was run out from a hideous headache caused by the vocals of the band Manntis, from California.
The music was pretty good, but I cannot stand cookie monster vocals nonstop through every song! Rahhh rahhhhhhh raaaahhhhhhhhhhhhhh! C'mon, how monotone can you get? Every hardcore band now seems to do this same grating monotone style that, to me, displays no vocal talent whatsoever. Some of it in small amounts is okay, but all the time is like nails on a chalkboard.
It ruined the whole set/night for me. Luckily, I got there early and I saw local thrashers Descention tear it up quite a bit with a killer show. The crowd was enjoying the music thoroughly.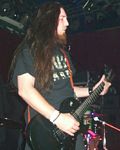 Photo By Eddy Metal
I got a few pics; check them out in our Louisville Rock Pix section that I pushed for, just so you fargers can send in "Live" pictures of your favorite bands. Just be sure you send the names of the peeps in the pic, where it was, what band and your name so we can give you full credit!
Then came a band from Austin, Texas that I liked quite a bit. A New Revolution was punkish/metal/alternative-ish/power metal. Cool stuff. Great melodic vocals and very catchy riffs too. The bassist was quite good and did some powerful backup vocals as well. Nice guys, too. Look them up!
Then came the cookie monster screamer of Manntis, which gave me a hideous headache. Sorry I didn't stick around to review Bleed The Sky and Dope, but I had to go buy aspirin.
The Metal Grapevine
Ozzfest Anyone? On Sunday, July 23 at the Verizon Wireless Music Center in Indianapolis will be the closest place to see Ozzfest.
Main stage: Ozzy, System Of A Down, Hatebreed, Avenged Sevenfold, Lacuna Coil (sweet) and Dragonforce.
Second stage: Black Label Society, Unearth, NormaJean, Atreyu (killer), Bleeding Through, Walls Of Jericho, A Life Once Lost, The Red Chord, Strapping Young Lad (yay), Full Blown Chaos, Between The Buried and Me, Bad Acid Trip and All That Remains.
I hope to be there.
Zombies and Louisville Rock: There's a new independent film being filmed in Louisville called "Dead Moon Rising" that will be featuring musical talent from this area. Arcaine Saint and The Alpha Betas are the first two included. The writer/producer/director is looking for zombie extras so, give him a holler if you want to be a zombie in a movie. I'm going to be a longhaired chubby zombie! Sweet. Ha ha.
To see info on the movie, visit the website at www.deadmoonrisingmovie.com. To check out some clips and such, go to the link marked Production for a couple of clips and 60+ production stills.
FiveBoltMain's "Live in Louisville": National touring Louisville rockers Five.Bolt.Main have recorded three live tracks here in town that are now available exclusively online at iTunes.
Click here to check out the EP on iTunes: http://phobos.apple.com/WebObjects/MZStore.woa/wa/viewAlbum?id=157837912ands=143441
Also, a bonus fourth track will be available on the band's MySpace page next week - free!
Descention CD Coming: I liked this band the first time I heard them. Nice, fat guitars and killer, low, death-vocals and also screeching vocals that remind me of Dani Filth of the English metal band Cradle Of Filth. Yup, vocalist Daniel Finley is quite the death metal vocalist. As I sit here listening to this Louisville metal band's new CD (not even out yet), it is clear these guys don't play around. They love their metal and it shows. The CD starts out with "No Rest For The Wicked," a crushing tune to murder people by and an excellent opener. The guitar rhythm reminds me of Damageplan rhythms.
Which is surely a compliment! The rest of the CD is a kaleidoscope of old school thrash power metal that leaves no prisoners. It's very catchy, brutal pounding that leaves you unable to stop tapping your feet or hands. I really like the song "Finality And Karma."
To me the only bummer was the lead tone of the solos. The rhythms sounded killer, but the leads were kind of tinny sounding, which I did not like. Otherwise the quality of the CD was pretty darn good. Good songwriting.
Dragonforce Coming Soon: On Monday, July 24 at Headliners, Dragonforce , Bleeding Through and Between The Buried And Me will be playing.
From what I hear, this new London, England, band is unreal. They are huge in Europe and getting that way here very fast. Go see them before they get huge in America. You can also see them on the main stage at Ozzfest. They must be good to get a main stage slot so fast.
New Assisting Sorrow Tune: There's a brand new Assisting Sorrow song called "Force Of Reason" that has been posted online at Myspace.com
Go to http://www.myspace.com/assistingsorrow to check it out.
This is one of the best death metal bands in Kentucky.
Arcaine Saint's Label Interest: The band Arcaine Saint has some cool stuff possibly going down. The band has some labels checking them out and recently played a showcase for a few of them, which went well, I'm told. This is another band I immediately liked from the get-go.
If you haven't seen this metal band and its double vocal attack, you need to, because they are different, in a good way. The guitarist smokes. Look for them at a club near you soon.
New False Songs On Myspace: Louisville thrashers False have got two brand-new songs from their upcoming CD, In Sickness We Live (cool name guys) that you can hear on Myspace, so go check out what Louisville metal is all about!
If you don't, you are a wussy and listen to Boy George! www.myspace.com/false
MSD Gettin Ready: MSD has just finished the art for their upcoming twelve-song CD and will be heading into the studio in early July, so fans of the band be patient, it's coming soon. According to MSD, the music is much more complex and dynamic and will include some acoustic stuff.
Subrosa's Buzz: The band Subrosa is making quite a bit of noise here recently in town. It seems everywhere I go, I hear the name Subrosa. And that is a good indication of talent! So you might want to see what the buzz is all about, by checking out this new band of young talent.
Stonecutters Review: They were better than I thought they'd be. Vocalist/former My Own Victim guitarist Brian Omer has got it going on with this infectious new band of stoner rockers.
Riffs were killin' and very, very memorable and had the crowd at the Hill rockin' and wanting more. Omer was worried about if the Hill would like them, but there was no reason to. They got a great reaction.
Not used to Brian singing, I was wondering how it would sound. I thought it was gonna be stoner type vocals, but it was more of a death growl, rasp type style.
It fit the music well. Brian sounded as if he'd been doing both playing and singing for years. Some of the music got pretty darn heavy and I was diggin' it.
If you like stoner metal with a bit of an edge, be sure to see this new band!
Asleep Review: My friend Bizkit is working with a band from Youngstown, Ohio called Asleep, that has been playing here in Louisville quite a bit recently and starting to draw a great crowd. He dropped off a two-song demo for me to review and it's pretty good stuff indeed. Strong melodic vocals and good hard rock guitar with bits of heaviness make this a enjoyable experience. There are also quite a few cleaner guitar parts.
The music sounds very professional. I like the guitar tones on the demo and effects used to enhance the bands sound. Fans of bands like Intheclear, Arcaine Saint and Five.Bolt.Main should really dig these guys. I really liked the second song. "Rearrange The Red." Asleep will be putting out a new double disc CD - with acoustic versions, too -, on August 8. It will be available everywhere where original rock is sold. Buy it!
Go to www.Asleep.net for music samples and info.
Rahul Cracks His Nugget: Anyone who knows Breckinridge/Nova Red guitarist Rahul Borkar knows that he gets excited when he plays his music. I've personally seen him jump up three feet in the air off of an already four-foot-high stage and almost break his neck! Well, the high-strung Rahul has done it again, this time doing a flip while still holding his guitar. Only this time he wasn't so lucky: he knocked himself out and broke his collarbone. I'm told people had to pry the guitar out of his hands while he was out cold!
Rahul, bro, we know you love to play and such, but you got to chill on the acrobatics! One of these times you might do some serious damage. So do us Nova Red fans a favor and stick around on the ground from now on. Either that, or use a safety harness! Ha ha.
Oooppps My Bad: Ooooppps, I made a few mistakes regarding my Antikythera review last month. First, Dave Brewer is not the bassist (what was I thinking), kick-ass female bassist Jamie Dailey is (this chick rocks).. And two, vocalist extreme, Mongo, did NOT smash his penis with a on the Southend Jinx DVD. He's the dude who shat in the street and filmed it. Oh, that's a biiiiiiig difference! Ha ha.
If you haven't seen Southend Jinx, you should, it's funny as hell, although I could have done quite well without the scat in the street.
Anyways, sorry bout the mix-up. These things happen every now an then. Antikythera will blow you away, so go see them if you want to hear some excellent metal.
P.Y.L.O.T, Mammoth Cave Metal: The band Pylot from Glasgow Kentucky has a darn good sound and has been around for some time now. The live performances are killer, too.
Do yourselves a favor and check out these country boys doing the metal thing, Mammoth Cave style! www.myspace.com/pylotmusic
They don't get to Louisville much, so be sure to see them on July 13 at Headliners with Halfway Hollow, Inner Blue and Prey For Maria. I love Mammoth Cave metal!
Oscar Brown's Nightclub: Oscar Brown's is making some noise lately by booking many Louisville rock bands. There've been so many shows lately, it's ridiculous! Trey from 7daysun is doing the booking, so give him a ring if your band wants to get involved. Good job, Trey!
Dump Gang to Plan 9: Remember those freaky, but rockin dudes in the shock-rock band Dump Gang? Well, a few of them are back with a brand new project called Plan 9. The music is metal, but in a simpler formula than the old Dump Gang stuff. A bit more commercial, according to bassist Kenny Phelps. They recently played Bike Fest at Papa John's stadium and they have an upcoming four-song CD, which should be out within a month or so. These are definitely talented and experienced musicians, so call Kenny 502-552-2424 if you need a great band.
Female Vocalist Needed: The new project I would like to get going needs a female vocalist with an excellent voice, who is dedicated and reliable. Music will be in the vein of Lacuna Coil, Evanescense, Slipknot, Alice in Chains, yet maybe a bit heavier and darker. I'm also needing a second guitarist, bassist and drummer. Eddymetal1@aol.com or 367-2080
Centered Wins Band Battle: Centered, a band originally from New York, won the LRS band battle and with it, the right to open for Hoobastank at Freedom Hall on June 23. I like these guys and am very happy for them. They accomplished a lot in defeating Louisville rockers Arcaine Saint, 7daysun and Subrosa, so congrats to those guys. Keep up the good work!
Starless Rocks: I saw Lexington's Starless at the Hill's Wednesday showcase and, boy, can these guys play! Performing in a progressive style not found in Louisville, they covered Eighties prog thrashers Fate's Warning, Rush (the Alex Lifeson solo was note-perfect) and King's X. "Tranquility" was especially cool. The Stratocaster-slinger was impressive; the bassist was thumpin' with his six-string. Vocals were excellent. Starless needs to play Louisville more. Count me there..
Upcoming Shows
The Bulldog Cafe
Sunday, July 30 - Ashes Eve, SubRosa, Midvember, Heartbreak Kid and Flying Just Below Radar. (from Chicago)
Headliners
Saturday, July 8 - Never The Man, Intheclear and Kinsey 8 p.m. All ages.
Monday, July 24 - Dragonforce, Bleeding Through and Between The Buried And Me. All Ages / Doors @ 7 p.m. / $17 Advance / $20 DOS
Saturday, July 29 - Institution w/ Kinsey, Halfway Hollow, Heartbreak Kid and TBA. All ages. 7 p.m.
Sunday, July 30 - The 95 Theses, Forever In Terror, Year Of Desolation, Surviving Thalia, Rose Funeral and Arafel. 7 p.m. All ages.
Oscar Brown's
Wednesday, July 5 - Allele (ex Cold), Corporate Punishment and 7daysun
Friday, July 7 - Ashes Eve, Evil Engine #9, SubRosa, Halfway Hollow and 7daysun
Thursday, July 13 - 36 Crazyfists, Triggerpoint, Falling Closer, 7daysun and Surviving Thalia. All ages. 6 p.m.
Friday, July 21 - Ashes Eve, Prey for Maria, Echos Aim and Intheclear.
Phoenix Hill Tavern
Friday, July 7 - The Original Rock Showcase Series, featuring Echoes Aim, The Nova Red and Prey For Maria. 11 p.m.
Wednesday, July 19 - Hash
Friday, July 21 - Wasted Music Fest: Wasted Days, Asleep, Seedus, Thrive, Slokill, SKS, Soft Eyes and Bizkit's calendar girl contest. 9 p.m.$10
Wednesday, July 26 - Asleep.
Friday, August 4 - The Original Rock Showcase Series, featuring Subrosa, Leading The Blind, Arcaine Saint and Full Nelson.
Rustic Frog
Saturday, July 8 - Hash
Friday, July 28 - Wasted Days, Asleep and Phil Pot.
Wicks Pizza on Dixie Hwy
Saturday, July 29 - The Delivery: Wasted Days and Slokill. 1 p.m. All ages and free.
Props of the Month
Promoter Deron Hayden contacted me a while back about wanting to help with the Louisville scene. He's young and not very experienced but had a good attitude and was really trying to help the Louisville metal scene get built up more.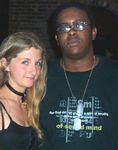 Photo By Eddy Metal
Well...I get lots of people who contact me about such things, so having not heard of him much, I kind of lost track of him and forgotten about him contacting me.
Well, time has passed and Deron has risen up from obscurity and has started to make a name for himself as a promoter, bringing in national acts (something even I don't do) as well as booking tons of Louisville bands and hooking up the younger folk with all ages shows. It's what our younger crowd needed bigtime!
He's worked with Terry Harper a bit and done an excellent job of putting in the required work for such endeavors. The result?
We, the Louisville rockers/metalheads/hardcore freaks in town, get to see more metal shows because of this young man's ambition, especially the kids not old enough to get in some shows.
So props to you Deron! Keep up the good work.