I've Got A Mind To Ramble
Poppin' at Porters
It takes a mixture of risk, savvy and luck to book an unfamiliar musician from a foreign country for the first time in Louisville at an established venue like Jim Porters. James Rushing, the promoter for Warrior Wind Productions, brought in Ana Popovic on May 24 and I'm glad he took the risk. Actually, Popovic has an emerging international reputation, which started in 1998 with the release of her first CD, Hometown, with her band Hush. It was released in her native Yugoslavia. When Popovic moved to Amsterdam the following year, she formed a new band and was signed by the German label Ruf. Since then, she has recorded Hush!, Comfort to the Soul and ANA!, a recording of a live performance from last year in Amsterdam. She first visited America in 2000 to record most of her Hush! album in Memphis. Currently, Popovic, is on a USA tour from May to September, hitting major blues clubs and festivals throughout the East and Midwest.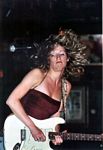 Photo By Keith Clements
The evening got off to a late start with Suburban Situation opening, but when Popovic took the stage at 10:15 p.m. the sultry guitar slinger quickly conquered the ballroom with her sassy stage presence. Ana was very conversant with the audience in her broken English, but her lyrics were spoken in pure, unbroken blues, tough yet sensuous. Touring with Ana were Chicago musicians Andrew Thomas on drums and Vick Johnson playing bass, plus her father. Ana said she had just celebrated her thirtieth birthday recording again in Memphis.
The first set mixed several of her songs from her ANA! CD, including "Sittin' On Top of the World," "Big Town Playboy" and "Long Way From Home," which lamented the hard life on the road for a musician. Popovic is not content to do faithful copies of covers but pushes her rock-blues-oriented interpretations with surprising maturity. She exemplifies the universality of blues since she absorbed her deep soulful and robust R&B musical influences in an Eastern Europe environment.
"Jaco" was a moody song about a bass musician that combined Balkan music with the blues, while "Navajo Moon" was a tribute to two of her mentors, Stevie Ray Vaughn and Ronnie Earl. Her slide was all over her fretboard and she roamed the stage interacting with her musicians. Occasionally she would crouch into knee bends to accentuate her emotions. Her long kinky, sandy blond hair was also in constant motion, swirling around her face. Between sets, rather that retreat backstage, Ana was talking and signing CDs, posters and T-shirts with her new-found fans in the same gracious manner as Marcia Ball. The final set concluded with an encore jam of "Empty Your Pockets," with Ana trading her riffs for verses from two singers in the audience. Ana brought the excitement of sex and showmanship to Jim Porter's and a promise from the promoter that she will return in September.
Blues on 10th Street
Witnessing the birth of a blues festival is an exciting experience. It has been six long years since Louisville has had a local blues fest with the demise of the Garvin Gate Blues Festival in 1997 and its successor, the Louisville Blues Festival in 2000. Because of the extent and quality of blues talent available, it is unfortunate there has been this void that the few clubs and occasional touring acts could not fill.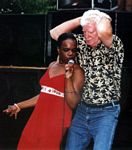 Photo By Keith Clements
An idea was hatched when Barry Blalock, the owner of River Bend Winery, and Dale Cashon, the promoter of the recent Jeffersontown Blues Crusade Festival, began planning. Blalock opened up his bar and upstairs venue and closed off 10th Street between Market and Main. Cashon booked the music and the sound set up and was everywhere making the event run smoothly. A believer and worker possessed of boundless energy, Cashon has made the J-Town festival a success in the last two years. The 2006 Festival, held on May 19-20, attracted 1700 people and raised over $2800 for the Crusade for Children.
Photo By Keith Clements
Successful events must begin with wise decisions, one of which was to showcase just Louisville musicians the first year and grow from there. There were no "State Fair"-type food vendors; instead, quality catering was provided by the chef for River Bend, Bill Smith The bourbon, beer and wine flowed along with the music from 8 p.m. Friday to midnight on Saturday.
History was made on this memorable weekend and I will try to condense some of the highlights of sixteen hours of music into a few paragraphs. Joe DeBow started the music at 6 p.m. as he usually does every Friday in the bar, singing and playing his rhythm machine, keyboards, guitar and harp. Sue O'Neil had just finished performing at 4th St. Live and brought her band, Blue Seville. WDRB's Dick Irby, who served as emcee for the evening, introduced her.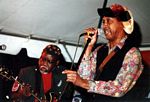 Photo By Keith Clements
Nighttime is the right time to be with the blues you love and that's when the people started to arrive. More chairs and tables had to be set up in the street. Butch Williams and Revenue followed as the night air cooled and the moon shown down.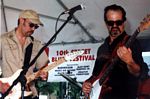 Photo By Keith Clements
Joe DeBow has been playing with Butch Williams recently and the two complemented each other, trading vocals while Danny Henderson provided tasty guitar solos. Upstairs in a recently renovated large hall, Lamont Gillispie and 100 Proof were rocking the joint. The hall, accessible by elevator and sporting its own bar, has large windows on three sides, exposed beams with a central skylight and a new wood floor, which, though pretty, resulted in poor acoustics. With nothing to absorb high notes, the ambient sound was accordingly treble-y.
Cashon said that 350 people attended the first day.
Saturday got off to a laid-back start, with Robbie Bartlett opening. John Burgard backed up Bartlett on guitar and had his son Jason sit in on sax for "Route 66" and the closer "I Feel Good." Da Mudcats followed, with Rob Pickett's screaming guitar and smooth baritone voice contrasting with Mike Lynch's rough course vocals a la Jim Rosen.
I was anxious to see Black Cat Bone again. It had been over a year since I last saw them perform at Zena's, where they regularly play. They still deliver their "in-your-face, north-hill-country-Mississippi style of blues, with Danny Miller attacking the microphone with his brash vocals. Bluestown, a band that grew out of a weekly jam, includes Butch Stultz, Gary Higdon, Harry Franklin and Tim Dennison. They do mostly covers but wrap these songs with personalized vocals and extended guitar solos shared between Higdon and Stultz .
Sheryl Rouse had her red dress on and was ready to party. Rouse knows how to work a crowd and she quickly moved into the audience to find a partner to serenade and boogie with . Listening to King Sonic's jump blues was like listening to WFPK's "Woody's Roadhouse" show. The members of this energetic band would have swung from the rafters if they could have reached them, even though guitarist Cort Duggins did hop on his amp and played some hot licks. Decked out in black suits and ties plus two-tone shoes, these four guys are Louisville's premier good time party band.
Back on the street, The River City Blues Band was lead by Mark Stein calling out on his Fender and Denny Thornberry answering on harp. The Mr. Wonderful Production Band closed out the street music with the sky on fire from heat lightning. Their lead guitarist, Ron Lewis, refers to his group as "The Original Old School R&B Band." These seasoned musicians started out in the early `70s as the Unhooked Generation Show Band. They opened for many major acts and toured with Bob Hope and the USO in support of the troops. They disbanded after fifteen years, then regrouped six years ago as The Mr. Wonderful Production Band. If you like big, funky horn sounds and Izzy Sutton's soulful vocals, then check out Hopp's, where they frequently gig.
The 10th St. Blues Band closed out the festival upstairs with some back-to-the-basics, down-home blues. The band got its moniker ten years ago, when it used to play at the Red Devils Motorcycle Club at 10th and Dumesnil, with Fred Murphy fronting the band.
The word from Cashon and Blalock is that this festival will happen again next year. They intend for it to be an annual event.
The festival winners were as follows. First, the Dream Factory, the wish-granting organization for critically ill children, received a portion of the profits. Second, the Kentuckiana Blues Society got fifteen new members to sign up at their booth. Third, Leslie Blalock was the high bidder for the Sonny Boy Williamson painting by Jim Masterson, which was originally displayed in the Cherokee Blues Club. Finally, all the people who attended the festival got to see the diversity of outstanding blues talent in our city.