Louisville Rock Closeup - Patrick Wolfe
Name/Nicknames: My name is Patrick Wolfe and I have a moniker "Liquid Hands." My manager Monty likes to call me "Baby BB" and I can't stand it because I don't really play like BB. My friend Bruce started calling me "Spiders" after seeing me play because he said my fingers looked like spiders.
Age: 23
Instrument: I play guitar, a little bass and have a basic working knowledge of the piano. I just got a violin for my birthday, too, and I'm looking forward to doing some cool stuff with that. It would be pretty crazy to pick up a violin in the middle of a guitar solo and rip it through a half-stack. But I would have to get really good with the violin.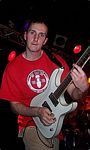 Band/Former Bands: Currently, I'm playing with The Acoustipimps, Sub-Urban Situation and Triple Crown. It's a full plate, but the bands work very closely, so it's manageable. Those are the only real bands I've worked with, excluding a little thing in high school. I spent a lot of time when I was a teenager trying to get into instrumental music and messing around in my home studio.
How Long On Instrument: I started playing when I was 10. I wanted so bad to be a drummer, but my parents vetoed that one. I guess that was a good decision, because I seemed to have done all right with the guitar.
Equipment: Man, I'm really a gearhead so I could go on with this one. I'll try to just do highlights. For guitars I really switch around what kind of mood I'm in. I just picked up a couple Schecter guitars, one a seven string that I use a lot with Sub-Urban and the other a C-1 that I use with The Acoustipimps. I had Rob from Doc Electro handwind some extra hot pickups for the C-1 and do some pretty cool wiring tricks that turned it into a whole new guitar, definitely the most playable I have now. I have two Strats, a Seventies reissue and a `98 American I bought from Billy Southerland. I use those two with Triple Crown. As far as amps go, I've been mainly using a Mesa Nomad 100 head that I bought off consignment from Jim James from My Morning Jacket. This week I just bought an old Polytone that I'll be using for Sub-Urban's more laid-back sets. In the very near future all of my amps will be Doc Electro creations. I'm fortunate enough to have him helping me out and the tones he's been showing me trump my entire rig.
Influences: Steely Dan. Big time. I love the entire catalog. They were songwriting geniuses and had a truly all-star cast of guitarists on their albums. I also have to add Steve Howe from Yes, Wes Montgomery and Ritchie Blackmore, too
First Gig: The very first time I played in front of people was the house of a friend the summer I got out of grade school. His parents were out of town and his older sister was throwing a party for all of her UK friends. In retrospect I was probably like that kid in Dazed and Confuzed, standing there just trying to be cool watching a whole bunch of college kids get loaded.
Hobbies: Unknown fact: Patrick likes to cook. I'll also teach a fool at some NCAA football.
Favorite Movies: I love the Broken Lizard movies when I need to laugh. Most of the time though, I would rather watch something that's gonna get my mind rolling.
Favorite Food: You name it. I've got a pretty wide palate. When I go out, I try to keep it simple. Some of my local favorites include Ramsi's, Los Aztecas, Sakura (great sushi), Mike Lenning's all summer.
Favorite Place: I love my grandfather's farm, because it's so broken away from all the noise. Unfortunately, it's an hour away from here, so I rarely get down there. The top of Chimney Rock is great too.
My Bad Habits: Anything with more then 40% alcohol by volume.
What I'm Listening to Nowadays: The Police Live CD, Disc One, is a summer classic. Disc two sucks. I just got Panic! At The Disco, but I haven't had enough time to digest it yet. Also, the Two Against Nature Live DVD of Steely Dan.
Coolest Thing I've Done: The coolest thing I've done, I would drinking shots with Robert Randolph and Black Thought, at Plush club on the strip in Memphis, while Questlove was on the ones and twos.
Most Embarrassing Moment: Dancing naked in front of three women and my male friend in a hotel room on a road trip, based on a dare. That's all of the story you're gonna get.