Cowboy Corner
Keith Urban Engaged to Nicole Kidman
So, are they dating? Are they engaged to be married? Are they already married? Those are just a few of the many questions swirling around country's Keith Urban and the former Mrs. Tom Cruise, movie star Nicole Kidman. Although the two have been spotted at numerous industry events and hanging out around Nashville, both have been mum on their relationship. Well, Kidman finally broke her silence during an interview for People magazine last month while in New York for a UNIFEM (United Nations Development Fund for Women) event. She confirmed to the interviewer that Urban is not her boyfriend, but rather her fiancé.
Now, one step at a time - the cat's out of the bag that Urban and Kidman are officially engaged (explaining the big rock Kidman has been sporting on her left hand as of late), but that's all the info being divulged at this time. No wedding date or location have been announced.
Congratulations and best wishes, Keith and Nicole!
Chris Young Named Nashville Star
Twenty-year-old singer/songwriter Chris Young has one thing in common with only three other people on the face of this planet: he has earned the title of Nashville Star. Just last month the Murfreesboro, Tennessee resident won the coveted top prize on USA-Television's fourth installment of its Nashville Star show, the country version of American Idol, hosted by Wynonna and hick-hop rapper Cowboy Troy. Judges for Nashville Star this year included singer/songwriter/pianist Phil Vassar, record executive Anastasia Brown and a celebrity guest judge each week. "Help Pour Out the Rain" and "Sweet Southern Comfort" singer Buddy Jewell was the very first Nashville Star, followed by Brad Cotter and Erika Jo.
As winner, Young has landed a country recording contract with RCA Records Nashville. Fans can look for his debut album to hit store shelves sometime this fall.
Congratulations, Chris!
Country Breaks
"Redneck Yacht Club" singer Craig Morgan is no stranger to the emergency room lately. An avid cross-country motorcycle racer, Morgan had better shy away from the track and stick to the concert stage. On April 2, halfway through his second lap in a 10-mile race in Bucksnort, Tennessee, he hit a tree root and was thrown from his motorcycle into a tree. Quite the trooper, Morgan got back on his bike and finished the race in third place, despite the fact that he had broken his left wrist. As if that weren't enough to slow him down, Morgan proceeded to break his right leg during a race last month in Vanleer, Tennessee, once again being thrown from his motorcycle after hitting a tree root. Like the Energizer bunny, he got back on his bike and finished that race in fifth place. Morgan's racing career has been put on hold for a while though as he is wheelchair bound for nearly two months. Despite these physical setbacks, Morgan continues to tour.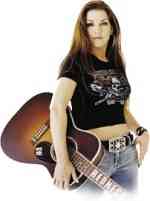 Country's "Redneck Woman," Gretchen Wilson, has had her own bad luck with off-road recreational vehicles. She sustained two broken ribs when she fell off an ATV last month. She broke the news to the crowd during her "Redneck Revolution Tour" stop in Mohegan Sun Casino in Uncasville, Connecticut, May 11. She showed the audience x-rays she had taken at the local hospital earlier that day to prove the fractures. Always a trooper, Wilson didn't postpone any of the remaining dates of the tour, which wrapped in Birmingham, Alabama, on May 27.
The moral of the story, obviously rednecks (no offence, but do ya get the connection - "Redneck Yacht Club" and "Redneck Woman") and ATV's just don't always get along. Best wishes for a speedy recovery, Craig and Gretchen!
Tim & Faith to Help Katrina Victims
When it comes to putting your money where your mouth is, the "first couple of country music," Tim McGraw and Faith Hill, do just that. McGraw, a native of Start, Louisiana, and Faith Hill, a native of Star, Mississippi, recently founded their very own foundation to help various organizations dedicated to assisting Hurricane Katrina victims. The couple's Neighbors Keeper Foundation will help hurricane relief efforts in the stars' home-states. All net proceeds from their Soul2Soul II Tour stop at the New Orleans Arena on July 5 will be contributed to these relief efforts. To help entertain victims and relief volunteers, ticket prices for this tour stop have been lowered and half of the floor seats for the concert will be given to volunteers who have sacrificed to help their fellow-Americans.
In a recent written statement, McGraw and Hill said: "We will not stop, we will not forget, we will not quit, until we see our friends, our families and our neighbors returned to the lives that they once knew. We hope to give everyone who comes out a few hours to just enjoy."
Hats off to Tim and Faith for their great humanitarian efforts!
Carrie Underwood Earns Another Title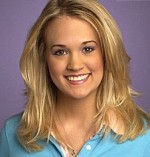 The life of country songstress Carrie Underwood has changed drastically since she first auditioned for the insanely popular American Idol singing competition in the fall of 2004. The Checotah, Oklahoma, native was one semester shy of graduating from Northeastern State University when she packed her bags to head to Hollywood to proceed to win the title of American Idol 2005. Since winning the coveted title, Underwood's career has soared as "Jesus, Take the Wheel," the first release from her debut CD, Some Hearts, spent a record-breaking six weeks at the top of the country singles chart. Her CD has gone on to sell more than 3 million copies in a mere six months and the awards and nominations have started pouring in.
Despite the hectic schedule surrounding her shining music career, Underwood has completed her remaining college courses to earn her diploma. Not granting any interviews to avoid detracting any attention from her fellow classmates, Underwood attended her college graduation ceremony last month, graduating magna cum laude with a bachelor's degree in mass communications with an emphasis in journalism. After all, even one of country music's brightest new stars needs something to fall back on. Even country legend Tammy Wynette maintained her cosmetology license just in case the music business ever turned on her.
Congratulations, Carrie, on all your success, both in your academics and your phenomenal music career!
Dixie Chicks Offer Up New Music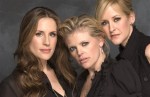 The Dixie Chicks' career as country music artists pretty much took a nosedive following lead singer Natalie Maines' remarks about George W. Bush and the war in Iraq during a London concert back in 2003. Well, Maines, Emily Robison and Martie Maguire are hoping for a comeback with their brand new album, Taking the Long Way, which hit stores late last month. The trio doesn't expect to make a big splash with country fans with this new release, though as they are still not apologetic for their actions, which ruffled many country tail-feathers.
During a recent 60 Minutes interview, anchor Steve Kroft asked Maines if the album's first single, titled "Not Ready to Make Nice," was pouring salt on the wound. Maines assured him, "We didn't write the song thinking about what other people wanted us to say or what would be a hit on radio. I needed to make this record to be able to get past it." And, no, Maines is still not apologizing for the comment.
To support their new album, the Chicks are going to embark on a North American concert tour beginning this summer. The "Accidents & Accusations Tour" will kick off July 21 in Detroit and wrap up in Tacoma, Washington on November 11. Although no Louisville stop is currently scheduled, fans will be able to catch the trio in Columbus, Ohio on July 23 or Indianapolis on August 23.
Country Legal Happenings
When it comes to run-ins with the law, "Reno" and "I Don't Call Him Daddy" singer Doug Supernaw has been a rather lucky man. Supernaw was cleared of criminal charges for the fourth time when he was recently acquitted of public intoxication charges in Bryan, Texas from March 2005. He was arrested for smelling of alcohol, staggering while walking and slurring his speech after yelling obscenities while walking past an apartment complex at 2 a.m. Supernaw was acquitted because there were no breathalyzer, field sobriety, or blood tests performed surrounding his arrest. Supernaw is not totally off the hook though as he still faces charges of resisting arrest during this incident.
"Rose Garden" singer Lynn Anderson just can't seem to stay out of trouble with the law. Early last month, she was arrested for driving under the influence of alcohol after she rear-ended a car while driving near Espanola, New Mexico. Anderson failed a field sobriety test and refused to take a breathalyzer test. This marks her second DUI in recent years, as she was previously arrested when police officers discovered her passed out in a car on the side of a Denton, Texas, road. And just last year, she was arrested for stealing a Harry Potter DVD from a store in her hometown of Taos, New Mexico.
Well, that's it for yet another month. Always remember: "Keep your boots shined up and your hat on straight, `cause country music is comin' your way."