Scott Gibson
Name/Nicknames: Scott Gibson
Age: 26
Instrument: Drums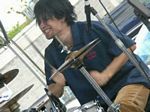 Band/Former Bands: Prey for Maria
How Long On Instrument: 15 yrs
Equipment: Slingerland, Mapex, Pearl, Percussion Plus, Sabian Cymbals
Influences: Tommy Lee, Josh Freese, Buddy Rich, Chad Smith,
First Gig: April Patterson's going-away-to-college party. I was 16 and my band - horrible! I remember we were playing on a trailer and my stool was so close to the edge that I fell back onto the ground.
Hobbies: Playing Drums, rebuilding drums, I like to read a little when I have time. I like to try to keep myself in shape, too.
Favorite Movies: Classic Horror: Any of the Frankenstein movies; any of the Count Dracula movies; The Mummy movies; Invisible Man; The Crow. I was a huge Superman fanatic as a kid, so I'm looking forward to the new movie, even though the new guy kinda looks like a pretty boy.
Favorite Food: Italian
Favorite Place: On stage. I live for that chit...can I say that?
My Bad Habits: Cussing. My mouth gets me in more trouble than anything, Drinking....a lot! I'm always doing something, too....I really should slow down and enjoy life. No rest for the wicked, though!
What I'm Listening to Nowadays: The new Tool CD, Motley Crue, A Perfect Circle, From First to Last, Story of the Year, various industrial and dance beats I randomly downloaded. I really will listen to anything as long as it has a good beat to it.
Coolest Thing I've Done: Fallen off my drum set while trying to stand on it one night at a show.
Most Embarrassing Moment: See above question! Fortunately, when I stood up, I gave the devil horns to everybody....that always seems to get a good reaction from the crowd.