I've Got A Mind To Ramble
Yazell Dazzle
Scott Mullins, the original host of the "Saturday Night Blues Party" on WFPK 91.9 FM, was on the air for twenty years from 1986 to this January. When Scott moved to Milwaukee for greener pastures, Woody Chancy briefly took over the three-hour show. Woody's marathon nine-hour broadcast, from 9 p.m. to 6 a.m., which included his own show, "Woody's Roadhouse," was meant to be temporary until a new host was found. (Woody admitted he preferred playing the "older music," much of which he obtained while working at Downhome Records many years ago in California.) Stacy Owen, Program Director at WFPK, hired Kevin Yazell to be the new host of the "Saturday Night Blues Party" two months ago.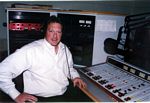 Photo By Photo by Keith Clements
I thought it would be good to meet Kevin Yazell and get a little background, so we did an interview at the radio station on May 15. Kevin met me wearing a suit and tie: he's a financial advisor at Chase Bank. He grew up in Seymour, Indiana, plus lived briefly in Cincinnati and Indianapolis. He graduated from Ball State with a major in radio and television and twenty years later he's really doing broadcasting.
Yazell's window to the world was listening to FM radio in the mid-70s. He hosted a morning show in high school, thirty minutes before the first-period bell rang. Kevin remembers driving around Indianapolis as a teenager, listening to a program featuring the original versions of rock and roll songs, which got him started researching where that music came from. He loved the images of the old bluesmen.
When he read Alan Lomax's book "The Land Where the Blues Began," which put the blues in an historical perspective, he said, "It gave me an appreciation of what it was all about." His tastes in the blues are based in strong acoustic performances from Dion's latest record to Mississippi Fred McDowell.
Kevin had always wanted to own a record store, so in 1990 he cashed in everything he owned and opened two stores in Carmel and Bloomington, Indiana. He had a successful business for eight years and then got out of it at exactly the right time. He said, "The big dogs came in and started deep discounting and it became very hard to maintain a profit margin." When Kevin left the record business in 1998 he dabbled in some Dollar Stores, but he did not have the passion for that as he had with the record stores. He started in finances with UBS. He said, "Banking, like music, always had something new each week."
A friend of Kevin's owned WJAA, a Triple-A radio station in Seymour. Kevin filled in occasionally, which lead to his current syndicated program, "The Rolling Stone Radio Hour." Because of Kevin's vast knowledge of the Stones, he was asked to do the show. What started out as a Wednesday night lark has lasted five years. It has evolved into the concept of what happened this week in the history of the Rolling Stones. The show is loosely syndicated, posted on a website at no charge. He has 14 stations from Virginia Beach to St. Paul, Alaska that have picked it up. Keith Richards is Kevin's main contact with the band. They met at a Rolling Stones Party in Washington, D. C. in 1994. When Keith did him a favor, Kevin paid him back giving him several obscure recordings. They have maintained this relationship of trading old blues records over the years.
Kevin's record collection is huge, with some LPs but mostly CDs. He said the blues selection at the station is good but 90% of what he plays on his shows comes from his own collection. When he's looking for more contemporary blues, he will check the station's resources. The show gives him the opportunity to revisit his old records and play them, since he doesn't have the time to do that on his own.
When Kevin contacted Stacy Owen about carrying the Stones show, the timing wasn't right, but when she heard a tape of his interview with the Stones, she started thinking of having Kevin do the blues show. She asked, "Do you know anything about it? Do you have enough material?" Oh Yeah! Kevin did a demo and was on a two-week trial run. So far, so good.
Yazell spends a couple of hours each week preparing for the show. He likes to start off with a powerful upbeat number. then let things fall into place. He will include a big name like B.B. King or Stevie Ray Vaughn and two new cuts an hour. He will add some acoustic and Chicago blues plus some AOR (Album Oriented Rock). He likes to play requests and answer phone calls when he is not on the air. He said, "It is everyone's show, not just me." Kevin sees the show as a conduit for all those interested in the blues and eventually as a congregating place or nerve center for the music, the artists and its history. Kevin wants to get out more to get the communication going back and forth, which will make the program better and all the events more successful.
Kevin said, "What I love about WFPK is that the quality of the music is so high and everyone who works here does truly love the music they're playing."
We concluded our interview with a story Kevin told when he ran into Rufus Thomas in Atlanta. Kevin was the only one who recognized him. They got into a conversation about all the different musicians who recorded "Walkin' The Dog." The list went on and on.
New Jam In Town
Danny Hord plays harp in Toredown with Walt Butler on guitar and vocals. He called to say they have started a blues jam at Wick's, 10966 Dixie Highway. Starting in May, they have been hosting a jam every Wednesday from 8 to 11 p.m.. The stage is big, the sound is good and the pizzas are great. They have had musicians from Bardstown sit in and are looking for more to join the jam. If you really have the `over-the-hump' blues, you can start at Wick's and then head over to Lisa's Lounge for `Double Trouble' blues jams every Wednesday.
Pick Up The Tab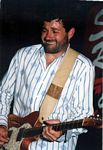 Photo By Photo by Keith Clements
National acts performing on Monday's at Stevie Rays occur less frequently now, so when Tab Benoit came on May 15, it was a standing room crowd. It had been many months since I last visited "Louisville's Premier Blues Club." The few changes I noticed were minor but indicated the wider variety of music they have recently been booking. The red banner behind the stage says "Rock & Blues Bar" and there is a mirror disco ball hovering over the dance floor. The large mirror on the left side of the stage is puzzling.
Tab's backing duo of bass and drums gives Tab's voice and guitar plenty of room to maneuver. And move he does, skillfully combining his Louisiana bayou images with the blues. His golden gator head sits on his amp, smiling back at the audience.
When he asked for requests, someone said sing your favorite song. He responded, "My favorite song is the song I'm playing at the time and the next song will be my new favorite." Tab covered a lot of musical territory during his two long sets, doing the country influenced "I'm Just A Brother To The Blues," to when he opened the second set with an acoustical version of "My Bucket's Got A Hole In It." Later during that set he took over the drum set and pounded some masterful rhythms on "Baby Blue."
Before he consented to do "Going Crawfishin'" for an encore, Tab spoke from the heart about the prevailing sad conditions in southern Louisiana. He said, "Tell everybody it ain't fixed yet. There are greedy people running this country and the only thing running is the oil." Tab has been touring extensively and recording songs on CDs to benefit those affected by the hurricanes. When he signed his These Blues Are All Mine CD for me, he looked at the scene of him silhouetted against a bayou and said, "That's all gone now."