I've Got A Mind To Ramble
Backstage with Jimmy
When Ken Shapero, proprietor of the Jazz Factory, called me two days before Jimmy Scott's concert on February 17 and said both shows were sold out plus there was a waiting list, it was a dream come true.
When I first approached Shapero last November about bringing Jimmy Scott to Louisville, he had no clue who Jimmy was. Shapero's assistant, Suki - who was also familiar with Jimmy - and I together persuaded Ken that Jimmy had a following of young and old and would draw a crowd. Two weeks later, a call was made to Jimmy and his wife and manager, Jeanie, in Cleveland and a deal was made.
At first, there was going to be just one show of two sets, with the late comers "churned" into the audience as people left after the first set. Later, as interest began to build, it made more sense to have two separate shows with the schedule moved up to 7:30 p.m. and 9:30 p.m. Jeffrey Lee Puckett's cover story about Jimmy in the February 11 issue of the Scene got us over the top. Ken said, "the phones were ringing continuously when they opened again on Tuesday."
From the time my wife and I met Jimmy and Jeanie Scott at the airport to when we took them back to their suite after the concert, our dream became a reality. We greeted the Scotts with Jeanie wheeling Jimmy down the concourse in a wheel chair. Jimmy, who's unsteady on his feet, usually gets around this way. He never completely recovered from an accident he had thirty-three years ago when he was working as a shipping clerk at the Sheridan Hotel in Cleveland's Terminal Tower. While moving a heavy pallet, he slipped and fell on his back, tearing ligaments in his legs. He has walked with a limp ever since.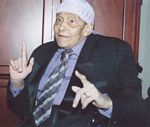 Photo By Photo by Keith Clements
Jeanie has been the best thing to happen to Jimmy. After a courtship of several years, they got married on New Years Eve, 2003. Jimmy said, "He wanted to start the New Year off right." She is very protective of him and looks after his health and business affairs. Jeanie got her savvy in the entertainment world when she was the companion of George `Smitty' Smith who was one of the original lead singers with the Manhattans.
Jimmy rested the day of the concert, as he usually does not eat much until after the show. Jeanie said, "It's a rule among performers not to sing on a full stomach."
Tracy Porter, Mary Ann Fisher's adopted son, came to Louisville to see Jimmy for the first time in 42 years. During the early 60s when Mary Ann and Jimmy were together in California, Jimmy spent a lot of time looking after Tracy, an infant at the time, while Mary Ann was away on extended gigs. When the relationship didn't work out, Mary Ann returned to Louisville with Tracy. Because Jimmy never had any children, he always thought of Tracy as a son.
We met Tracy in the lobby of the Galt House and went up to the Scott's suite. Jimmy and Jeanie were already in their pajamas. It was a touching scene: Jimmy coming from the bedroom with his long arms outstretched to hug Tracy.
Lots stories followed. Jimmy recalled taking Tracy to Ray Charles' studio when he was recording the Falling In Love Is Wonderful album. All the women fell for Tracy. Jimmy and Mary Ann wanted to do an album together but never did.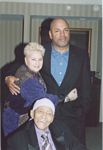 Photo By Photo by Keith Clements
Jimmy recalled his drama teacher from Outwarthe Vocational Junior High School, Mrs. McGrath, who had a special relationship with her students. He said, "She opened the door to my mind." He got to sing "Ferdinand the Bull" in the class play.
Jimmy talked about his recent biography, Faith In Time, written by David Ritz. Jimmy inscribed "To My Son and My Life" in a copy to Tracy.
At 80 years, Jimmy is the last of the remaining popular/jazz vocalists from the era of Billy Eckstine, Nat King Cole, Charles Brown and Eddie Jefferson. He performs selective schedule of concerts, clubs and festivals, nationally and internationally. This year, Jimmy has had a recording session with Pink Martini, a benefit concert for Joni Mitchell at Carnegie Hall and most recently, a two-night stand at the Iridium Jazz Club in New York where they got caught in the big snowstorm that hit the northeast.
On February 27 and 28, Jimmy will be in Warsaw, Poland, for two concerts and before a making tour of Japan, performing at three Blue Note Clubs, in March. Jeanie said in her Jersey accent, "Jimmy was voted Japan's favorite male vocalist by Swing Journal the last four years." In April Jimmy will be honored at the Cape May Jazz Festival in New Jersey that will be dedicated to his eighty years and on May 14, he will sing at the San Francisco Jazz Festival. Jimmy said the Reverend Louis Farrakhan has been a fan of his since he was a teenager. Farrakhan started out as a calypso entertainer, dancing and playing violin before he had his conversion. Last December he asked Jimmy to record "When I Fall In Love" on his soon-to-be-released CD Reflection & Meditation.
Before the show, Keith Williams and his wife, Linda, joined us in the hotel suite. Linda is the niece of Mary Ann Fisher, and Keith, who is a photographer for the Courier Journal, wanted to take some pictures of Jimmy and Tracy. Jimmy was decked out in a black suit, patent leather shoes, purple shirt and tie plus his trademark designer doo rag on his head. He was in good spirits, sharing bits of philosophy about life and performing.
He said, "I don't adapt to music, music adapts to me." [We would find that out later in the evening.] Early in show business, he learned to give himself to the people. His upbeat philosophy for a life of heartbreaks is reflected in his simple motto, "You may give out, but you never give up."
Time went by quickly and it was getting close to show time. We drove up to the Jazz Factory just as his trio, Jazz Expressions, arrived. Hilliard "Hill" Green plays electric upright bass and serves as musical director. He has been with Jimmy for eighteen years. Dwayne "Cook" Broadnax has drummed with Jimmy for six years. He teaches at Long Island University. Aaron Graves studied with jazz masters Calvin Jones and Kenny Barron. He replaced Michael Kanan two years ago on piano.
"Tight" is an understatement for these talented musicians. The Boston Globe's Bob Blumenthal said, "They may be the best supporting group currently backing a singer." When Jimmy sings, they know when to back off, providing the subtle slow tempo to complement his voice.
Shapero's office doubled as a temporary lounge for Jimmy until it was time to go on. The audience included the sculptor Ed Hamilton and Ken Clay, who booked Jimmy at the suggestion of Mary Ann Fisher for an early Midnight Ramble some twenty years ago. The first sixty minutes of the opening show was taped for broadcast on WFPK-FM 91.9 later that night, with a repeat on February 26. Ken Shapero made his usual introduction and had the audience do a "Homefront" style greeting to open the show.
Jeanie removed Jimmy's head gear and assisted him up the steps to his stool, center stage under the lights. The set list included familiar ballads like "Blue Skies" and "At Last." When he was singing "Someone To Watch Over Me," he was looking right at Jeanie. The second series opened with "Embraceable You," which he said was "the song that got me married." (It was their honeymoon song.) Jimmy started to do "Everybody Needs Someone to Love," which he had done earlier. After the first line, he casually sang, "I'm singing the wrong song" and eased into "If You Only Knew." Jimmy recorded "If You Only Knew" over fifty years ago for Savoy Records. When you compare the way he sings his songs over such a period of time, Jimmy has reinvented his voice, but kept the emotion. It's more fragile and pure, with the emotions stripped to the bare essence. The story in each song is creatively phrased into an epic drama. Between shows, he was accessible to anyone, posing for photographs and signing autographs. Jimmy doesn't just sign his name; he takes his time and adds words of inspiration in his inscriptions.
The Jazz Factory cleared out and filled again for the second show with a slightly younger crowd. I enjoyed this show even more. More passionate ballads followed including "All of Me," "I Got It Bad," "Pennies From Heaven" and "I Cried For You." Jeanie had Jimmy sing "The Folks Who Live On The Hill," which is a sentimental favorite of hers (and mine.)
Jimmy has never had a permanent home or family, so this song is his wish. He told us earlier, "I want to live where it is warm and dry." They are considering a move to Henderson, Nevada, near Las Vegas, if Jimmy can get some shows at the casinos that.
Even though Jimmy is considered a jazz balladeer, it doesn't get any bluer than when he does "Sometimes I Feel Like A Motherless Child," especially when you know what he experienced as a boy. Jimmy still has fond memories of his mother who died when she was hit and dragged by a car while trying to save her daughter. Jimmy was only thirteen and very close to his mother.
When he first began singing "Motherless Child," tears would run down his face. Lionel Hampton called him "Crying" Jimmy Scott. Jimmy remembers seeing Johnny Ray at his shows at the Apollo, where he sat in the front row. This was what inspired Johnny to inject crying in his act. Jeanie said Jimmy passed out on the stage while performing this song in London two years ago. It still is very emotional for him. There was not a dry eye in the house. When Jimmy sang his last note on "I Cried For You," we all came back down to earth. While driving the Scotts back to the Galt House, we listened to Jimmy singing "Embraceable You" on the radio.
I have another dream and that is to have Jimmy Scott come back to Louisville again next year.