Louisville Rock Closeup
Shannon Feese
Name/Nicknames: Shannon Feese
Age: 26, but will be 27 on March 21st.
Instrument: Vocals/Bass
Band/Former Bands: False
How Long On Instrument: Seven years doing vocals. One-and-a-half years on bass.
Equipment: B.C. Rich Beast NJ series bass with a Crate rig (getting an Ampeg soon)
Influences: Pearl Jam, Cannibal Corpse, Deicide, Slayer, Sepultura, Morbid Angel, Iron Maiden etc...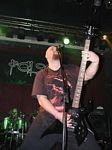 First Gig: I'm pretty sure it was September 18, 1999 at the Pandamonium with Assisting Sorrow and the Revenants. It was an awesome show that sold out. That's when the chaos began and has yet to stop!
Hobbies: Playing guitar, mainly acoustic. I will drive great distances to see a good concert. I also play the occasional video game.
Favorite Movies: The Silence of the Lambs and the Naked Gun Series. If Anthony Hopkins and Leslie Nielsen had a child, the world would be a better place.
Favorite Food: Calamari, blackened chicken, hot wings, BBQ chicken pizza and General Tso's Chicken.
Favorite Place: On stage providing the sound track to devastation. Second would have to be a good concert.
What I'm Listening to Nowadays: Iron Maiden, In Flames, Faun Fables, The Treasury of Bluegrass, Hate Eternal and the Sleepytime Gorilla Museum.
Coolest Thing I've Done: Playing with Phil Anselmo (Superjoint Ritual), Morbid Angel and Joey Ramone during his stint with the Misfits.
Most Embarrassing Moment: The re-election of President Bush...