I've Got A Mind To Ramble
Roll With Me, Etta
The very first rock and roll record I bought was "Roll With Me, Henry" in 1955 by Etta James and "The Peaches." Etta was only fifteen when she recorded that raunchy song with Johnny Otis on the Modern label. It was a response to Hank Ballard's "Work With Me, Annie." Because of the suggestive connotations of `roll' it was later released as "Dance With Me, Henry" and later as "The Wallflower," which became a popular hit.
Etta James' fifty-three year career has had its ups and plenty of downers. Her roller-coaster ride has been chronicled in a candid autobiography, "Rage To Survive," assisted by David Ritz. After reading this book about her childhood trauma, early stardom, drug addiction, hospitalization, serving time and many relationships with Mr. Wrongs, you realize that she is truly a survivor. Now at sixty-eight, she has her life together, with a devoted husband, Artis, and two sons, Donto and Sametto. Etta was inducted into the Rock and Roll Hall of Fame in the early 90s and the Blues Hall of Fame in 2001. She is finally getting the recognition as one of the greatest and sassiest female R&B singers.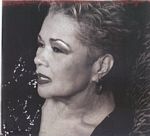 Photo By Kwaku Alston
The Palace lights dimmed promptly at 8 p.m. on April 8 as James' back-up band, The Roots Band, took the stage. These four musicians were led by Bobby Murray on guitar and included Dave Matthews on organ, Donto on drums and a bassist. What I hoped would be a few warm-up numbers before Etta appeared, turned out to be a whole set, which was followed by a long intermission that made the audience restless, clapping and making calls.
The second set opened with an expanded Roots Band that included three horns and a second guitarist and organist. Ninety minutes into the show, Etta finally strutted a little stiffly to center stage. She sat under a spotlight that bathed her in a golden glow on her blond hair and elegant black pantsuit. She has slimmed down considerably, losing nearly 200 pounds. Her once round baby face and figure is now sculpted into an attractive diva who has weathered the years beautifully.
Her precious one-hour set was filled with familiar songs, opening with "Tell Mama." While she still has her moves, Etta spent most of the show sitting on a stool, swiveling around from the audience to the band. She recalled performing years ago at the Top Hat and seemed comfortable in the Palace, referring to it as the `home town castle.' Then someone in the audience responded, "you're queen of the castle."
James wrote "I'd Rather Go Blind" and sings it with the personal heartache of seeing her man walk away with another woman. Etta started her career at the same time as Johnny "Guitar" Watson in L.A. and paid tribute to one of her first boyfriends with "I Want To Ta Ta You, Baby." Etta is as expressive with her hands as with her facial expressions, gesturing and scowling to fit her changing moods.
The audience requested "At Last" and she responded with that signature tune. Age has mellowed her tough, almost masculine voice that has a deep resonance few women can achieve. Her version of "Damn Your Eyes" included some vocal scatting interplay with the horns, guitar and keyboards. A medley of her ballads from the early Sixties followed, opening with "My Dearest Darling" and concluding with the audience participating in "Cry, Cry, Cry" and "Stop The Wedding." Then Etta got low down with some Jimmy Reed-style blues, doing a little bump and grind leaning on her stool. The audience enthusiastically appreciated her set and wanted an encore; she obliged with a ten-minute version of Al Green's "Love and Happiness." This bad girl of the blues and ballads is still at the top of her powers with her no-holds-barred performance.
10th Street Blues Festival
Last month I mentioned the Jeffersontown Blues-Crusade Festival with musical performances on May 19 and 20. The plans for the event are coming along nicely under the guidance of producer Dale Cashon. Now another blues festival has come out of the blue and will be held just three weeks later, on June 9 and 10.
Dale and Barry Blalock, owner of River Bend Winery, are collaborating on an event on 10th Street between Market and Main Streets. This cozy section of the street will be closed, creating the urban ambiance similar to the Garvin Gate Festivals that were held in Old Louisville. Barry recently opened his wine bar at 120 South 10th Street with the motto "Where there's life past Ninth." He will host some of the acoustical acts in his spacious reception space on the second floor. Naturally, wine and beer will be served, plus several food vendors. Admission will be $10 per night or $15 for the whole weekend, which is pretty reasonable for seeing eight bands. Two bands will perform on Friday from 8 to 12 p.m. and six bands will play from noon to midnight on Saturday. The two-hour time slot will give all the musicians a chance to stretch out with two sets. Many of the J-town Festival bands will also be performing at this festival, plus a few new surprises and special guests. Like the J-town Festival, a portion of the profits will be donated to the Dream Factory, a worthy cause that gives local terminally ill kids a chance to fulfill a dream.
Here's the tentative lineup:
Friday, June 9: 8-10pm - Susan O'Neil & Blue Seville; 10pm-Mid - Butch Williams & Revenue. Inside River Bend Winery: Joe DeBow plus Lamont Gillispie & 100 Proof Blues Band.
Saturday, June 10 - Noon -2 pm. - Robbie Bartlett; 2-4pm - Da Mudcats; 4-6pm - Tyrone Cotton; 6-8pm - Sheryl Rouse & the Louisville All-Stars; 8-10pm - River City Blues Band (Mark Stein); 10pm-Mid - The Mr. Wonderful Production Band (Ron Lewis). Inside River Bend Winery: 10th St. Blues Band and King Sonic.
It feels like all of the sudden we have a local blues explosion, with two emerging festivals and three weekly blues jams (at Longshots on Tuesday, Vito's on Sunday and Lisa's on Wednesday). Now all we need is to get a few more venues and Foree Wells' CD, It's A New Day Brother, released nationally, which will really put Louisville on the blues highway.