I've Got A Mind To Ramble
And the Winner Is?
Our three 'Ps,' "Presenting, Preserving and Perpetuating the Blues," succinctly summarize the mission of the Kentuckiana Blues Society: One of the best ways we accomplish these goals is presenting our KBS Blues Contest. We have been holding this event each year since 1993, with the exception of last year when there were only two entries. This year we have hit the jackpot with eight good local and regional bands willing to compete. Several of these bands performed during the two local summer blues festivals in J-Town and on 10th Street. They were King Sonic, River City Blues, Revenue and Bluestown. The Stella Vees are back again after winning our competition in 2004. Tore Down has been hosting the Wednesday blues jams at Wick's near the Gene Snyder and Dixie Highway. Velveeta Jones did a stripped-down acoustical set at Blues to the Point in Carrollton and the Bullitt County Blues Band has been shaking things up in Shepherdsville.
The only restriction stipulated by the Blues Foundation is that neither the band nor musician has been nominated for the W. C. Handy Award (now called the Blues Music Awards). You could be a well-known national touring act with a top-selling CD and you would still be eligible to compete. While our bands have not yet reached that status, they will have a chance if they win our competition and go on to the Foundation's International Blues Challenge in Memphis on February 1 through 3, 2007.
You are invited to attend the KBS annual membership meeting at 3:30 p.m. on November 5 at Stevie Ray's. Stick around for the blind draw for the order of bands at 4 p.m. The competition will start at 4:30 p.m. Each band will get twenty minutes to impress the crowd and judges who are Rocky Adcock, retired musician and KBS first president; Kevin Yazell, host of the WFPK Saturday Night Blues Party; Dale Cashon, promoter of the J-Town Blues and Crusade Festival; and Barry Blaylock, owner of the River Bend winery and supporter of the 10th Street Blues Festival. Pepper Corn is providing the food and the cover is only $5 for nonmembers and free for KBS members.
The Kentuckiana Blues Society has been a survivor during its eighteen years of existence and has been enjoying a recent resurgence. Our membership is back over 200, thanks to having our booth at several local blues festivals and events. Our monthly newsletter, Blues News, is published on an eight-page and twelve-age cycle on alternating months. Thanks to our editor, Natalie Carter and all those who submit pictures and material. Our bank account balance is back up to where it should be and we are establishing a connection with Kentucky Blues, our sister society in Bowling Green. Finally, It's A New Day Brother, the CD by Foree Wells, which was financed by the KBS and several other generous and patient sponsors, will be released on Jim O'Neal's Stackhouse Records very soon. It is a new day for our blues, brothers and sisters.
Henry Townsend Remembered
I always cringe when I get to the obituaries in the blues magazines. We have lost several legends recently, including Sam Myers, Jessie Mae Hemphill, Floyd Dixon and Willie Kent. A genuine legend died on September 24, 2006 without much notice or tribute. Henry Townsend was the dean of St. Louis blues and had the distinction of being the oldest living recording musician, having recorded in every decade since the 1920s. At 96, he was among the elite of bluesmen that included Robert Lockwood, Jr., Honey Boy Edwards and Homesick James. All of these men are 90-plus and still perform regularly.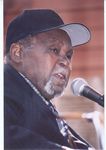 Photo By Keith Clements
Townsend came to St. Louis from Shelby, Mississippi via Cairo, Illinois when he was ten. A bustling river town during the 20s and 30s, St. Louis attracted Itinerant bluesmen like Lonnie Johnson and Roosevelt Sykes, who would stay for extended periods. Townsend started playing guitar when he was fifteen and soon mastered the piano under the influence of Sykes. He first recorded four songs for Columbia in 1929, accompanying himself on guitar.
Townsend's connection to Louisville came in 1931. He played an important role in an extensive recording session on Main Street, at the present location of the Kentucky Center for the Performing. At that time, there was a warehouse building owned by the Guy W. Smith & Sons moving company and furniture store. Ralph Peer, a field recording agent for Victor Records, rented space in the warehouse. According to Cliff Carlisle, a musician who accompanied Jimmie Rodgers, the Victor field recording sessions solicited regional musicians at little expense. A central location would be selected and musicians contacted within several hundred miles to record. The makeshift setting included the portable recording equipment behind a partition. Burlap was hung on the walls to manage the acoustics.
Photo By Keith Clements
Jesse Johnson, a St. Louis businessman and talent scout, arranged for Walter Davis, J.D. Short, Roosevelt Sykes, Clifford Gibson, Townsend and his brother, Lazarus, to come to Louisville to record on June 9 and 10. Roosevelt Sykes recorded under the name of Willie Kelly and Henry Townsend recorded as Jesse to avoid existing recording contract obligations. Townsend recorded "No Home Blues" and "Take A Chance" and accompanied Sykes and Davis on guitar on all cuts.
Following the sessions with the St. Louis musicians, Victor recorded Bill Gaither, a twenty-year-old local bluesman who later recorded over 100 sides for Decca and Okeh. Hillbilly, gospel and jug bands rounded out the remaining days of the record sessions. Performers included Clifford Hayes' Louisville Stompers, the Carter Family and Jimmie Rodgers. These 1931 Victor field recordings were the only pre-war sessions by a record company in Kentucky and the last recordings by Louisville jug bands.
On December 17, 1993, just 62 years later, the eight-four-year-old Henry Townsend returned to Louisville to perform at the same location on Main St: in the MeX Theater in the Kentucky Center. The Cultural Diversity Program and the KBS sponsored the concert as a part of the River City Blues Series.
Leroy Pierson, who accompanied Townsend, opened the first set, followed by Townsend doing his solo set on piano. His unpredictable chord changes and rolling bass took the sold-out crowd back to another era. His personal lyrics, many improvised on the spot, told the truth as only a veteran bluesman can. Pierson and Townsend, playing acoustical guitar, closed out the show with his string snapping style.
Townsend never got the attention he deserved because he frequently was a session musician and was never identified during most of his early recording career. During the 60s, he made a comeback playing the blues and folk festivals in America. Public television produced a documentary about Townsend in 1984 titled, "That's The Way I Do It." In 1999, Bill Greensmith published "A Blues Life," an insightful and historical narrative about Townsend. Townsend showed he was a good storyteller, giving a detailed description of the St. Louis Blues scene and all the famous musicians he encountered, including Robert Johnson. Recognition finally came when he received the National Endowment for the Arts Heritage Fellowship Award, the highest honor our country bestows on an artist.