Bluegrass Beat
October, you were not too bad, you brought some rain, some cold and all together the turning of the leaves decorating the hillsides, the mountains, just to build us up for the big letdown. Yeah, let down all over the yards so we can get our "exercise" raking, bagging, hauling to the curb and enjoying sore muscles we had forgotten about since last year. OK, so that's the way you were.
Well, welcome November! Let's see what you have to offer. Your turn at phasing in the season and, of course, one of the greatest days of the year and the introduction of the holiday season. One of the greatest days of the year that used to be about as big a deal as Christmas is almost passed over like leftover turkey. Although it is a big meal day, turkey being the main course, it is NOT turkey day. It is THANKSGIVING day. Remember that? Let's return it to its original prime time status of family, friends and reflection. Thanks, November!
Josh Graves Dies at 79
Just as two plus two equals four, that is the way it is. In terms of "word math," the terms "benchmark" (the standard by which all others are measured) or cornerstone (foundation) plus Dobro will always equal Josh Graves.

Photo By Photo by Berk Bryant
I got a call during my Sunday Bluegrass show October 1st. A good friend called with some sad news. He called to tell me "Uncle Josh" had died the day before. This wasn't a big surprise, as surprises go. It was, however, unexpected - most unexpected. My thoughts immediately did flashbacks, back to the first time I met Flatt & Scruggs and at the time Uncle Josh was a featured part of their act. Before he became Uncle Josh, he had played with several well-known country acts. Mac Wiseman and Wilma Lee & Stony Cooper come to mind. Then he was "Buck Graves," "Burkette Howard 'Buck' Graves."
In my years of collecting, pictures especially, I have one of Wilma Lee & Stony on stage and I realized one day years ago, that's Uncle Josh over there with the Dobro. I took it with me to a show and showed it to Josh and a big, surprised smile filled his face. He signed it for me. Josh Graves was always very nice to me. When the International Bluegrass Music Museum had a grand opening a few years ago, Josh was there. He wanted to be sure I had his CDs. There was one particular one, Josh Graves King Of The Dobro (CMH), a musical documentary. Josh asked me to play it. He especially wanted me to play this one. I told him I would and I have.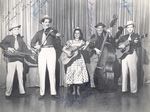 Beecher Kirby, best known as Brother Oswald, put the Dobro in country music and Uncle Josh put the Dobro in Bluegrass music. No one could have done it better than these two. Play on, Josh and Oz, play on for eternity, here and there.
Josh told me to call him at home anytime I wanted to. I did that one Sunday about a month before this news came. I had been asked by several folks if Kenny Baker had died and I promised to call Josh and ask him. Josh's wife answered the phone and told me he was asleep. I asked her not to wake him, she said to let her check to be sure he was asleep. He was and I asked her about Kenny. She confirmed that Kenny had not died and, in fact, he and Josh had played that weekend. I then told her I would call again soon. Moral to the story, I didn't make another call and that I regret. You and I have heard this and haven't learned yet. If there is something you want to tell someone who is special to you, do it - do it while you can. There is no better time than now.
Museum of Appalachia Tennessee Fall Homecoming
Last month took me to Norris, Tennessee, for the Museum of Appalachia Tennessee Fall Homecoming. In spite of the fact that it was c-o-l-d for three days, the faithful still came. It was quite an event, as always. It was a time of renewing friendships, meeting new friends, catching up on the past year and enjoyment.
After leaving Tennessee, I headed for Norton, Virginia, to spend the night and visit Ralph Stanley's museum on Monday morning. I am not sure what I expected, but the highway going to Norton was great. Monday morning I called Ralph to see if he would be able to come and meet me there. Ralph had to go to St, Paul, Virginia, that morning and then to somewhere else at one that afternoon. I ventured on to Clintwood, Virginia, where the museum is located, only to find it is closed on Mondays. That, of course, was a bit of a disappointment, but that soon faded away. After a brief consultation with my map, I chose a route to get me back to I-81 and on my way to my home in Virginia. The roads through there were more of what I had anticipated - two-lane and plenty of curves. It was kind of like the roads I had learned to drive over. The fall colors and the views through those Appalachian Mountains were spectacular. A reinforcement that things - everything - happens for a purpose. Had I known ahead that the museum would not be open, I would not have gone up there. Had I not gone up there I would not have experienced that drive. I had told Ralph when I talked with him that morning that if I missed him then I would see him at Shepherdsville the first Friday in January.
Errors Happen
I am writing this from Virginia with my daughter's computer. Not used to the programs she uses. That said, there may be some "errors" here and there. One error already happened in the flash drive I brought with me. For some reason it did not have all of the information I thought was on it, the main item being the line-up of who's playing when and where.
So with that said, best wishes for the coming holiday season and keep listening to Sunday Bluegrass on WFPK 91.9 FM from 8-11 p.m. Thank y'all. And, oh, a gift tip for your list: How about a gift membership to the International Bluegrass Museum for anyone, especially that person who has everything except that.