Cowboy Corner
B&D & Paisley Dominate CMA Nominations
When the nominees for the 40th Annual Country Music Association Awards were announced recently, Brad Paisley and awards ceremony hosts Brooks & Dunn each received a whopping six nominations. Paisley will vie for Entertainer of the Year, Male Vocalist, Album of the Year for Time Well Wasted and Single, Musical Event and Music Video of the Year along with Dolly Parton for "When I Get Where I'm Going." Kix Brooks & Ronnie Dunn will compete for Entertainer of the Year, Vocal Duo, Single and Music Video of the Year for "Believe," Album of the Year for Hillbilly Deluxe and Musical Event for "Building Bridges" along with Sheryl Crow and Vince Gill. In addition, Ronnie is up for Song of the Year as the co-writer of "Believe" along with Craig Wiseman. Kenny Chesney, Keith Urban and hot newcomer Carrie Underwood follow with four nominations each.
And the nominees are: Entertainer of the Year: Brooks & Dunn, Kenny Chesney, Brad Paisley, Rascal Flatts and Keith Urban; Female Vocalist of the Year: Sara Evans, Faith Hill, Martina McBride, Carrie Underwood and Gretchen Wilson; Male Vocalist of the Year: Dierks Bentley, Kenny Chesney, Alan Jackson, Brad Paisley and Keith Urban; Vocal Duo of the Year: Big & Rich, Brooks & Dunn, Montgomery Gentry, Van Zant and The Wreckers; and Vocal Group of the Year: Alison Krauss & Union Station featuring Jerry Douglas, Little Big Town, Lonestar, Rascal Flatts and Sugarland.
Horizon Award: Miranda Lambert, Little Big Town, Sugarland, Josh Turner and Carrie Underwood; Musical Event of the Year: Brooks & Dunn, Sheryl Crow & Vince Gill's "Building Bridges," Faith Hill & Tim McGraw's "Like We Never Loved at All," Gretchen Wilson & Merle Haggard's "Politically Uncorrect," Brad Paisley & Dolly Parton's "When I Get Where I'm Going," and Bon Jovi & Jennifer Nettles' "Who Says You Can't Go Home"; Single of the Year: Brooks & Dunn's "Believe," Keith Urban's "Better Life," Carrie Underwood's "Jesus, Take the Wheel," Kenny Chesney's "Summertime," and Brad Paisley & Dolly Parton's "When I Get Where I'm Going"; and Song of the Year (awarded to songwriter and publisher): Big & Rich's "8th of November," Brooks & Dunn's "Believe," Carrie Underwood's "Jesus, Take the Wheel," Keith Urban's "Tonight I Wanna Cry," and Brad Paisley & Dolly Parton's "When I Get Where I'm Going."
Album of the Year: Brooks & Dunn's Hillbilly Deluxe, Rascal Flatts' Me and My Gang, Alan Jackson's Precious Memories, Kenny Chesney's The Road and the Radio and Brad Paisley's Time Well Wasted; Music Video of the Year: Big & Rich's "8th of November," Brooks & Dunn's "Believe," Carrie Underwood's "Jesus, Take the Wheel," Miranda Lambert's "Kerosene," and Brad Paisley & Dolly Parton's "When I Get Where I'm Going"; and Musician of the Year: Eddie Bayers (drums), Jerry Douglas (dobro), Paul Franklin (steel guitar), Dann Huff (guitar), Brent Mason (guitar & electric guitar) and Randy Scruggs (guitar).
The CMA Awards will be handed out November 6 in Nashville's Gaylord Entertainment Center. During the ceremony, "The Cowboy," George Strait, musician and country music recording pioneer Harold Bradley and "Young Love" singer Sonny James will each be inducted into the Country Music Hall of Fame. Fans can catch the ceremony live on ABC-Television.
Congratulations to all the nominees!
The McGraws Break Concert Record
The musical McGraws, Tim and wife Faith Hill, broke records this year with their Soul2Soul II Tour. Bringing in almost $89 million, this tour is the highest-grossing country concert ever, even beating out pal Kenny Chesney, who held the record with his tour last year, which grossed $62 million. Tim and Faith played 73 concerts in 55 different cities across our great country, including their Kentucky stop in Lexington. Toward the end of this tour, Tim and Faith surprised their one millionth concert-goer with lavish gifts. In a joint statement, the happy couple described the tour by saying, "We have been blessed over the past several months to have the opportunity to do what it is that we love to do most."
Congratulations to Tim and Faith for this amazing feat! And not to feel sorry for pal Kenny Chesney, his 2006 tour has been the second-highest grossing country tour of the year and Rascal Flatts' tour is shaping up to be the third-highest grossing country tour, these three likely being the only three country concerts which will crack into the overall list of the ten top-grossing tours of all genres of music this year.
Gary Allan & Rascal Flatts Close Fair with a Bang
The Kentucky State Fair saved the best for last when it booked one of the hottest groups on the planet to close this year's 11-day fair: Rascal Flatts. Gary, Jay and Joe Don may look and sound more like Bruce Springsteen than Porter Wagoner, but country and pop fans of all ages (and I mean two- to eighty-two-years-old) eat up their slick country sound just the same. The trio was hotter than ever, both musically (with crowd-pleasers "I Melt," "Fast Cars & Freedom," and "Life Is a Highway") and artistically with pyrotechnics and possibly the most brilliant video and light show of any musical act touring today. Despite the fact their vocals were a few decibels too loud, muffling their lyrics, the band was in top form and wowed the sold-out crowd with numbers like "God Bless the Broken Road," "Feels Like Today," and "Skin," even showing off their instrumental prowess.
Although Rascal Flatts was billed as the headliner, Gary Allan gave the uptown trio a run for their money for top-billing of the evening. Allan put every ounce of his heart and soul into his 40-minute opening set, which included crowd-pleasers "Man To Man," "Nothin' On But the Radio," "Songs About Rain," and "Best I Ever Had." His emotional rendition of "Life Ain't Always Beautiful," a tune he recorded after the recent suicide of his wife, should catapult this honest and rootsy performer into well-deserved country superstar status.
Special Country Honors
International superstar Dolly Parton will be among some pretty hefty company come December when she will be honored during the 2006 Kennedy Center Honors in Washington, D.C. Upon the announcement of the nominees, it was noted, "Dolly Parton's creativity and spirit make her country music's best international ambassador." Parton will be honored during a dinner with Secretary of State Condoleezza Rice on December 2. Parton, along with fellow honorees conductor Zubin Mehta, Smokey Robinson, Steven Spielberg and Andrew Lloyd Webber will take part in a concert and gala the following evening at the Kennedy Center for the Performing Arts.
"The Devil Went Down to Georgia" singer Charlie Daniels was honored with the Veteran's of Foreign War's Hall of Fame award during the organization's annual convention in Reno, Nevada recently. The VFW recognized Daniels for his 35-year commitment to performing for United States troops around the world, including Afghanistan, Bosnia and Iraq.
Congratulations, Dolly and Charlie!
Catching Up with Lorrie Morgan
Grand Ole Opry country sweetheart Lorrie Morgan heated up Cardinal Stadium during a knock-out performance at the Kentucky State Fair on August 24. Looking and sounding better than ever, Morgan sprinkled brand new self-penned numbers amongst radio favorites from days gone by like "Watch Me," "Something In Red," and "What Part of No."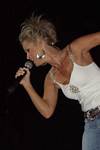 Photo By Photo by Michael W. Stout
Prior to her fair performance, I had the opportunity to sit down and catch up with Morgan. Although she is no longer at the top of the country charts, she feels she is very lucky because she is "one of the few artists out there really working." She's thankful that she's been blessed with a great band and crew throughout the years and for the first time in many years she's having a lot of fun. Although she is performing around 60 shows per year, now that her children are grown, she'd like to play as many as 100 dates a year. When she's not on the road, Morgan plays the Opry every chance she can get, "just to be close to Little Jimmy Dickens," she said laughing.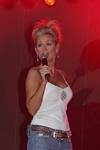 Photo By Photo by Michael W. Stout
When asked if she has fulfilled all her musical dreams, Morgan states that she "has been very fortunate." She continued, "I've been able to work with everybody I've idolized in my country music industry and other genres of music. I've been very fortunate - Frank Sinatra Andy Williams, Johnny Mathis, just to name a few, Tammy Wynette. My dream was pretty much fulfilled with those artists, but if Tony Bennett called, I'd say, 'Hey, alright, I'll suffer through this.'"
Morgan assured me that she has been "writing [her] butt off" for a new album, which she has yet to record. She has written the whole album and assures me that "it was a magical time and it's really about being more aware of life and what goes on in a woman's life and even a man - it's about an adult perspective." She promises the album will be "raw, very raw - it's very acoustic-y raw, kind of swampy - it's just real, it's just raw."
Although she's more than content with her music career, Morgan would love to try her hand at some "crazy movie or something." She said, "I don't want to do a movie that I can just be myself. I want to stretch. I want to go the extra mile to be someone I've never been."
Hollywood has yet to call with that perfect "crazy" script for Lorrie Morgan, but don't rule it out someday in the future. She is driven and knows what she wants. In the meantime, fans will have to sit back and anxiously await the recording and release of Morgan's sure-to-be must have new album.
Terri Clark Takes Fan Award at CCMAs
When the 2006 Canadian Country Music Association Awards were handed out last month in Saint John, New Brunswick, Terri Clark took home the coveted Kraft Cheez Whiz Fans' Choice Award for the sixth time. Carolyn Dawn Johnson was named Female Artist of the Year and Brett James, Hillary Lindsey & Gordie Sampson were named SOCAN Songwriters of the Year for Carrie Underwood's "Jesus, Take the Wheel." The Legend of Johnny Cash was named the Top Selling Album and Emerson Drive's David Pichette (fiddle) and Dale Wallace (keyboards) were named as All Star Band winners.

Congratulations, Terri and all the winners!
Country Legal News
No surprise to country music fans, the "Redheaded Stranger," Willie Nelson likes a little weed. The legend and several members of his band were charged with misdemeanor citations for possession of marijuana and hallucinogenic mushrooms after his tour bus was pulled over for a commercial vehicle inspection in Louisiana last month. When the police officer opened the bus door, he smelled a strong odor of marijuana and found 1.5 lbs. of pot and 0.2 lbs. of mushrooms on the bus. Nelson and his band members face up to six months in jail and a fine.
Nicholasville, Kentucky's own John Michael Montgomery will not be going to trial over his February arrest for DUI and possession of drugs and weapons. JMM entered an Alford plea, which means that he did not admit guilt for these charges, but agrees that there is enough evidence to convict him. He will have to pay $663.50 in fines and court costs and is required to complete an alcohol education program before his driver's license is reinstated.
Darryl Worley and his wife Beverly have filed for divorce after five years of marriage. Worley admits that he and Beverly remain friends despite the fact that their separate lifestyles and occupations have taken their toll on their marriage. The couple asks for privacy during this difficult time.
Well, that's it for another month. Thanks for another year of reading "Cowboy Corner," now concluding its 12th year this month. Always remember: "Keep your boots shined up and your hat on straight, 'cause country music is comin' your way."