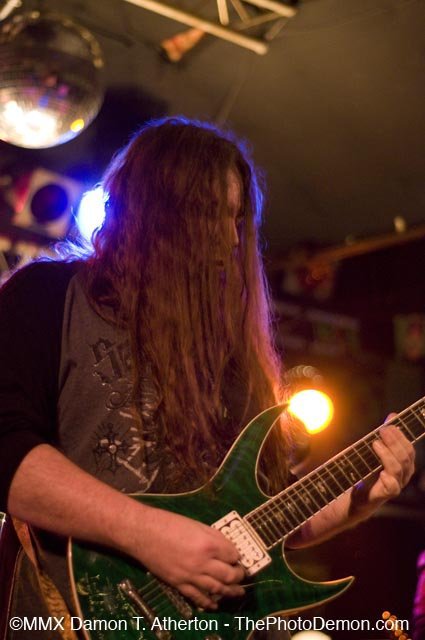 News From the Pit
This is Fargin Gwar
The chit may be about to hit the fan, peeps. I'm a big news fan and keep up with world events, and I tell you I have a feeling that something really bad is about to happen. It looks like the United States will be going to war with another country or two. I have a bad feeling we are about to be hit by another terrorist attack, maybe much worse than 911. Sure, we live in the Midwest and can be considered somewhat safe, but what about our people on the East Coast? You couldn't pay me to live in NYC, or Washington, D.C.! All I can say is "God, look out for us all."
As far as the scene goes, it's been fun lately; I went to see Subrosa at the Hill on Mudd's Wednesday night showcase, Exodus/Hatebreed at Headliners (which kicked butt bigtime, especially in the parking lot). I didn't go to LRSfest, but I heard the national bands sucked (customers were complaining), and the Louisville bands saved the day as usual. I wish I had seen them play but I have my reasons for not attending. We'll just leave it at that.
Good news though: a real national rock concert is coming to Louisville Gardens on October 27, featuring Godsmack, Breaking Benjamin and either Candlebox or Skid Row. You know my big butt will be there! And the sickos in GWAR will be here on October 26, at Headliners. I know you don't want to miss the opportunity of getting slimy things shot onto you.
Good news about the TV show I've been yakking about. It's been a struggle to get things going, says my boss here at LMN. He's found the production people we needed. Now we just need to get a few more important things in order, so don't give up on us. We got the scene behind us on this, but it's going to take some work to get this going, but we know this will be one cool metal show and great for the rock/metal bands in town. And that, my friends, is something that this column is about! Promoting Louisville Rock/Metal! Think about it: when have you ever seen the other publications in town really cover our metal scene adequately? Never. Basically, we're treated like crackheads with AIDS. The funny thing is that this rock/metal scene kicks! Why would they ignore something so strong and popular? I'll tell you why: because we look wild, sound wild, dress like freaks and vent all our anger in our music. However, we are not bad people.
To prove my point, I'll mention the two upcoming metal shows that are benefits that will provide money and toys for Kosair Children's Hospital Charities. On Saturday, October 14 at the Iroquois Amphitheater, noon to 11 p.m., there will be a huge metal show, Villapalooza, featuring Of Sound Mind; Nova Red; Wasted Days; Dogwater; Sow The Seed; Grindstone; I Will Defy; Thorn; Full Nelson; Shine Runners; a My Own Victim reunion featuring the original members and a performance by Grotesque Burlesque. Tickets are $12.
On November 17, it's my annual Rock For Kosair benefit at the Phoenix Hill Tavern, with all proceeds going to buy Christmas toys for sick and needy children. Playing are Ugly; Antikythera; Wasted Days; 7Daysun; Prey For Maria; Arcaine Saint; Subrosa; 16 Bones; Sow The Seed; Acoustipimps; Surviving Thalia; Evil Engine # 9 and Sixth Floor. Two guitar will be given away. Tickets are $6
Be sure to attend both of these benefit concerts. They're for excellent causes and they will both be a lot of fun!
Don't forget where to go when you want the real Louisville rock/metal news: Louisville Music News!
The Metal Grapevine Hatebreed and Exodus Review:
First Blood from San Francisco opened the show with some decent metal; unfortunately, the singer was afflicted with the "cookie monster" vocal style. Then came Napalm Death, a band I had not seen before. They rocked out to songs from 2005's The Code Is Red, Long Live The Code and some classics including "Suffer The Children" and "Scum And Dead" from 1987's Scum. The set was brutal and pretty fast, indeed. Vocalist Barney Greenway is a nut. They sounded good though, except the guitar, which sounded thinner than expected.
Another Bay Area band, metal legends Exodus, ripped into their set with "Bonded By Blood" from the album of the same name. The rest of their set consisted of songs from 2004's comeback release, Tempo Of The Damned, and their latest, Shovel Headed Kill Machine. A few fans were disappointed that the band only played newer stuff. Guitarist Gary Holt and Lee Altus unleashed the fury with scorching leads and whammy bar masturbation (yah!). Ex-Slayer/Forbidden drummer Paul Bostaph put on a drum clinic, which only added to the brutality. Bostaph is considered as good or even better than legendary Slayer drummer Dave Lombardo. New vocalist Rob Dukes is perfect for Exodus. Despite being plagued with a few minor sound problems, Exodus put on a great set of classic thrash metal.
Then came The Black Dahlia Murder, another band I hadn't seen before. I was quite impressed with the music but not so much the vocals. They seemed kind of European-sounding if you asked me.
Headliner Hatebreed put on an absolutely crushing set. They always seem to get the fattest sound of the bands playing. Quite a change from a band that used to play only 100% hardcore. Now they are universal metal for the ages, and much better for it.
Song highlights from Hatebreed included "Destroy Everything," off of the newest release, Supremacy, which rocked. Jamie Jasta is becoming well known for his music and his second job as MTV's "Headbangers Ball" host.
I'd like to thank Chris Leffler of Assisting Sorrow for his insights and contributions to reviewing Exodus and Napalm. He knows more about them than me. Also, congrats to Chris for losing a bunch of weight. I barely recognized him at the show.
Godsmack Coming Oct 27:
That's right, Louisville Gardens, October 27, with special guests Breaking Benjamin another band to be announced, possibly Skid Row or Candlebox. Godsmack may not be the most technical band, but they do have some great hooks and can play those instruments. Breaking Benjamin is also a good band, though I have only heard "Cold", which I like. Godsmack puts on a great live show, so don't any of you miss this killer show. I'll be there! Say hello, and buy me frosty beverages!
Fiveboltmain's Live CD:
Chris Vols has put out a live CD of the band's finest performances. Some of the songs are "Pathetic," "The Gift" and even a Flaw cover, "Only The Strong". The Live album will be available on October 11. Other than that, I haven't heard much from them since drummer Ivan Arnold left the band several months ago.
This is Fargin GWAR!
On Thursday, October 26, just in time for Halloween, it's going to be crazy at Headliners Music Hall. Gwar is coming to town, complete with tons of fake blood, meat catapults, foam monster penises, flailing used tampons and assorted weapons of mass shock. I can't believe I've never seen Gwar. I might try to go to this one. I'll be the one in the back of the building in a raincoat holding a pen and paper. Ha! I hope they play that dumb song "Meat Sandwich." It's retarded. The Red Chord and Municipal Waste will be opening the show. $17 Advance, $20 DOS. 18 and over. 7:30 p.m.
Subrosa, Unstoppable?
I like these guys a lot! We were watching Big Rock Show the other night at the Hill and we had a blast hanging out. The band has been playing some really fat shows lately and getting better and better each time I hear them. I saw them play Mudd's Wednesday night Hill thing and it was very good indeed. It's very hard for a young band to draw at the Hill, but Subrosa pulls it off. I see big things happening to this young energetic band of rockers. You can see them on October 6 at Headliners with Intheclear.
7DaySun Going On Tour:
7DaySun is going on the road with King Street, a band comprised of former members of Soulfly, Primer 55 and Skrape, in late November. The first leg of the tour kicks off on November 24 at The Darkside in Marietta, Georgia. The tour will hit Louisville on Sunday, November 26 at Bulldog Cafe. Get your tickets now, this will sell out!
Wasted Days Cover Story:
Just so you know, I did the cover story for this month's issue, about Southern Indiana's Wasted Days. So if you get the chance, check it out, it turned out pretty darn good. They are a great band worthy of the exposure they will be getting. Congrats, guys.
Born Broken Review:
Wow, what another great new young band. I hadn't heard them, because they are from Brandenburg, but Cory from Evil Engine recommended that I should have them on one of my shows, so I did. After all, what better way is there to truly see if a band is good or not? I was very impressed with their set and so was the crowd. Formed in January 2006, Born Broken is a young, semi-heavy band with very catchy hooks and melodic vocals over thick, rocking melodic guitar. The result? Infectious grooves and high energy. Justin Flaherty's vocals are excellent, with a diverse style with top notch technique. The songwriting of guitarist David Jenkins shines. This is one to definitely look out for. Where's the CD, dammit? Catch them on October 13 at Headliners, or pm October 20 and again November 3 at the Phoenix Hill. Check them out, online too. www.bornbroken.com and www.myspace.com/bornbrokenband.
The Antikythera Ruckus:
The band Antikythera has not broken up. They had an incident with vocalist Mongo, who wrote some stuff about WLRS on the Internet. WLRS kicked Antikythera off the LRSfest show (imagine that). It's unclear if they will patch things up with their singer or move on to find another madman to fill in the spot. The band said "We have parted ways with Chris "Mongo" Miller due to conflicting personalities. We wish nothing but the best for him. He is fully capable of being a great front man/vocalist for any metal band in Louisville." However, I've heard rumors that they may be getting back together with Mongo, so I guess we will see.
The Buzz On I Will Defy:
The word is out, I Will Defy kicks booty. Not just average booty, but bigtime booty! They got a great response when they played my Hill show, which was their debut. It seems the heavy but soulful riffage, mixed with the melodic vocals of Pat Michaels, works rather well for this new project. I dug it. And there is a buzz about this new band already kickin'. People were breathing alcohol down my neck, saying "Dammmmn, duuuude, you need to get them back here shoooon!" "I hear ya, bro," I said. "I will, but in the meantime, how's about investing in some Tic Tacs?" Ha. You can see them at the Villapalooza concert on October 14.
Never The Man Records 12 Song CD:
Never The Man has signed a deal with indie label Dreamakersmusic, based in Hopatcong, New Jersey. They have just recorded a 12-song, full-length CD scheduled for release in January. The CD includes "Next Level" and "My Circle." This is one great band; check them out if you get the chance. You can see them on Friday, November 3 at the Phoenix Hill Tavern or logon to www.nevertheman.com.
Stonecutters CD:
Louisville doom metallers The Stonecutters are about ready to release their self-titled 10-song, full length CD on October 6 at Uncle Pleasants. According to guitarist/vocalist Brian Omer (former My Own Victim guitarist), the recording turned out great. Omer explains: "We recorded at Mom's Music and it turned out killer and the vocals are pretty slick sounding. There are a lot of solos and the music is much more diverse than what I've done before. We couldn't be happier with the result." The CD will be available at Ear X-tacy on October 6, or you can visit them online at www.Myspace.com/stonecuttersky.
Caldera EP Coming Soon:
Louisville brutal metal maniacs Caldera are about to unleash In A Field Of Broken Glass, a 4-song EP. It should be out sometime in the next month or two. I'll keep you informed on the CD release show. These guys have come a long way and worked hard to get there. Try to get out and see them soon.
Bash Of The Month:
It seems there is a band manager of a top band here in town who go books shows and then cancels at the last minute without telling the promoters or the venue. I'm not trying to start chit, but in what alternate universe is that acceptable professional behavior? First of all, it's happened several times, not just once or twice, and with other bands he's handled, too. Secondly, it's a major hassle to the promoters and venue, who must advertise in advance. Do you not think we could have given another band the welcomed opportunity for exposure? Dude. WTF? Third and finally, it sucks to be treated like crap from someone you thought you were friends with.
I've got one message to you, bro. You are a professional, so act like it. All these cancellations hurt the band's reputation. Peace.
Man Mows His Toe:
Marcus Goldsmith, my former band mate from The 13th Level and now bassist for Caldera, was mowing the lawn when he slipped on the hillside and fell partially under the mower, instantly hacking off his big toe with a dull, rusty mower blade. The cut was too jagged and the toe too mangled to re-attach, so he'll just have to get along without it. (It makes walking very difficult.) My bro has been in much pain and on much painkillers, I bet (don't overdose on them, you fool!), so I'd like to wish him a big "Get Well You Longhaired Bass Playing Freak!"
False Witness Changes Name:
The band False Witness had to change their name because a band in Atlanta already has the name copyrighted. The new band name is Last To Reconcile. Their MySpace is www.myspace.com/lasttoreconcile
Ask Eddy?
Aight. I'm going to ask you readers a question? Do you think I should start up a small advice column? You can ask me about anything. Advice on your problems, musical instrument, band info, relationships, whatever. I'm here for you readers, so if you need an honest answer from the heart, I'm your man
People, let me know what you think of this idea. Eddymetal1@aol.com
Upcoming Shows
Bulldog Cafe
Friday October 6 Caliban, Acacia Strain, Too Pure To Die, Holbrook, Light This City and Tonight We Fight. 7 p.m. $12 All-ages.
Wednesday October 18 - Decapitated, Caldera, Anagnorisis and Absymal Dawn.
Saturday October 21 - Remembering Never, Full Blown Chaos, The Warriors, War Of Ages and Sulfate. 7 p.m.$12 All-ages.
Tuesday, October 31 - HeavyHeavyLowLow with Ed Gein, Ligeia, Nights Like These, Jeny and Heartbreak Kid. 7 p.m. $10 All-ages.
Fern Creek Community Center
Friday, October 13 - 7Daysun, Left For Dead (Illinois), Caldera, Halfway Hollow, Subrosa and Know Lyfe. 8 p.m. $5 All-ages.
Headliners Music Hall
Friday, October 13 - Born Broken. 9 p.m.
Thursday, October 26 - Gwar, The Red Chord and Municipal Waste. 7:30 p.m. $17 adv., $20 DOS.
Iroquois Amphitheater, Iroquois Park.
Saturday, October 14. Villapalooza - A benefit to Kosair Children's Charities. Featuring Of Sound Mind, Nova Red, Wasted Day, s, Dogwater, Sow The Seed, Grindstone, I Will Defy, Thorn, Full Nelson, Shine Runners, and a My Own Victim reunion featuring the original members, and a performance by Grotesque Burlesque. 12 noon to 11 p.m.
Phoenix Hill
Friday, October 6 - The Original Rock Showcase Series: Surviving Thalia, Shatterstone, Phearus and Jefferson County Drunktank.
Friday, October 20 - Born Broken.
Friday, November 3 - The Original Rock Showcase series: Never The Man, Echoes Aim, Born Broken and Undone.
Friday, November 17 - Eddy Metal Productions presents the Rock For Kosair 2 Benefit, featuring Ugly; Antikythera; Wasted Day; s; 7Daysun; Prey For Maria; Arcaine Saint; Subrosa; 16 Bones; Sow The Seed; Acoustipimps; Surviving Thalia; Evil Engine # 9 and Sixth Floor. Two guitar giveaways! $6 8 p.m. Sharp.
Outtatownerz and Otherz
Crump Theatre (Columbus, IN)
Friday, October 6 - Caldera, Maltese Cross, Legion and Opiate. $8 All-ages 7 p.m.
Props of the Month
This month's props go to promoter Terry Harper for bringing in old school thrashers Exodus and Napalm Death as well as newer hardcore heavies Hatebreed and Black Dahlia Murder to Headliners in September. The place was packed and everyone had a great time. I know I did. Metal fans in Louisville should be very happy to have such a metal fan for a local and national music promoter, because otherwise we would surely be passed up by these tours Great shows, dude! Keep it up. When is Slayer coming, bro?