I've Got A Mind To Ramble
Down By The Riverside
Madison
We are in the middle of the blues festival season, with plenty of music down by the riverside. The Ribberfest in Madison, Indiana, has had a successful five-year run, with the barbeque getting equal billing with the blues. When I arrived Friday, August 18, the smoky air hung heavy with savory odors of pork. It was hog heaven. Some of the elaborate cookers looked like polished, miniature steam engines. The competition was intense with the Indiana State Champion Cook-Off sanctioned by the Kansas City Barbeque Society for the pros and the Backyard Barbeque Blast for the amateurs. Pigmania attracted 39 decorated concrete pigs that were on display by the riverfront.
Once through the barnyard, I came around to the stage where the blues reigned supreme. I had come especially to hear Roy Rogers & The Delta Rhythm Kings. I had not seen him perform since he was in Louisville at Phoenix Hill Tavern in 1987, backing John Lee Hooker with the Coast to Coast Blues Band. Rogers later collaborated with the Boogie Man on Hooker's The Healerand Mr. Lucky Grammy-winning albums. Rogers' influence is also rooted in the Mississippi Delta, but unlike Hooker, he has mastered his own slide technique over the last twenty-five years. Rogers' songs are light on vocals but heavy on extended riffs with variations on rhythm patterns. He frequently opens a song with a long solo introduction and then hits you with the whammy of his slide at an incredible speed.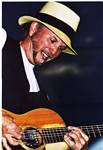 Photo By Keith Clements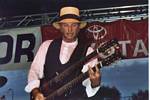 Photo By Keith Clements
There were tributes to Robert Johnson with "Terraplane Blues" and "Kind Hearted Woman" and Hooker with "Ramblin' Blues." He alternated between playing an old miked up hollow-body guitar and a double-necked monster Gibson, where he switched between necks on "Get Back In Line."
The Delta Rhythm Kings included Steve Ammon on bass and Billy Davis on drums, who showcased Rogers' smoking solos. They closed out their inspired set with an encore of "Walking Blues." Rogers is based in northern California and has performed on the "Sierra Center Stage," a California version of "Austin City Limits."
Carrollton
A little further up the Ohio River, the Blues To The Point Festival in Carrollton, Kentucky, was resurrected on September 8 and 9, after a year's hiatus. This festival had a ten-year run from 1995 to 2004 with many high points during that decade. The festival was birthed with Lonnie Mack reverberating his Gibson Flying V and tempting his fans with "Oreo Cookie." KoKo Taylor threw a "Wang Dang Doodle" with her Blues Machine and Kenny Neal jammed with the campers after his show in 1997. The 1998 festival had a strong Chicago connection, with Son Seals headlining on Friday and Magic Slim and The Tear Drops on Saturday. Bernard Allison wore his trademark rattlesnake hat and carried the memory of his father, Luther, playing "Bad Love" in 1999. Lonnie Mack returned in 2000, joining Tinsley Ellis for an encore of "Cincinnati Jail." In 2001 Eddie 'The Chief' Clearwater arrived at the pavilion riding on the back of a motorcycle, playing his guitar and wearing his traditional headdress. The 2002 festival featured the stellar line up of Roomful of Blues, Bob Margolin with Pinetop Perkins, the Nighthawks and Ronnie Baker Brooks, all in one evening. Tab Benoit and Jimmy Thackery and their bands jammed together for a final set in 2003. The decade closed with Big James & The Chicago Playboys putting on a high energy show, with James stroking his trombone.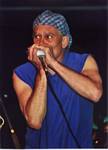 Photo By Keith Clements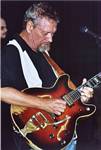 Photo By Keith Clements
The festival became less organized the last few years and needed a year off to regroup with new personnel and ideas. This year's festival was a rebirth, with an emphasis on local and regional talent. Carrollton seemed friendlier with "How ya doin'?" greetings on the street and lots of smiles. Jarrett Boyd, the originator of the festival, was involved again helping at the festival booth. There were several large tents for protection from the sun and no access restrictions around the pavilion. An acoustic stage, providing continuous music between the main acts, was improvised in front of the restroom shelter. The food venders were sparse but appropriate to the size of the modest crowd. Lamont Gillispie closed out Friday night and Tim Krekel teamed up with Greg 'Fingers' Taylor to headline Saturday night. Krekel and his band TKO had a busy day, first playing at the Original Highlands Festival in Louisville in the afternoon, then doing their own set, followed by another set backing Taylor, in Carrollton. Pairing these two together was like a reunion for Jimmy Buffett fans, as they had both played in Jimmy's Coral Reefer Band. A group of a dozen Parrot Heads descended on the large lawn and set up a tent to cheer for their heroes.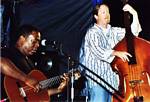 Photo By Keith Clements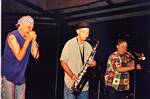 Photo By Keith Clements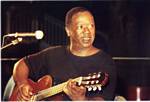 Photo By Keith Clements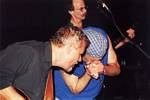 Photo By Keith Clements
Taylor began his formal musical training on piano in Wichita, Kansas, with a deep interest in R&B. When he moved to Jackson, Mississippi, he delved deeper into the blues, playing with Fred McDowell and Joe Willie Wilkins. While at the University of Southern Mississippi, he was known as "Fingers," due to his piano prowess, but soon picked up the harmonica because it was more mobile. After college he joined Larry Raspberry and the Highsteppers, first in Memphis and then touring the country for over two years. In 1974 Taylor joined Buffett's band, a gig that lasted for eight years and nine record albums, three of which went gold and two platinum. Taylor became the most recognizable member of the Coral Reefers, soulfully blending his harp with Buffett's distinctive sound. After Buffett, Taylor toured and recorded with James Taylor in 1980. He later settled in Jackson, Mississippi, where he recorded "Harpoon Man" with Anson Funderburg on the Red Lightin' label. He now lives in Oxford, Michigan, where he is raising a family with his wife, Amanda and two sons, Steven and Hunter.
I've heard Tim Krekel playing around Louisville many times, but not as a featured blues headliner. When he tuned up his well-worn sunburst hollow-body guitar and stepped on the right pedals, he played some convincing blues licks and made me a believer. The TKO's horn section included Donn Adams on trombone and Michael Murphy on sax. The rhythm section had Mike Alger on drums and Mike Williams playing bass. During "Blue As Blues Can Get," Eddie Hysinger came up and blew a little harp. "Fell Down in Memphis," "Ain't No Free," "I Won't Leave You Alone" and "Sunshine Girl" were staples from Tim's repertoire.
Since Krekel's backyard backs up to the Evergreen Cemetery where Wilson Pickett was laid to rest, Tim composed the humorous song "They Buried Wilson Pickett In My Backyard." During the break between sets, Tyrone Cotton and Danny Kiely entertained the crowd that drifted to the acoustic stage. Tyrone took everyone back to the basics with his elemental guitar work and stripped-down guttural voice. This was the purest blues of the festival. He sang songs from his recent CD, including "Breaking Away" and "High Water Rising." His enthusiastic new fans wanted an encore after his brief set and he obliged with "I Keep On Drinkin'." Danny provided the right tempo on upright bass.
It was back to the main stage for Taylor's finale. By this time, the sky was dark following a beautiful sunset and the cool, damp air was settling in over the festival. Taylor is an animated performer in constant motion. His blue sleeveless shirt was soon drenched with sweat, and steam blew from his mouth and harp. He was smokin'! He opened with a couple of blues, "Sun Shining On Both Sides of the Street" and "Kicked In The Head by the Jackson Police." "One More Iko" was a tribute to Jimmy Buffett. Krekel played a powerful guitar solo on the slow blues, "Last Night I Lost The Best Friend I Ever Had." Late in the set, Taylor blew out his harp amp and had to blow through his vocal mike. That didn't deter him from performing inspired versions of "I'm Going Over The Fence" and "Go Little Queenie." It is good to have the Blues To The Point Festival back on track for the setting makes it one of the most relaxing and informal festivals you can attend in your own backyard in Carrollton.
J-Town Gets The Blues Dale Cashon, the promoter for the Jeffersontown Crusade-Blues Festival has a dream to make Jeffersontown become Bluestown. He has taken it a step closer by booking blues into the Sports Page Bar & Grill every Friday. This venue is located just off Taylorsville Road on Hopewell Road, just inside the Gene Snyder Expressway. The bands for September are Sheryl Rouse on the 22nd and the Mudcats on the 29th. October will feature Sue O'Neil and the Blues Hounds on the 6th and River City Blues on the 13th. He is planning to have blues there through the rest of the year and, if it is successful, do it full time. Dale has also booked blues at Chris' Place at 10317 Watterson Trail near Billtown Road. Chris' Place is an historic old structure once known as the Blankenbaker House, built in 1890. Next door is an open shelter where there will be a Que and Blues Bash on October 13 and 14. Help make Dale's dream come true and support the blues in J-Town.