I've Got A Mind To Ramble
Play It Again, Sam
Upon hearing the news of Sam Myers' death, I talked with Lamont Gillispie about his relationship with Sam. Sam had a special connection with Louisville through his long friendship with Lamont, his gigs with Anson Funderburgh and the Rockets at the Kentucky State Fair, recording on Scott Mullins' Rollin' and Tumblin' label and the benefit held for him last year at Stevie Ray's.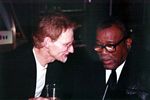 Photo By Keith Clements
Sam was born in Laurel, Mississippi seventy years ago and his life personified the life of a bluesman. He was visually impaired at a young age and because his family was black and so poor, he couldn't afford the necessary surgery to correct his sight. Lamont said Sam was never bitter about this circumstance. Sam was quoted as saying, "I might be blind, but I don't have a blind mind." He had been performing the blues for over fifty years, starting at the Piney Woods Country Life School playing trumpet and drums and singing with the Ray of Rhythm. The radio program "Black and White Jukebox" on WJXD broadcast this vocal group on Saturdays. Sam's talent was recognized and he received a scholarship to the American Conservatory School of Music in Chicago in 1949. Sam's real musical education came in the blues clubs, sitting in with the Who's Who of Chicago blues, including Elmore James and the Broomdusters. Sam returned to Jackson, Mississippi in 1956 where he spent the next thirty years. He fronted the band King Mose and the Royal Rockers and recorded "My Love Is Here To Stay" and "Sleeping In The Ground" on Johnny Vincent's Ace label.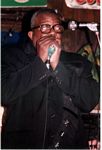 Photo By Keith Clements
Bobby Robinson had Sam record "You Don't Have To Go" and "Sad, Sad, Lonesome Day" on his Fury label in 1960, which became a regional hit. A year later, Sam recorded with Elmore James, playing harp on "Look On Yonders Wall," and drums on "It Hurts Me, Too" for the Fire label. Sam continued to play in local clubs like Richard's Playhouse and the Sunset Inn often teaming up with guitarist Jessie Robinson. He also was in the house band for the Wednesday talent contests at the Alamo Theater in Jackson during the 60s.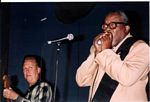 Photo By Keith Clements
The Mississippi Delta Blues Band featured Sam on harp and vocals from 1979 to the mid-80s. They toured Europe and recorded several LP's for TJ Records. Then the musical marriage was made between Anson and Sam. Anson had wanted to collaborate with Sam, which resulted in some touring, headlining at the 1983 San Francisco Blues Festival and performing during the Louisiana World Exposition in 1984 in New Orleans.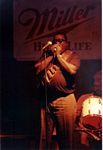 Photo By Keith Clements
This is where Lamont comes into the picture. Lamont and Dickie Durlauf had disbanded the Stray Cats in Louisville and decided to seek their musical fortunes in New Orleans in 1983. Lamont and Dickie briefly "put a thing together," playing at a bar on Canal St. while living on Jefferson Davis Drive. Dickie was raised in a musical family and was tuned onto the blues. He persuaded Lamont to see Sam and Robert Jr. Lockwood perform at the Pete Fountain Tent at the Exposition. Lamont introduced himself and they struck up an acquaintance that was to endure. Right off, Lamont noticed Sam's tone. He was blowing his own style. Sam continued to play on the weekends for three months, alternating sets with Snooks Eaglin. Lamont and Dickie returned to Louisville in 1987.
Those weeklong gigs with Sam and Anson and the Rockets during the Kentucky State Fair in the Miller Beer Tent started in 1988 and continued for four summers. It didn't take much for Lamont and Sam to get reacquainted, as Sam had a good memory, recalling Lamont's baby boy.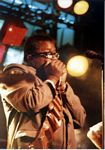 Photo By Keith Clements
During that first summer, Anson was gone a lot during the day recording a record with Delbert McClinton in Nashville. Lamont had the Homewreckers then and with some direction from Scott Mullins got Sam to play at Uncle Pleasants for a live show on the "Saturday Night Blues Party." Sam alternated with Lamont on vocals and harp with Paul Tkac, Ricky Mason and Jimmy Brown wrecking the house down.
Every time Sam came to town during the Fair, Lamont would sit in with the band during the last set while Sam played the drums. When the Homewreckers had their own gigs, Sam played with the band at the Cherokee Blues Club and Churchill's, closing those bars down each night. Lamont said, "It was very easy to book a gig during that time, knowing that Sam would probably be there."
Lamont and Scott got Sam to record several times on the Rollin' and Tumblin' label. Sam would always oblige by saying, "Sure, I'll help you out a little. I'll give you a little suggestion here and there." But when they got in the studio, Lamont said, "the music in Sam would take over and before you knew it he would be doing the whole damn thing." Sam would set the meter by swinging his right arm to let you know if you were too fast or slow. . His harp and deep, mellow voice can be heard on Heavy Harp and Santa Is A Bluesman Vols. 1, 2 and 4. When Sam was recording "Sam's Jam" on Heavy Harp after his two opening leads, he handed his harp to Lamont. Caught off guard without his own harp, Lamont did his solo and handed the harp back to Sam. Lamont was very proud of sharing on that recording. Santa is a Bluesman Vol. 4 had the 100 Proof Blues Band backing Sam on "Can't Find A Present Anymore." Lamont changed the name of the Homewreckers to 100 Proof when Ricky Mason left and Mark Stein took over guitar duties.
Lamont stayed in touch with Sam during the 90s. Once when Sam was visiting Lamont after the holidays, they were walking in The Mall. When they went by a baseball card shop, Sam went in and purchased two expensive cards. He said to Lamont, "Give these to my grandsons, Jimmy and Josh (Lamont's sons), because I wasn't around at Christmas this year." Often when the band came to town, Lamont's wife, Katie, would bake banana nut bread. Anson said, "He would hoard that stuff like it was gold from Fort Knox." At that time they toured in what Lamont referred to as a "SWAT team truck." It was like an old potato chip truck painted dark blue with a couch inside. After the truck broke down, they got the streamline bus.
In December 2000, Sam came to Louisville to do a "Live Lunch" on WFPK. They had to do a sound check at 7 a.m. and Lamont was going to have Sam sleep in at his place, since it was cold, icy and early. Sam said, "Aren't I going to be on the show? Well, why in the hell ain't I going?" Lamont didn't want anything to happen to Sam since he was to go overseas with Anson soon. But Sam would have none of that and was interviewed on the air that morning. That night they put on a great show at Churchill's.
Later, Sam came for Paul Tkac's benefit at Stevie Ray's. Katie and her two friends, Joyce and Denise, who were known as the Wreckettes, drove to Chicago to get Sam. When they arrived at the hotel, everyone there knew they were the girls coming to pick up Sam. Sam had a bout with the gout and they had to search all over the north side of Chicago for some grape tonic for a cure.
Sam's benefit was in 2005 and there was a great turnout of fans and musicians, including Tim Krekel, at Stevie Ray's. They raised over $2000. Lamont and his bass player, Byron Davies, took the money to Sam in Dallas the same weekend that Paul Tkac died. Sam told his friends for two weeks how proud he was of his friends in Louisville who helped him out.
Byron's sister, who lives in Dallas, first heard about Sam's death during the morning news on July 17 and called Byron, who contacted Lamont. There were three women, Joanna Iz, Ravis Gathrie and Brenda Greer, who lived in the same apartment complex near Sam that looked after him. Lamont referred to them as Sam's Angels. They were there with him at the end when Sam choked and could not be revived by the paramedics.
There was a funeral service for Sam on July 21 in Dallas and then he was flown to his hometown in Jackson, Mississippi. The funeral service was at People's Chapel on July 22, with Rev. Joe Washington officiating. "Fingers" Taylor and Jesse Russell played a musical tribute on Farish St. in front of the funeral home. Lamont got to sing a song along with Joe Jonah, Sam's best friend from Dallas. When the funeral procession was lining up to drive to Laurel, Mississippi, Lamont's car would have been directly behind the hearse. He didn't want to drive one hundred miles staring at the back of Sam, so he rushed to get his car turned around and tore up the spoiler on his new car.
People said that if you got separated from the convoy, the chances of finding the gravesite on your own was nil. Anson had to stop for gas and arrived late. Lamont helped carry the casket to the grave along with Joe. When they were ready to put Sam's casket into the ground, Lamont asked Joanna if he could put one of his harps in the grave. There was a little drawer on the side of the casket where Lamont placed his harp, so a small piece of Lamont is buried with Sam. Sam always referred to Lamont as Brother Joey.
Anson will eventually get back out on the road again. He had been doing a few gigs in Dallas with Kim Wilson and is enjoying his new baby boy. Sam's shoes will be hard to fill. Sam's Angels have suggested Joe Jonah, who sings and plays harp, to carry on Sam's legacy, but that remains to be seen. Sam's twenty-year career with Anson and the Rockets fused his Mississippi blues with Anson's Texas blues, producing ten W. C. Handy Awards. They reigned as one of the best national blues bands, building a loyal following in Louisville.