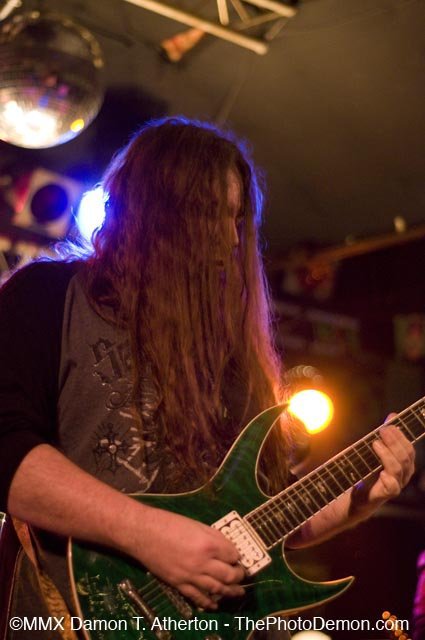 News From the Pit
Gentlemen, a bit of advice from your now really humble heavy metal columnist: Never, ever under any circumstances put Nair hair remover on your scrotum.
Trust me, it's not pleasant. I made that mistake when a woman suggested it and brought over some hair remover that was supposedly for very sensitive skin. Um, right.
I had never done it before and was nervous about putting a form of acid on my stuff, but the chick re-assured me it would not bother me.
I'll choke a bee-yotch. That chit liked to have burned my privates off!
I was running around the house yelling. It was like laying my testicles on a bed of burning coals. Oh, well, chit happens.
Other than that, things Louisville musicwise have been going well. I went to see Hurt and Of Sound Mind (see review) at Headliners, Ugly and Subrosa at the Hard Rock Cafe, (which was my first visit there) and Tantric (see review) at the Phoenix Hill Tavern, which was a babe fest like no other. I was supposed to go to the 502 Floyd Street Festival but my plans got screwed and I ended up at Hard Rock Cafe.
On the non-musical side, there's a big fight coming up at Louisville Gardens on September 9 featuring Chicago heavyweight Oliver McCall. I'm a fight fan and I'm looking forward to seeing another boxing match in Louisville. Props to promoter Chris Webb for bringing the fight to the Louisville area! Hopefully, I'll see some of you out there. LMN will have tickets to give away. Read the online version of my column for more info.
I'd like to thank all of you concerning the response I've gotten concerning the TV show LMN is working on. It has been overwhelming. Now I know that once it gets going and started, that I will have the support of all you people who love Louisville music.
I just have to ask you to be patient, because this is going to take some time to get going. I'm probably the most impatient mofo you've ever met, so don't think I'm BS'ing around. The caliber of TV show we are thinking about will take time, money and sponsors to do correctly. LMN has gotten the support from 93.1 the Fox, who will be a sponsor of the show. It's confirmed and I'm glad to have them backing us.
Oh, yeah, the Second Annual Rock For Kosair concert is coming up on November 17 at the Phoenix Hill Tavern. We Louisville bands will have the whole club to rock out to Louisville music, so I'd like to see all of my readers out there for this one. Helping sick kids have a good Christmas is a VERY good cause and one that made me very proud last year.
We'll be having more guitar giveaways again this year, so get there early for a chance to win your own axe! Don't forget, I love to hear from you readers, so contact me any time you want and tell me I'm lame, or that I do a pretty good job, or that I should shut my fargin piehole. I won't do it, but I will check out what you have to say.
Seriously, folks, thanks for the continued support of this article and all the stuff I do for the Louisville Music scene. You cool people make it worthwhile.
Bands - don't forget to send me your info, news, show dates and cheesy gossip no later than the 18th of every month. Eddymetal1@aol.com
Peace out!
The Metal Grapevine
Tantric At The Hill: A few years ago, I saw my friend Crystal, who's dating the drummer for Tantric. She introduced me to Matt Taul, her boyfriend.
I saw the opportunity to do some Tantric coverage. I jumped at the chance, asking them if they would be interested in playing the Hill, or maybe doing an interview in LMN.
I was thinking they would love to do a story in their hometown music paper, but I guess it wasn't to be. I asked them if they would be interested to play the Phoenix Hill Tavern, but was quickly denied and told that they were getting over $50,000 a show these days. I tried to help and work with them as best I could, but I'm not about to beg anyone, so I let it be and left feeling rather dissed by the local boys done good.
So here it is a few years later and I find myself reviewing their show at the Phoenix Hill Tavern. The band put on a great show and had the place packed like sardines in a can, most of whom were hot chicks oohing and aahing over the band.
Pretty boys or not, these dudes can play! The sound from the PA was funky at first; you couldn't hear the guitar very well, but after a song or two, someone turned Todd Whitener up, thank goodness. He really is a great guitarist, sporting a few Custom Paul Reed Smith guitars, complete with a crazy universe inlay on the neck: planets, the sun and a shooting star. Must be nice to be able to afford such a nice axe.
He's definitely got a bigtime blues influence, as well as some classic rock and some metal thrown in. Vocalist Hugo Ferreira sounded great. He looked tired, but his vocal performance was top notch as he sounded pretty much just like the CD.
The band went through all their hits from what I remember, the highlights of the evening being "Breakdown," "Mourning," "Hey Now," and even a cover of The Beastie Boys "No Sleep Till Brooklyn."
And they played a brand new song that was the heaviest that I ever heard them do. It was also the best song I've ever heard from them. The new stuff is good.
The night ended with a breakdown of each member of the band - except Hugo - going into their own little solo, which lasted about five minutes each. I really liked this part. People got to see how talented the band really is. The guitar solo was fat, the bass solo by newcomer Bruce Lafrance was fargin great, the drum solo was cool and overall it was very neat to see a band doing this stuff again. Not many bands do that kind of stuff anymore.
Seeing Tantric "live" in this close environment makes it easy to see why these guys have tasted the bigtime and are still kicking and getting ready to put out a new CD. Oh yeah, they draw the babes, too.
LRSfest Coming: On September 9, at Waterfront Park, LRS will be having another outdoor concert. National acts that are playing are Three Days Grace, Hawthorne Heights, Head Automatica and Rock Kills Kid.
Louisville acts include: Intheclear, Subrosa, 7DaySun, Antikythera, Institution and Two Pump Chump. I don't know about you, but the national bill sounds pretty weak (then again, I'm not into alternative music) and if I did go, I'd be much more interested in seeing our local original bands kick some booty. So get out there and support Louisville rock!
Hatebreed, Napalm Death and Exodus Are Coming: Anyone remember these guys? Hatebreed w/ Napalm Death, Exodus, Black Dahlia Murder, Despised Icon and First Blood will be playing on Thursday, September 14th at Headliners Music Hall. Wow, what a lineup. This is a "can't miss" show that will no doubt sell out fast.
So if you're interested in seeing this old school death/power metal feast, I suggest you get on the ball A.S.A.P. or you could be chit out of luck come day of show.
Hurt Review: I was looking forward to seeing Hurt at Headliners and, boy, was I right. It was a great show, indeed. The crowd wasn't near as packed as I thought it would be, but the bands rocked nonetheless. Of Sound Mind opened the show with a killer set that ended up rivaling that of Hurt's. Then a band came on called I-9 or something, who were pretty good themselves, sporting a blonde female frontwoman who could sing well, even though she looked like a hippie version of Pippi Longstocking, complete with pigtails. I-9 was on tour with Hurt.
Then Hurt hit the stage and laid out a musical melodic smorgasbord of hard rock. Well, maybe not hard rock, heck - I don't know what they are. But they rock.
They mix several types of music into one rock sound that is very melodic and somewhat eerie sounding. I heard a lot of music I hadn't heard by them before at the Staind show because they had much more time to play this time around. Vocalist J. Loren is a very talented fellow and genuine nice guy who looks a bit too much like the blues brothers to me. Who gives a crap though, because Hurt is different and I dig them. You hear blues, rock, metal, acoustics, violins and they use it all perfectly.
The first song was "Rapture" (now an MTV hit video) and I was like, cool. It kind of reminded me of Tool, but not as offbeat. Of course, the best song of the night was "Rapture" and the weird, melodic "Dance Russe." I stayed till the very end and the band signed autographs for the fans for the longest time, being very cool dudes. Heck, the singer came up and talked to me earlier in the evening and I didn't even know it was him.
This is one non-heavy metal band that is real good. Nice guys who deserve to become big stars in the future. They go on tour with Alice In Chains in October, so I think that will be a very cool step in the right direction.
BTW, Alice In Chains' new singer is William Duvall and he's supposed to be very good at the Staley-esqe vocal approach. Thanks to Bill Hardison and 93.1 the Fox for bringing them here. Maybe they can get the Alice In Chains Tour to come here. Hint, hint.
Ugly Gearing up To Stomp Skull: The debut record, Swank Motel, will be released in February 2007 and will be produced by Rick Parashar, who has worked with the likes of Pearl Jam, Alice In Chains, Bon Jovi, 3 Doors Down and Nickelback. Expect a single to come out around Christmastime. You can see them on September 30 at Headliners and November 17 at the Kosair Children's Hospital benefit show. I wish my bro's in Ugly all the best.
Intheclear Hitting The Road: The band will be heading out on tour in early November with San Diego band The Accident Experiment featuring Marcos of P.O.D. The band just released a video update at www.myspace.com/intheclear
They'll have a CD release for ninteyseven11lyriclane sometime in the late fall here, plus they will be featured on the AandR Worldwide network Sounds like these guys have finally got some serious momentum building up here. I for one can't wait to hear their new CD. I better get the first fargin copy!
Empyrean Asunder CD Out Now: The second full length CD from Louisville shock rockers Empyrean Asunder, Love At Your Own Risk, is finally out. It has fourteen tracks plus a bonus remix from legendary industrial band Razed In Black. The release show is September 15 at Main Street Lounge, with Absence of Faith. $2, 21+ 8 p.m. Also, the band is looking for a new drummer. Contact Eroxthis@aol.com Check them out at www.myspace.com/empyreanasunder
Kinsey Lookin For Vocalist:   The excellent Louisville rock band Kinsey is in need of a dedicated, killer singer who can actually sing. Cory at Kinseyband@hotmail.com  or 376-5387.
Rock For Kosair 2: On Friday November 17, I'll be putting on another Christmas benefit concert for The Kosair Children's Hospital, when they need toys for needy sick kids the most. Last year Louisville's original bands raised $3700 dollars worth of toys for the kids, and the fourteen-band concert was a great time. This year we are still going to have guitar giveaways and up to fourteen Louisville original bands playing on all the Phoenix Hill stages. We're aiming for $4500 dollars worth this time! Last year it was two truckloads of toys; this time I want to take three! Any help raising toys would be appreciated. Eddymetal1@aol.com
Bands confirmed so far are Ugly, Antikythera, Wasted Days, Arcaine Saint, 7Daysun, Shatterstone, Prey For Maria, Subrosa, Sow The Seed, 16 Bones, Acoustipimps and Sixth Floor. 8 p.m.
Subrosa Review and Such: Well, I finally saw these young rockers and I must say that I am quite impressed. The buzz about this young band was well founded.
These guys have got it down. The vocals of Richard Hudgins are powerful, melodic and as mature as vocals can get. Dude has some range and good vocal technique. The musicianship of the band is darn good, too. You never would think that these guys aren't yet 21, if you were to hear the CD without seeing them. They have pro gear, a pro sound and a very good attitude towards everything. We need more bands like this in Louisville. I can honestly see these guys getting signed in the next few years. Musically, they reminded me a little bit of Intheclear, with whom they are good friends. Hard-working manager Tony Delph seems to be a great ally to the band and a great guy as well. You can see Subrosa play LRSfest around 4:15. Don't miss them.
Caldera's New CD Almost Here: Death metal groove monsters Caldera will release Playing In The Field Of Broken Glass, a four-track E.P., in mid-September. Wanna hear a taste of what's on it? Check out "Deer Meat" and "Trust Within" at www.myspace.com/calderamuzik or www.louisvillemojo.com/caldera. Support Louisville's brutal stuff.
Give Me A Dollar: I was complaining about being broke to my sponsors Uncle Samm's Jamms and not being able to go on vacation this year, because I hurt my back pretty bad at Sevendust. Store owner Pam Hillerich came up with a sweet idea. She said I should ask my loyal readers for one dollar each, so that my broke butt can go to Vegas or down to Miami for a few days. I know you peeps don't have money falling out of your bungholes, but it would sure be nice if you readers helped me out with a buck. If you truly like my article and goofy writing and remarks, then send me a dollar. It would mean a lot and be greatly appreciated. This year has sucked because of my back injury, which still isn't fully healed (I shoulda sued), so please hook a broke mofo up. Send to: Eddy Metal's Thailand Sex Tour (j/k, ha ha), 4006 S.5th Street, Louisville, 40214
Oscar Brown Axing Louisville Rock: After Friday, September 1, bar Oscar Brown's will be mo longer book original rock. They will be having a good-bye bash with 7DaySun, SubRosa, Caldera, Prey For Maria, Institution and Silent Project on September 1 The show starts at 7 p.m.
False "Fargin" Witness: The metal band False Witness will release a 15-song CD in mid-September. A CD release show will be scheduled around that time. www.myspace.com/falsewitnessband
Bash Of The Month: My buddy Bizkit and the band he manages, Wasted Days, were scheduled to do a live interview at a local radio station but were kicked out of the building before it happened. The reason: the radio station said he was employed by 93.1 the Fox and so he and the band weren't welcome there.
Now Bizkit has friends at the Fox, as I do, but neither of us is employed by the Fox or has ever been on the payroll. Bizkit is merely a dude trying to get radio play for the band he manages, and for that radio station to be so rude, well, it answers some questions as to why they have treated me so badly as well.
To This Station: Bizkit and I are neutral. Do you understand this? Neutrality means that we support all who wish to be involved with things we do. As a rock news reporter, I report the news from ALL stations, all rock bands, regardless of who they fargin know! All they have to do is send me the info. All you did was make your station look petty.
Third Street Dive, A Punk Bar: My pal Skinny Vinny, the former punk rocker, took me to a new venue called the Third Street Dive, a club that mocks the commercialization of the ultra-preppy 4th Street Live. We walked in and it seems like a pretty cool place, indeed. A neon skull and crossbones is the club's logo. Underground as a mofo, gothic and punk hardcore peeps were everywhere. They have a tiny stage and an even tinier P.A. system. If they get a new system, I think it could become a cool place for hardcore, punk and metal bands to play. Third Street Dive is located on Third Street, next to the water company.
Go check it out: the people are very nice there and you can party down without being watched like a hawk by security folk. The owner Steve breathes fire every night and the drinks are pretty darn cheap. You can see Arcaine Saint there on Friday, September 15 at 9 p.m.
Undone Rocks: I had never heard Southern Indiana's Undone, but when I saw them, I was shocked at how good they really were. Not that I thought they'd suck, of course, but usually I hear a buzz about a new band. I had heard absolutely nothing about this band. Meeting them for the first time made me wonder, because they look well-groomed, clean-cut, wholesome preppy guys - until they started rocking. Then they became Satan!
Vocalist Joe Randolph was very persistent about getting the band some gigs, so I gave him a show and they absolutely ripped it up! Super tight, pro sound, great vocals, great musicianship, smokin' guitar; heck, Undone rocks. The sound is hard toys with rock, plus some blues and metal. The result? Some pretty badarse chit. I just wish I had booked them sooner.
7Daysun To Record Full-Length CD Soon: The band told me that they will record a full-length CD starting in October. The band has been doing very well here of late, playing out a lot plus quite a few out-of-town gigs: Atlanta, Kansas, Cincy. These guys aren't fooling, they're going for broke. You can see them at LRSfest on September 9.
New Band Alert - Holbrook: A band dedicated to and named after a well-known young, talented drummer, Nick Holbrook, who died at a very early age, is getting ready to make some noise. Members include former From Within, Life Of Decay and Artificial Zero band members, so they have experience. You can see them on October 6 at the Bulldog Cafe. Be there!
Indie Rock/Reggae Bassist Needed: Rob Bingham, formerly of Echos Aim, is putting a new band together and they need a funky bassist to complete the lineup. Rbingham7@yahoo.com
The Decapitated Rose: Here's a humorous tale from the Eddy archives:
Recently, a girl I was supposed to go out with stood me up without even calling or attempting to let me know our date was cancelled. It was annoying but I really didn't care all that much, so I went about my business. A few days later, I saw her at the Hill with friends. She walked by and waved like nothing was wrong. Whatever, it re-annoyed me. Later that night, one of her friends came up and said something to the effect of that they were talking about me. I grabbed a rose stem someone had torn the flower off from the bar, walked up and presented it to her, just like in the "The Jerk," when Steve Martin gave a girl daisy stems. I said "Merry Christmas," patted her on the back and departed.
Her friends about lost it. I could hear the laughing as I walked away.
The chick ended up me tracking me down, saying she really deserved it and she made up for her error. Women, sheesh.
Upcoming Shows
The Bulldog Cafe
Saturday, September 16: From Rise To Ruin, The Depravity Scale, Year Of Desolation (Prosthetic Records), and Burn The Silence!!! $5 21+ / $7 Under 21 / All-ages. Doors 7pm / Show 8pm
Headliners
Friday, September 8: Return To Self (TN), Chamberflow, Evil Engine # 9 and P.Y.L.O.T. All ages. 8 p.m.
Saturday, September 30: Ugly, Nova Red and Subrosa. 8 p.m.
Main Street Lounge
Friday, September 15: Empyrean Asunder and Absence Of Faith. $2 21 and over. 8 p.m.
Phoenix Hill Tavern
Friday, September 1: Of Sound Mind, Dogwater, I Will Defy and Born Broken.
Saturday, September 23: Neil Zaza.
Friday, October 6: Shatterstone, Surviving Thalia, Phearus and Hearsay Theory.
Friday, November 17: Rock For Kosair 2. All proceeds go to buy toys for ill children at Kosair Children's Hospital.