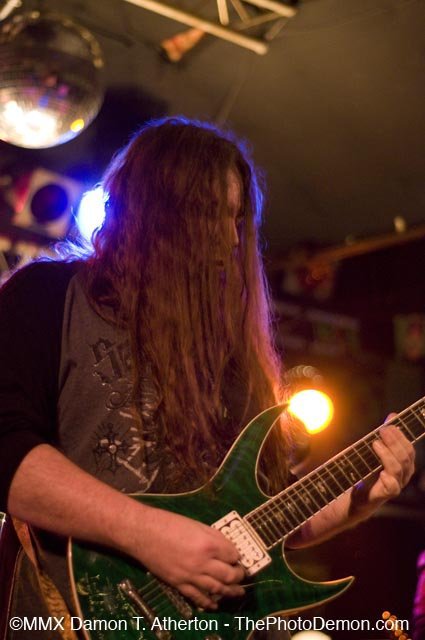 News From the Pit
Looking Forward To Derby
Yay, springtime is here and it's almost Derby. Sweeeeeeet. That means my whole neighborhood will be a party-zone from hell. I could tell you about some of the debauchery that's occurred around here at Derby, but it would be a long, long story.
There are quite a few fat concerts coming up: Killswitch Engage (this band is very popular these days), Zakk Wylde's Black Label Society, Lacuna Coil (just added recently), The Haunted, Goatwhore and a slew of original rock concerts and Derby parties. Last year, I took a beating at the track on Derby day. This year I'm getting my revenge and I'm gonna win some serious dough!
Hopefully, I won't pass out in a chair this year, like I did last year. And passing out anywhere other than my bed is highly unusual for me! I learned a valuable lesson that day, though: never mix painkillers (my back was injured at the Sevendust show) and Wild Turkey Whiskey.
If you've never been to the infield on Derby day, take some cash and bet the horses. I've won $650 on a $20 bet!
On the music front, I haven't attended too many shows recently, though I did see Sevendust at O'Malley's, which was pretty cool, They drew a decent crowd, with lots of women.
I went to the Flaw/Powerman show (see review below) at Headliners, which was a good entertaining show, even though I felt bad.
Once again, I want to thank all of you for supporting my News from the Pit column, my Louisville Rock Close-Up/Musician of the Month section and the work I do here and at the Phoenix Hill tavern. Those of you who appreciate it and truly enjoy my ranting and running of the piehole, make it all the worthwhile. My editor also insists that I'm going to be writing a blog soon.
Be sure to visit our website www.louisvillemusicnews.net, or email me personally at Eddymetal1@aol.com, or contact/hook up with me at www.myspace.com/eddymetalrocks
Have an excellent Derby!!! And be safe.
The Metal Grapevine
Subrosa Cover Story:
In case you missed it, I wrote this month's cover story on Subrosa, so check it out and read about a great original band. The story goes into detail about this young and crazy band, so you might want to read about the debauchery and revelry therein.
Killswitch Time!!!
On Monday, April 9 at Expo 5, popular melodic metalmeisters Killswitch Engage will be in town for a special intimate show with all you metal-loving freaks out there. You get to see a killer band at close range and on a good PA system! This should be a smoking show. Openers include Still Remains, The Showdown, and The Devil Wears Prada. Tickets are $18 in advance, $22 DOS. Doors open at 7 p.m.
Zakk Wylde Time! On Tuesday, April 3 at O'Malley's, Zakk Wylde will be tearing it up big time. Be sure to not miss this guitar showcase. I'll be there, so buy me beverages!
Haunted/Dark Tranquility
: Two of Sweden's great metal bands will be invading Headliners on April 2. Trust me, If you like Slayer, then Haunted is a must-see. Into Eternity and Scar Symmetry are also on the bill.
Cannibal Corpse Coming
: Flesh-eating Florida death-metallers Cannibal Corpse will be town in Friday, May 4 at Headliners with guests, so those of you who are into sick disgusting tales of gore and rot, should attend this show. Those who like Justin Timberlake, stay home and avoid this venue like the plague.
Lacuna Coil at Headliners
: One of my favorite bands is coming to Louisville: I'm in love with the singer Cristina Scabbia, an Italian gothic beauty. This show was added at the last minute to their super-busy schedule. Thanks a million, Terry Harper!
They will be at Headliners on Monday May 7 with guest Stolen Babies, In The Moment and Within Temptation. Too bad Prey For Maria and Never the Man couldn't open, that would have been perfect for them! Lacuna will be headlining, which is awesome, since their set has always been restricted in past shows I've seen. This show might sell out, so get your tickets ahead of time.
Flaw Returns:
After quite an absence, Flaw returned in glorious style to Headliners, opening for Powerman5000. The old-school crowd was there in attendance and plus a lot of new faces.
Flaw started off sounding good after not playing out for a long time, but then after a song or two I noticed that Jay was having difficulty with his guitar rig. I admit, at first I thought he was high or something and that was the reason for the foul-up, but I was wrong, it ended up being a blown guitar head.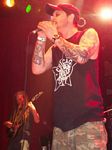 Photo By Eddy Burke
Nevertheless, the band pulled together and Lance jumped up over on the other side of the stage and made the best of it. Vocalist Chris Vols was in pretty good form and drummer Chris Ballinger was rocking as usual. They ripped through "Payback," "My Letter," "Only the Strong," "Hole," "Best I Am" and a bunch of music off their first album. "My Letter" probably sounded the best. Van from Incursion did not play the show, but Alex (don't know his last name), formerly with Five.Bolt.Main was called in from Rockford, Illinois, to fill the spot.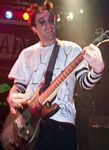 Photo By Eddy Burke
Flaw also did a few new songs that sounded good. Headliners was sold out for this show and a lot of people left after Flaw played, which made me feel a little bad for Powerman5000, but there was still a good crowd. Openers Fall For Nothing and Anvil Grey did a good job of getting the crowd cranked up.
Photo By Eddy Burke
I stuck around for a couple of Powerman songs, which sounded pretty tight and rockin', but I a persistent earache forced me to leave early.
Never The Man's CD Review: Wow, this CD is excellent! I was talking to guitarist Kevin Hart about the band's trip up to Hopatcong, New Jersey to record this the thirteen-song What Makes You Better at Barbershop studios. We agreed it was worth it in the end. The sound quality is great and the musicianship topnotch. The first track, "Still Alive," is impressive and seems to leap out at you from the speakers.
Jholeen Meeks' vocals are powerful and melodic; Kevin Hart's guitar parts are innovative and jamming. The second track, "Caught On The Ride," has an acoustic intro, then Jholeen comes in and kicks some butt. The music on this one is very Eighties but it fits. The solo on this song didn't do much for me, though. They cover a Steve Winwood tune, "Can't Find My Way," and it sounds incredible. I'm usually not into bands doing covers, but on this one, I make an exception.
Jholeen's voice has come a long way and this CD demonstrates it. She has some serious soul, getting purposely rough in some parts of the song. At times, she reminds me of Cristina Scabbia of Lacuna Coil. "Space Train" starts out in a weird, Led Zeppelin-ish way. There are a few odd spacey effects in the heavier guitar parts, then the song closes with a fast, almost thrashy, outro. "Shallow Wake" moves back and forth between heavy and mellow, with some trippy slide guitar riffage. The music of Never The Man is unlike what anyone is doing in town.
Mostly it's acoustic balladry, but with the occasional heavy part and some excellent singing and vocal effects, so everything comes out in a way that really showcases the vocals and melodic guitar parts. I don't think I've ever heard them sound bad live. This is undoubtedly the best female fronted rock band in Louisville.
16 Bones Reviewed:
16 Bones played my showcase at the Hill last month and that was the first time I had actually got to see them live (when I was sober) and boy, was it good! I think I liked it better than Surviving Thalia.
The combo of David "Sailor" Bryant, Jason Koerner and newcomer Brian Fox really added some cool elements. With such a lineup, you could tell they have something special and the crowd that night ate it up big time.
I'm sitting here listening to the four-song CD they gave me and I'm digging it, but there was a live feeling that is kind of hard to reproduce on CD. (You have to see 16 Bones live.) "Too Late For Me" makes me think of the movie "Crossroads" quite a bit. I picture Sailor down at the crossroads in Mississippi, wearing a Mississippi blues hat and waiting for Scratch (the devil), just like ole Willie Brown did. A very good song to start out a CD with. I like the song "Dust Them Bones" quite a bit, especially Sailor's layered vocals. Makes me want to chug rotgut whiskey right outta the bottle!
"Out Of Her Mind" starts off with a nice acoustic riff and some cool vocals. The acoustic guitars sound fat and it's cool to see a metal singer actually singing. Some harmonica would have sounded perfect in this particular tune, right after the chorus.
A bluesy slide guitar opens "Rollback The Days," a sad type song that makes you listen hard to the lyrics. It has a cool guitar solo, too. This is a decent recording, but you got to see these guys live. That's when the true magic shows.
Antikythera Recording in April: Louisville heavy metal heavyweights Antikythera are recording their new CD at the end of April and it should be a doozy, so be on the lookout for this evil disc in the near future.
New Tunes From Prey For Maria: Prey For Maria has five new tunes you will be able to hear on the radio or their website real soon, perhaps by the time you read this. Expect a full-length CD sometime in the future from this band.
In the meantime, go to Myspace.com/preyformaria and listen to the goods.
Keith Warren Unplugged: Rumors abound - and it appears some of them might be true - that Thorn has broken up, because the band cancelled a show at Main Street Live. While they are not officially broken up, the man behind the voice of Thorn, Keith Warren, ended up doing a set of unplugged material that was quite phenomenal. I had no idea the dude was that talented, until he started in on some of his acoustic stuff. It pretty much blew me away. This guy should be selling millions of records right now! Women are into him as well, because whenever I see him play, a different woman ends up saying "he's sooo hot, he makes me all hot and bothered." His music looks quite difficult to reproduce too, and the vocals are unreal, with an entrancing, unearthly feel that soothes and relaxes. I think Keith should send in a few of those acoustic songs to a few record labels ASAP.
Nailgun's New Singer: After quite a long search, Nailgun Strategy has finally found a Rob Zombie-ish looking cat named Luke McFarland to be their new singer. As much as I liked Randy McCammish's vocals, they simply did not fit in with Nailgun Strategy's old-school, technical thrashy riffs. I love the music these guys write, so hopefully this new guy has the voice to bring out the best in Nailgun Strategy. Welcome to the scene Luke!
R.I.P Jackie Purcell:
A girl I didn't really know but saw a lot at the Phoenix Hill recently passed away at 23. Her death has shocked and deeply saddened a lot of very cool people in this music scene. I didn't know her, but she was always smiling at me and seemed like a very sweet person indeed. A person who did know her would like to say a few words about her. Louie the local guy: "My Jackie died March 10th and she was only 23 years old. She simply went to sleep Friday night after a long day at work. She ended her day like many of us do everyday. She had no indication that it would be her last on this earth, nor did anyone else. Tests are pending as they say, however we know it was a peaceful passing yet obviously a tragic end to a wonderful life. So many people use their lives in careless ways but she held a prominent position at a tub installation company in Southern Indian and was a student at U Of L. She was always in control except when she walked which often resulted in falling off steps or up steps or down grassy hills. If you really knew Jackie you had a 'falling down Jackie' story. She could just be that uncoordinated. Her house was among the cleanest you would find. Everything had a place. Her friends where as carefully chosen. At the funeral, I meet friends from her days in kindergarten. I marveled at how she found ways to be pleasant to drunken men who approached her at the bar. She was physically stunning, so this was an endless stream. I never heard a word of anger. She moved through a crowd of people as smoothly as rain runs down a window pane. Her love of her car knew no bounds. She owned a new Volkswagen Beetle and loved to boost how it was only one of a thousand of its type in the world. Her body now sleeps in the middle of Rolling Hills in Indiana, but her soul flies in the highest reaches, I am sure. She had a way of pounding her chest with a fist and pointing at you to signify her love for you or she would take a finger and stream it down her face from the corner of her eye to say she missed you - now I do both for her. Jackie Purcell made all who knew her love life more because it is people like her that make this earth a million times better. It is the ones she left behind that struggle to hold on to her and share her life so we have named her favorite drink after her. So help us to honor her memory and when you go to Phoenix Hill Tavern on a Wed night order a Jackie, which is a blue Vodka and Sprite for $1.50. I promise she will smile as she leans on the bar next to you."
For Jackie - I Pound My Fist To My Heart And Look To The Sky -.Louie Ladusaw.
New Band Alert
:

The band is Fall For Nothing, a female-fronted band that sounds pretty good. I saw them at Headliners, opening for Flaw/Powerman5000, and the frontwoman has some lungs on her. And the band is not a bunch of inexperienced chumps, they rock! So do yourself a favor and check out this new and up and coming rock band! Myspace.com/fallfornothingmusic
New Venue Alert
:

Club Exile is a pretty cool bar on Fifth Street. I went there not too long ago and met the owner, a very cool dude. The place didn't have a stage then, but now it must have, because there are a slew of shows planned for April. Check out the listings below and get over to Exile for some weirdness and fun. (I've heard that there are some gothic types that hang out there. Gothic chicks are hot.)
Cricket's New CD
:

In about a month or so, groovemeisters Cricket will be putting out a CD, so be on the lookout for these stoner rock rebels to unleash their particular brand of rock on disc!
Boom Orangutan "Live"
:

I finally saw this new stoner rock band last month and they can truly deliver the goods live in front of a good crowd. There weren't any nervous moments and all went very well for the Boomsters and company. The vocals and stage presence of vocalist Todd Coffey was impressive and the crowd seemed to dig it rather well. Not bad at all for one of your first big shows.
Anton Mink
:

When I heard that this band didn't have a guitarist at their live shows, I was tripping. A rock band without guitar is insane. How would they pull it off? I'm sitting here listening to the CD by Anton Mink and I admit I like it a lot more than I thought I would. A few of the songs have guitar on them, but mostly playing rhythm. It's not too my usual taste but it grew on me. Description? Well, uuuummm, it's a sort of alternative punk, indie rock band with blues and funk elements intertwined. Whew! That effort took the rest of my brain cells. The voice of female singer Chloa is a pleasant journey into a laidback, sexy type show from which happy thoughts of acid flashbacks, swirling colors and hippy rockers abound. Their CD, 819 Black Dot Rd., is a punk rock, jazzy endeavor that definitely has some pumping grooves, regardless of the lack of heaviness. Vocally, Chloa reminds me of the singer from No Doubt. She's got a bluesy, soulful, 1920s ballroom bandleader type voice at times, then it's a punk rock whine, sometimes an Elvis-y roll of the tongue, then it's a Jamaican growl with fantastic reverb added. She's as cool as a silk sheet in air conditioning on a hot summer night.

"Yabba" is a bluesy funk punk song with strong bass line that borders on heavy. "Truck Stop" is neat and memorable, especially on the chorus: "waaaay down on 65." The clean, effects-driven guitar on this song fits in well with the bumping bass lines. "Armies" is the No Doubt-sounding song.. Good songwriting with a strong punk feeling. A groovy tune, nonetheless.

The Jamaican-sounding "Blood Clots" has my foot tappin. I think I'm going to go see them in concert.. If I had one complaint, it would be that there isn't enough guitar, but I'm a guitarist, so maybe I'm just a little biased..
Mayhem In May
:

On May 19 at Uncle Pleasants, there with be a death metal smorgasbord of high proportions, because seventeen death metal bands will be playing! (How will they manage that?)

I'd read you the names of a few, but I can't understand the writing on the flyer. These death metal bands write their names so they're unreadable. That frustrates me to no end! If you want exposure, rule #1: make sure your band name is legible.

I can make out a few though: Putrid Pile, Lust of Decay, Incinerate, Human Artifacts, Cemetery Rapist, Abominant, Estuary and a lot more filth, too many to mention. So be sure to go to Mayhem in May and be apart of this Day of Destruction! Check it out online for more info, Myspace.com/mayheminmay.
Bassist/2nd Guitarist Needed
:

Sonic Epitaph is looking for a bassist and possibly a second guitarist, male or female, who has decent experience, good equipment and a willingness to take the time to write good original music. Sonic Epitaph is a female-fronted power/symphonic metal group similar to Within Temptation, Nightwish or Lacuna Coil. Any interested individuals should please contact Donnie at the email address: sonic - epitaph@insightbb.com
Upcoming Shows
Club Exile:
Wednesday, April 4 - Anvil Grey.
Saturday, April 14 - Hyndsite and Morning Augment.
Wednesday, April 18 - 2 Pump Chump.
Wednesday, April 25 - Boozer.
Wednesday, May 2 - Full Nelson.
Expo 5
Monday, April 9 - Killswitch Engage w/ Still Remains, The Showdown, The Devil Wears Prada. Tickets are $18 adv, $22 DoS. Doors 7 p.m.
Saturday, April 28 - Dogwater
Fox's Den
Friday, April 27 - 13th Age.
Headliners
Monday, April 2 - The Haunted, Dark Tranquility, Into Eternity and Scar Symmetry.
Saturday, April 21 - After Thunder Party: Shinerunners, Bodeco and Sunday, Valley. 10 p.m.
Friday, April 27 - Intheclear welcome home gig: with Intheclear, Kinsey, Asleep, The Giving End and Institution.
Saturday, April 28 - False, Caldera, Descention, Sowing Discord, Maude Flanders and We Speak Texan.
Friday, May 4 - Cannibal Corpse.
Monday, May 7 - Lacuna Coil w/Stolen Babies, In The Moment and Within Temptation.
Saturday, May 11 - Heaven Or Hell Show: Subrosa, Inner Blue, Fall For Nothing, Antikythera, False and Anagnorisis.
O'Malley's
Tuesday, April 3 - Zakk Wylde and Black Label Society. 7 p.m.
Phoenix Hill Tavern
Monday, April 2 - The Haunted, Dark Tranquility
Friday, April 6 - The original rock showcase series. Heaven Hill, Kinsey, 7Daysun, Halfway Hollow and Hearsay Theory. 9 p.m.
Friday, April 20 - 13th Age, Nova Red, Ugly, Seedus, En Vain, Spacehooker and Vinal. 9 p.m.
Friday, May 11 - (in May my show is the second Friday, of May, not the first) The original rock showcase series: After Derby Hangover Bash w/Subrosa, Nova Red, Broken Vault and Serene. 9 p.m.
Rustic Frog
Friday, April 27 - Echos Aim.
Uncle Pleasants
Friday, April 6 - Give A Buddy A Lung Benefit. 13th Age, Sphere, Hyndsite, Inner blue and Signal Fading.
Saturday, April 21 - Dogwater, Straining To Vent and I Will defy.
Outtatownerz and Otherz
Friday, April 13 at Tidball's in Bowling Green 13th Age.
Props of the month
Louie "The local guy" is the recipient of this months props. He has done quite a bit in the past few years to deserve this honor. He put on several concerts, he did the Kentucky Rocks The Derby Fest twice at Expo 5, which featured multiple stages. He did the Floyd Street Fest, which featured no less than three stages, stunt motorcycle riding and a hot tub. He did shows at Headliners, including the Xtasy Ball and the Halloween Fox show. He also had a Friday night gig for original bands at Tailgaters, before they became anti-metal on the scene.
On top of all this, Louie is best known for being co-host to The Attitude Network and Louisvillerocks, on 93.1 the Fox for nearly five years. He took over the Original Metal DJ host on the Unsigned Xtreme segment of Black Frank's long-standing show "The Attitude Network."
So good job Louie, keep up the good work and keep that metal music flowing from the radio!
Tune in to Frank and Louie on Saturdays at midnight and check out Mudd and Louie on Sunday's at 7 P.M, on 93.1 the Fox.