I've Got A Mind To Ramble
Festival Fantasy
With the greening of the spring landscape and balmy breezes comes the anticipation for this year's outdoor blues festivals.
Jeffersontown
The Jeffersontown Crusade Blues Festival begins the season with a series of events from May 14 to 19. A golf scramble (and benefit for the Crusade For Children) at the Oxmoor Country Club, complete with a trophy in the form of a blue guitar, will be the opening event on Monday. WHAS radio will have a remote broadcast unit plus a team of radio personalities to challenge a group of local celebrities. The KBS is sponsoring a hole and providing volunteers.
On Tuesday, May 15, at 7 p.m., the Kentuckiana Blues Society will present a blues seminar at the Community Center next to Veteran's Memorial Park. Yours truly is putting this "Blues for Dummies" session together, complete with power point pictures, tapes of songs and a live performance by John Burgard demonstrating various guitar techniques.
There will be a silent auction on Thursday at the Deposit Bank. There is a chance that downtown J-Town could rock on Friday night. Promoter Dale Cashon is working out the details for some kind of a "Blues Bash" with the city. This event will be for the hard-core blues fans while the Festival on Saturday will be more family orientated. Saturday's line up includes Big Black Cadillac, Velveeta Jones, River City Blues, da Mudcats, Susan O'Neil and Blue Seville and finally either Lamont Gillispie and 100 Proof or Robbie Bartlett. This expanded festival is into its third year and should be better than ever with the generous sponsorship from AT&T.
Chicago
I've missed the last three Chicago Blues Festivals but plan to return this summer for their 24th year. I'll need to train hard both mentally and physically to maintain the rigorous stamina needed to survive the world's largest four-day, free blues festival with six stages. From June 7 to 10, Grant Park will become the blues Mecca of the world. There will be a tribute to the 100th anniversary of the birth of two piano legends who bridged the early generations of blues. Sunnyland Slim and Albert Ammons will be honored with piano summits and boogie-woogie stomps, played by today's disciples, who still keep piano music alive. Big Jay McNeely, the great honker on the tenor sax, will be honored on his 80th birthday.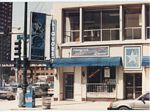 Photo By Keith Clements
Friends and former band mates will remember Howlin' Wolf, who would have been 97 on June 10, with a party and acknowledgements. The Sons of the Blues was founded by harp player Billy Branch 30 years ago. He has kept the band alive and will reunite the many musicians who had played in the band. For extra curricular activities, you can go to the Harold Washington Library to see the exhibit "Empresses, Godmothers and Sweethearts: The Women of Chicago Blues" on the third floor of the Chicago Gallery. This show, drawn from the Chicago Blues Archives, showcases women singers' contributions to the development of Chicago blues from 1920 to the present.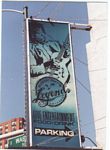 Photo By Keith Clements
The Jazz Record Mart at 27 E. Illinois St. hosts an annual Blues Brunch on Sunday morning, showcasing an all-star array of Delmark musicians. Across town at Buddy Guy's Legends on 754 S. Wabash the Legends Blues Fest has continuous music each day of the Festival. This may be the last time to experience the club's ambience, with its Mt. Bluesmore mural of Muddy, Sonny Boy, Little Walter and Howlin' Wolf. Legend's lease runs out later this summer and Roosevelt College wants to use the building for their campus.
Henderson
If you survived the hectic stampede of hundreds of thousands in the Windy City, then the Handy Blues & Barbecue Festival in Henderson, Kentucky will help you unwind a week later. Sitting in Audubon Mill Park by the Ohio River with the feathery white cottonwood seeds and blues notes floating over your head will soothe your soul. Rory Block, performing with a thirty-member choir, will open the music on Wednesday, June 13. Thursday is traditionally Zydeco night. The headliners have not been announced for Friday and Saturday, but Big James & The Chicago Playboys will play on Friday and Little Charlie & The Nightcats on Saturday. Either of these bands could climax any festival, as Big James did in 2004 at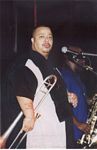 Photo By Keith Clements
Carrollton's Blues to the Point Festival. Saturday also includes John Nemeth, who has recently toured with Anson Funderburgh and the Rockets replacing Sam Myers. This thirty-one-year-old, fair-haired, blue-eyed singer and harp man from California by way of Boise, Idaho is making big waves on the blues scene. There is an article about him in the April/May issue of Blues Review and he has a new release on Blind Pig called Magic Touch. Stevie Ray's will be booking Nemeth and Little Charlie & The Night Cats in June if you can't make Henderson
Water Tower
Jennifer Washle, who books the acts for the Louisville Blues-n-Barbecue Festival, was so impressed with the performance by Nora Jean Bruso at the Water Tower and the crowd's response last year, that she and the "powers that be" decided to make the festival all blues this year, like it used to be. Sorry, jazz buffs.
Another lady will headline on Saturday, July 14. Fiona Boyes had been leading the Mojos, an all-female band, in Melbourne, Australia for fourteen years. In 2000 she decided to unplug and go solo, playing country blues and barrelhouse. Her reputation grew Down Under and the Melbourne Blues Appreciation Society sent her to Memphis to compete in the 2003 International Blues Challenge. Boyes was the first woman to win the Best Solo/Duo Act. Since then, she has relocated to the U.S. and is touring the country playing festivals and clubs. Boyes has recently recorded Lucky 13 - on which she plays both acoustic and electric guitar - in Austin with Mark Kazanoff and Bob Margolin.
HellFish will be the headliner for Friday, July 13; da Mudcats and Stella Vees will open for Boyes. Stay turned for the rest of the all-blues lineup.
Madison
If you cruise up the Ohio River on August 17 and 18, you will go by the Madison Ribberfest. Their schedule includes Charlie Musselwhite, Elvin Bishop, Duke Robillard, Mitch Kashmar, E.C. Scott and Big James & The Chicago Playboys (again). These guys get around; they will also be at the Bean Blossom Blues Fest in Indiana on September 8, along with Jason Ricci & New Blood.
Unfortunately, the 10th Street Blues Festival that would have been held in June has proven to be a one hit wonder. Since last year's festival did not make a profit, the owners of the River Bend Winery felt they could not commit to this two-day event.
River Bend was a great host for the KBS House Party on March 3, which attracted two hundred people and filled the Society's coffers. Thanks to the Mad Dog Rhythm & Blues Quartet, The Jim Masterson Band and River City Blues for donating their musical talents.
River Bend Winery, along with Alumni Hopp's, Zena's and Stevie Ray's, will be the stops for the KBS 15th Annual Blues Cruise on Saturday, June 2. A bus will circulate between the venues and food will be served at Hopp's and River Bend. With this round robin arrangement, you will be able to get on and off the bus or walk as you please from 7:30 p.m. to 11:30 p.m.. $25 (members) or $30 (nonmembers) will get you in the blues loop.