In what will be the most attended Christian concert of the year, MercyMe is coming to the Kentucky State Fair August 20th.
Since the Texas sextet's 2001 debut, Almost There, was certified double platinum - thanks to the popularity of the anthem, "I Can Only Imagine" - the band has released a string of gold-certified hits ,including two studio albums: Spoken For (2002) and Undone (2003), plus the DVD MercyMe Live (2004). Beyond the record sales, MercyMe has also garnered critical acclaim with awards from the Gospel Music Association and the American Music Awards. Meanwhile, the group's theatrical live shows continue to draw big crowds across the country.
MercyMe released its fifth studio album and Columbia Records debut, Coming Up To Breathe, last year. For the band, the making of the album fulfilled the promise that a cloudburst doesn't last all day.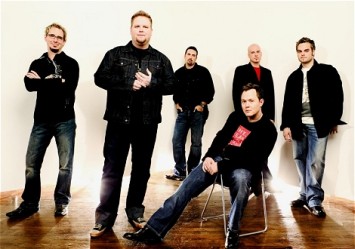 MercyMe
MercyMe's last tour and album were both saddened when several people close to the band died only weeks apart.
"Recording our last record was intense because of all the tragedy we were dealing with," says vocalist/lyricist Bart Millard. "When you've been together for twelve years like we have, a loss for one of us is a loss for all of us. What made it worse was that we had to go out on the road for almost two years and relive that pain every night under the spotlight. It was emotionally exhausting."
It's fitting then that the band returned with Coming Up To Breathe, an album that celebrates life and the small joys that are brought into sharp relief by the loss of a loved one. "The pain you feel makes you realize what's important in your life," Millard says. "But in the end, the pain was ultimately liberating for us because it pushed the band to make the record we've always wanted to make."
To record Breathe, the band - Millard, drummer, Robby Shaffer; guitarists, Mike John Scheuchzer and Barry Graul; bassist, Nathan Cochran and keyboardist, Jim Bryson - sequestered themselves at the famed Allaire Studios. Tucked into the pastoral countryside of upstate New York, Allaire Studios was built inside a mansion originally constructed during the Roaring '20s. In the past, the studio's organic vibe has drawn the likes of Norah Jones, Tim McGraw and David Bowie.
The bucolic location ensured a minimum of distractions, Millard says, which allowed the band to quickly record all thirteen of the album's tracks in about a month. "We recorded in what I think used to be the mansion's grand dining hall. It's an amazing room that has a cathedral ceiling overhead. That room echoes for days - it was incredible the sounds we were getting. This was also the first time we've ever recorded with everyone in the same room. In the past we've been spread out all over the studio. You get a cleaner sound that way but you lose the eye contact that you have when you play live."
By setting the band up to play in a circle in the studio, producer Brown Bannister (Amy Grant, The Afters, Steven Curtis Chapman) was able to capture the edge that MercyMe regularly flashes in concert. "We're proud of our previous albums but they never really represented what we sound like live. What you hear on Coming Up To Breathe is the band doing what it does best; plugging in and rocking out together," Millard says. "I've always said that if you only know MercyMe from our albums, you not getting the whole story. This album tells the rest of our story."
With the rocking first single, "So Long Self," Millard slyly - and almost light-heartedly - writes about death as a breakup song to himself. The song's title, which was almost the title of the album, was inspired by a serendipitous moment at home. "I was watching television and thought I heard someone say, 'so long self.' I thought, 'what the heck does that mean.' As I was reaching for the remote to rewind my TiVo, I was thinking about what 'so long self' could possibly mean and the idea of dying to live just hit me. It's one of the few times I've had the lyric before the song."
The sweeping epic "Hold Fast," which was also a radio hit, sings about holding on when things look their darkest. "This song reflects where we've been and what got us through," Millard says. "It's a song of encouragement. Don't give up, hang on because help is on the way."
A driving, hook-filled tune that closes with a coda, "No More No Less" addresses the band's Christian roots directly.
"People have a lot of preconceived notions about what we're supposed to be and how we're supposed to sound," Millard explains. "We've been explaining our faith for so long, I thought it was time to write a song about it. Like the song says: I not trying to hide anything/I wear it on my sleeve. I'm not trying to be something I'm not/This is all I've got."
The album's exuberant title track - a song of celebration - holds a special significance for the band, Millard says. "It's about coming to the surface, taking a deep breath and putting everything in perspective. It's about coming through the hard times and refocusing on what's important, which for us was the joy of making music together."
One song, "Last One Standing" almost didn't make the album. "We thought about cutting it because it was too heavy," Millard recalls. "In the end, that's why we kept the song - because it was us going for it all the way; no pulling back. This song really is the realization of what we set out to do - make the record we wanted to make; no compromises."
The music is tailor-made for playing live and MercyMe's elaborate stage show, which includes a big light show and gigantic LED screens. "We have a tendency to take things over the top on stage," Millard says with a chuckle. "That sense of theatrics goes back to our early days when we were trying to get noticed playing festivals and church camps."
Millard says he is pleased with the success of MercyMe's previous albums, but admits there's a special satisfaction with this one. "We've always joked about wanting to make our version of Amy Grant's Lead Me On or U2's Joshua Tree and time will tell if that is ever the case, but we just gave it everything we had. There was no holding back on this record."
Millard believes that everyone has to "come up to breathe" sometimes. "Regardless of what you are going through in life, regardless of what you are consumed with, regardless of what fills up your everyday life, there are times when you have to stop, surface, take a deep breath and remember what's important," Millard says. "That's what this album is for us. It's addressing everything we've gone through and realizing the one common denominator in all of this is Jesus. That's what is worth taking a breath for."
The band played at the Palace last fall. I didn't make that show, but heard it was good. With this show being "free" (no extra charge for the show, just gate admission to the fair), no doubt the crowd will be mammoth. Last year's free show at the fair with Michael W. Smith was one of the largest ever in Louisville for a Christian artist. This one may be even bigger. We'll see on August 20th.
South Africa's Tree63, whose new CD Sunday releases in September, will open the show at 8 p.m.. See you there!