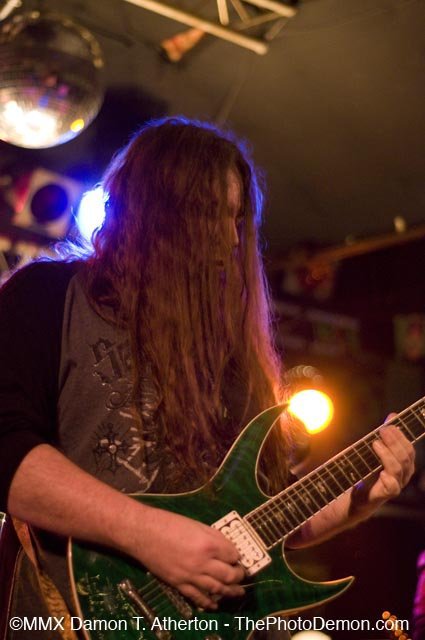 News From the Pit
The Metal Grapevine
The Editor has asked me to post my personal commentaries on my LMN blog at http://louisvillemusicnews.net/wpmu/pitnewsman/. This month's comments about the July column are there.
Sounds Of The Underground : The Terry Harper-produced, all-star "Sounds from the Underground" show promises to be the biggest metal concert in Louisville history. Set for August 31, it's going down at the allegedly haunted Waverly Hills Sanitarium, a facility that housed dying tuberculosis patients years ago.
Everyone is talking about it. The bands scheduled to invade Louisville are: Lamb Of God, Gwar, Hatebreed, Shadows Fall, Chimaira (sweet), Behemoth, Every Time I Die and many, many others. It's $33 and starts at 1 p.m. Visit www.TerryHarper.com for more info.
I'll see you peeps at the show and be sure to say "Farg off, Eddy!"
Hot Action Cop : I had scheduled an interview with Rob of Nashville's Hot Action Cop, but unfortunately, their show at Wick's was cancelled due to a storm-related power outage. Fear not, the show is rescheduled for August 4 at Wick's on Dixie, so check them out and be sure to pick up a copy of their new CD that's coming out soon!
LMN: So what have you guys been up to since the last album, and how is the new album different from the previous? Describe the feel of the new album.
Rob: Basically, Hot Action Cop has been trying to re-find itself and re-energize its soul. Timmy and I are the only original members. But now we are up and running and currently touring our asses off. We want to get a solid show together. We are playing several of the old crowd favorites plus some live material that isn't on any record currently. We are also working in several of the new songs. It absolutely rules to be out and reconnecting with our fan base and making new friends along the way. The new record is an eclectic blend of rock and pop, some heavy, some light. I sing a lot more on this record, and there are still some of our old rhythmic elements. The subject matter deals with more personal issues, life, love all the usual afflictions. A much more serious rock song approach lyrically, yet still a blending of styles and influences musically.
LMN: Louisville native Tim Flaherty is a well-known guitarist in Louisville. So what's it like jamming with a guy from Kentucky, known for his metal/thrash guitarwork? How has Tim contributed to HAC and does he do any of the songwriting?
Rob: Playing with Timmy is always awesome. It's like I've known him my whole life because many aspects of our personality and humor are similar. HAC is a bit more rock-oriented than metal-oriented, but Timmy's tone and technique always offer a hard edge to anything I create. I write all the songs' melodies and lyrics right now, but I encourage Timmy to pick up the pen and get crackin.' Many of the counter lines and solos come out of his head. He can play the hell out of a guitar and it really takes the songs to the next level. I couldn't think of any one else I'd rather share the stage with. Louisville's scene has tempered Timmy into a versatile and dependable live animal.
LMN: What's on the agenda for HAC in the immediate future? Tour plans? Maybe a stint out of the country?
Rob: Right now it's almost five a.m. in Waco Texas, I finally have a moment to sit and think. We are planning to mix the new record in July, we'll have the material on MySpace soon after. We are going to keep touring for as long as we can support ourselves then hopefully have the show together and the new songs and record ready for release. A stint to Europe would be sweet, we'll have to wait and see how the new material gets received before we look at that prospect though.
LMN: What are your favorite songs off the new record? And what are they about?
Rob: I can't say I have a favorite song yet off the new record. We'll have to play them out night after night ad nauseum to see what really rises up. The subject matter concerns life, love, and quirky personal issues like anxiety.
LMN: What's the meaning of the new album's title? And how has the response been to the new album?
Rob: No title for the record just yet, but it's on the way! The new material is being well received, I'm very happy about that; it's a straighter rock vibe, yet the audience response has been overwhelmingly enthusiastic.
We love Louisville's local scene and can't wait to play there again. It's after all HAC's other home. Thank you for your dedication to Louisville's contribution to the world of rock.
Eddy's Top 5 New Acts: Here are five newer bands that have something special going on musically, so check them out.
Sulfate: A five-piece metal band with melodic vocals rates high on the list, for excellent songwriting, strong vocals and catchy rhythms. Myspace.com/sulfate
Secondhand Grenade : Another five-piece, with older Louisville rock veterans who play a Alice in Chains-ish, thrashy yet bluesy. Very good vocals from Mark Gilley make the killer music stand out even more. Myspace.com/secondhandgrenade502
Broken Vault : A five-piece band that is reminiscent of Staind a little bit, playing radio-friendly rock, with smooth, creamy, effect-laden guitar parts, rockin' choruses and very nice melodic vocals. Count this band to look out for! Myspace.com/brokenvault
Embalmanation: These four young guys are evil personified; brutal, unrelenting, their music makes you want to hurt someone. That is Embalmanation. Very catchy and memorable guitar riffs and the super screams by Frogg are exquisite. A metalhead's smorgasbord of Death metal/Hardcore/thrash. They desperately need a quality recording, though. Myspace.com/embalmanation
Sowing Discord : Another brutal five-piece metal band, of experienced players who absolutely shred. It's some pretty crazy stuff. Fans of Slayer and Lamb Of God should be in ecstasy. Myspace.com/sowingdiscordmusic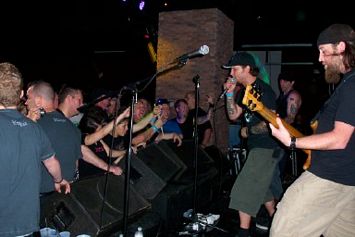 Flaw at Angel's. Photo By Eddy Burke
Angel ' s Rock Bar / Flaw Review: Ok, I made fun of Angel's Rock Bar a few months ago, but when I heard that Flaw was going to play there, I thought "Finally some good original music at 4th Street Live! Flaw rocks, so I went to see them at this new trendy establishment and to also see for myself what the place is about.
I expected mass cheesiness, but I ended up having a pretty good time and even liked the people that worked there. The DJ, Sean Michael, played some decent stuff including Soulfly, Iron Maiden and other old-school stuff.
Intheclear opened the show and sounded tight as ever, but the sound coming forth from the P.A was pure doo doo. I couldn't even hear Clay's guitar. Then Flaw took the stage and things sounded a bit better, but not much.
I don't know if it was the glass walls behind the stage that was to blame, or the P.A, or the sound guy who was mixing, but it wasn't a very good sound at all. Very muffled, distorted and low.
However, Flaw's set ended wildly when some dude sprayed a fire extinguisher onto the stage, covering it with white foamy fire retardant. Mofos were choking and the stage was covered in that crap, with expensive drums and guitars coated with the chemicals. The culprit was thrown out and banned for life.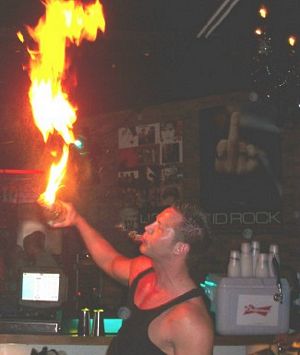 Burning Underwear. Photo By Eddy Burke
Aside from the sound, the place was cool. It has an atmosphere right out of the movies "Cocktail" and "Coyote Ugly." Neon. Chains. The bartenders even spat fire! But one of them almost caught the joint on fire when a bartender accidentally spit fire onto some undies hanging from the ceiling, which caught on fire. He put it out quickly. I may have to go back down there again, as they have promised more original rock concerts. If they fix the sound problem, Angel's Rock Bar could be a great thing for 4th Street Live!
Props to the new manager for bringing real rock to that "yuppie-torium" known as 4th Street Live!
Nova Red CD Review : The CD is done, the artwork is in process and the band is contemplating the name of the upcoming six-song CD. The band is showcasing it in Missouri on August 4. The release date isn't scheduled yet, but LMN got an advance copy for review.
Wow, this stuff is very cool. The first track "Broken Truths" is a winner for sure; maybe the band's first single? Is this even Rahul? Producer Malcolm Springer hooked Rahul up, big time. The second song is a rocker called "Dying" that has a hypnotic, driving chorus that I was singing after five minutes.
The guitar sounds polished and immaculate, with incredible guitar tone throughout. "F.U.B" is the heaviest song so far on this CD; I'm digging on the high-pitched, rock-a-billy guitar riffage with effects. They've incorporated several different styles into one.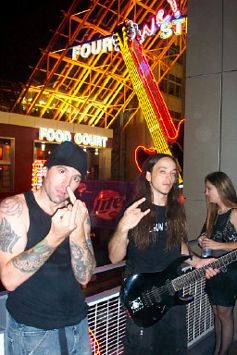 Jay and Andy at 4th Street Live!. Photo By Eddy Burke
"Goodbye" starts out beautifully, with some nice vocals and goes into a rock ballad with some pretty cool guitar effects. The vocals and use of effects in the studio are perfect, but the ending is a little bit too much and goes a little long.
I'm digging on this song: "Kiss Goodnight." It starts out way different from the others; a spaced-out phaser/flanger effect sets the guitar off rather nicely. Parts of this song remind me of the Eighties band Kingdom Come. The opening vocals are killer. Very high pitched for Rahul. Enchanting, strong, hard-rockin' and pretty.
"Timeless Fall" is a textured, layered riff that works well. Muted picking over rockin chords, or rockin' solos over pounding, punkish alternative rhythms, yet plenty of melody is attained and maintained.
The melodies in Rahul's voice get engraved in your brain. Scott Mckenzie's drums are very strong, too. Guitarists Praveen Arla and Rahul Borkar are excellent and Rahul's vocals are his best ever by far. An excellent recording that worth all the time, money and effort of driving so far to record. I think if this CD doesn't get some serious notice, nothing will! Give the new stuff a listen. Myspace.com/novared
Sowing Discord CD Review : Whoa, these guys are effing evil. And saying it's crazy is putting it mildly.
I'm listening to their brand new second demo. The guitar to "Germanitus Tormentum" is pretty technical stuff that a seasoned metalhead axeman would have difficulty with.
It reminds me of Deicide or something along those lines. Excellent musicianship makes this black metal band distinguishable from hordes of 'cookie monster' sounding doody-metal bands. Sowing Discord has the metal goods going on!
Guitarist Donald Torrance is a great songwriter and guitar demon He proved that long ago with his old band Dump Gang. "Formulation Of Depravity" is blast beat after blast beat of in your face, sledgehammer to the scrotum metal!
Very nice solos and pretty odd ones at that. Steve "Satan" Vessel's vocals sound like Satan in possession of Linda Blair in "The Exorcist," when she started stabbing herself in the nether region.
Very nice Beelzebub effect going on! Lovely. "Conjured Device" is another pummeling of blast beats and madness, but shorter and more to the point of killing you quickly. If you love evil incarnate metal, this is for you! If you like Winger, Hinder and Tantric, then Sowing iscord is probably not for you.
13 th Age Rocks : From the ashes of Phearus rises something much better. This band of Louisville rock veterans certainly has come a long way since the Carl Casper car show some 13 years ago. Phearus was never really my cup of tea, but this new lineup, which really isn't new at all, considering it's pretty much the same lineup that played the car show way back when, has something very cool going on. For one, the singer Rob is able to sing more and throw down on some bluesy emotional type vocals. Phearus' music kind of kept the feelings in the vocals distant.
On guitar once again is Jon Black, who has a thing for swinging, groove-laden hard rock and bluesy solos with punch. They may not be brand-new or super young, but they have the musical goods and they put on a great show. They even do a cover of Deep Purple's " Perfect Stranger" that sounds excellent! myspace.com/13thage
Def Leppard At The Fair: This should be one great show. If you haven't seen them before, now is your chance! Do not miss this concert at the Kentucky State Fair on August 28. Def Leppard sounds great live and they have lots of female fans.
All That Remains : Attention metalheads, one of my favorite new bands is coming. On September 18, this metal/hardcore, thrash band from Massachusetts will be here to stomp skull. Fans of Fear Factory, Hatebreed, Chimaira should really like this band. Pounding hardcore metal riffs with both melodic and hardcore screams. Dude is a great singer. ATR is bad azz and a secret in the metal world as of yet. Check them out at myspace.com/allthatremains
Sever The Illusion: This is a brand-new, five-piece progressive/metal/hardcore band that I hear is pretty good indeed, although young and not very experienced. I met the guys and they seem like very good people. As of now, they don't have a recording, but that is coming very soon.
I hear the band name a lot, which means they must be doing something right. Working hard to promote the name of the band is an art in itself and these guys are off to a great start. These dudes are apparently all out metalheads with no regards to trends, the latest music fashion and how to be poppy.
When I hear them live, or a CD of them, I'll do a review! Until then, you can see them on Saturday, September 2 at Uncle Pleasants. Myspace.com/severthisillusion
The Jane Rose Band : This E-town band sounds pretty darn good, I must say. Pretty impressive voice and quite different. It's part folk rock/part classic rock and might even be considered hippy rock. There are some pretty good grooves going on and it all seems to flow well with Jane Rose's vocals, so well that they got added to the August 3 "Women of LouEVIL Metal" concert at the Phoenix Hill Tavern with Never The Man, Serene, Prey For Maria and Of Echoes. Be early to see The Jane Rose Band. Myspace.com/thejaneroseband
Unload, from the hills of Kentucky : Unload, a group from Billy Ray Cyrus' hometown of Flatwoods Kentucky, near Ashland, is a talented band of redneck rockers. These guys' 'moonshine' is their music and I'm liking what I'm hearing.
"Anger Rising" is a good, strong song that gets a little bit brutal with the lyrics. Calvin Waugh's vocals have feeling and a certain quality that is a good thing. It's not metal, but good. solid rock with heart.
I'm picky about guitar tone, so I'm not too sure about guitarist Steve Potter's sound, but it's good enough, especially the clean parts. "Money Shot" is okay, but the lyrics are a bit cheesy and turned me off, big time. And the riffs a bit repetitive and sort of bland. I wasn't into that one at all.
"Faster" sounds much. Very hard, rockish sounding, but jamming nonetheless. Good clean vocals. If you like Black Stone Cherry, Heaven Hill, 13th Age, Broken Vault, Sixth Floor, then you might want to check out what these Eastern Kentucky boys have going on. Some fat, bluesy solos in there would fit nicely, though. Myspace.com/unloadthis
Welch ' s Jam on August 5: Sunday August 5 at Phoenix Hill Tavern, twenty bands will be playing to raise money for a Louisville native Mike Welch, who was hurt and is engulfed in medical bills. It starts at 5 P.M and includes bands like Boom Orangutan, Secondhand Grenades, Anna Lies and many, many more! Contract myspace.com/annaliesdown for more info!
Echos Aim Breaks Up : Yup, that' right, Echos Aim has officially called it a quits, due to several lineup changes and searches for new members. Sometimes it's best to just let go in that situation. Best of luck to Dave and all the guys. A professional class act!
Ashes Eve Seeks Guitarist: If you are a young guy who rocks on guitar, you might want to look into trying out for this very talented young band. The style is metal/grunge/rock with a dash of alternative thrown in for good measure. You can check out their tunes and contact them at myspace.com/asheseve
New Venue? The Brickhouse is at the corner of 2nd and St. Catherine Streets. It's the reincarnation of the old BRYCC House on Bardstown as a community center. They want bands to perform/throw shows there on Fridays and Saturdays.
Shows will be all-ages and bands may charge a cover of no more than $5. They will keep a the greater of a percentage or $100 of the door to help keep the place open. Interested bands should contact David Morrison 210-0204 or krake17@hotmail.com
Special thanks to Divinity Rose for this valuable information!
Upcoming Shows
The Bulldog Cafe
Wednesday, August 1 – Blameshift (from N.Y.), Halfway Hollow, Serene, Reading Like A Writer and Ashes Eve.
Sunday, August 5 – Forever In Terror (Metal Blade Records), Aesthetic (Muskogee, OK), Holbrook, Morning Augment and Maude Flanders.
Saturday, August 25 – Sowing Discord, Antikythera, Maude Flanders, Morning Augment and Dying Kind.
Club Rio
Saturday, August 4 – Fall For Nothing, Damnit Jim, Bashhammer, Of Echoes and A.D.D.
The Dugout
Saturday, August 4 – Embalmanation, Once Fed Lies and The Peoples Machine.
Saturday, August 11 – Southern Rhythm.
Saturday, August 18 – Dogwater and Once Fed Lies. 9 p.m.
Saturday, August 25 – The Betamacks, Anton Mink and Cricket.
Ear Xtacy
Saturday, August 18 – Black Stone Cherry, Heaven Hill and Brian Fox. 1 P.M sharp!
Headliners
Tuesday, August 7 – The Showdown, Escaping Memory, Peace Of Augsburg, Anchors For Hope and Beyond The Broken.
Thursday, August 9 – Lotus Blake.
Friday, August 10 – Ugly, Kimmet and Doug, The Brian Shram Band, Interchange and Shindig.
Thursday, August 23 – Thank You Jade and Caspian.
Saturday, August 25 – Silverstein, Comeback Kid, Jeny and Reading Like A Writer.
Sunday, August 26 – Amendment, Embertide, 1885, Last To Reconcile, Gentlemen And Scholars and TBA. 6 p.m.
Saturday, September 2 Audible Point, Dydrox, Resin8, The Treez, Better Than Bedlam, Jack 21, Wamackrash and Ubitwarr.
Lisa' s Oak Street Lounge
Friday, August 3 – ADD, Sphere and Remain Tame.
Main Street Lounge
Friday, August 3 – Lotus Blake.
Wednesday, August 22 – Lotus Blake and Serene.
Phoenix Hill Tavern
Friday, August 3 – The Original Rock Showcase Series: "The Women of Louevil Metal" featuring 5 bands with female vocalists: Never The Man, Prey For Maria, Serene, Of Echoes and The Jane Rose Band. 9 p.m.
Friday, August 10 – Evil Engine # 9.
Friday, September 1 – The Original Rock Showcase Series: 16 Bones, Broken Vault, Secondhand Grenades, E-Flat and Caldera. 9 p.m.
Uncle Pleasants
Friday, August 3 – 13th Age.
Sunday, August 5 – The Jane Rose Band, Anton Mink and Poetry Of The Dead.
Saturday, August 11 – Ubitwar and Rifle.
Saturday, August 25 – 16 Bones, Throwing Stones and Poetry Of The Dead.
Monday, August 27 – God Forbid, Buried Beneath Me, Maude Flanders, Dominion and Aeons Of Eclipse. 7 p.m. All ages.
Saturday, September 2 – Chthonic w/Sever This Illusion, The Revenants, Cost Of Sin, Goddamage and A Few Choice Words. 7 P.M
Wick' s on Dixie
Saturday, August 4 – Hot Action Cop, E-Flat, Mystery Dawn and Never The Man. 7 p.m.
Outtatowners and Otherz
Saturday, August 4 – Evil Engine # 9 at the Harrison County Fair.
Saturday, August 18 at the Diesel in Cave City KY: Embalmanation.
Props of the Month
This month's props go out to Mudd, Louie and Black Frank at 93.1 the Fox.
First of all, 93.1 the Fox has been supporting Louisville original talent for at least 14 years. And they don't only support the popular pretty boy bands, either. They get down with some pretty obscure brutal stuff too.
Thanks to Black Frank, the first cat to play local original rock/metal on the radio. Frank started the ball rolling and now it's a local rock avalanche. Louie the local guy has proved to be a good, popular, local music DJ and has built "Unsigned Xtreme" up very well, even putting big shows together like the Floyd Street festival and a few big Expo 5 shows.
Then we get to, in my opinion, the best local music DJ in Louisville: Mudd, who is a cool, laidback, mature, laid-back and generally nice person in Louisville music radio. Check out Mudd on Sunday nights at 7 p.m. and check out Louie and Frank on Saturdays at Midnight!