I've Got A Mind To Ramble
Down By The Riverside
Being by the water and serving Bar-B-Que are prerequisites for a blues festival. Think about it. Hot August Blues Festival is at Kenlake and Cave Run Rockin' Blues 'n' BBQ Fest is by Cave Run Lake. There are blues festivals along the Ohio River in Henderson, Madison, Cincinnati, Carrollton and Louisville has its Blues-n-Barbecue Festival at the Water Tower. In its tenth year, this festival has matured to three days of strictly blues, showcasing nine local bands and a national act. The Kentuckiana Blues Society was asked to play a bigger role by recommending some of the acts and introducing the bands. The organizers, Bisig Impact Group, worked hard to accommodate the crowd and musicians. Their promotions manager, Jennifer Washle, generously rewarded the KBS members with free passes. This true blue event brought back many memories of those wonderful Waterside Art & Blues Festivals held at the same location during the early 90s.
Fiona Boyes. Photo By Keith Clements
Since blues is a feeling that is experienced, I will share with you my impressions and spare you most of the details. Lucky Friday, July 13 opened with Cole Stevens and The People of Interest. This was a new band featuring Cole's countrified guitar dexterity and seasoned vocals. The People included three Michaels with Butler on guitar, Williams playing bass and Elgers drumming. Steve Boros has performed regularly with Cole, blowing his harps that change from a honking rhythmic groove to an eruption of a cascade of notes. The tight interplay between Steve and Cole was fun to watch during their long set. This band got the festival started in the basics and roots of the blues with several originals sprinkled among a little of Muddy and the Wolf. Their closing song, "Sooner Or Later," with the following phrase, "you got to go down in that lonesome ground" reminded me of the epitaph on the back of Mississippi Fred McDowell's headstone:
You may be high, You may be low
You may be rich child, you may be poor
But when the Lord gets ready, you got to move.
The Stella Vees turned up their retro jump blues with their West Coast influenced swing. Jason Lockwood knows how to stretch out a note for all its worth and then Steve Kanopka's melodic harp provides plenty of subtle punctuation points to Jason's voice. Steve Parrish and Brian Murphy create the rhythm that propels the band's distinctive sound. Jason did all the vocals from "That Ain't The Way To Do It" to "Rock This Town" and they definitely rocked the Tower. The Stella Vees were last year's KBS Blues Competition winner, which got them to Memphis to compete in the International Blues Challenge, plus be the house band at the Blues Hall on Beale Street. The band has graciously offered to not be in this year's competition on September 30 and Jason will serve as a judge. With the free recording time they received as last year's winners at Alfresco Place Studios, they have released an excellent CD, Come Around Baby.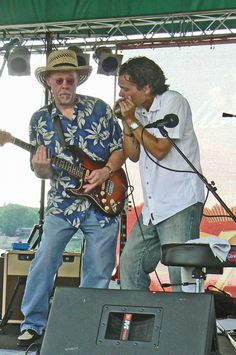 Cole Prior Stevens and Steve Boros. Photo By Keith Clements
Hellfish is a band with a bad devil- may-care attitude, mainly due to Jimmy Gardiner's persona. Jimmy swaggered out on stage, tipped his hat down over his eyes and commenced to growl and strum his guitar through a two-hour, nonstop set. All of their blues songs were short and sweet, until they got to "My Baby's Leaving Town on the 219" which was extended into a jam. They do mostly covers, Hellfish style, with a heavy dose of tangy tarter sauce. Joel Pinkerton, formerly with MR2 Blue, stood on the side of the stage playing his mellow harp out of the right side of his mouth while keeping his left eye on the rest of the band. I enjoyed watching Jimmy Brown's body movements as he aggressively plucked his upright bass and occasionally gave it a spin. Jim Schweickart provided the guitar glue that held the band together and Jeff McAllister's steady drumming adapted nicely to the band's musical diversity. It is hard to take Gardiner seriously when he is hawking an aerosol spray that can be sprayed on your guitar strings or under your arms. But he got real serious when he sang "Make It Rain," the most soulful, saddest song I heard during the festival. This was a return engagement for Hellfish and as far as I'm concerned they can come back every year to display their catch of the blues.
I arrived at the end of the Predator's set on Saturday to a chorus of comments that they did not play much blues. Come on guys, this is a blues festival!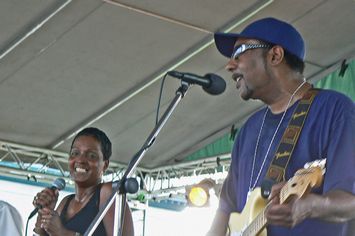 Artie and Michael Wells. Photo By Keith Clements
The main headliner for the festival was Fiona Boyes and the Fortune Tellers. A brief chat with her before the show revealed she now lives in Florida after coming to the states in 2004 from Australia. Boyes would like to move to Portland, Oregon where there are many good blues festivals along the West Coast and it is easier to return to her native land. She was the first woman to win the solo acoustic competition at the International Blues Challenge in 2003. While in Austin, she worked with Mark "Kaz" Kazanoff and Bob Margolin to record her first stateside CD, Lucky 13, in 2006. Mookie Brill was her bass player that night, on loan from Margolin's band. Brill's upright was fueled by "Diesel Only" according to the sticker on the face of his bass. Boyes is a very animated guitarist, causing her long, sandy blonde hair to swirl around her face. She mixed traditional roots and revved-up prewar country blues with her fresh, original contemporary blues. It was the unusual way she both strummed and picked her guitar simultaneously that made her sound distinctive. Her second guitarist, Tasmanian Pete Cornelius, did some nice string bending on "Too Hot To Handle" and slide on "Smokestack Lightning." Early into her set, the promoters started tossing Budweiser T-shirts, Casio hats and Southern Comfort beads out to the audience. The crowd asked for an encore from Boyes and she graciously reciprocated.
Day three was more laid back, since it was Sunday and the weather was a little iffy. The Last Minute Blues Band opened but it turned out to be more of a mix of the Clay Street Blues All Stars because harp man, Billy Bird, couldn't make it and Jim "Fuzzy" Roth stood in at the "last minute." Matt Swenson, Kris Pickhardt and Doug Ehringer play in both bands, so the transition was easy. Matt's singing and guitar playing has matured over the years into one of Louisville's best front men. Fuzzy easily rose to the challenge and would have made Billy Bird proud. Sonny Sitgraves was the anchor of the band, working his trademark drum set with his name on the front of the bass drum. They played a solid set of blues standards that included a beautiful rendition of Albert Collins' "Your Lights Are On, But Nobody's Home."
River City Blues followed with a little more contemporary take on the blues that featured Mark Stein on guitar and vocals and Denny Thornberry blowing harp and doing some singing. Mark played the song "Same Old Blues," that he used to do when he was with Gordon Bonham.
The weather became less threatening and more people, mostly African Americans, came to enjoy the last set. I had the honor to introduce the Walnut Street Blues Band. This band has a long history, rooted in the legacy of Foree Wells, who died ten years ago. They carry on his hard work ethic and professionalism. Foree's sons, Michael and Greg, are not content to rest on their dad's laurels, and they have developed their own style, taking their blues and R&B into the 21st Century. Michael's lightning guitar transcends Foree's Memphis-based sound and reaches the upper limits in technical skill. He still goes out on the road and tours with Clarence Carter, who is based in Atlanta. Michael was "strokin'" that night. Greg plays his double keyboards with gusto and shares the vocals. Jerry Harshaw and Paul Bennett generate the steady rhythm on drums and bass respectively. After a few songs that included Foree's title track, "It's A New Day Brother," from his recently released CD, Arti Wells came to the microphone. She has blossomed from a shy, demure performer to one of Louisville's premier blues divas. She covered a lot of ground, from "Dr. Feelgood" to "At Last," which was a more melodic version than Robbie Bartlett's and Sue O'Neil's versions. The band would frequently meld a pair of songs together, which provided a solid two hours of music. Near the end of the set, Arti thoughtfully requested a moment of silence for the little boy, Ivan Aguilar-Cano, who had been tragically killed. When the Walnut Street Blues Band concluded their set, there was a beautiful sunset that filled the sky with a rosy glow. It was an appropriate ending to a wonderful weekend of warm memories.