Name: Ryan Nix (Lead Singer/Lead Guitarist/Leader of the Sulfate Nation) You can just call me "Master"
Age: 26
Instrument: 2 ESP EC 1000's Black/Black Cherry, ESP Explorer, Give me ESP or Give me Death!
Band/Former Bands: SULFATE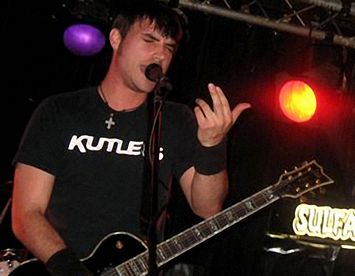 Ryan Nix
How long on instrument: 7 years
Equipment: Marshall JCM 2000 Dual Super Lead, Boss Super Chorus, Zakk Wylde Signature Wah
Influences: Me, Jesus, Zakk Wylde
My first gig: Twice Told Performance Cafe, Buckner Kentucky, 2000
Hobbies: Spitting, Killing, Pillaging, Kickin' faces in, Melting faces off with my guitar, Giving out Sulfacials
Favorite movies: "Evil Dead II," "Shock 'Em Dead: (featuring Michaelangelo from Nitro), "Ice Pirates"
Favorite food: Creamed Corn
Favorite place: Onstage, bringing metal to the masses
Bad habits: Spitting, kicking puppies
What I'm listening to nowadays: Pantera, BLS, Lordi, SULFATE
Coolest thing I've done: I played a gig recently, in mid-head bang I spit straight up in the air, it went about 10 feet up, then I caught it in my mouth, it was pretty sweet.
Most embarrassing moment: Embarrassment is for the weak.