Scuttlebutt
Dead City Rejects are Alive and Well....kind of.
The members of Dead City Rejects, about one of Louisville's most recognizable punk bands, live the life they sing about. They are also hard to get in one place at the same time, unless they are playing in what has recently been a sporadic live performance schedule in and around Louisville. They are enjoying a break from an aggressive touring campaign across the East Coast, while warming up to new guitarist, Bobby Olliges, formerly of Magnetic Flux and Cornbread Mafia. The guts of The Rejects are long-term members Jeremy King, vocals and guitar and Brent Starkey, bass and backing vocals. King, formerly of Indigent Few and Speed Kills(also with Starkey) is DCR's apparently fearless spokesperson, as he and Starkey were the only two who showed up to this interview. But, that is about what I expected. Like I said, they live the life they sing of. Oh yeah, lets not forget Chico, on drums, also formerly of Magnetic Flux and who currently plays with Jefferson TARC Bus, an established Louisville cover band.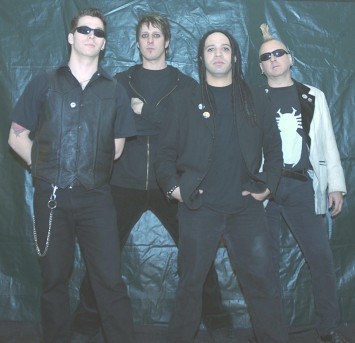 Dead City Rejects
King and Starkey, friends since the Nineties, first played together in a band called Speed Kills. King played drums for and Starkey was on bass. Both King and Starkey also had stints in other bands over the years and didn't reunite again until Dead City Rejects formed in 2002. They initially called the band BSP, an acronym that is still unexplained. Over the past few years, DCR has been no stranger to line-up changes, as they have cut former mates for reasons both musical and, surprisingly enough, substance abuse-related. However, over the years and through the ever-changing lineup, they have also been no strangers to success in the independent music scene. DCR has managed to release two studio albums: The Rogue Album and an eponymous one. They also have a live album recorded in 2003 at New York's infamous and now defunct punk haven, CBGB's.
On the touring front, DCR has shared the stage with My Chemical Romance, Floggin Molly, Murphy's Law, U.S. BombsandSloppy Seconds. Here at home, you can find these guys at Third Street Dive, Uncle Pleasants or Headliners on occasional nights. For LMN readers who get our issue early, make sure you can catch DCR playing live at Third Street Dive on Tuesday, August 3, or you can hit the road for a little road trip on September 25 to Lafayette, Indiana and catch them playing at Downtown Records with The Vibrators.
Also make sure you visit the Dead City Rejects on the web at www.deadcityrejects.com where you can catch videos and mp3 downloads, plus a tour schedule for when they hit the road again.