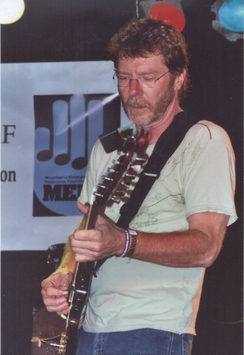 Sam Bush at Jim Porter's for MERF, November 11, 2007. Photo by Paul Moffett
MERF Event Successful
The 2007 Musicians' Emergency Resource Foundation (MERF) Annual Fundraising event on November 11 was deemed a success by all involved, particularly at the Jim Porter's location. While the blues group at Stevie Ray's and the Headliners' audience were solid, Porter's was wall-to-wall by 9 p.m. or so, waiting for the appearance of Sam Bush, Greg Martin and John Cowan. Martin, guitarist for the Kentucky Headhunters, nabbed the early spot and left early, due to a prior commitment. Bush put on a fierce solo performance primarily with a mandolin, then was joined by Tim Krekel, former Newgrass bandmate John Cowan, drummer Billy Lewis and harpman Eddie Hysinger for a rousing set of familiar tunes from the very large catalog available to the players, including, notably, Krekel's "All-Night Radio." Following that set, Cowan was joined by members of his band for a set of soul-laced tunes, featuring Cowan's towering vocals. Greg Foresman had the unenviable task of following him but pulled that off as well. By midnight, the crowd had thinned somewhat, but the musicians played on until nearly 1 a.m.
Interestingly, the same guitar was raffled off twice during the evening, as it was re-donated to MERF by the first winners, the owners of Mellilo's, an Italian restaurant on East Market that had catered the musician's backstage food. The second winner scored the instrument, signed by the various players on stage, by buying $100 worth of tickets.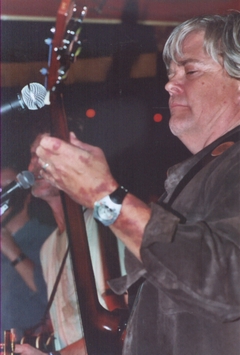 John Cowan at Jim Porter's for MERF, November 11, 2007. Photo by Paul Moffett
The evening was also heavy on musician smoozing and networking, as players who had not seen each other for some time reconnected.
According to MERF President Wayne Young, it was a smashing success, bringing in plenty of money to put 'beans on the table' of musicians in need for the next year.