I've Got A Mind To Ramble
Guy Wired
Buddy Guy's routinely unpredictable performances are the norm. Guy came to Whitney Hall to play on November 9, occasionally with his guitar but mostly with the middle-aged crowd that had been warmed up by opener Shemekia Copeland.
I recall the American Music Festival in the 80s when he strolled off the stage on Main Street, went up the steps of the Kentucky Center for the Arts and serenaded his reflection in the glass fašade. He played at Coyote's and the Brewery in the Nineties with equal volatility and good-natured chaos. Guy's showmanship is over the top, fueled by an energy that is so pent up he rarely finishes a song or abruptly segues from one to another. His face and hands are as expressive as his voice. He extends his fingers in exaltation one moment and then holds his clenched hands close to his body with a grimace on his face the next minute. But it is his infectious wide grin that wins you over every time.
It has been awhile since Guy performed in Louisville, but he has a strong connection, as his daughter married a Louisvillian and lives here. With good promotion and publicity in the Courier Journal, Whitney Hall was nearly filled. Guy ambled out, wearing his trademark blue denim overalls with suspenders, white sneakers and grey fedora hat. He admitted he doesn't rehearse with the band because he never knows what he is going to do. There were no play lists taped to the stage floor. It was all spontaneous.
Guy was constantly in motion at the front of the stage, only to occasionally retreat back to sip something form his cup and engage in a musical dialogue with the keyboardist, Marty Sammon, on "Help Me." Second guitarist Ric Hall had a brief moment in the spotlight with a searing solo during "Hoochie Coochie Man" which segued into "Love Her With A Feeling" and "She's 19 Years Old." Nobody sings "Mustang Sally," one of the staples of his live shows, with as much emotion, which had a very soft, receding ending. Midway in his performance, Guy requested that the lights over the audience be turned on so he could see the people's faces.
"Stormy Monday," slow and drawn out, accentuated by his strained, high-pitched voice, followed. "Feels Like Rain" started out like a delicate gentle drizzle that erupted into a downpour of distorted, explosive guitar notes from his tan Stratocaster. During "Drowning On Dry Land," Guy descended the steps into the audience and sat in a front row seat, stretching out on his guitar. He was back on his feet going up the right aisle to get a little help of bending his strings from an usher. Then he disappeared through a side door and reappeared in the second tier on the other side of the hall, playing continuously. Finally, near the end of his extended solo, he was back on stage.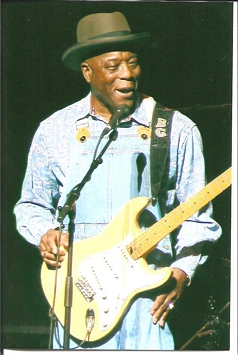 Buddy Guy at the Kentucky Center November 9, 2007. Photo by Keith Clements
My favorite song was "Nobody Cares About Me But My Guitar," in which he bemoans, "My woman won't allow me to drink and doesn't like my friends." Near the end of the show, it was tribute time. Guy mimics guitar heroes like Eric Clapton, John Lee Hooker and Jimmy Reed. [I wanted to yell out "Play Buddy Guy. Do what you do best!"] His closing number was Guitar Slim's "Things I Used To Do." Slim was Guy's early idol in Louisiana, where he picked up his stage theatrics. In typical Guy fashion, he never finished the song, throwing pics to lucky fans on the front rows as he left the stage. Unfortunately, there was no encore.
Guy's Chicago Blues Tour
Besides performing around the world and running Legends, his own premier blues club, Guy is also available to take you on a personal, free Chicago Blues Tour. By accessing www.downloadchicagotours.com, Guy will give you an inside narration that is a multimedia experience. There is an interactive map of the city showing blues landmarks like Maxwell St., Chess and VeeJay Record studios, 47th St. blues district, Muddy Waters' home and four other significant sites. Archival photos, videos, music excerpts and interviews with musicians and historians complete the tour. This is an excellent introduction to both the historic and contemporary Chicago musicians and their stories. Remember next year the Chicago Blues Festival will be celebrating its 25th Anniversary from June 5 to 8, 2008. You better be there. I will.
Old School Soul
Does Louisville have soul? Definitely, but you need to judge for yourself when you listen to a new double CD produced by Butch Williams of RAW Productions and Ron Lewis of Mr. Wonderful Productions. Soulful Sounds of Derbytown Vol. 1 has equal doses of Doo Wop and R&B and will be issued on Dynamic Imperial Records this December. Only 100 copies of this test release will be pressed initially.
Louisville never had a distinctive urban musical genre driven by an influential record company like Cincinnati's King, Chicago's Chess and VeeJay, Detroit's Motown or Memphis' Stax sound. These recordings are a very diverse collection of talented groups feeding off the R&B, Doo Wop, gospel and soul sounds of the Fifties, Sixties and Seventies. This was a fertile period in Louisville's African-American music scene. Musicians and singers started in their neighborhoods and schools and then gradually got out to play the local clubs and regional chitlin' circuit. They recorded their 45's on small local labels, so wide distribution and national fame eluded them. Butch Williams has earnestly collected these rare recordings trying to preserve Louisville's black musical heritage. A portion of the proceeds from the sale of these records will be donated to the Kentucky Center for African American Heritage.
Cliff Butler has received the most recognition as a ballad and blues vocalist, D.J. on WLOU and bishop of his church, House of Truth. There is an interesting comparison between the smooth ballad "When You Love" and his version "True Love" which was done several years later. Little Pete & The Youngsters skillfully use his innocent high pitched voice especially on "I'll Never Leave You Again" which is reminiscent of Frankie Lymon & The Teenagers' "Why Do Fools Fall In Love." The Checkmates' "The Count" is a take off on Gene Chandler's "Duke of Earl." There is nothing wrong with getting inspiration from other people's songs so long as they are done well and these songs are. Donnie Murphy's "My Love For You" is a slow, get-out-on-the-dance-floor numbers that hits a high note at the end.
Jerry Green turns up the gospel feel on "Save The Child," with a plea for social justice. Bobby Ledford digs into his soul bag like James Brown on "Make Love To My Woman." The Heartbreakers sweetly harmonize into your heart on "How Do You Say Goodbye." "New Gal" is a throwback to the small combo sounds of the Forties by Bobby Lester & the Moonlighters. The Aristocrats, who also backed up Little Pete, plaintively plead their case on "Be My Lady." The Royal Flush pulls out all the stops with strings, deep bass voice, choir and good lead vocals on "You Are Gone." The Black Pearls' strident "Something Special" bemoans "You give me the bottom, while you take the top."
The Presidents was a band that dressed in tuxedos for their gigs and "I Want My Baby" has as much style as any of the songs on the disc. With a little promotion, "Baby" could have gone big time. "Gold Walk" takes you from Ft. Wayne to New York on the same track as James Brown's "Night Train." "Baby, Baby, Baby" is an up-tempo driving duet between Bill Locke and Joe Wells. The dreamy "Find Me" by Leroy Barbour nicely blends Leroy's soft voice with a flute solo. Ronny McCain is ready to give his girlfriend extra credit on "What Mama Didn't Teach You (I Will)." Curtis Wiggins & The Palm Room Band get into a nice sophisticated groove on "Stand Up (When I Talk To You)." The Faces of Truth cry out for affection on "I Need You Baby" as well as Godfather Strivers on a very similar "You Make Me Happy." The final cut by Baby Leon is simply "Love Is" and is a hauntingly beautiful way to go out on these wonderful CDs.
These songs are like a time capsule of harmonies being released again for all to hear. Butch and Ron are planning two more volumes in their Derbytown series featuring gospel and blues with songs by Helen Humes, Loraine Rudolph, Mary Ann Fisher and Preacher Stephens.