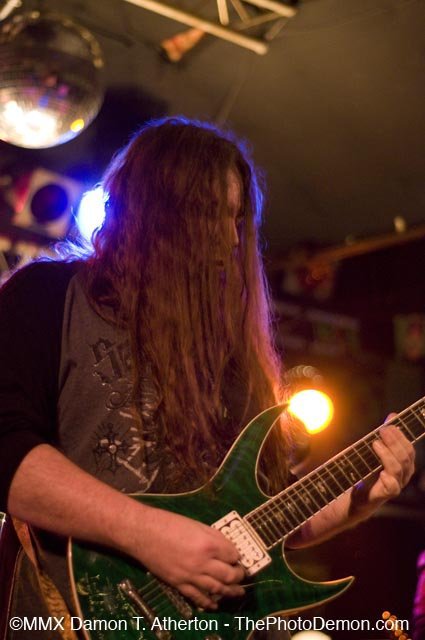 News From the Pit
"Twas the month before Christmas and all was yet still
Eddy's innards had busted and he was on mucho pills.
No concerts or turkey was Eddy to see
Only medicine and nurses and fargin Agony.
The emergency room sucked, as you all probably know.
I waited near death, until I finally would go.
As I sit here now thinking, in my bad pain-filled hell.
A happy Xmas and New Year, I wish you all well..."
What's happening, peeps. My article will be a bit shorter this month due to an illness with one of my internal organs that required me to go to the hospital a few days ago. For the first time in my life I had an IV in my arm. I lost a lot of blood so the doctors had me on morphine and painkillers. I was like "uuuhhh yeeeaaaahhh, dooo whatevvvver!"
Luckily it was nothing too serious. I'm just in mucho pain and sore as hell. I am starting to feel better though, thank god.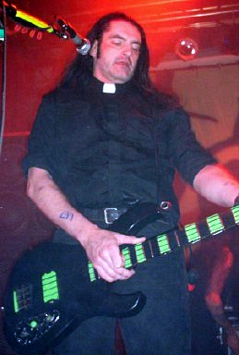 Peter Steel of Tyoe O Negative
So I didn't get to attend 93.1 the Fox's yearly fall concert series Gobblestock and I missed the Shapeless Matrix reunion at Headliners and the Sweet FA reunion. I see a ton of shows. I'll live I reckon. Luckily I didn't get sick until after my third annual Rock 4 Kosair Benefit at the Phoenix Hill, which turned out well again! We raised a grand total of $4,100 for the sick kids at Kosair hospital.
The bands did well, the show was rockin' and all went well, except for a few small things like the individuals who were supposed to run things upstairs were nowhere to be found, so things got out of schedule a bit, thanks to a few inconsiderate bands who took way too long playing and setting up.
Consequently, they screwed over the band that was to play last. It was a crappy thing to do to their fellow musicians on the bill.
What's up with that inconsiderate nonsense? Bands will just play on and on, regardless of who's going up next or if things are on schedule. I think I will have to start yanking cords outta the fargin guitar amps to make my point.
Well, December is here and it's been quite a year here in the Louisville rock scene. Plenty of killer shows happened and a lot of bands/promoters did rather well this year. Promoterwise, we've seen the emergence of Villified Productions, which does the Wick's (on Dixie) shows every month now. Mad Dog Productions has put on several decent shows and Master of Fright has made an honorable contribution to the Louisville metal scene as well. And John Mark of the band Centered has his Thursday night gigs going strong at Wick's on Baxter. All in all, a slew of music-loving people have come forth to contribute to the Louisville rock/metal scene. The more the merrier!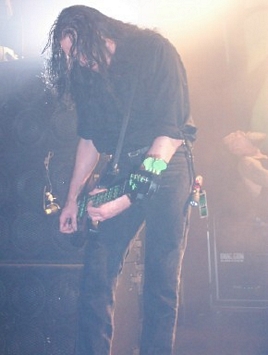 Peter Steel of Tyoe O Negative
And the bands? I'll go through a few bands that I think deserve attention and recognition for their contributions to the scene for the year of 2007. Subrosa has had a great year, although several people have told me they think they are getting too big for their britches here lately. Maybe they are a bit jealous because Subrosa gets good shows?
Death metallers Caldera had a decent year, showwise. Nova Red and Heaven Hill have done very well this year, too.
Nova Red's new album is killer, so I'd say they rank up there pretty high.
Never The Man had a great year playing shows and putting out an excellent album. It sucks they just broke up. (see below)
Antikythera has had many memorable shows and has gotten very tight in performance. Their new album should be out soon! Incursion always seems to do well. Broken Vault has had an entertaining year with the help of Warrior Wind productions and is ready for a record deal I'm thinking. Other honorable mentions go out to I will Defy, Sever This Illusion, E-Flat, Sulfate, 13th Age, Dogwater, 16 Bones, Born Broken (haven't heard from them in awhile, are they still together?), Nailgun Stategy, the now defunct Second Handgrenade and several others I can't think of because I'm on painkillers (actually for pain!!!).
These aforementioned bands have worked hard to achieve what they have and are good professional people who deserve any attention they get. Christmas day is right around the corner. I'll turn 38 on that day. Damn, I'm getting old.
Anyways, I wish all of you readers out there and fan's/band's of the Louisville rock/metal scene a very nice Christmas and kick ass new year! You people rock!
The Metal Grapevine
Type O Negative: For the first time in 10 years, Vampire Goth rockers Type O Negative invaded our fair city once again.
I was stoked about seeing them and was in a pretty good mood that night, until some midget at Headliners mouthed off to me and almost had me to the point of punching him in the forehead. But not wanting my night/date ruined, I opted to be professional and just walked away.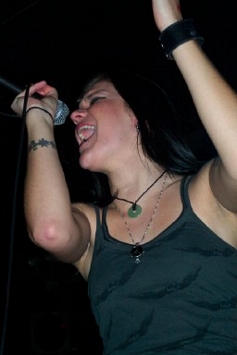 Jholeen of Never the Man.
The show started with local band Empyrean Asunder, which rocked out, NIN style, I reckon. I had never seen them and wasn't too impressed, but then again it's not really my type of music so, I won't judge. They were entertaining to look at though, dressed all crazy like and such. If you like NIN, then you probably would have liked their music.
The Revenants came on and did a decent set of material that had the crowd getting pumped up and ready for Type O. Their new album is pretty darn good. I recommend it if you are into punk/Goth!
Then Lordi, a national act, came on and lordy, were they terrible! GWAR wanna-be's with no originality whatsoever. They had all the crazy costumes and crazy props, but they still sucked.
I was relieved when Type O finally got on. Unfortunately, it was to be a short night for the Type O clan, as Peter Steele was sick with the flu and they cut short their set considerably. They sounded pretty good, though, as they tore through classics like "World Coming Down"; a song dedicated to Dimebag Darrell called "Haunted Halloween"; the Type O Classic "Black # 1" and last but not least, their final song " Too Late, Frozen" in which they released their trademark snow like-confetti onto the masses.
All in all it was a good show, but I was a bit disappointed they didn't play "Summer Breeze" or "Love You To Death." However, I could tell Mr. Steele was under the weather. Oh well, ya can't win them all. I guess we were lucky he played the show at all.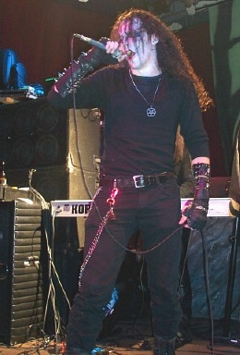 Jason of the Revenants, opened for Type O Negative.
Thanks to Terry and Headliners for bringing in such a cool national act.
Never The Man Disbands: The female-fronted killer band known as Never The Man has disbanded.
The reason? The singer, Jholeen, got back with her ex, Louisville rock scene veteran Timmy Meeks and they decided to move back to Jholeen's home state of Arizona. That's all there is to it. She loved the music they made, she's just a bit homesick it seems.
They were a great band to see live and their farewell show at my original rock showcase at Phoenix Hill was one awesome show. They packed the place.
But I have a funny feeling we'll be seeing these two rockers back on the Louisville stage before too long. Good luck out west, Jholeen and Timmy!
Exodus Coming to Louisville: On Tuesday February 12, Eighties thrash demons Exodus will be at, um, Uncle Pleasants? Sounds like a decent lineup too. Goatwhore will be with them, as well as Arsis, Warbringer and At One With Nothing.
This is your chance to see Exodus up close and personal, so get your tickets soon. This will sell out!
Let's just hope Uncle Pleasants don't double-book the Statler brothers on that same night, as they have been known to do quite frequently these last few years. I love the venue, but the double-booking really steams me!
Dillinger Escape Plan: Those hardcore beasts are coming to Louisville on Thursday December 6 at Headliners with A Life Once Lost and Genghis Tron in tow. Get out your combat boots and prepare for bloodshed. Tickets are $10 and doors 7 p.m.
Intro to Zeroking: In the late Nineties, Sick World, a metal band from Huntington, West Virginia, used to play shows in the Louisville area. Remember them? My old band Inhuman used to play shows with them all the time, in and out of town. They were a entertaining band! Pretty heavy, too.
The singer Andy Haught (a.k.a. Andy Christ), an evil, Jesus-looking Goth rocker with a decent voice ended up jamming with me in a band called Sideshow for a while. We even opened up for Overkill down in London , Kentucky. Well, Andy is back with a new band called Zeroking.
I'm sitting here listening to the new stuff and it's different than stuff he's done before, more commercial, but still some heaviness.
The guitarist is pretty darn good and the songwriting seems decent. Andy and his West Virginia pals have been busy, opening for nationals, playing band battles and building a web presence. They recently came to play one of Bizkit's shows at the Hill. Unfortunately I didn't get to see them as I had hoped.
The song "Drugs Will Keep Us Together" is a jamming tune that gets heavy and brutal. "Celebrity" is kind of a pi**ed off, arrogant song, but I like it and can relate a little bit to it's meaning.
Not that I'm a celebrity or anything, but I for one know how people are always talking bad and being jealous about other people who get a lot of attention.
"So Damn Beautiful" is a melodic adventure that I like the best off this demo. It showcases Andy's vocal style of high screams and actual singing.
This is a polished effort by a good band with talent. Andy's voice has always been an acquired taste, (and before his time!) but the guy can sing and scream for that matter. Zeroking is a refreshing dose of rock and roll/metal that can deliver the goods! Chances are they'll back to Louisville again very soon, so look them up at myspace.com/zeroking
Deliver Us From Evil: A band I saw a few months ago that I liked really well, DUFE is finally playing one of my shows, If you love heavy metal, then you have to see this brutal and talented band from Evansville, Indiana! Smokin' guitar solos! Pounding drums! Trust me, thrash death metal lovers, don't miss this metal concert at Phoenix Hill on Friday, December 7.
Lithium from Lexington: I recently saw Lithium, a new band from Lexington. At first, I didn't like them very much at all, but slowly and surely, I was drawn into their music.
The guys looked like straight-edged, preppy guys from Lexington, as opposed to the dreaded/tattooed/pierced trendy look of Louisville rockers. But that didn't matter, because Lithium is a hard rockin,' party hard, rock/blues/sleaze band with good chops and memorable riffage that will have you tapping those feet under the table, regardless if you notice it or not!
Good dynamics, nice guitar playing and memorable songwriting are this band's strong points. The first song on the CD they sent me is called "Dirt" and jams! Kind of reminds me a little bit of Godsmack. The music is not super heavy, but definitely hard rocking! "Dead And Gone" is a hard rock monster reminiscent of Stone Temple Pilots. The guitar work is good. Nice wah-wah work!
Song three, "Wait," starts off clean-sounding and a bit commercial but quickly leaps into a sleazy heavy, down-tuned, bluesy riff that I'm digging.
Matt Manis' vocals are good, but not extraordinary. They mix well with the grooving riffs and seem to mesh well with the music. The guitars are very cool, though. Dudes aren't no slouches. They tour the region quite frequently and recently won the ZRock 103 Battle Of The Bands in Lexington.
Good job to Mudd for putting them on his showcase! We need some fresh new blood in the scene. Check them out at myspace.com/lithiumky
Arafel: The band is called Arafel. I had been hearing the name around but haven't seen them yet, so I looked them up on my Friends list and what I found is a good thrash metal band. They've played a few out of town shows and some underground shows here in town. They only have one song on their myspace site, but it's fargin' slammin.'
The vocals may not be my bag, but the music is nice. Fast intricate picking, muted riffage, sweet guitar pull-offs. I enjoyed "Trailerparker" immensely. The vocals were more or less just hardcore, with a touch of Obituary from the old days. It did meld with the killer music though, well.
This rockin' song is a testament to another time, in which thrash metal ruled the rock music world. I can't wait to hear more recorded music from these mofos. It's good to see such young guys really into the old school metal. Check out the song, it rocks! Myspace.com/snortdrugs
Descention Seeking Guitarist: Louisville thrasher/death metallers Descention are seeking a full time axeman.
Warning: you must a have a brutal, punchy, heavy-ass guitar tone to hang with these guys. This band is fargin jammin' and has excellent groove. So if you think you got what it takes to be a death metal guitar player, contact the guys at myspace.com/descention
A Shapeless Reunion: Shapeless Matrix, a band really before their time in the Louisville metal scene, got back together for one show at Headliners on November 24. Reunion shows are cool.
Shapeless Matrix was a kind of weird, heavy, intricate, groovin', nu-metal band back when nu-metal first came out. The band was a Louisville staple in the scene for years. I was interested to see what Vocalist Derek Greenwell sounded like after all these years. Sucks I didn't get to see the show.
Anvil Grey News: The band Anvil Grey will be hitting Studio 2002 in Indiana to work on their upcoming CD, followed, hopefully, by a short tour across the country sometime next year. This band is worth checking out, so if you haven't heard them yet, you need to. You can see them also at my Friday "December 7 Bombardment" show at PHT.
Burial Seeks Drummer: Renowned Louisville punk heroes The Burial are currently seeking a new drummer with quality equipment, be extremely proficient with double-bass drumming and be willing to pack it up and go on tour! They do a lot of regional touring on the weekends and play regularly here at home. Interested parties contact www.theburial.net
Scuttlebutt on Break: LMN rock writer is taking a short break from writing until he slows up workwise with his main job. Jason Ashcraft will be back to the pages of LMN when he can, until then, you'll just have to settle with metal!
Upcoming Shows
Bulldog Cafe
Saturday December 8 Dimebag Darrel Tribute Show with Dying Kind, Incursion and 2 bands T.B.A.
Headliners
Thursday, December 6 Dillinger Escape Plan, A Life Once Lost and Genghis Tron. $13 7 p.m.
Friday, December 7 The Starting Line, The Almost and In A Heartbeat. $15 All ages. 7 p.m.
Wednesday, December 12 Anberlin, Metro Station and Wake The Day. $13 7 p.m. All ages.
Phoenix Hill Tavern
Saturday, December 1 Ugly, Hyndsite and One Giant Leap. 8pm $10
Friday, December 7 The original rock showcase series: "December 7 Bombardment" with Sever This Illusion, Deliver Us From Evil, I Will Defy, Caldera and Anvil Grey. 9 p.m.
Friday, January 4 The original rock showcase series: 13Th Age, 16 Bones, Sol and Hyndsite. 9pm. $5
Shooters
Sunday, December 9 Anna Lies, Boom Orangutan and I Will Defy.
Uncle Pleasants
Thursday, December 6 Karnivool, Inner Blue, Serene, Hanover and Institution. $10 7 p.m.
Friday, December 7 Enslaved, Anagorisis, Assisting Sorrow, Sowing Discord and Purgatorium. $15 All ages. 7 p.m.
Monday, December 10 The Showdown, with TBA. $10
Wick's on Dixie
Saturday, December 1 The Yard Dogs
Saturday, December 8 Anton Mink, The Broken Spurs, The Jane Rose Band and Zach Longoria.
Friday, December 14 American Bang, Luna Halo, Auto Vaughn and Shindig.
Saturday, December 22 Redline
Monday, December 31 Grindstone
Saturday, January 5 Thirteenth Sun
Outtatownerz and Otherz
Friday, December 7 at the Pritchard Community Center in Elizabethtown, KY. 88 Sins, Grindhouse, Mercury Falling, Imogen Dymium and Mutiny On Board. 6 p.m. All ages. $10.
Props of the month
This month's props goes out to the caring people who helped me with my annual Kosair Children's Hospital Benefit on November 16 at the Hill. You all have done a good thing by contributing time and effort to provide a decent Christmas to some sick, poor child through Kosair Charities.
Thanks To: 93.1 the Fox was sponsoring the event and did a great job of throwing their support for such a noble and good cause (thanks Dwight, Charlie, Mudd and Louie). The Phoenix Hill Tavern for letting the cause have 100% of the door that night and for advertising well.
Uncle Samm's Jamms and First Quality Music for donating four guitars to give away. As usual the winners were very happy indeed! Body Decor and Kentucky Tattoos for donating free piercings and gift certificates to the crowd for coming.
Deja Vu for bring up a few dancers to help me giveaway the guitars. Um, that was pretty wild. And my friends and supporters on Myspace and Mojo who helped me promote this show.
And last but not least, to all the bands who ripped it up bigtime that night, all to help the kids out: Nailgun Strategy, Nova Red, Antikythera, Heaven Hill, Broken Vault, Caldera, Evil Engine # 9, 13th Age, I Will Defy, E-Flat, One Day away, Sol, The Burial and Hyndsite. And what a great show it was!
In a couple of days (when I feel better,) I'll go get the toys to take to the kids.
It's a blast. I predict about 11 carts full of toys this year.
Hard difficult work, but someone's gotta do it. I may have the gut, but I'm no Eddy Clause!