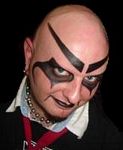 Name: Jack Ray Brizendine
Age: 32
Instrument: Vocalist/frontman.
Bands now and then: Currently 99MpH, What Ever Will (but who wasn't in that band!), Spit Shine Nine (regional touring band), The Anvil Slugs, Mr. Frosty and The Groovenille Delinquents (the last 3 were based out of Cincinnati where I'm from)
How long: I've been singing and performing most of my life. My Aunt Becky would take me to church choir practice with her when I was a baby. Then around 4 of so my granny would dress me up in a little Elvis suit, cape and all and make 8-track tapes of me singing. I always sang with my dad, he would play guitar and sing and I'd watch, learn and join in (lots of old country). In high school, I was in show choir and did West Side Story, Grease, Joseph and the Amazing Technicolor Dreamcoat. I got out of school, got in a band and never turned back. I've been playing in clubs all over the country for 13 years.
Equipment: I use a Shure SM 58 mic.
Influences: Elvis, Trent Resnor, Alice Cooper, Cory Taylor, KISS, Pantera, David Lee Roth, Charles Manson, and Andy Kauffman
My first gig was with a band that had been around where I was from for years, The Groovenille Delinquents. I was 19. The set list was everywhere, but the band was killer: drummer, two guitarists, bass player, keys and two back-up singer/dancers. (that would be me) I sang lead on three songs and back-ups and harmony the rest of the show. I made five bucks, got drunk as hell and got laid.
Hobbies: Movies, playing guitar, volunteering at The Haunted Hotel, consuming head lettuce, fishing, bowling, music trivia, video games.
Fave Movie: A four-way tie between the original B&W "Night of the Living Dead," "A Texas Chainsaw Massacre" (1974), "The Nightmare Before Christmas," or Willy Wonka (both versions).
Fave food: My granny's pot roast or her fried chicken.
Fave place: As far as places I've been Key West, Florida or Jackson, Mississippi.
Habits: Too much T.V., trusting people I barely know, lusting over hot chicks I will never have, too much comfort food and the occasional bank robbery.
What I listen to: A lot of 80's stuff like The Cars, Depeche Mode, Simple Minds. Of course, new rock and pop to stay current and a lot of heavier stuff like Mudvayne, Slipknot, Lamb of God.
Coolest thing: I would have to say opening up for DamagePlan in 2004 at Jillian's and getting to hang out with Dimebag and Vinnie Paul (Pantera) was so cool, it is beyond words. At one point during our set, I looked over and saw Dime and Vinnie by the monitor board checking us out. It was a killer night filled with lots of Crown Royal and acting like an idiot and I have it all on tape! (including me and Dimebag singing "Boot Scoot Boogie" at the bar) R. I. P. Dimebag Darrell
Most embarrassing moment: About five years ago, I got pulled over after a 99 show at Phoenix Hill for expired tags and was arrested for D.U.I. I was in full make-up and rock star attire. When they took me to be processed, I was recognized by a few of the other "convicts, " and a few of the officers. Lucky for me, the officers knew me from the 2000 Kentucky State Fair Bud Tent. I had been very helpful with crowd control at the Fair, so the arresting officer pulled me aside and told me they were gonna drop the D.U.I. charge, but I had to spend the night in jail. I was like "no problem. " They also said " I'd wash that stuff off of your face before you get in there." I left it on and got my own bunk! That's rock n roll baby!