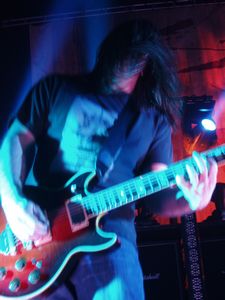 Photo By Jason Koerner
Interview: Mike Mushok, guitarist of Staind
By Jason Koerner
(edited for length)
LMN - Mike, it's a pleasure to talk to you... I've seen Staind 4 or 5 times and each time it's incredible. Thanks for taking time out of your schedule for Louisville Music News. Your schedule may be a little crazier than ever, I read that you have newborn twins...
MM - I do and it's going great, but uh... now that I'm not home, my wife's gotta deal with the craziness... Everything is going great; they're doing awesome.
LMN - Congratulations! In other exciting news, you have a new album out: "The Singles: 1996-2006" as well as a new DVD companion, "The Videos." They hit stores on November 14... would you have believed that you would have a "greatest hits" CD spanning a decade of success when you formed the band in '93?
MM - No, not a chance... I can't imagine anybody would go into it thinking that just because it's a tough business and longevity is never an easy thing. We just feel real fortunate to still be here... and to be able to put something like that out. It's actually really cool to go back and listen to it and hear all that stuff. I'm proud of it.
LMN - There are some covers on the disc... who picked those particular songs out and why?
MM - Well, "Sober" is one that we have played for a long time. We used to play that electric back in the day... "Comfortably Numb" is one that Aaron was playing and I actually started playing with him and we kinda added the whole band for that show. "Nutshell" was just kind of a tribute that we were doing to Layne Staley. We spent a couple few months (yes, "couple few" in a Boston accent) last summer playing that one live as a band...
LMN - Are there any songs you would like to cover with Staind in the future?
MM - I'm sure, it's always a fun thing to do. Nothing really pops in mind right now... back in '96 is when we stopped playing covers... '95, I guess was our first gig. To play in Springfield (MA) in '95, if you wanted to play a Friday or Saturday, you couldn't play your own songs, you know what I mean? ... In 1996 we put out Tormented and that's kind of when we were able to make the switch to what we wanted to do... it was a good transition.
LMN - The version of "Outside" that appears on the album is the acoustic one performed at Family Values 1999... is there any reason for putting that one on the record rather than the electric full-band version?
MM - That was the original version of the song that everybody heard that really opened the band up to a wider audience, so that was really the reason behind it.
LMN - Is Staind doing any work with Fred Durst at the moment or in the near future?
MM - No, not that I'm aware of... we played a show in Providence and he was there working on a movie. I hadn't seen him in a couple few years and he came to the show and came up and sang "Outside" with Aaron and it was good to see him.
LMN - You and Aaron (Lewis) are said to have started the group... how did that take place?
MM - I actually met Aaron at a Christmas party in '93. I was in a few bands and wasn't really satisfied with any of the singers I had worked with... and whenever anyone would introduce me to a singer, I would always take interest and to see if they actually could sing. I gave my number to Aaron and he called me once but then I never heard from him again for like 9 or 10 months because he moved to Atlanta, but I didn't know that. He came back into town and found my number and called me. He came over and sang... you obviously know he can sing! And that's how it started. I was talking to Jon, the drummer and I had just gotten out of college and wanted to start a band again. Aaron knew a bass player, who was only with us about a year... then Johnny came in the band... he was always in great bands in the area and I always admired his playing... so he joined and, uh, I think he's happy he did! I think he's enjoying it.
LMN - You guys are on tour until December 10, than Aaron is doing a solo tour for a little over a month. Are you going to tour with him? What material (Staind or other) is played?
MM - ... Aaron's going to be doing it himself... he goes out there and does some Staind songs and some eclectic covers out there and it's really good.
LMN - There's a lot of footage from a Louisville show shot at Freedom Hall in the "So Far Away" video. Was that deliberate, or we're we just lucky?!
MM - It was kind of luck of the draw, we wanted to do some live shows and it worked out that that's where it was filmed. (He added,) you got a good friend of ours there who plays in Dark New Day and used to play in Sevendust, Clint Lowery... he's an awesome guitar player.
LMN - Are there any stories/events that stick out in your mind from your time on the road?
MM - (Mike introduces a story about an epiphany the band had as to how far they had come based around a huge Washington, D.C. radio show) The first year we played outside in the parking lot. The year after that we played the main stage inside the stadium, but we played at like one in the afternoon. The year after that was literally the week after Break the Cycle came out and debuted at #1 and we headlined the show with 60,000 people. It was that three-year progression leading up to that... this was crazy, we've com a long way!
LMN - What bands are you listening to most right now? Who's next to have that story?
MM - ... Hinder is out with us and those guys are blowing up and they're doing great. Three Days Grace is out with us and I love those guys. We toured with them on the last record and their last record and have become really good friends and love playing with them. Black Stone Cherry... those guys rock! They're awesome... there's a lot of great bands out there.
LMN - What's next for Staind in 2007 and beyond?
MM - Hopefully another record... it's really about that time to start focusing on getting new material together and trying to hopefully move forward!
LMN - Do you have anything to say to our readers?
MM - We always like to thank people... I just feel real, real fortunate to have the fans we do that have allowed us to continue to do this and stay around so long. We're just real appreciative of that.
LMN - That humility is uncommon and will take you a lot farther for a lot longer. It's been great talking with you, Mike... thanks so much for your time. Good luck with the tour, we're looking forward to having you at Louisville Gardens this Friday!